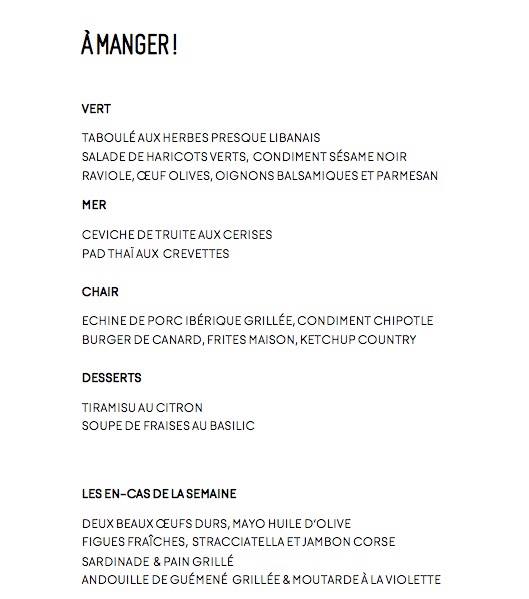 Address: 54 Rue de Paradis, 75010
Hours: Open for lunch & dinner Tuesday-Saturday. Closed Sunday & Monday. 
Telephone: +33 1 46 27 46 67
Online Booking /Website / Facebook / Instagram
Our Review
We have not yet reviewed this restaurant. Below you'll find a summary of reviews to see what others are saying about it.
Additional Location
Address: 5, rue de Bazeilles, 75005
Hours: Open Tuesday-Saturday for lunch & dinner. Closed Sunday & Monday.
Telephone: +33 9 81 11 72 78
Online Booking / Website / Facebook / Instagram?
In Other Words
Le Fooding (2017) appreciates the selection of natural wines but say that "there were some ups and downs the day we went for lunch, seated around the lone, long oak table… overcooked penne with leeks and haddock; Morteau sausage couscous with hints of butternut squash and daikon radish, seasoned with a spellbinding veal-harissa broth."
TimeOut (2017) raves about the silky œufs mayo, the plump duck croquettes with Chinese cabbage, and a delicious but overpriced minestrone of vegetables with stracciatella. They find the to-go groceries, particularly the cheese, to be overpriced as well.
Atabula (2017) interviews Sébastien Demorand, who explains that many of their products come from his sourcing work for the failed Jeune Rue project, including the vinegars of Laurent Agnès and duck from Basque producer Jean Michel Berho. He also shares his hope to open another Bel Ordinaire in the 17th arrondissement.
Le Figaro (2017) calls this one of the best tables for Summer 2017 and says not to miss the salade piémontaise.