Epicure is a fine dining restaurant inside Le Bristol hotel. It's led by chef Éric Fréchon and currently holds three Michelin stars.
Chef Éric Fréchon has a lot of fans, so I was expecting something great when I visited in 2014. The cooking, while enjoyable, didn't offer anything new. The setting lacked soul. It occupies a very similar niche to Le Cinq but didn't measure up.
Fréchon's cuisine plays it a little too safe for my taste. A dish of raw sea scallops with oyster juice and lemon curry cream delivered no brine and very little spice, tasting mostly like shellfish and cream. Harmless, but lacking any of the power that Le Squer could have brought to the dish. Desserts were cloyingly sweet.
Aside from the stunning floral arrangements, I found the dining room in this luxury hotel to be quite dated, almost provincial in its mix of heavy curtains, plaid chairs, and heavy crystal stemware. And while my inner child appreciated the rainbow crystal butterflies that decorated every table, it seemed a very twee choice for a gastronomic restaurant. Service is formal, with competent staff and an abundance of rolling carts.
EPICURE
112 rue Faubourg Saint-Honoré, 75008
Open Tuesday-Saturday for lunch & dinner
Open Sunday & Monday for dinner only
Reservations online or at +33 1 53 43 43 40
OUR PHOTOS OF EPICURE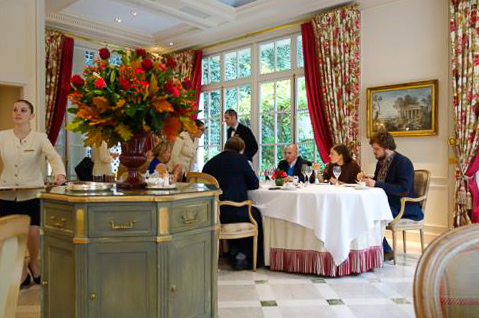 IN OTHER WORDS
David Lebovitz (2015) "Pastry chef Laurent Jeannin isn't the household name other French pastry chefs are… But if I have any say in the matter, judging from the desserts that we had that afternoon, he's quite possibly the best pastry chef in Paris."
Atabula (2014) "Le restaurant Epicure du Bristol… a été élu meilleur restaurant d'hôtel du monde par le site gastronomique The Daily Meal. "
Alexander Lobrano (2010) "… it was a challenge to remain focused on the conversation when I was experiencing so much private pleasure from what we ate… veal sweetbreads cooked in a tobacco leaf and served with a puree of Jerusalem artichokes with a coffee and reglisse jus. Nothing I've eaten all year provided more solid evidence of the absolute genius of French cooking."
Alexander Lobrano (2008) "I've been following talented chef Eric Frechon's cooking ever since he first went out on his own… Everything about this meal was superb–setting, service and food.
SUBSCRIBE TO OUR NEWSLETTER