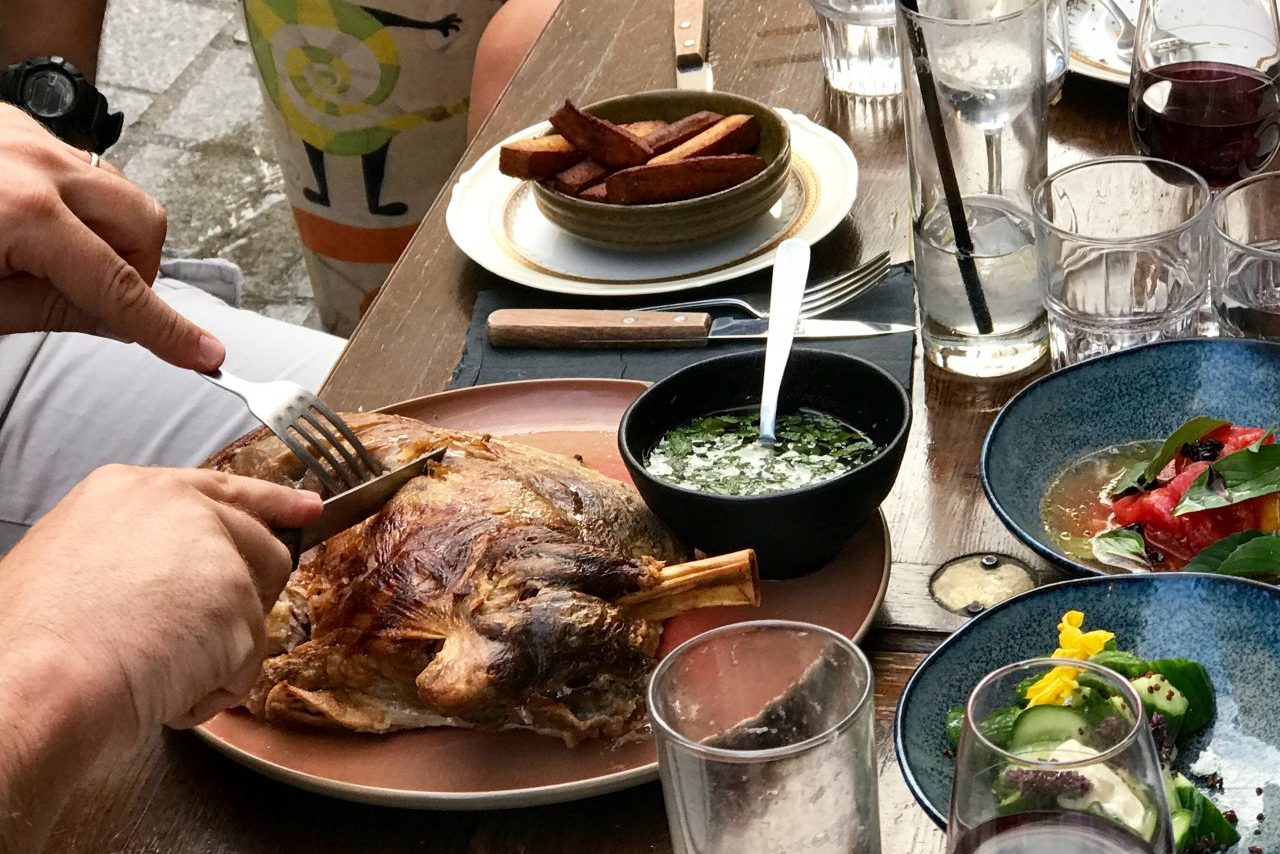 Le Grand Bain is a small plates restaurant on the narrow rue Dénoyez, a Belleville destination for street artists. Helmed by chef Edward Delling-Williams (ex-Au Passage), this restaurant boasts an ever-changing chalkboard menu of small plates and natural wine. Expect loads of choice and loads of vegetables.
Address: 14 Rue Denoyez, 75020
Hours: Open for dinner every day of the week
Telephone: +33 9 83 02 72 02
Website / Online Booking / Facebook / Instagram
COVID-19 UPDATE:
Le Grand Bain has reopened with new summer hours: Wednesday-Sunday from 7:30pm to 1:30am. Its bakery Le Petit Grain is open daily.

---
Our Most Recent Visit
I became a fan of chef Edward Delling-Williams when he was cooking at Au Passage, and so I was thrilled when he opened Le Grand Bain on one of the grungiest / coolest streets in Paris. Like at Au Passage, there's an ever-changing chalkboard menu of small plates, many of them vegetable driven (if not always vegetarian). You'll also find massive hunks of protein to share. On a recent night, my friend and I competed for the last bite of a beautiful (entire) sole for only 30€, while vowing to return for the whole lamb shoulder that had us drooling on the neighboring table. This delicious drama played out while sitting outside on a street that's a destination for graffiti tourists. Le Grand Bain is a great place to eat well and to drink natural wine while surrounded by the joyful cacophony of Belleville.
---
Le Grand Bain in Pictures
Photos by Meg Zimbeck © Paris by Mouth
---
In Other Words
Not Drinking Poison in Paris (2017) says that "Anyone who passed through Au Passage during his tenure probably expected Delling-Williams to make a big splash in the kitchen at Le Grand Bain. Yet for now, with few exceptions, his work at the new venture has been remarkably unshowy" and that "the menu leans equally on crudo-like preparations and hearty vegetable dishes. Flamed mackerel atop julienned raw cabbage was bright and brittle-skinned. The raw cod in another plate was unimpeachable, pure and lace-like in texture. These dishes had the feel of improvised riffs, sharing sauce presentations and overall construction, substituting flavour combinations."
Le Fooding (2017) praises "The gilded hands of British chef Edward Delling Williams " and notes that the menu contains "around twenty combustible little bombs, whose fuses are lit live in the windowed kitchen. A few examples: two oysters under a glass bell wrapped in spirals of apple wood smoke (€8) and two grilled scallops and purple shiso in a divine bonito-artichoke dashi broth (€7)."
Le Figaro (2017) says the small plates here are unrestrained and says that foodies will celebrate the arrival of Edward Delling-Williams in the heart of Belleville.
Le Monde (2017) concludes that you should "Go, go, go!" and says that there is a joyful happiness evident here, and a real pleasure around these small plates.