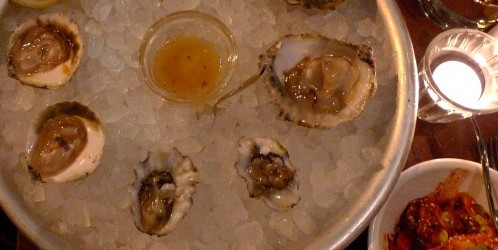 Le Mary Celeste is a venture from the people behind Candelaria and Glass. Accordingly, there's a solid cocktail program and two Brooklyn beers on tap. Another creative and beautiful (now nautical) interior from David Rager, Cheri Messerli and Gilles Tombeur. These get a lot of attention, as do the rotating cast of mostly wild oysters sold seasonally by the piece for 2-5€. 
When you mix together the technique, the respect for ingredient and the ethos of everything-from-scratch, the result is a small plates menu that's so much better than it needs to be. In the same spirit as Paris' Au Passage or Copenhagen's Fiskebar – this is a place where serious Food is being transmitted through a small plates medium to unshaven people in skinny jeans.
 There's also a respect for vegetables here that one doesn't often find in Paris. While we were tempted by the poitrine de veau (veal breast) with coconut milk or the pintade (guineau hen) with tare sauce, we surrendered instead to a vegetarian dish with two kinds of cabbage, black beans and a roasted carrot that was so deeply savory it could have been meat. The two dishes I'll return for are also meat-free: steamed oysters with chili, black vinegar, and crispy shallots, plus endives with tamarind and mint. Tamarind also flavors a chocolate creme dessert with Maldon salt. When's the last time anyone saw tamarind in Paris?
– Meg Zimbeck, February 2013
Practical information
Address: 1 rue Commines, 75003
Hours: Open every day 6pm-2am
Telephone: no phone
Website   Facebook   Instagram
Reviews of interest
David Lebovitz (2013) "Because unlike most cocktail bars, the food at Le Mary Celeste is outstanding as well. Chef Haan Palcu-Chang creates a ever-changing menu of "bar snacks" that will have you pushing away those little bowls of stale popcorn and peanuts found elsewhere. And he is preparing some of the best food in Paris."
Not Drinking Poison in Paris (2013) "the flagship of Paris' re-invented bar scene. Nowhere else will you see people uniting in such droves for fine product unfettered by tableside formality, or tables, for that matter. At the restaurant's heart is a magnificent semi-circular bar that allows guests to stay focused on what they came for, which is, fine product notwithstanding, the other guests."
Alexander Lobrano (2013) "The nice looking room…had a great atmosphere and a wonderful looking crowd…order a few of chef chef Haan Palcu-Chang's (ex- Le Verre Volé) small-plates, including sublime kimchi and small puffy Chinese crepes with pork knuckle and celery."
52 Martinis (2013) "The combination of the more lighthearted approach to the decor and drinks and the trust-inspiring integrity of this group when it comes to scrutinizing the quality of ingredients, means this venture will appeal to a wider audience without compromising the quality that hardcore foodies and cocktillians demand. The Mary Celeste is a breath of fresh air."
Figaroscope (2013) "lancée par des cadors de comptoir (ceux du Candelaria et du Glass), en humeur mi-pub mi-Marais, un bar à huîtres dégoupillant une fameuse série de coquilles et de plats gironds, entre cocktails dévissants et flacons entraînants."