Address: 49, avenue du Maine, 75014
Hours: Open non-stop from 8am-11pm Monday-Saturday. Closed Sunday.
Telephone: +33 1 43 20 95 66
Online Booking / Website / Facebook / Instagram
Savvy diners avoid restaurants near train stations for the sensible reason that such establishments are essentially unaccountable to their captive, transitory clientele and lack any incentive to deliver quality. But anyone who has ever been pleasantly surprised by L'Express de Lyon – the geeky craft beer bar in front of the Gare de Lyon –­ will be doubly stunned by Le Petit Sommelier, a versatile, non-stop-service brasserie with one of the city's most ambitious wine lists hiding in plain sight beside the Gare de Montparnasse.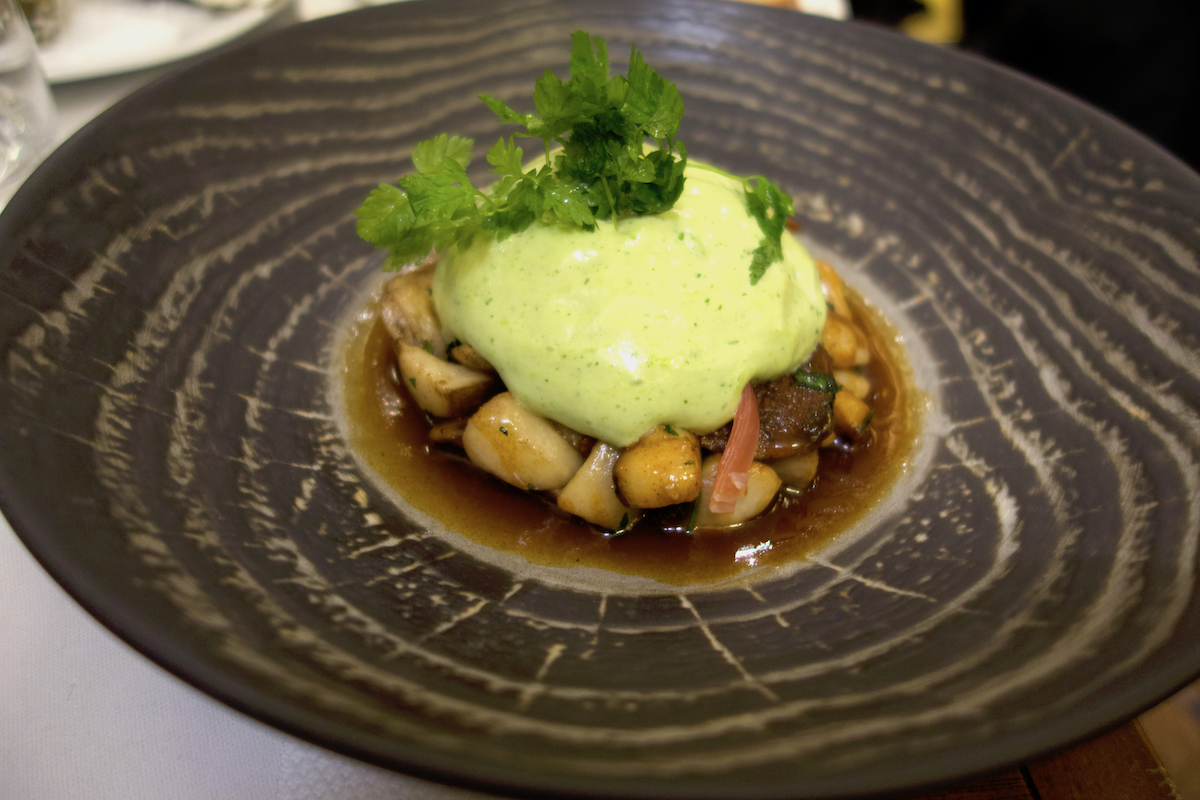 With its fusty, Art-Nouveau resplendence, buttressed by walls upon walls of empty wine bottles, Le Petit Sommelier evokes a timeless institution, despite being known in its current iteration for just under a decade. (The site formerly bore the slightly mordant name Le Tabac du Départ, or 'The Tobacconist of Departure.') The restaurant is the work of young sommelier Pierre Vila Palleja, who worked at the Ritz and Hotel Le Crillon before taking the reins of his family's bistro in 2015. He had already been purchasing wine here since 2009, a fact evidenced in the phonebook-like wine list, 1000 references strong. Even the toilet is lined with large-format bottles of Chartreuse and Puligny-Montrachet.
Vila Palleja's list could be described as the best a classical wine education can produce, a faithful reflection of the prevailing opinions of the Revue de Vin de France and other august wine-appreciation establishments. It is a bonanza of excellent Champagne, Burgundy, and Loire wines, at prices that are about average for Left Bank bistros but well below what one sees on the export market. Natural wine fans may find it slim pickings, but there's still a fair amount of practicing organic and biodynamic wine on offer, like a bracing, stony 2013 Bourgogne Blanc by the late Anne-Claude Leflaive. (67€) Most refreshingly, the staff at Le Petit Sommelier perceptibly care about wine choice and wine presentation, a graceful service aspect that most Paris bistros have wrongfully abandoned.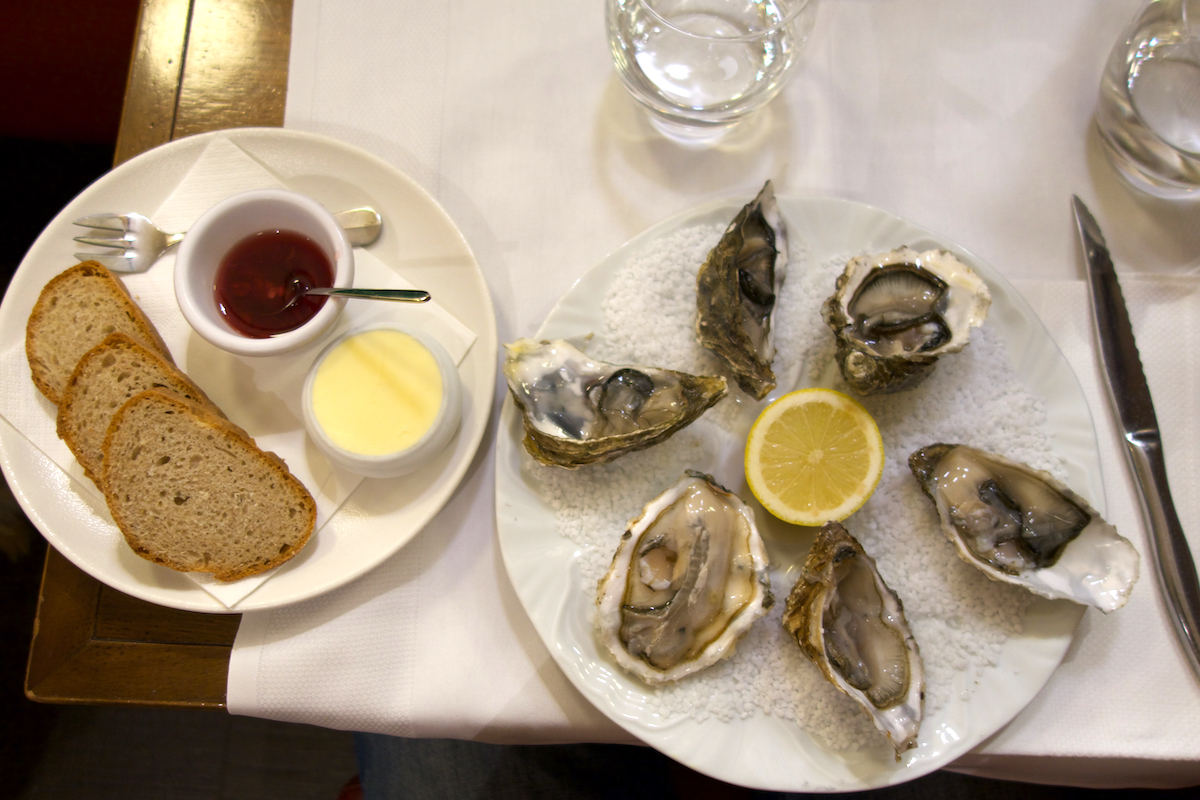 Most importantly, Le Petit Sommelier succeeds in a very elemental way, providing the rare and invaluable service of a high-quality, non-stop brasserie. Chef Nicolas Bouillier's menu is dual-faced, offering a page of solid, well-sourced bistro fare (œufs mayo, boeuf bourguignon, foie gras) alongside one of more crafted "restaurant" creations (king prawn ravioli, guinea fowl fillet, etc.). Even the wine-indifferent can appreciate the thunderously flavorful Argentine steak or the seasonal comfort of sautéed porcini mushrooms beneath a parsley foam. Certain pitfalls remain, like a mountainous tutti-frutti-colored garden vegetable salad that tasted mostly of refrigerator. ("One knows what not to order at a bistro," scoffed this reviewer's French companion.) But all is forgiven on such a vast menu, at such an earnest restaurant, which so stratospherically exceeds the low standards of railside dining.
Nota bene: trains return to Gare de Montparnasse from Bordeaux, the Loire, and Brittany. It is at such moments that Le Petit Sommelier shines brightest, as a welcome home to the urban comforts of Paris.
---
Le Petit Sommelier in Pictures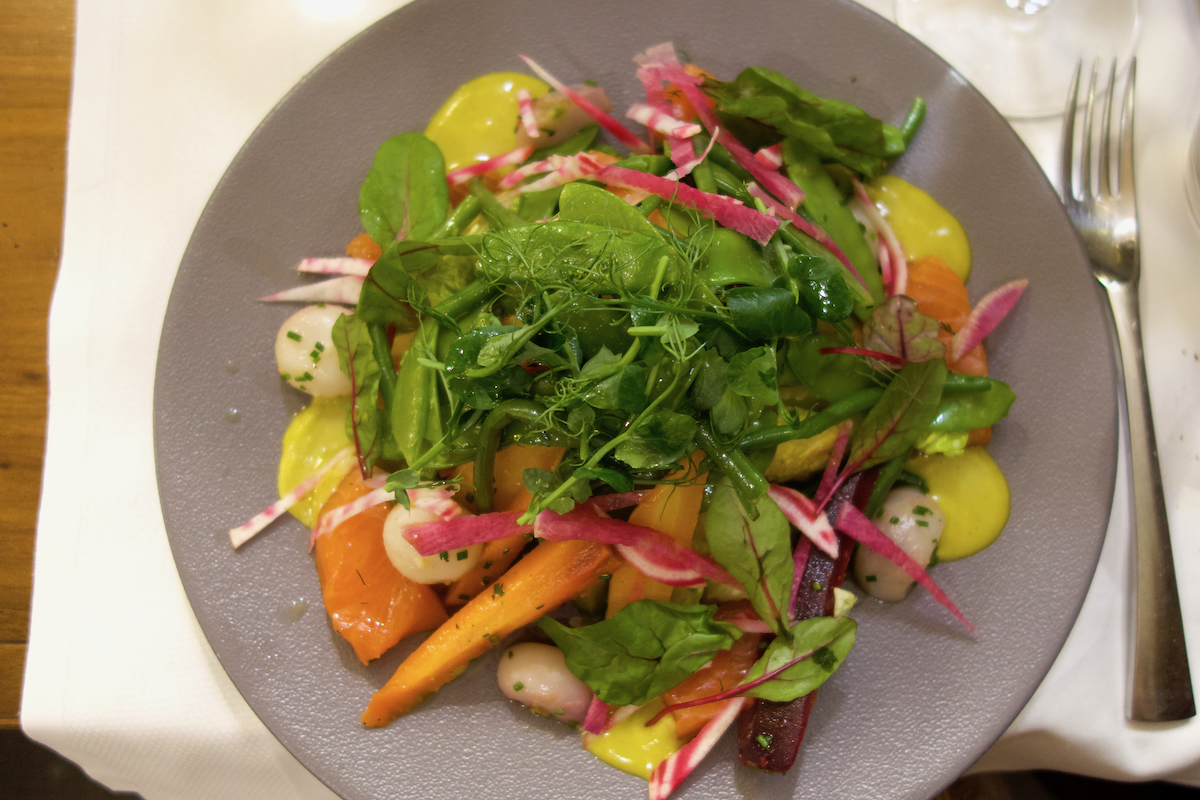 ---
In Other Words
Le Monde (2019) observes that "many of our wine regions and many countries are represented at the Petit Sommelier (…) while avoiding the routine," citing in particular the many vintages of Moulin-à-Vent domaine Château des Jacques.
Terre de Vins (2018) says "this restaurant on avenue du Maine is bubbling in each service," and quotes Pierre Vila Palleja endorsing the pairing opportunities of skin-macerated Slovenian white wines.
L'Express Styles (2016) says "Don't trust appearances: behind this tourist-spot façade hides a gem of a Parisian bistrot," with "the wines of gastronomic restaurants at bistrot prices."