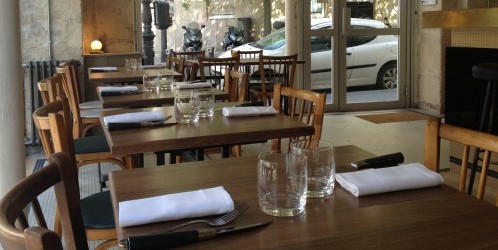 Tatiana Levha, formerly at L'Arpège and L'Astrance, and her sister Katia opened this light, airy bistro with a central bar & hand painted ceiling. The short list of offerings changes each day, but expect seasonally driven cuisine inflected with international touches like tandoori spiced beurre blanc atop asparagus or harissa to spice up the line caught hake. Dessert left room for improvement, but otherwise Le Servan had reasonably priced, expertly executed dishes and friendly service in a beautiful space.
Address: 32, rue Saint Maur, 75011
Hours: Open Tuesday-Friday for lunch and dinner. Open Monday for dinner only. Closed Saturday & Sunday.
Telephone: +33 1 55 28 51 82
Website / Instagram
COVID-19 UPDATE
Le Servan has reopened from 8:30am-10pm Wednesday-Sunday.
---
Le Servan in Pictures
Boudin noir wonton with sweet chili sauce

Le Servan bar

Rhubarb amandine with chili-strawberry sorbet

Beef tartare with peanuts and cucumber

Raw marinated sardine with chili butter

Grilled octopus with green curry

Raw langoustines with passion fruit

Le Servan dining room

Pork with chili-glazed eggplant
Photos by Meg Zimbeck © Rome by Mouth
---
In Other Words
Restos Sur le Grill (2018) praises the "perfectly balanced" appetizers but wonders if this once-trendy spot isn't a bit past its prime.
Sugared & Spiced (2015) "Except the slightly too strong fishy taste in the mackerel appetizer, I enjoyed everything at lunch at Le Servan. This place really does serve very good food at affordable prices, with extra points in service and ambience."
Food & Wine (2015) "Her short menu is shot through with thrilling tastes. She makes nut butter from ginger and cashews, two items rarely seen in French cooking, then stuffs it under the skin of magnificent mahogany-seared guinea hen. Following the example of her mentors, Levha treats vegetables seriously, serving that hen alongside cauliflower steak with the tender green leaves and ribs attached."
Time Out (2014) "Le Servan perfectly expresses the creative tension of the ubiquitous 'bistronomie' movement – both accessible and creative – without feeling like a cookie-cutter concept. Paris certainly seems to think so anyway, with bobos descending on the restaurant in waves at each feeding time."
Les Grands Ducs (2014) "Dans l'assiette, le talent est là, et à haute dose. On joue sur la subtilité des accords traités sur le fil. Asperges blanches, crème tandoori et sauge frite, sur des cuissons impeccables, des confrontations finaudes, une belle présentation, du floral en fil conducteur et de la délicatesse à tous les étages. Nul doute que la jeune chef ira loin."
Simon Says (2014) "Coup de coeur du mois… un vrai coup de gong! Nourritures frontales, vives, sexy…"
Table à Découvert (2014) "Le tout résonne avec beaucoup de simplicité et fonctionne bien à l'heure du déjeuner. Par contre, pas un morceau de tissus à l'horizon ou quelque chose qui pourrait absorber le bruit, du coup, s'il y a des tables de bons vivants à côté de vous (comme c'était le cas pour moi ce jour là), ça part beaucoup dans les aigus et ça tonne dans tous les sens."
Alexander Lobrano (2014) "The lucid way she composes her dishes is based on a clear love of the produce she cooks with and the impressive battery of technical skills that inform her cooking, which becomes personal and original when she sautés cockles in pungent fish sauce and garnishes them with fiery bird peppers and basil."
Figaroscope (2014) "En malice tectonique, des compositions «fric-frac» pleines de touches et d'habiles épices qui vous font en bouche ces fameux «baisers pointus comme un accent aigu»."
John Talbott (2014) "The best prix-qualité ratio of the year 2014."
Not Drinking Poison in Paris (2014) "Almost every component of my meal at Le Servan was sterling, a tour de force of talent and good taste."
---