Address: 1 bis passage de Saint Sébastien, 75011
Hours: Open Monday-Saturday for dinner. Closed Sunday.
Telephone: +33 1 43 55 07 52
Book Online / Website / Facebook / Instagram
---
Our Most Recent Visit
It's so nice when a restaurant delivers more than they need to, more than you expect to receive. When looking at a chalkboard menu filled with cheap small plates, one rarely hopes for anything more than simple products. But here at Au Passage, your 8€ octopus dish has undergone three days of preparation. There's a quiet ethos at work beneath the blaring bustle of the dining room: staples are homemade (butter, bread, stock, charcuterie), vegetables and fish receive priority attention, and meat is served in a nose-to-tail spirit with every last offaly bit turning up on the menu. So much heart and creativity for so little money. Au Passage is not for everyone, nor is it trying to be. If the loud music, frenzied service, and worn-out interior turn some people away, that leaves more space for me.
---
Au Passage in Photos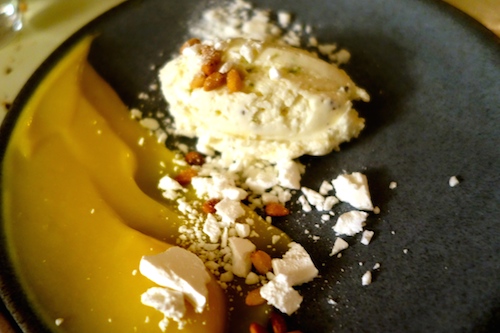 ---
In Other Words
Reviews citing Edward Delling-Williams as chef
The Wall Street Journal (2014) "Under its new chef, Edward Delling-Williams, the three-year-old Au Passage, in an alleyway south of République, has become a go-to for winemakers and off-duty cooks… The draw is the menu of small plates that are highly ambitious yet reasonably priced."
Ruth Reichl (2014) "Casual, comfortable, raucous and delicious, this little wine bar/bistro is the perfect place to fall into when you're hungry but not in the mood for an enormous, expensive deal."
Reviews citing James Henry as chef
Le Figaro (2011) "Décor de zinc popu à classer d'urgence et petits plats goûtus, boutiqués avec énergie sous couvert de désinvolture."
Wine Terroirs (2011) "All the wines here are chosen with care… The bottle wine-list is quite good for a restaurant of this size…"
Pierrick Jégu (2011) "… spécimen de bistrot local qui popote avec malice… Une bonne surprise derrière des airs de nonchalance."
Alexander Lobrano (2011) "A perfect example of one of the most welcome recent trends in Paris–relaxed and affordable wine bars serving interesting small plates and 'natural' or organic wines."
---
Au Passage in Video
Anthony Bourdain's Paris episode for "The Layover." The segment Au Passage begins around the 7:05 mark.