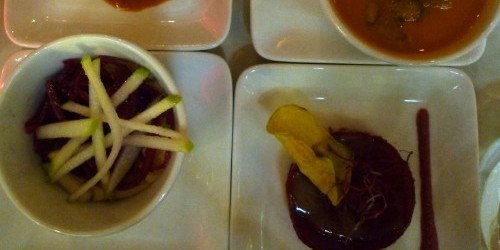 Address: 16-18 place Gaillon, 75002
Hours: Open every day for lunch & dinner
Telephone: +331 42 65 15 16
 Book Online / Website / Facebook / Instagram
Facing a very pretty square, Drouant has been around since 1880. The menu offers elegantly updated classics with an emphasis on seafood.
Drouant in Pictures
Drouant table

Drouant interior

Drouant appetizers

Drouant pastry
In Other Words
Le Monde (2020) writes that following extensive renovations, Drouant is still turning out delicious, nuanced cuisine despite slightly amateurish service.
Table à Découvert (2012) "… je suis fidèle, j'y reviens encore et encore. Malgré ma dizaine (au bas mot) de visites par an, j'ai l'impression qu'il y a toujours des nouveautés…"
Table à Découvert (2011) "… c'est un lieu intemporel où je me sens bien à déguster mon poulet-frites dominical…les morceaux sont terriblement bien rôtis, la peau croustillante à mort, les frites (pommes pont-neuf, car 1 cm de côté) dorées comme je les aime."
Table à Découvert (2009) "… ce restaurant exerce son charme sur moi. Un dîner de langoustines (un énorme plateau béni des dieux, rempli de langoustines juste beurrées et rôties au four), un déjeuner autour de la Bouchée à la Reine du mercredi, un apéritif qui s'éternise…"