Joël Robuchon's empire expands again with the opening of another Atelier, this time on the Champs Elysées. This one is bigger than the left bank outpost, with an actual dining room in addition to the trademark counter seating. It is to be avoided at all costs.
It feels apt that to reach this restaurant you need to enter through a mall – the whole experience feels tawdry and commercial. Despite having made and confirmed reservations, we were made to wait in an overflowing lobby that looked like a low-rent Vegas casino for more than an hour. There were no seats available. No one to take our coats. No place to grab a drink. No smile, no apology. When finally seated, the food was forgettable.
Joël Robuchon may have once been a great chef, but this is a craven effort to cash in. We'd be gutted if you fell for it and spent any of your precious time or money here.
133 avenue des Champs Elysées, 75008 (in the Publicis shopping complex)
Open every day for lunch & dinner
Reservations online or at 01 47 23 75 75
OUR PHOTOS OF L'ATELIER DE JOËL ROBUCHON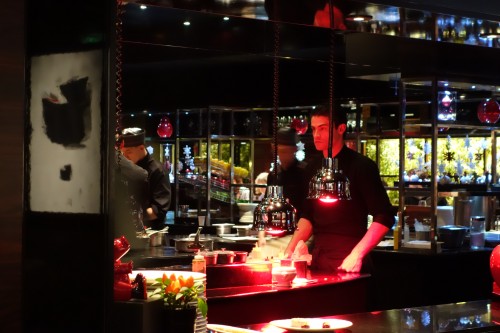 IN OTHER WORDS
Critique gastronomique (2012) "Le(s) plus : Je ne connais pas de restaurant deux étoiles proposant un tel rapport qualité prix y compris les samedis et dimanches. Le(s) moins : L'absence de lumière du jour et les couleurs sombres ; les plats du menu sont très classiques aussi."
Patricia Wells (2011) "The bright red and black space is already full of glittery Las Vegas-style drama. But the real scene is what's on the plate and what happens to your palate with each pleasurable bite… [a] specialty not to be ignored is the penetrating bite of smooth and pungent foie gras set in a dense port jelly, topped with a soothing Parmesan cream. Mouthfilling, intense, unforgettable.."
Simon Says (2010) "… on retrouvera la percussion de la Rive Gauche avec sans doute une gentille différence de clientèle…"