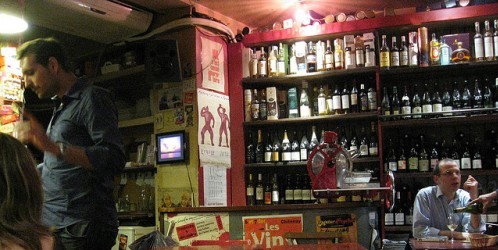 This is no longer included among the favorite 350 addresses that make up Our Guide to Paris Restaurants. We've maintained this page so that you can refer to the practical information and other reviews of interest. Feel free to share your own opinion in the comments.
Practical information
Address: 67 rue de Lancry, 75010
Nearest transport: Jacques Bonsergent (5)
Hours: Open every day
Reservations: Book a few days in advance
Telephone: 01 48 03 17 34
Average price for lunch: 10-19€
Average price for dinner: 20-34€
Style of cuisine: small plates
Website   Facebook
Reviews of interest
Alexander Lobrano (2010) "Aside from the fact that this food was well-cooked, politely inventive and of very good quality, what I liked about it was that it was perfect social food, or pleasant comfort food to serve as a backdrop to good conversation and good wine."
John Talbott (2010) "…it has evolved…heirloom tomatoes with anchovies (inspired)…pate en croute with foie gras and pigeon (again a great choice)"
David Lebovitz (2010) "This tiny wine bar has great food, up by the Canal St Martin, a very hip neighborhood. Generous plates of charcuterie and etc, in this tight little wine bar."
Barbra Austin (2010) "The wall to the back room, a space once devoted to wine storage, has been knocked out and tables have been added. The camper van-sized kitchenette has been expanded into something that actually looks like a place where professionals can work…a friend and I shared a pile of crisp crevettes grises, a paté de grouse and, of course, the boudin noir."
L'Express (2010) "Delphine Zampetti…avant le Verre Volé, elle concoctait une épatante cuisine de ménage qui déménage au Café Caché du 104, mixant les leçons apprises chez Raquel Carena (la chef du Baratin, Paris 20e), ses souvenirs familiaux de cuisine italienne et la Inaki's touch…Et alors, aux fourneaux du Verre Volé ? Elle y va doucement, gentiment, sans trop brusquer les habitudes. Glisse une salade de moules de bouchots aux pois-chiches entre deux choses très Verre Volé.
Meg Zimbeck (2010) "There are two kinds of evenings at Le Verre Volé. The first is composed of dinner, wine and intimate conversation. The dishes are selected from a chalkboard menu that changes with the seasons…The second kind of evening chez Stolen Glass ends with chairs on pushed-back tables and some manner of debauchery."
Figaroscope (2008) "…Cette adresse n'a jamais volé sa réputation et pourrait aujourd'hui toujours donner des leçons à de nombreuses caves ouvertes depuis, à Paris, autour de ce même concept…Une sélection de vins particulièrement sûre proposée avec un droit de bouchon de 7 €…et des assiettes qui font la part belle au cochon sous toutes ses formes…"
David Lebovitz (2005) "…One could also make up a meal composed of lots of the appetizers, like the roasted eggplant caviar, salt cod-stuffed peppers, or platters of various meats and cheeses…I'll see you there."