Shopping for Champagne fills me with embarrassment.
Every year, I promise myself I'll swear off the stuff. There are, after all, dozens of other sparkling wine types available in Paris, all arguably better bargains than the world's most famous wine. For along with Champagne's uniquely chiseled acidity and grace, we pay for the fame, the name Champagne. And to find a broad selection of what I'd call serious Champagne – upper-tier cuvées from independent grower-producers, rather than the predictable, cola-like entry-level bottles of the big houses – I'm often obliged to patronise the Paris wine shops I otherwise avoid.
I mean Paris' ancient, famous, entrenched wine retailers, the ones that have the liquidity and the space to stock pallets of costly Champagne. These are, not coincidentally, wine shops that maintain a large and well-heeled customer base, against whom new clients are often measured and found wanting, especially during the busy holiday season. There you are, trying to drop what is, for you, some serious cash, and you're stuck with a junior clerk, or abandoned entirely. It can be an alienating experience. At worst, you feel like the anti-hero of Hungarian writer Laszlo Krasznahorkai's 1985 novel Satantango: a collaborator with a corrupt regime whose most galling insult, finally, is to make clear that it does not need your collaboration. At best, I merely ask myself: why was this luxury purchase no fun?
The good news is, it doesn't have to be this way. Paris contains a handful of genuine Champagne havens – independent wine shops who offer both a broad selection of the best domaines and a warm, personalised shopping experience. I find the latter is just the thing to take the sting out of the cost of the former.
Paris' Champagne Havens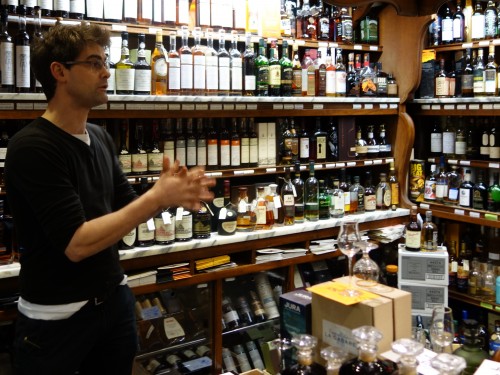 Address: 54 rue du Faubourg Saint-Denis, 75010

The energetic and unfailingly good-natured Nicolas Julhès is at the helm of this 10ème arrondissement épiciere-fromagerie-boulangerie-caviste mini-empire, which offers, in addition to fresh bread, ripened cheese, and a staggering array of fine spirits, one of Paris' deepest, least dogmatic Champagne selections. The prestige cuvées of major houses are stocked beside the cult-favorite underdogs. It's well worth chatting with staff before choosing, as only a fraction of Julhès' stock is on display at any given time. Certain cuvées, like Mumm's prestige bottling "Cuvée R. Lalou," are put on sale only after 5 years' bottle age in the shops cellars. Delivery within Paris is available.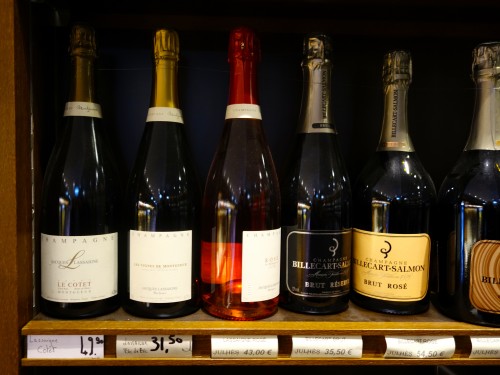 New Year's Eve Pick: Domaine Jacques Lassaigne – "Les Vignes de Montegueux" NV for 31.50€ (second bottle from left)
Emmanuel Lassaigne's entry-level bottling is a blanc de blancs (i.e. 100% Chardonnay) from the town of Montgueux in the Aube. He uses no sulfur treatment in his chalk-soiled vines, and none during vinification, and adds no dosage after disgorgement. He favors long, cool, slow fermentation. The result is a piercing, pure-fruited and vividly mineral Champagne, as delicious with a meal as by itself. There is no better bargain in the world of Champagne – but it doesn't taste like one.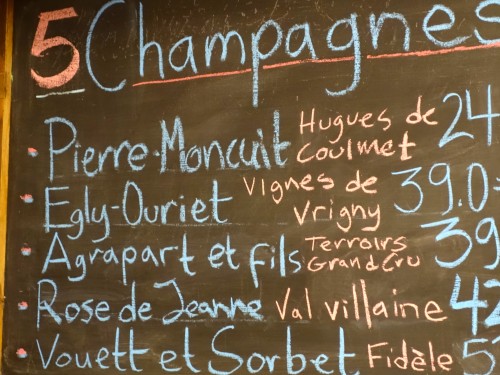 Address: 6 rue Bourbon le Chateau, 75006
La Dernière Goutte owner Juan Sanchez has over twenty years' experience in the Paris wine scene, and his wine shop remains a model of good taste and good business. Good taste: the overall selection is an unimpeachable balance between classic domaines and the natural wine vanguard, and the Champagne selection in particular is a veritable index of small-production, terroir-driven producers. Good business: La Dernière Goute delivers, ships overseas, and its bilingual staff are never less than helpful and well-informed.
New Year's Eve Pick: Egly-Ouriet – Brut Tradition Grand Cru NV for 49.50€ (bottle on far left)
Egly-Ouriet's Ambonnay wines are, for many drinkers, the reference for elegance in Champagne. The sinuousness and refinement of their bubble structures recalls the hood of a Porsche. The Brut Tradition Grand Cru, from 75% Pinot Noir and 25% Chardonnay, is critic-proof : an impeccably crafted wine, reliably flawless, like a Beyoncé album.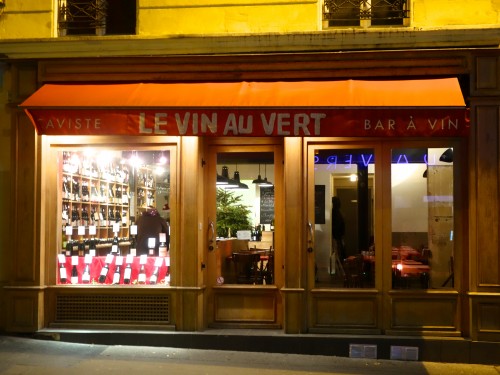 Address: 70 rue de Dunkerque, 75009
Etienne Lucan and Sébastien Obert's tiny cave-à-manger near Barbès-Rochechouart is perhaps the last place one might look for a serious Champagne selection. The place is low-key to the point of invisibility, and the rest of its wine selection is tactfully geared towards the modest means of the surrounding neighborhood. If Lucan and Obert nonetheless stock a superb selection of Champagne's vanguard grower-producers, it's clearly a labor of love.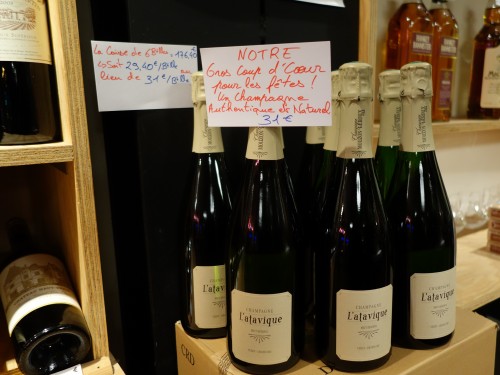 New Year's Eve Pick: Champagne Mouzon-Leroux – Grand Cru Brut Réserve "L'Atavique" (31€)
Sébastien Obert is justifiably proud to have snagged exclusivity in Paris for the début "natural" cuvées of Champagne Mouzon-Leroux, a 10h Verzy estate who in 2008 began the process of converting to biodynamic viticulture. "L'Atavique" is 60% Pinot Noir, 40% Chardonnay, with focused cinnamon-toast aromas and a remarkably red-fruited palate.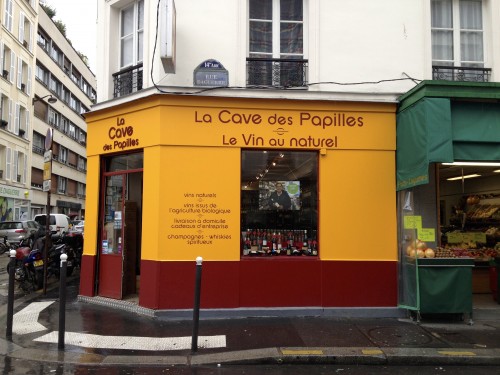 Address: 35 rue Daguerre, 75014
Gerard Katz, Florian Aubertin, and Aurélian Brugnau's cave in the 14ème contains the crème de la crème of France's natural wine movement, Champagne included. Practically the entire ranges of such luminaries as Georges Lavalle and Emmanual Lassaigne are represented, along with the reliable standbys like Champagne Drappier's undosed, sulfur-free blanc de noirs cuvée.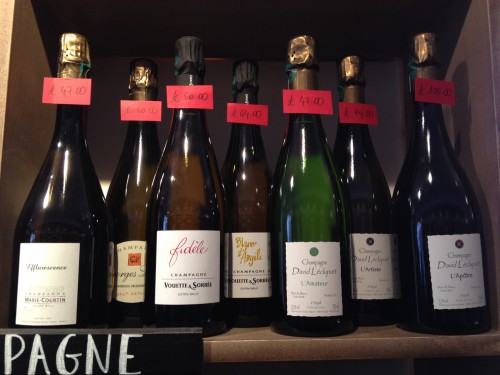 New Year's Eve Pick: Vouette et Sorbée – Champagne Extra Brut "Fidèle" NV for 50€ (third bottle from left)
Vouette et Sorbée is the project of vigneron Bertrand Gautherot, himself a former protogé of Champagne legend Anselme Selosse. Vouette and Sorbée are names of two of Gautherot's vineyards, which have been cultivated accordingly to biodynamic principles as far back as 1998. "Fidèle" is a challenging, forthrightly wine-like blanc de noirs that comes almost entirely from a single vintage (La Cave des Papilles presently stock the 2009).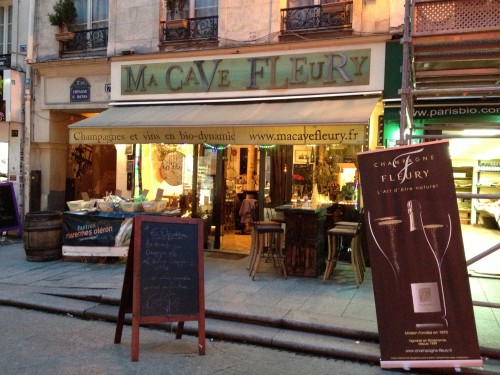 Address: 177 impasse Saint-Denis, 75002
Morgane Fleury's soulful, welcoming wine bar near Reaumur-Sébastopol offers her family's entire range of biodynamic Champagnes. Quality is not 100% consistent across the board, but almost all cuvées are open and available to taste. And better yet, many are available in large formats and at kind prices – a benefit of getting Champagne directly from the family who makes it. Delivery is available (often by Morgane herself, on her scooter).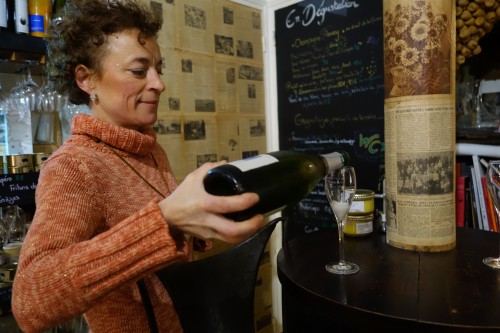 New Year's Eve Pick: Champagne Fleury – "Fleur de l'Europe Brut Nature" NV for 28€
An un-dosed version of Fleury's Pinot Noir-dominated selection-level blend: a richly satisfying, almost grapey Champagne, unrefined in all the best senses.
Other Notable Addresses for Champagne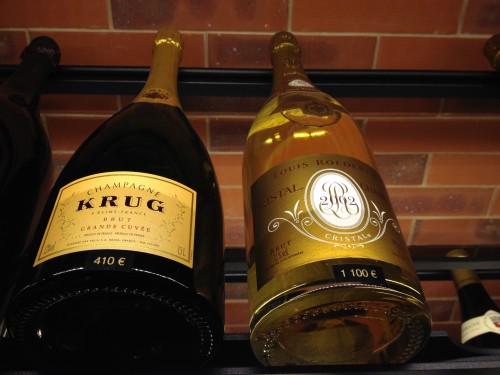 Address: 199 rue du Faubourg Saint-Honoré, 75008
The fact that Les Caves Taillevent maintains, down the street from its main location, a separate wine showroom dedicated solely to corporate purchases should immediately tell a reader where the company's priorities lie, and where he or she might fit in. A recent visit to this far-flung stretch of rue Faubourg Saint-Honoré felt like a scene from the afterlife in Bill & Ted's Bogus Journey: a ghost town in greyscale. But Taillevent's youthful staff are helpful, and at least now I know where to source my vintage Krug and Cristal.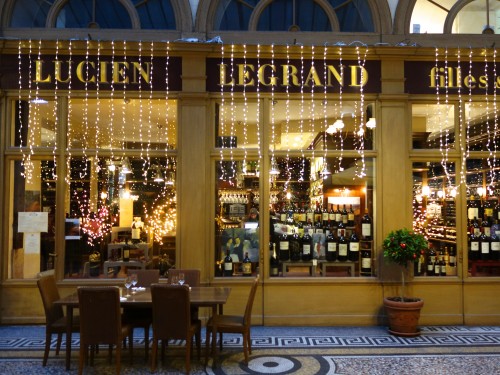 Address: 1 rue de la Banque, 75002
The historic Caves Legrand has a broad range of Champagne encompassing everything from major houses like Pol Roger and Deutz to cult artisans like Anselme Selosse . But, significantly, they stock far more top-tier crus than entry-level cuvées; Champagnes over 50€ far outnumber those under. A good place for finding a generous gift bottle. They offer Paris delivery and overseas shipping, and they deserve credit for having retained much of the shop's early-19th century grandeur.
Paris' Champagne Havens