Restaurant A.T. is the project of Japanese chef Atsushi Tanaka, who serves a technicolor tasting menu in a minimalist dining room. My first visit in 2015 prompted disdain. The dishes seemed to be designed for the early days of Instagram, and didn't have much depth beyond their pretty looks. Two different tables at dinner contained foreigners watching movies on their iPads. Whatever this place was, I wanted no part of it.
Still, I gave A.T. another shot, returning for lunch in early 2020. I apologized to my guest in advance, warning him that this might be terrible. We giggled when every course exceeded our low expectations. The dishes were still beautiful with wonderfully creative presentations, but they also tasted good. It may have helped that we visited at lunch, when the multi-course tasting menu for 65 euros was a genuine steal. Prices have since risen (85€ at lunch, 150€ at dinner in 2022) but I would definitely return. It's a good option for a wildly modern tasting menu in Paris.
moderate tasting menu, in the Latin Quarter, open Saturday
4, rue du Cardinal Lemoine, 75005
Open Tuesday-Saturday for lunch & dinner
Closed Sunday & Monday
Reservations online or at +33 1 56 81 94 08
OUR PHOTOS OF RESTAURANT A.T.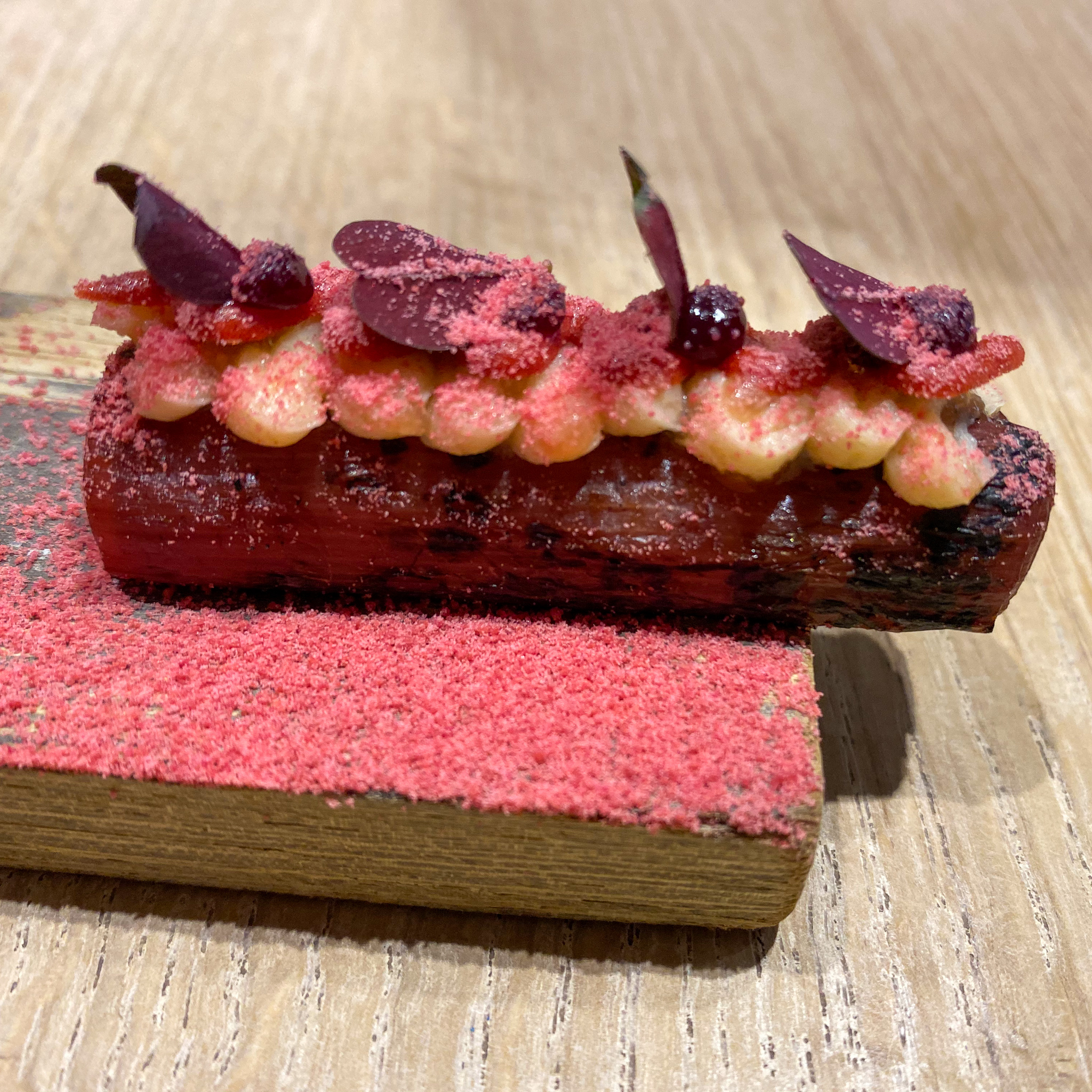 IN OTHER WORDS
Le Fooding (2018) finds, within "this minimalist temple that feels a bit like a contemporary art gallery," the plates of "the French champion of cuisine d'auteur." For this reviewer, "this great Japanese master of abstraction won us over."
Simon Says (2015) "Très sérieux et pas mauvais du tout."
Not Drinking Poison in Paris (2015) "… with his "wine-selector" Lulie Kaori Tanaka, he has embraced natural wine wholeheartedly, breaking ground not just for his otherwise arch-conservative restaurant style but also for his neighborhood."
Atabula (2014) "Ce que prépare AT est bon. Un repas chez lui est agréable bien que sans intérêt. Il n'y a aucune histoire, aucun héritage ni aucune vision dans les plats proposés. Le menu est un empilement d'assiettes, sérieuses et appliquées, garanties techno-émotionnelles, prêtes à figurer dans le prochain numéro d'el cuaderno Apicius. On ressort d'AT avec un étrange sentiment d'inutilité."
John Talbott (2014) "Another blow-out experience… we had chichard (a mackerel-like fish) in a cherry-tomato gaspacho with dribs of avocado; some foccacio (much better than it was last time) with olive oil from Seville; and lieu jaune (pollack) with pdt puree and safran – with another slightly more assertive Alsatian wine."
Le Fooding (2014) "Atsushi Tanaka, of the Pierre Gaganaire school, 34 years old, gets his kicks from reprogramming French gastronomy… definitely one of the most creative tables of 2014."
Le Figaro (2014) "…imposant l'hypercréatif en même temps que le menu unique, l'addition cinglante et le décor ascétique… pas facile de suivre sauf à verser dans la pédanterie car il arrive que, sous couleur de cérébral, sous couvert d'esthétique, la cuisine n'échappe pas au maniérisme… un chef nippon de plus."
Photo via Restaurant AT's website