Address: 53, rue du Cherche-Midi, 75006
Hours: Open Monday-Friday 8:30am – 5:30pm, Saturday 9am – 6pm. Closed Sunday.
Telephone: +33 1 42 58 87 82
Website / Instagram
Left Bank residents now have their very own outpost of Ten Belles. The new storefront of the beloved Canal Saint-Martin coffee shop from Franco-British team Anna Trattles, Alice Quillet, and Anselme Blayney (formerly of Le Bal Café) is located along the foodie stretch of rue du Cherche-Midi, just steps from Poilâne, Patrick Roger, and Sauvage. The small space boasts fantastic light thanks to massive windows along the front wall, as well as the same selection of cakes, morning buns, toasties, and cookies as the original, not to mention the team's now-famous organic bread.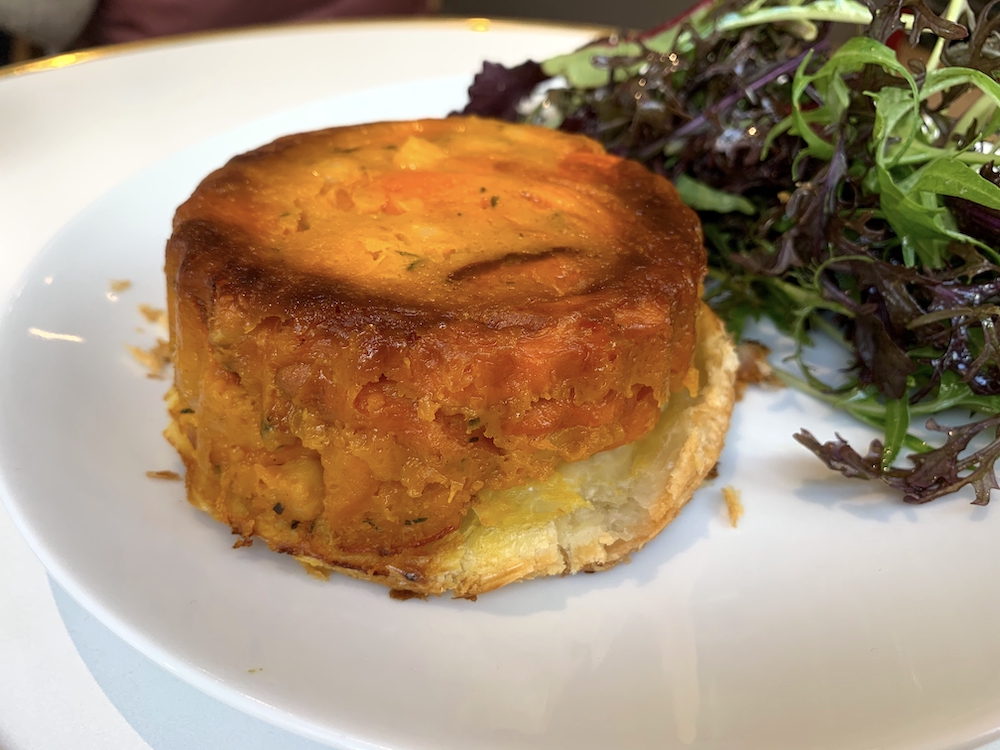 Lunchtime offerings include a quiche or pie of the day; an autumnal, vegetarian pumpkin, carrot, and chickpea iteration boasts just a hint of curry and comes topped with an (unsurprisingly) perfect puff pastry crust. Cakes are tender and moist; old favorites like lemon and carrot are occasionally joined by a seasonal option. Pumpkin cake is spiced to perfection and has a rich, caramelized squash seed topping and a lemon glaze that evokes the very best lebkuchen. Slices are generous, especially for the four euro pricetag.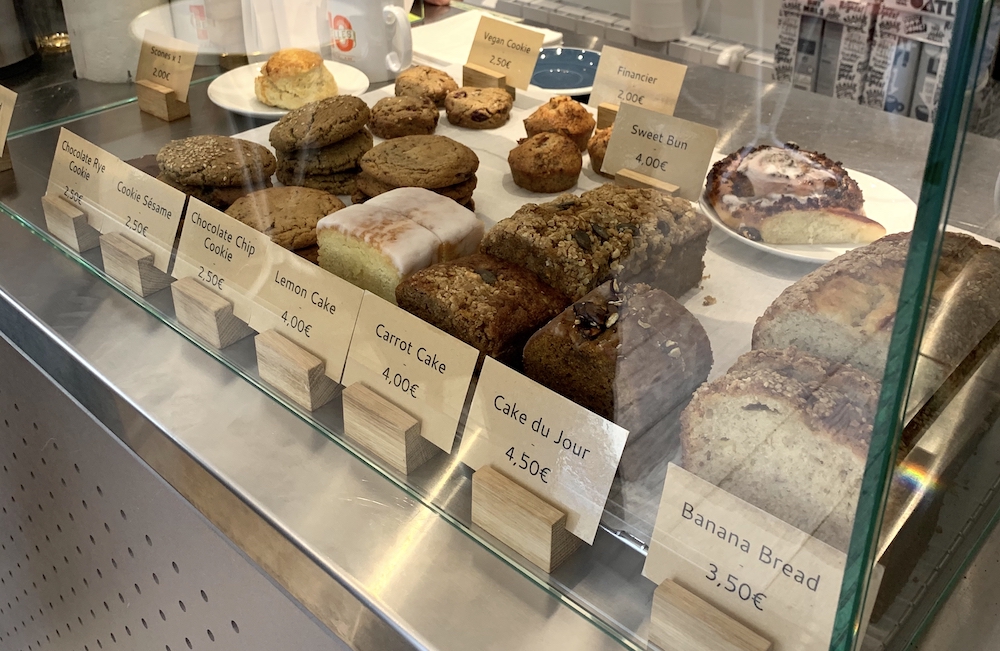 The shop boasts a few plant-based options, from Oatly oat milk in coffee drinks to a daily salad and a vegan cookie. Savory and sweet morning buns, house-made granola, and a regularly rotating seasonal soup and focaccia sandwich round out the offerings.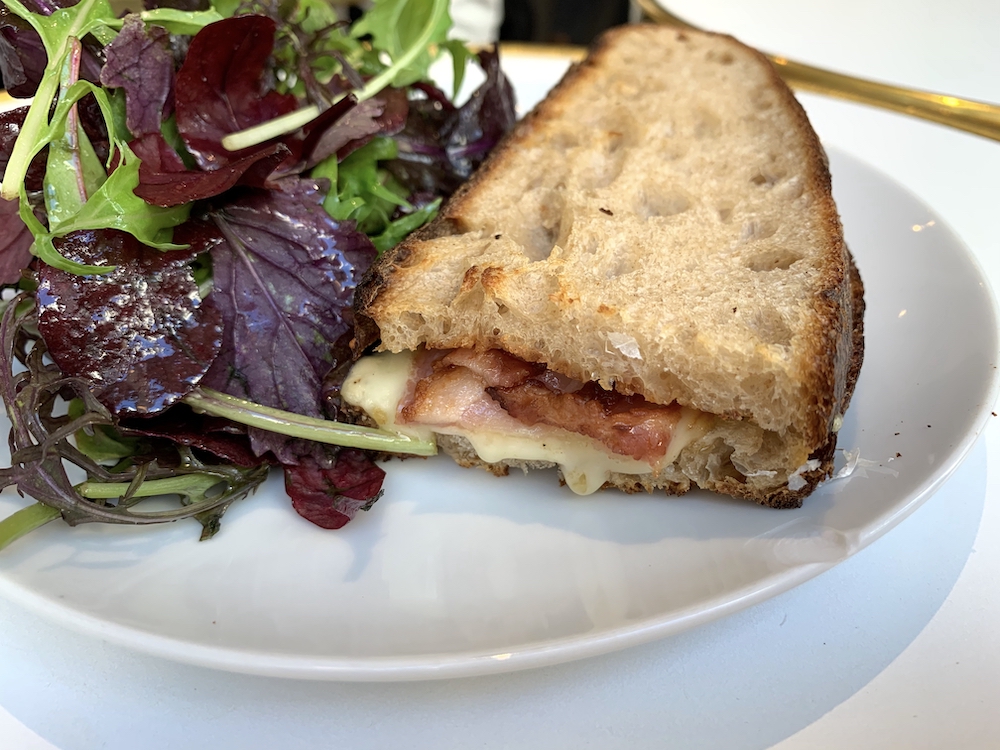 Two cheese toasties on house bread (one bacon, one vegetarian) are served every day as well; the former, made with a slightly sweet brown sauce and rich, nutty cheese is perfection, and half with a side salad is more than enough for a light lunch.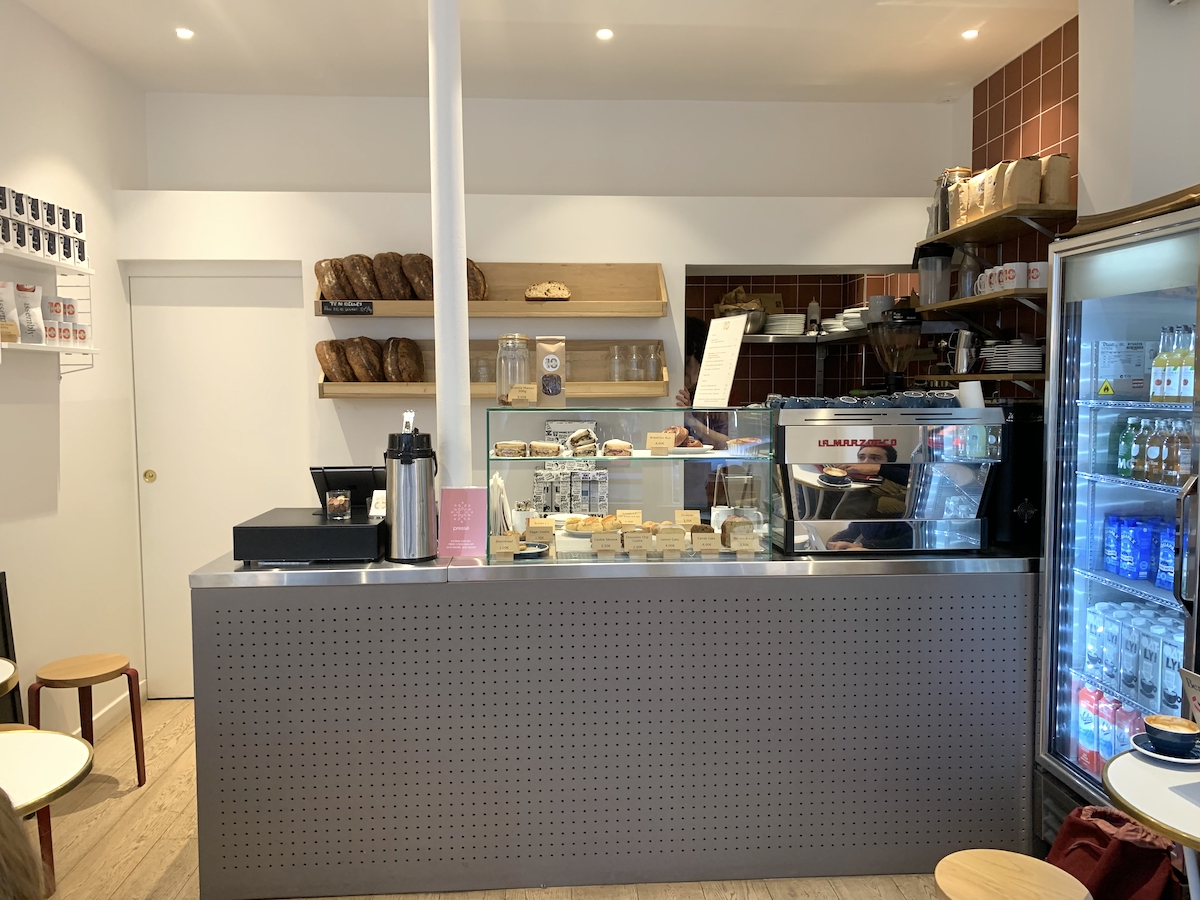 Ten Belles has recently begun roasting its own coffee, and while its former blend from Assembly made one of the best cups of filter coffee in Paris, the new roast lives up to past excellence.
Seating, much like at the original shop, is tight, and somehow, without the nooks and crannies of the mezzanine-boasting Canal location, it's a bit more noticeable on the Left Bank. There is, however, a huge mirror along one wall, which keeps the little space from feeling overly cramped. While the shop does tend to fill up around lunchtime, making lingering awkward between the hours of 12 and 2, it remains a wonderful place to sit and read with a morning scone or late afternoon cookie.
---
Ten Belles in Pictures
In Other Words
Ad Magazine (2019) calls this "pocket-sized coffee shop" "faithful" to its first address (which it erroneously cites as rue Bréguet, the group's second shop).
Vogue (2019) praises the "tasty recipes" and "perfectly-made coffee" at the newest Ten Belles outpost.
Time Out (2019) calls this little shop "an immaculate cool cocoon" and heaps praise on the toastie with ham, cheese, and cream.

---