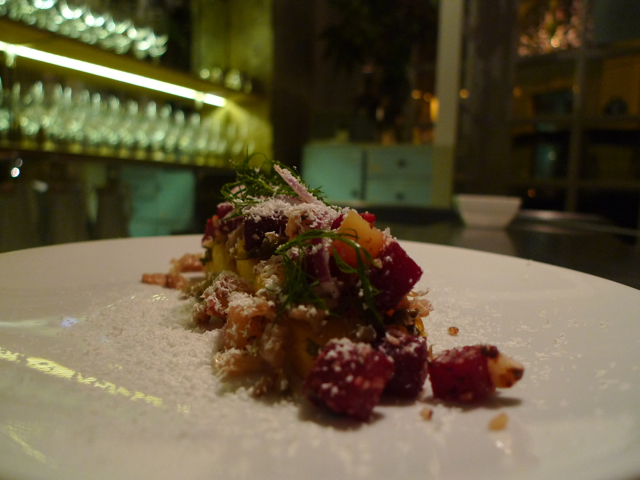 Verjus Bar à Vins – TEMPORARILY CLOSED
This tiny space near the Palais Royal functions functions both as a neighborhood wine bar and as a holding tank for those waiting for their table at the restaurant upstairs. The printed wine list is filled with so many interesting bottles, and the ever-changing chalkboard list has plenty of options by the glass. The food options have changed several times over the years. Their famous fried chicken is no longer available here, having moved over to Ellsworth, but you can still order small plates to nibble with your wine. Options on the menu right now include veal tartare, house-made pork and duck terrine with pistachios, and warm Mont d'Or cheese with pickled mushrooms. Groups of more than two will have a hard time squeezing in, but the intimate space is perfect for an apéro before dinner upstairs or elsewhere in the neighborhood.
Practical information
Address: 47 rue de Montpensier, 75001
Hours: Open Monday-Friday from 6-11pm. Closed Saturday & Sunday.
Website   Facebook
Verjus Bar à Vins in pictures
What people are saying
*The wine bar stopped serving lunch in 2014, so sandwiches mentioned in earlier reviews are no longer available. They still have a long list of small plates available at night. 
David Lebovitz (2013) "There are three sandwiches on the menu at Verjus, each an homage to a different style of cooking. At present, one is pulled pork, another is fried chicken, and the other is very crisp pork belly with hoisin sauce, à la David Chang, which I went back and had the following week. (It's kind of spicy, and probably my favorite."
Aaron Ayscough (2013) "Vastly superior to any fried chicken sandwich I can remember consuming in my lifetime. It's just the fried chicken Perkins serves at the wine bar in the evenings, only in a lovely pliant bun with some slaw. But the chicken itself – the crispy, sculptural, yet moisture-rich quality of fry – is rave-worthy."
Lindsey Tramuta (2013) "Mid-market lunch joints should take a cue from the Verjus crew who recently began offering lunch in their downstairs wine bar. The menu currently features three US-inspired sandwiches and can be ordered alone or as part of a full meal which comes with a dessert and a drink…Days after trying my first Bakesale Betty – buttermilk fried chicken, homemade buns, cabbage slaw with shallots and parsley, and a mustard vinaigrette – and I'm still thinking about it."
Alexander Lobrano (2012) "This place was warm, cozy and friendly, and also packed with an outgoing international crowd who were sipping Laura Adrian's excellent wines and snacking on the really delicious small-plates of Braden Perkins… I once again came away from this address with not only an eager desire to return but an ever-deepening admiration for Perkins's intricate culinary wit."
David Lebovitz (2011) "The regular choices change daily as well, but if Braden were to take the Poulet frit au lait ribot, salade de chou et jalapeno off the menu, crisp-fried chicken with a spicy cabbage salad, there would be a revolution… And I'm a big fan of their French fries, which are cooked from fresh-cut potatoes and served absolutely crisp, with a side of house made ketchup and spiked with togarashi."