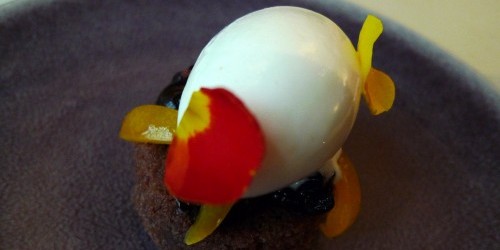 Universally praised Franco-Chinois fare from Adeline Grattard, and all but impossible to book. The restaurant moved to a new location at 121, rue Saint Honoré, 75001 in June 2015 and converted their old space at 4, rue Sauval into a tea salon and to-go window selling delicious steamed buns (bao).
Address: 121, rue Saint Honoré, 75001
Hours: Open Wednesday-Saturday for lunch & dinner. Closed Sunday, Monday & Tuesday.
Telephone: +33 1 40 26 08 07
Website / Instagram
COVID-19 UPDATE:
Following the easing of lockdown, Yam'Tcha is currently offering meals to take away or to eat in at Lai'Tcha (7, rue du Jour), its second restaurant open Thursday-Saturday noon-6pm (until 10pm for takeaway) and Sunday noon-8pm. It is also offering a menu called Dîners d'Adeline Thursday-Saturday at 7:30pm or 9pm. Reserve online or via email (reservation@yamtcha.com). It has a few tables outside.

---
Yam'Tcha in Pictures
---
In Other Words
Have you been? Leave your own opinion about Yam'Tcha in the comments!
Table à Découvert (2015) "La cuisine d'Adeline Grattard est décidément personnelle, armée de son wok et teintée de nouvelles saveurs, celles d'Asie que la chef connaît, manie et remanie à sa manière à elle. Cette cuisine ne ressemble à aucune autre. Elle arrive, elle n'est jamais là où on l'attend. On se régale, sans mise en scène, sans montage superflu, d'ingrédients cuisinés et présents dans la simple idée de nous faire plaisir. J'ai beaucoup aimé une fois plus et comme je vous le disais, j'ai été séduite par cette ambiance raffinée, avec ses accents d'ailleurs, sa magie."
Note: these reviews are from the restaurant's old location at 4 rue Sauval.
Le Monde (2014) "…l'une des adresses cultes du Paris gourmand contemporain… Sa signature s'est également affirmée dans sa façon de s'approprier des techniques apprises loin de Paris, telles ces volailles cuites à la verticale, comme dans les rôtissoires en argile du céleste empire, ou cette brioche vapeur farcie de stilton et de cerises amarena, devenu l'incontournable étape «fromage» de son «menu découverte»"
Food Intelligence (2012) "La cuisine d'Adeline Grattard percute le palais. Produits de facture irréprochable, caressés et placés au coeur de l'assiette…"
Alexander Lobrano (2011) "Grattard's cooking is deeply personal, gently creative, and unfailingly delicious."
Cuit Cuit (2011) "Paleron-bouillon-foie gras: le but est évidemment d'avoir un peu des trois dans chaque cuillerée. L'effet, si vous me passez ce jeu de mots particulièrement piteux, est totalement bœuf… Comme si on avait transporté un Rossini en Asie pour l'assaisonner à la sauce street food."
John Talbott (2009) "… very polished and perhaps too flawless…"
Simon Says (2009) "… c'était impeccable."