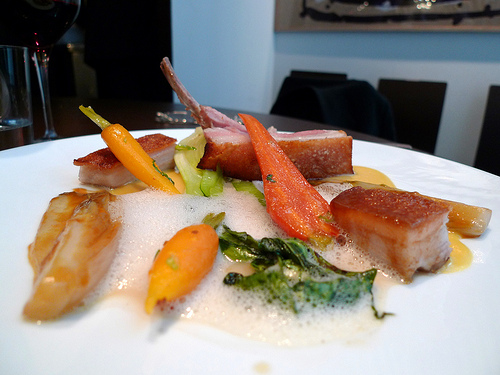 Ze Kitchen Galerie currently holds the #4 ranking in our list of favorite Modern & Creative Restaurants in Paris.
Practical information
Address: 4 rue des Grands Augustins, 75006
Nearest transport: Odéon (4, 10) or St. Michel (4, RER B, C)
Hours: Closed Saturday & Sunday; Open Monday-Friday for lunch and dinner
Reservations: Book a week or two in advance
Telephone: 01 44 32 00 32
Website   Facebook   Book Online
Ze Kitchen Galerie in photos
What people are saying
Have you been? Leave your own opinion about Ze Kitchen Galerie in the comments!
L'Express (2015) "Cinq ans plus tard, et après quelques cinglants gueuletons, non seulement son bouillon de cultures est toujours aussi bouillonnant, mais le chef ne cesse d'affiner ses gammes, d'affûter ses aigus, de rythmer ses percussions, d'élargir ses champs d'exploration, comme sur les agrumes de Michel Bachès avec lesquels il tente des expérimentations éblouissantes… Ze Kitchen est définitivement un de mes restaurants de coeur."
Condé Nast Traveler (2015) "William Ledeuil is at the top of his game here, marrying the best Asian ingredients (Thai basil, papaya) with classic French cuisine."
John Talbott (2014) "If I die tonight, I'll die happy.  With William in the kitchen and Cedric minding the front, what more could one ask for? This place has managed to both get it down pat and keep changing – a wonderful combo."
Les Grands Ducs (2013) "Tout change mais rien ne change: la table de William Ledeuil reste toujours l'une de nos adresses parisiennes préférées."
John Talbott (2011) "Ze Kitchen Galerie keeps on producing, and one enters never knowing what to expect and leaves astonished by the creative mind that keeps on creating dishes… a sea urchin soup with squid, pressed salmon eggs… wrapped minced milk-fed lamb with Thai herbs and ginger… crab and shrimp raviolis with Thai pistou…"