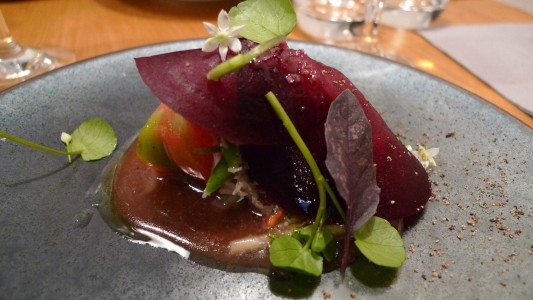 We have never been disappointed by the excellent modern bistronomy at Abri, but the only way that we have been able to go in the last year has been when someone else had a reservation they couldn't use. No, they will not answer their phone. No, there is no secret strategy. Even if you go in person and ask for a reservation, any reservation, at lunch or dinner for any number of people at any time in the future, the answer will be no. So take it off your list, it's not a functional restaurant if you can't ever go.
Address: 92, rue du Faubourg-Poissonnière, 75010
Hours: Open Monday & Saturday for lunch with sandwiches only, and Tuesday-Friday for a 4-course tasting menu at lunch and Tuesday-Saturday for a 6-course tasting menu at dinner. Closed Sunday.
Telephone: +33 1 83 97 00 00 (but they rarely answer the phone)
Facebook
COVID-19 UPDATE
Abri plans to reopen July 1.
Abri in Pictures
---
In Other Words
Le Figaro (2015) "C'était jadis le plan des initiés, que l'on s'échangeait sous le manteau. Pensez donc, un menu dégustation de compétition envoyé par un chef japonais virtuose dans un ancien snack de quelques mètres carrés et pour moins de 40€! Aujourd'hui, il faut un mois pour s'y attabler le soir et les prix ont gonflé. Reste l'à-propos gastronomique absolument intact et une vraie bonne vibration."
Hipsters in Paris (2015) "It's not a good place to take anyone fussy with allergies, as they literally will not tell you what is on the menu until it arrives on your table. But when it arrives it is nothing but pure joy. Whether a poached oyster or perfectly seared venison, the food here is really outstanding."
Sugared & Spiced (2014) "What lured me back this time is its tonkatsu sandwich lunch, available on Saturdays and Mondays only… Tonktasu is breaded, deep-fried pork cutlet, a very popular food in Japan whether served with rice or in a sandwich form. At Abri, the sandwich consists of chopped cabbage, homemade mayonnaise, vegetable omelette, coarse grain Dijon mustard, tonkatsu, sweet and sour pork sauce, Mimolette cheese, all sandwiched by two pieces of toasts."
Alexander Lobrano (2012) "This [dessert] was easily the best happy ending I've enjoyed all year, in fact, and it underlined the 360 degree excellence of this miniature kitchen and its remarkably self-exigent high-performance staff. This inflection of charm, excellence and affordability won't last long, so go now."
John Talbott (2012) "The 5 Japanese young-folks who cook and serve here have grabbed a tiger by the tail; today they turned away at least 10 people at lunch who didn't have reservations and it's only going to get worse, so book early."
Le Fooding (2012) "Le chef japonais Katsuaki Okiyama (Robuchon, Taillevent et l'Agapé Bistrot, tout de même), vient d'inventer, dans une cantinette en longueur du haut du faubourg Poissonnière, un genre nouveau: la restaurandwicherie gastronomique… Qui sert tantôt le sus-décrit méga-sandwich les lundi et samedi de 10h à 17h, tantôt des menus dégustation quatre plats (au déjeuner pour 22€) ou six plats (au diner pour 38,50€)."