Having already taken on the unprecedented challenge of publishing (and thereby endorsing) a detailed guide to Paris' best Beaujolais Nouveau parties, the editorial team decided to put its money where its Mouth is and attend as many as possible in one night.
Meg Zimbeck called it "the Beaujolais Death March": a tipsy trek from the 14ème to the 11ème. Along the way we met winemakers, shared bottles with strangers, used car roofs as bars, and, completely by accident, obtained actor Willem Dafoe's opinion on Beaujolais Nouveau ("I prefer full-bodied reds," he said, before ducking into an anonymous café in an unsuccessful bid to avoid paparazzi).
Most importantly, we tasted as much quality Beaujo Nouveau as possible along the way.
We made it to ten parties in total before inevitably factioning off, some of us in search of grander wines, others warm beds, and still others – well, just this author – a final round and some oysters at Aux Tonneaux des Halles at 3AM.
What follows is a by-no-means complete, but I hope basically competent assessment of the natural Beaujolais Nouveau of 2013: the parties, the people, the wines.
The Itinerary
Thursday November 21
12:30pm Caves Augé – A tasting of vin primeurs from around France. Chatted briefly with Jean Foillard about the vintage. Winemakers were bottling wine from barrels brought for the occasion.
Wine tasted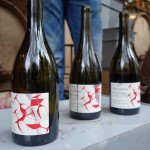 Jean Foillard – Beaujolais Nouveau 2013. Foillard's Beaujolais Nouveau is sourced from vines in Courcelles located just 200m from the limits of the Morgon appellation. So it's debatable whether the impressively mineral, darkfruited, briary qualities of the 2013 Nouveau derive from some unclassified cru terroir, or rather just from Foillard's impeccable house style. His unsulfured and unfiltered Nouveau tastes as structured as many of his peers' normal, non-nouveau Beaujolais. Foillard deems 2013 an "almost normal year," though the viticultural calendar was delayed by a cool, humid spring.
6:30pm La Cave des Papilles – This wine shop held a tasting of vins primeurs from around France. But it was terribly organised, so we didn't stay long. There was just nowhere near enough space in the wine shop itself, and no other shelter from the light rain outside, except for a small tent over the jazz band, who at that hour were honking desultorily to an audience of one cameraman.
Wine tasted
Nicolas Testard – Beaujolais-Villages Primeur "Le Lapin " 2013. Testard is an up-and-comer of the Beaujolais new-wave, having begun his practicing-organic domaine in just 2008. He typically uses no filtration or sulfur at bottling. I nonetheless tend to find his non-nouveau wines a bit mild and reserved – which is why his primeur's ebullient, lively red fruit this year comes as a pleasant surprise. It's like returning to Elliott Smith's early fist-pumping Heatmiser recordings after an afternoon spent snoozing to Figure 8. 
 7:00pm La Quincave – A splendid party. La Quincave had pushed their tables to the side and offered wines exclusively by the bottle that evening, with the result that all attendees mingled and shared wines freely. I interviewed young winemaker Kevin Descombes.
Wines tasted
Damien Coquelet – Beaujolais Nouveau 2013. Damien Coquelet is natural winemaker George Descombes' 26-year-old step-son. I had to bum a glass from Café de la Nouvelle Mairie founder Bernard Pontonnier, because even early in the evening, La Quincave had run out of Coquelet's primeur. Inasmuch as a Beaujolais Nouveau can be intellectual, Coquelet's 2013 is: it's pointed acidity is perceptible on the nose, and the wine overall is leaner and greener than its peers, though not in a bad way. It made for a refreshing savoury counterpoint to the wine's pure pale fruit.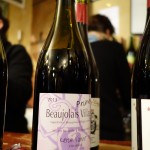 Karim Vionnet – Beaujolais-Villages Primeur 2013. Vionnet is a half-Algerian former baker who cut his teeth with Beaujolais legend Guy Breton before founding his own domaine in 2006. His 2013 primeur is at once honest and imprecise, like a conversation with a good friend who is drunk. There's a smudge of dirt amid the red fruit and violets, and perhaps a bit less acid than I would have liked. Grapes for Vionnet's nouveau production come straight out of those allotted for his Beaujolais-Villages; this year, he made very little nouveau in order to satisfy demand for the latter wine.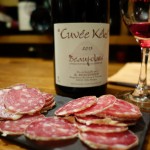 Kevin Descombes – Beaujolais Nouveau "Cuvée Kéké" 2013. Kevin is natural Beaujolais winemaker Georges Descombes' 21-year-old son, who made his first wines under his own name this year from a combination of rented vines and new vineyard holdings. The 1h20ares of the latter that yield the "Cuvée Kéké" are situated on sandy soil in the commune of Courcelles. Atypically for Beaujolais Nouveau, the wine saw 15 days' fermentation : it's relatively weighty, lacquered profile has more in common with solid Beaujolais normale than a vin primeur. Only it's 11.5% alcohol and its glimmeringly fresh fruit betray its youth. In short, a marvelous début, and for many of us, the wine of the night.
Jean-Claude Lapalu – Beaujolais-Villages Nouveau 2013. Jean-Claude Lapalu takes the unusual step of most of his non-nouveau production in Bordeaux bottles, rather than the Burgundy shape preferred by most in the region. The character of Lapalu's overall oeuvre – sturdy, muscular wines that, like Bordeaux, can occasionally lack aerial grace – gives one to think the decision is significant. So here I'll note that his 2013 Beaujolais Nouveau plays completely against type: it's in a Burgundy bottle, and it's a bit diffuse and wishy-washy, turbid in the glass with a fruit-mousse nose. Perfectly pleasant, but won't change hearts and minds accustomed to being underwhelmed by Beaujolais Nouveau.
8:30pm Café de la Nouvelle Mairie – By this time we were famished. We sat away from the band in the dining room, where we devoured daube de boeuf beside importer turned winemaker François Ecot and Tavel winemaker Nadia Charmasson. Outside we ran into Vezelay winemaker Catherine Montanet and her Paris agent Sylvie Chameroy, as well as Paris coffee maven Hyppolite Courty and a former owner of Café de la Nouvelle Mairie, winemaker Nicolas Carmarans.
Wine tasted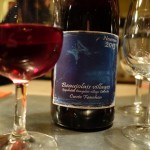 Guy Breton – Beaujolais-Villages Nouveau "Cuvée Fanchon" 2013. I envy the Japanese. They seem to get a way bigger allotment than Paris of natural Beaujolais legend Guy Breton's masterful "Cuvée Fanchon." Crisp, pure, and limpid, with an acid structure as intricate as the interior of a Swiss watch, the wine's ringing red fruit was followed, on the finish, by a wholly pleasant dab of bubblegum. In the context, it felt lovingly ironic, like James Murphy's mid-2000's affection for cowbell percussion.
10:00pm Les Pipos – None of us had any burning desire to go to Les Pipos' party, as we anticipated (rightly) that it would be full of tourists. But it was right around the corner, and on the way to our next destination, and I knew we could rely on finding winemaker Georges Descombes' primeur there. We splashed down a bottle and toasted the guitar player and moved on.
Wine tasted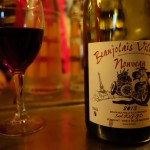 Georges Descombes – Beaujolais-Villages Nouveau 2013. Natural Beaujolais patriarch Georges Descombes' 2013 nouveau is, oddly, not as precise on the palate as his son Kevin's. It's long, rounded dark fruit seemed a touch overripe on the finish. But like the "Cuvée Kéké," it's dark, extracted style could pass for non-nouveau in a heartbeat. The wines are a bit like when recording artists release, as bonus tracks, demo versions barely distinguishable from album tracks.
10:30pm Le Garde Robe – Times have changed since Le Garde Robe threw a rocking block party on rue de l'Arbre Sec in collaboration with the now-shuttered Spring Boutique. Whether due to Paris' majority population of grouch neighbors, or to over-cautious Paris police, this year's event was a shadow of its former self. There was a stand outside for onion soup, but no crowds. We stayed just long enough to greet Sancerre natural winemaker Sebastien Riffault, who happened to be passing through.
10:45pm Aux Tonneaux des Halles – Patrick Fabre's bistrot had transformed into a pirate festival in full swing. Les Barriques Aux Rouges – a pseudonym for a well-known French dixie jazz band – occupied fully half the terrace. None of us wanted to leave, but I knew the party would last a while and was already thinking we could loop back later…
Wines tasted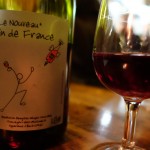 France Gonzalvez – Vin de France "Le Nouveau" 2013. Gonzalvez is a young winemaker based in Blacé, who began by working with natural Beaujolais winemaker Xavier Benier before establishing her own domaine in 2008. Most of her wines, for whatever reason, don't receive AOC approval, and one gets the impression she has largely stopped asking. Her 2013 primeur was admittedly sort of an odd duck: resin notes dominated the nose, and the almost ungainly ripeness of the fruit was followed by a caramel finish. Not unpleasant, but certainly unusual.
11:30pm Ma Cave de Fleury – We just missed the fanfare band at Morgane Fleury's wine bar. So we pounded down a bottle of vin primeur from the Rhône and set about scheduling Uber cars to take us to the next destination.
12:30am Le Repaire de Cartouche – Here, too, we missed the band. In fact owner Rodolphe Paquin seemed in the midst of trying, very half-heartedly, to stop serving. But we ran into Mary-Jo Mimoun of Moroccan natural wine restaurant Le Tagine and influential Rhône winemaker Réné-Jean Dard, so we stayed and consumed another bottle of Guy Breton's primeur. Mimoun shortly disappeared and Dard began speaking in Japanese.
1:30am L'Entrée des Artistes – Owners Edouard Vermynck and Fabien Lombardi for the second year in a row threw the densest, darkest, most insidery natural Beaujolais party. The bouncer deserves special mention for being the only bouncer in history who, when told by those standing outside that they know the owners, actually went in to check with the owners, who promptly let us in. The bar had run out of wine glasses, but we made do, as did Jean Foillard, Mary Jo Mimoun, Loire winemaker Jean-Pierre Robinot, La Buvette's Camille Fourmont, Vivant's David Benichou, Verjus' Laura Adrian, half the staff of Bones and a host of other wine personalities.
Wines tasted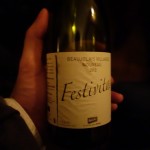 Michel Guignier – Beaujolais-Villages Nouveau "Festivitas" 2013. Every mention of this Michel Guignier – the biodynamic, sulfur-free one based in Vauxrenard – must necessarily be accompanied by the explanation that he is not the other Michel Guignier, the merely organic one based in nearby Villié-Morgon. The former Guignier's primeur, the unfortunately-titled "Festivitas," is commendably representative of his house style: rainwater fresh, with a keen vitamin crunch underpinning the wine's red-fruit tang.
Benoit Camus – Vin de France 2013. Camus is a young winemaker based in Ville sur Jamioux, in the southern end Beaujolais. His 2013 primeur is burly and intense, stylistically far removed from the norm. While I applaud its stolid black fruit and rocky core, I also don't want to drink it as a Beaujolais Nouveau, in a hot sweaty wine bar packed with people listening to funk music at 2AM. Which is of course how we drank it.
2:30am: Aux Tonneaux des Halles – They were still at it. The band had moved inside and were playing a reduced set-up. Owner Patrick Fabre promptly poured me a glass of wine and shared a plate of hairy, mussel-laden oysters. He introduced me to Café de la Nouvelle Mairie founder Bernard Pontonnier; I shared a final found with him and winemaker Georges Descombes before zigzagging happily home on a Vélib.
More
Natural Beaujolaises Nouveau of 2013
Wines tasted on two days following the official release of Beaujolais Nouveau: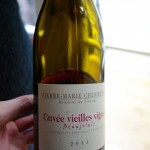 Pierre-Marie Chermette – Beaujolais-Villages Vieilles Vignes "Cuvée Tim" 2013. The story is that Tim Johnston, founder of pioneering Paris wine bar Juveniles, selects a special cuvée of vin nouveau from Pierre-Marie Chermette of Domaine de Vissoux each year. This year, as in other years, a number of Johnston's friends in the Paris wine scene also offered the cuvée. The 2013, while not unpotable by any means, is a bit brackish and joyless in comparison to every other natural Beaujolais Nouveau I tasted.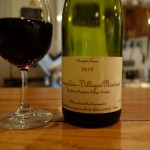 Xavier Bénier – Beaujolais Villages Nouveau 2013. I have the feeling that Xavier Bénier tends to be unfairly classed as a natural Beaujolais also-ran, probably due to his lamentably unfocused and ill-marketed wine labels, any one of which could serve as an acceptable visual theme on its own, but which, when taken in sum, look desperate and nonsensical. Cursive on the Beaujolais Blanc, a modern touch on the cuvée "XB," and a faceless bland beige thing for the Beaujolais-Villages Nouveau, which latter cuvée, I'm pleased to report, is nonetheless terrific: rainfall-fresh, with buoyant dark fruit.
Laurence et Remi Dufaitre – Beaujolais-Villages Nouveau 2013. Laurence et Remi Dufaitre founded their estate on the right bank of the Saône in 2001, and have since become protogés of Jean Foillad and Jean-Claude Lapalu. Their 2013 Beaujolais-Villages is swooningly lovely: a holographically mimetic rose nose, and a marvelously limpid palate of red berry fruit. For me this ties Guy Breton for the best Beaujolais Nouveau of the year.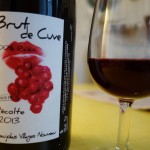 Isabelle et Bruno Perraud – Beaujolais-Villages Nouveau "Brut de Cuve" 2013. Vauxrenard-based winemakers Isabelle and Bruno Perraud's unfiltered, unsulfured "Brut de Cuve" primeur displays a high-toned mountain fruit similar to that of their neighbor Michel Guignier. The Perrauds' is less crisp, and somewhat more lush; what it lacks in agility it recovers in persistence.
Related Posts