More than 100 years ago, a tire company named Michelin began telling people about their best options for eating while motoring around the country. Travelers wanted to know what was worth a detour or a special journey, and that's still the case today. The question I'm most frequently asked by our readers is where to go for a special blow-out meal. You want to celebrate a birthday, an anniversary, a victory. You want to seal a deal, whether business or pleasure. You're willing to drop some cash, but you don't want to feel like a fool.
Until now, I've had a hard time answering this question. I know well the landscape of the city's classic bistros, modern French restaurants, and food-loving wine bars, but this class of two- and three-star tables is a different terrain entirely. There's an obvious barrier to understanding these restaurants: the staggering, outrageous, almost immoral price of a meal. Prior to this project, in which I anonymously tested every three-star restaurant in Paris over a period of twelve weeks, I had only visited a handful.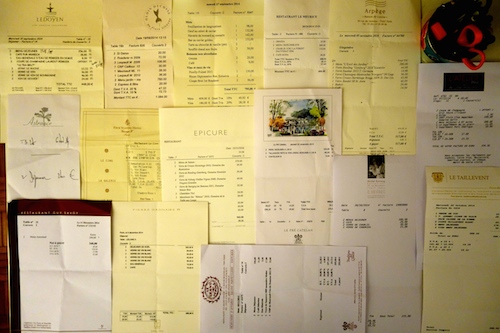 Writers, who earn very little money, rarely have the means to spend several hundred euros on a single meal, much less a repeat visit. Publications are no longer willing to reimburse this expense. With the exception of a small number of independently wealthy bloggers, the overwhelming majority of articles about haute cuisine are based on free meals.
A recent example: when Alain Ducasse reopened his gastronomic restaurant at Le Plaza Athénée (ADPA) this fall, he invited nearly every food writer in Paris to come with a guest and dine for free. This has long been happening at the level of major publications (both French and international), but this sort of full-court press to seduce bloggers is something new. For writers who are struggling to be taken seriously, it's hugely flattering to be asked.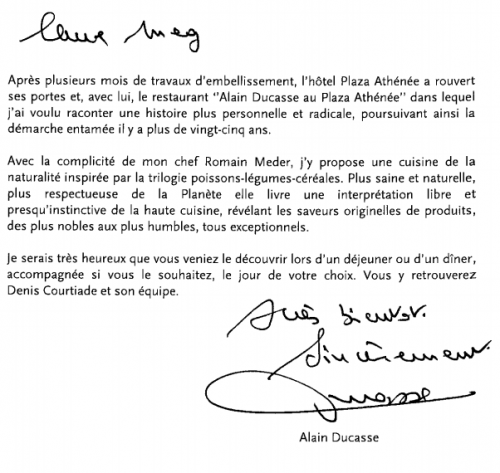 And really, who's going to turn down the opportunity to be hosted in this manner? I don't know anyone who declined the offer. I myself accepted, but only after I had first booked and dined anonymously, paying the entire bill of 1084€ out of pocket. It was the most expensive and by far the worst meal I experienced during this project. The free meal, which I returned for three weeks later, wasn't much better.
Unsurprisingly, nearly all of the published press about ADPA has been positive. Some critics have opted to remain silent about their negative experiences as a friendly gesture to the hand that feeds them (and in some cases lodges them). This is a problem because it doesn't help our readers decide where to spend their money.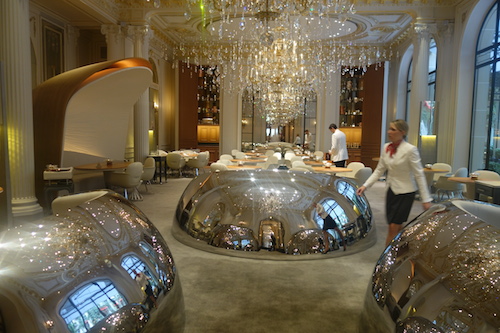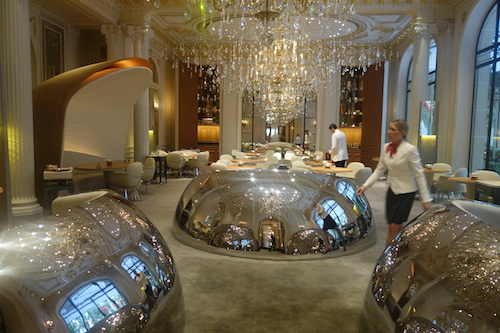 I don't say this to disparage writers who accept free meals. The publications we work for are no longer paying for these experiences. We're supposed to know something about a tier of restaurants that the rest of the world holds up to be the pinnacle of haute cuisine, but we can't afford to go on our own dime.
Out of this frustration and inability to confidently advise our readers, I decided to put our dimes – the profits from our Paris food tours – toward a serious study of haute cuisine in Paris.
In a single season (September-December) I visited sixteen of the top restaurants in Paris, including all nine that hold three Michelin stars, six that hold two Michelin stars, and one (ADPA) that previously held three stars but lost them when they closed for renovations.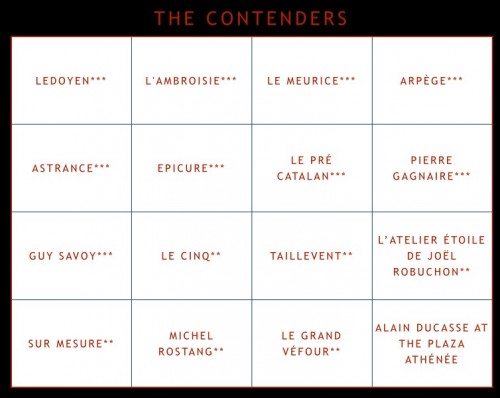 For each visit, I booked and dined anonymously under a false name. I brought a different guest each time and, for the sake of comparison, we always ordered the lunchtime tasting menu if one was available. We did not skimp on wine, water or coffee. There were no allergies or other dietary considerations to worry about.
In total, we spent a whopping €7150 on this experiment. I tasted more than 200 individual compositions during more than 65 hours at the table.
Prices for the lunch menu varied dramatically. At 380€ per person, the most expensive restaurant Alain Ducasse at the Plaza Athénée was more than five times the price of Astrance, the least expensive one. The number of dishes per meal (including amuses and mignardises) also varied widely from a modest 8 tastes at L'Ambroisie to 29 different offerings at Pierre Gagnaire.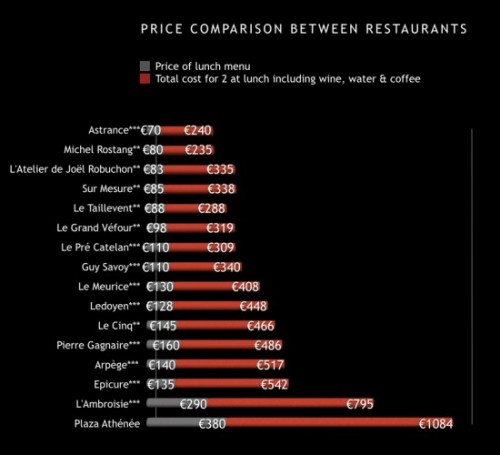 From a more qualitative perspective, these restaurants, which are usually treated as one uniform category because of their Michelin starred status, display radically diverse approaches to cooking and to the overall dining experience. What's more, the settings are completely different. One is housed in in a glittering palace, and another more closely resembles a conference center.
Over the next few days, in anticipation of Michelin's newest rankings for France (to be released on February 1st), we'll be publishing a series of articles about the following:
Which of these is best right now (for you)? If you're going to spend the money, which of these is most likely to deliver?
What are the most exciting dishes being served in these restaurants right now?
Is this really where the action is? Do these Michelin stars represent what's most interesting in Paris dining right now?
Of course, the opinion of one writer is never the full story. We trust you'll share your own experiences and notes about dazzling and disastrous meals in the comments.