Brazilian steakhouse Brutos occupies a caviar piece of real estate in one of the chicest sectors of Paris' rapidly gentrifying 11th arrondissement. Owners Ninon Lecomte and chef Lucas Baur de Campos have created a gleaming, ultra-contemporary South American dining experience with a level of skill and vision that exceeds just about any restaurant purveying non-French cuisine in the City of Light.
5, rue du Général Renault, 75011 Paris
Open Wednesday-Saturday for dinner. Open Sunday for lunch & dinner. Closed Monday & Tuesday.
Reservations online or at +33 1 48 06 98 97
---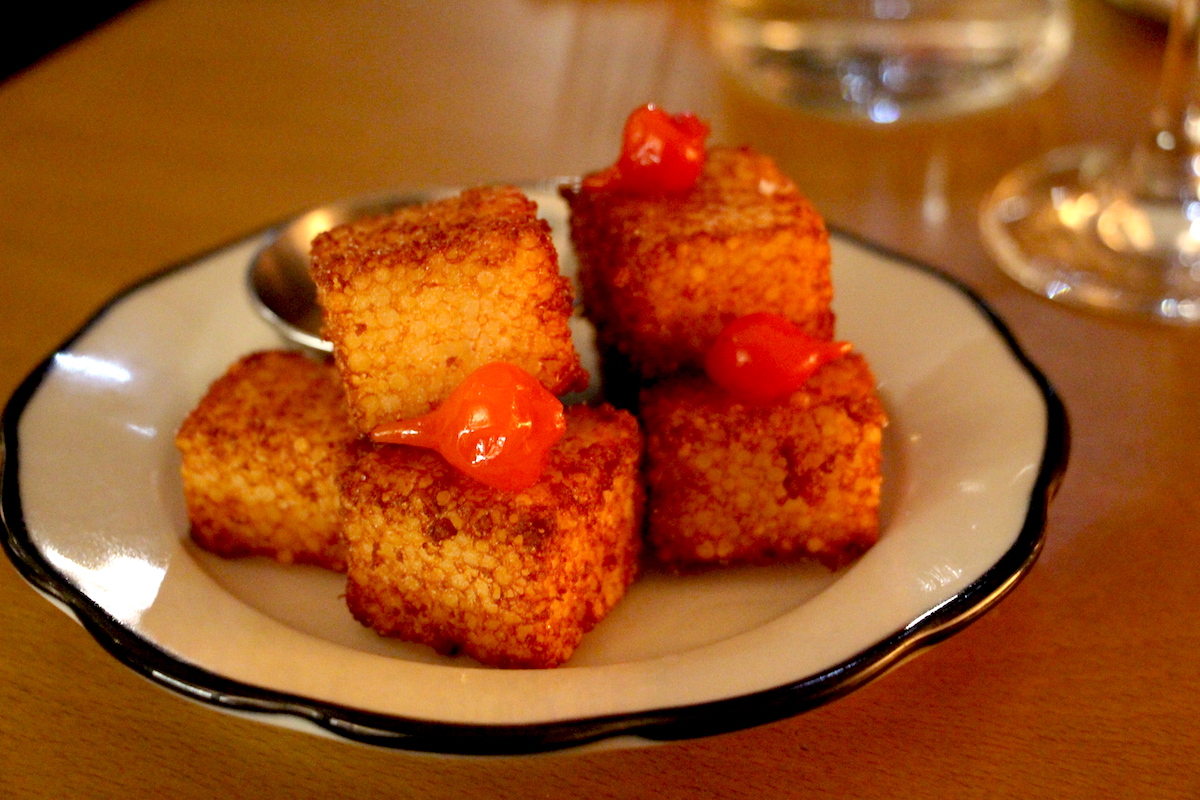 The dining space is low-lit and roomy, with a long communal table and a quartet of bar seats in the back, by the grill. Steaks may be the order of the day at Brutos, but Baur de Campos' kitchen also shows true verve in appetizers. Fried tapioca cubes with tiny red peppers and sweetly piquant guava sauce comprise a plate that evokes Pop Art and tastes even better than it looks. Fried gnocchi in a cream sauce boast a garlic flavor burst of an intensity rarely encountered outside of Szechuan cuisine. A daringly ugly salad of roast carrot and bergamot is a sweet-and-sour masterpiece of wintry comfort.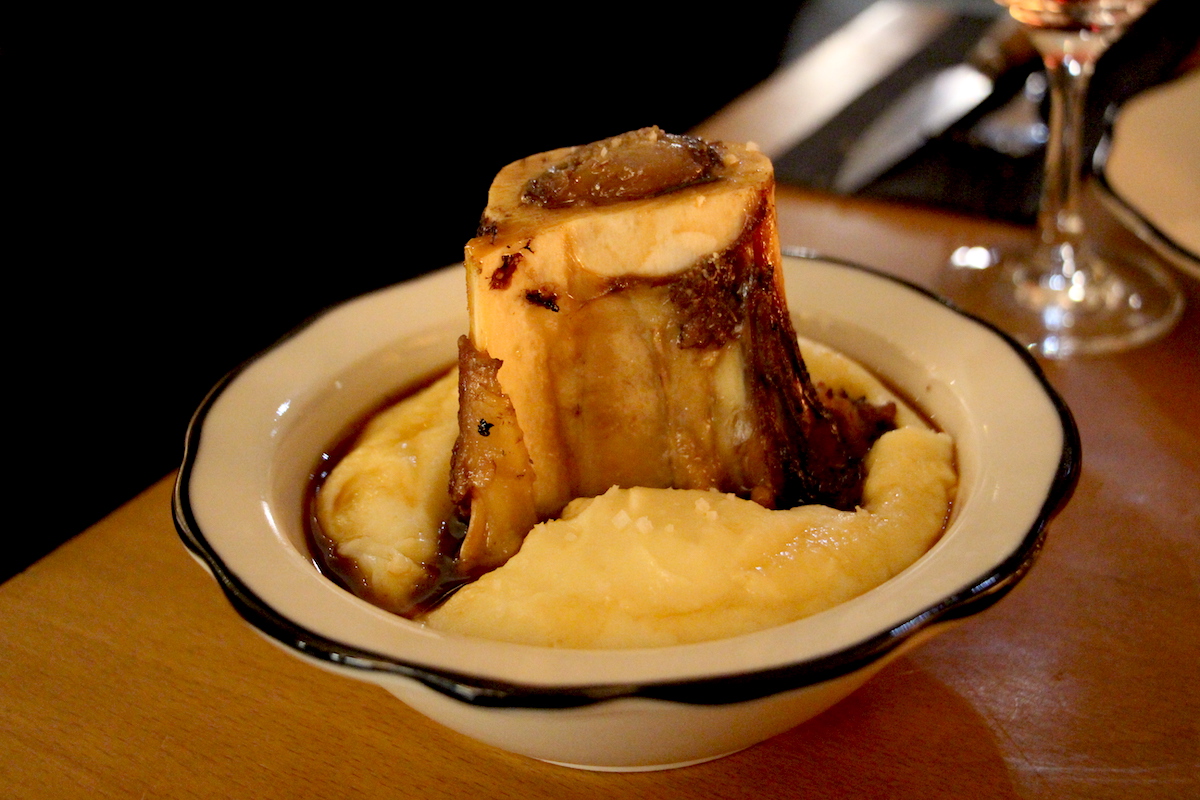 When it comes to main courses, Brutos does as advertised, turning out a gorgeous, meltingly fatty, 45-day-aged Norman entrecôte, cooked rare and no other way. At 98€ for a steak designed for two, it's not an everyday expenditure, but then neither should it be in an era of climate change. The meat arrives with a rough-cut chimichurri sauce not quite copious enough for the portion and an atmospheric mound of farofa (toasted cassava crumbs). It is, along with the appetizers, the key reason to go to Brutos, for the other main course options feel like afterthoughts.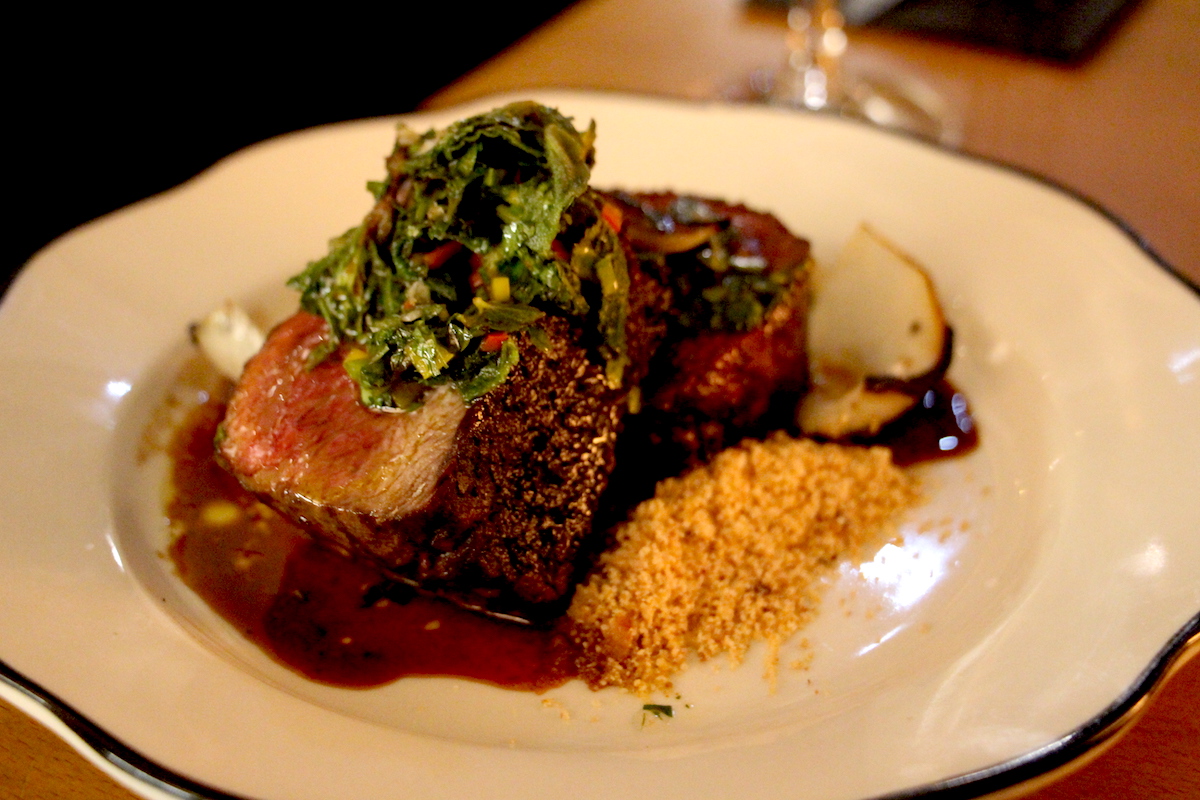 A portion of braised salt cod the size of a child's fist arrived in a limp cream sauce. A maminha of beef, or rump roast garnished with chimichurri and onion, felt sort of like it had been cobbled together with elements from other dishes. The kitchen regains its footing in a coconut-dusted dessert of vanilla whipped cream and banana, fried to a pristine, tonkatsu-like perfection.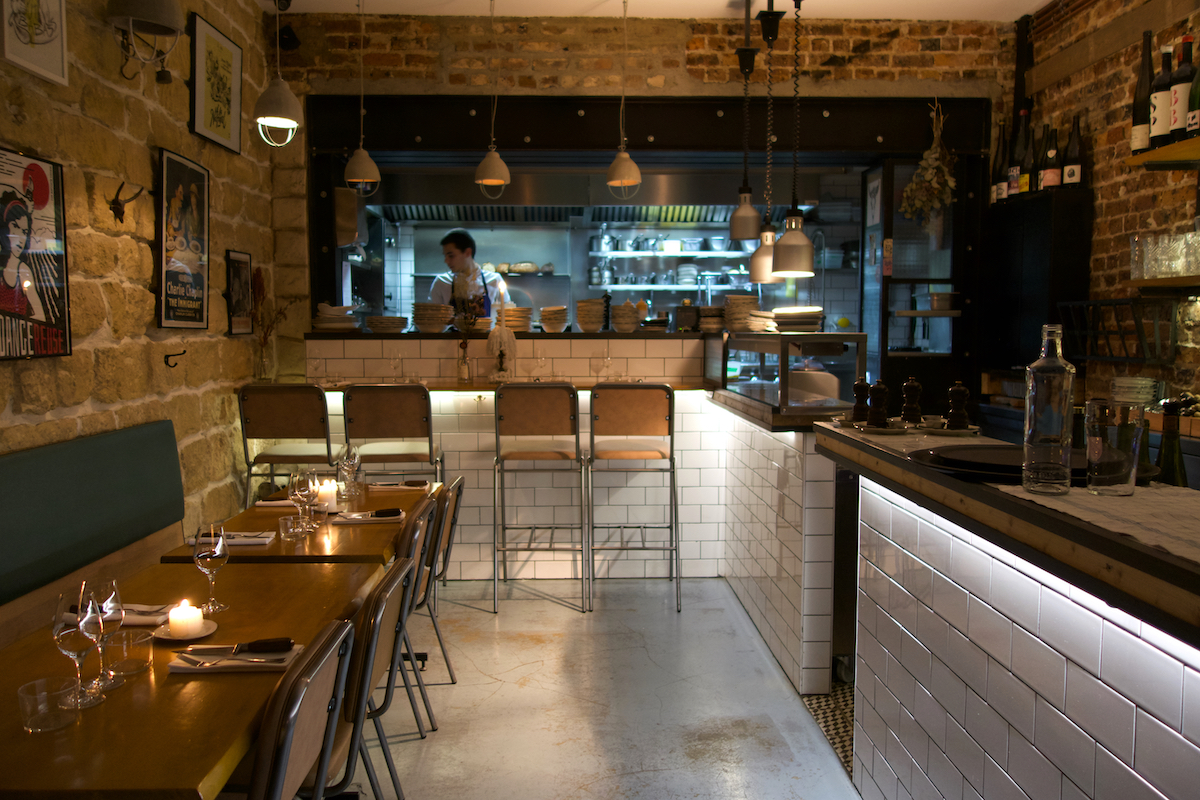 Brutos' natural wine list deserves recognition for attempting to unearth curiosities from outside the usual Paris distribution network, like the high-acid fruit-bombs from Auvergnat producer L'Egrappille, or the masterful Slovenian whites of Burja Estate. Pricing is high for the 11th, however: many of the offerings are available for half the price at nearby caves-à-manger like Yard Cave or Chambre Noire. Neither, however, can turn out cuisine like Brutos, whose real peers in the high-end natural wine sector are probably Restaurant AT, Vivant 2, Le Severo, and Septime.
The chunk of cartilage in this otherwise splendid meat-house is its slightly studious air. The natural wine posters on the exposed walls are framed like diplomas, and the cinematically lit wine cellar on the way to the toilet evinces a swaggering industrial chic. We often complain about luxury restaurants feeling stodgy and old, but when they feel conspicuously youthful, one has the ambivalent sensation of being surrounded by rich kids. In Brutos' case, at least, money buys good taste.
---
OUR PHOTOS OF BRUTOS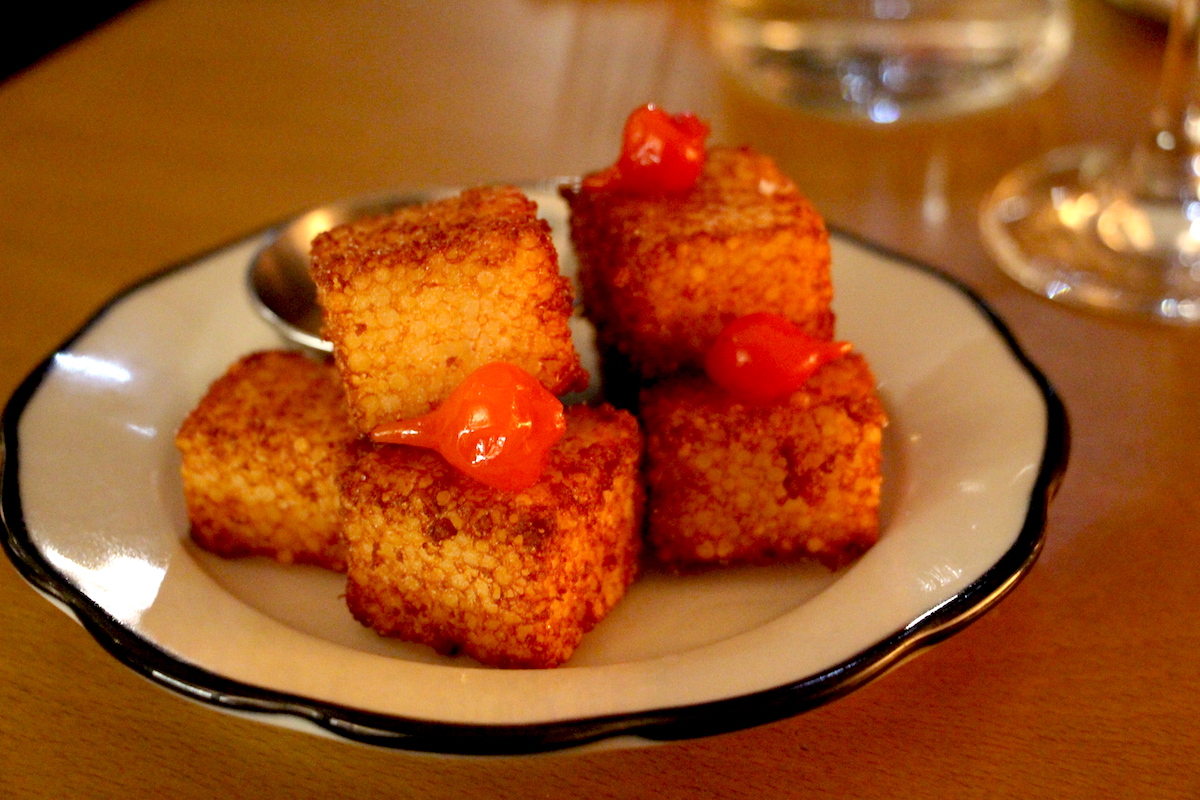 IN OTHER WORDS
Le Fooding (2018) says "don't forget about the foreplay" to the "braised treats" at Brutos, by which they mean the appetizers, we hope. They call the wine selection "pretty spectacular."
Time Out (2017) calls Brutos "a walk on the wild side for your tastebuds," praising the "beautifully tender rib steak."
Le Monde (2017) François Simon's enthusiastic review of Brutos is notable for the fact that he must define jalapeños for a French readership, and for his strange, coddling tone, referring to the team of the newly-opened restaurant as though he were narrating a nature film featuring bird hatchlings.
---