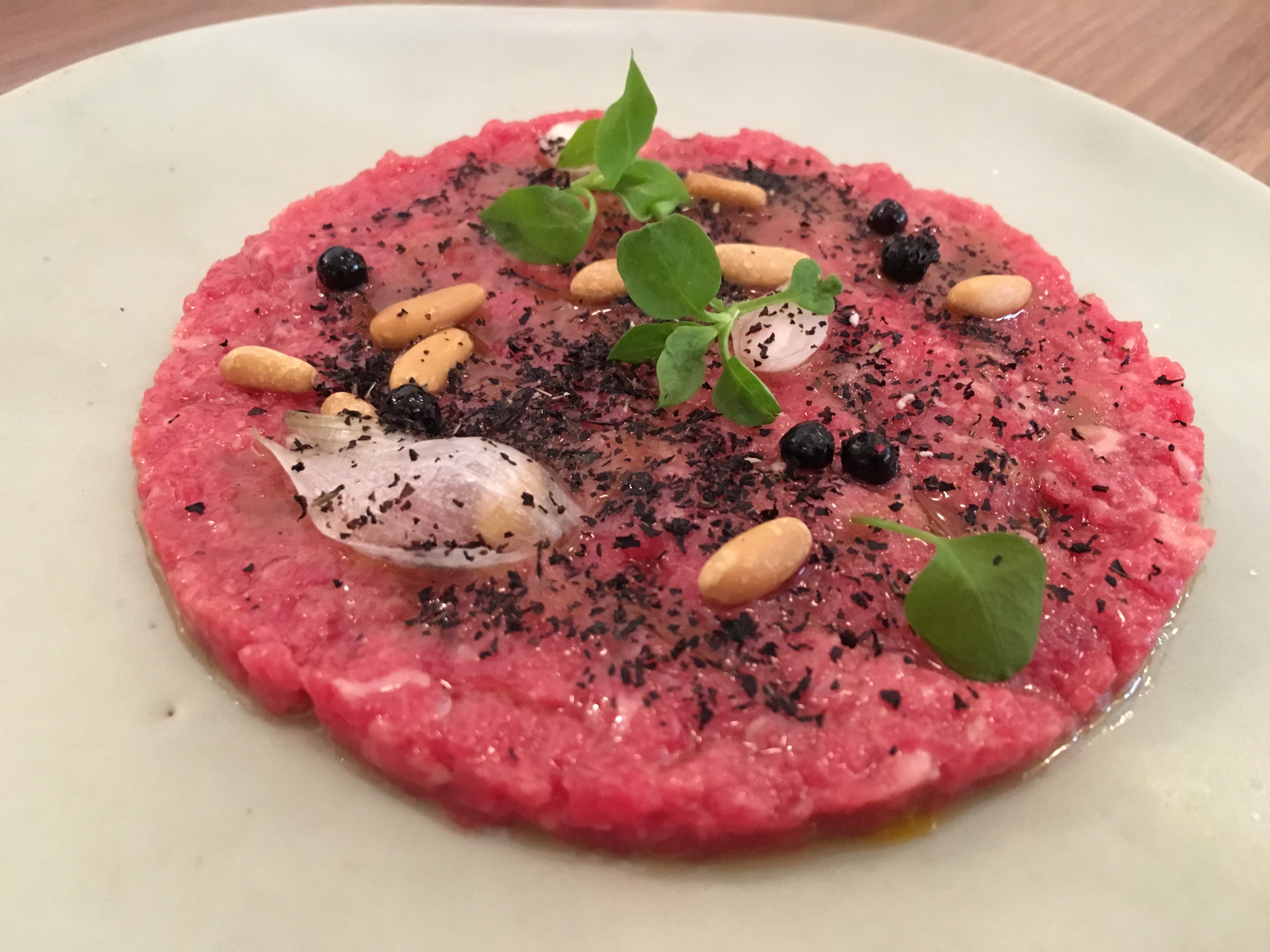 Address: 114 rue Amelot, 75011
Hours: Open Wednesday-Sunday for lunch & dinner. Closed Monday & Tuesday.
Telephone: +33 1 43 55 87 35
Website | Online Booking | Facebook | Instagram
In 2016, the team from Saturne took over a historic bar near the Cirque d'Hiver and installed chef Sota Atsumi (ex-Vivant) in the kitchen. Atsumi's dishes dominated Instagram for a solid two years, and Clown Bar became one of the town's most difficult reservations to snag. 
The Saturne team (and restaurant) has since dissolved amid rumors of wine theft and partner animosity. Atsumi has moved on to open Maison. Clown Bar remains open, and Atsumi's iconic creations, including the brain and the pithiviers, are being seamlessly executed. It's a lot easier to get in now that the insider industry crowd has moved on. The walls and ceiling still boast their namesake depictions of clowns and circus life. The wines are still very natural. It is, in other words, still a place to go, even if it is no longer the place to go. 
---
Clown Bar in Pictures
Silverware drawer at Clown Bar

Fig, burrata, beet

Foie gras, peach, smoked eel

Beignet de sardine

Raw beef, anchovy, elderflower
---
In Other Words
Eater (2017) Alexander Lobrano includes this in his roundup of 38 Essential Paris Restaurants, saying that "the menu changes according to the season and the chef's inspiration, but you have to order anything with Banka trout and the veal sweetbreads, if they're on the menu. One way or another, it's consistently a stand-out showcase of the best casual contemporary French cooking in town."
Eater (2016) Ryan Sutton calls this "the most thrilling restaurant in Paris" and recommends ordering the veal brain." You won't find anything more exciting, innovative, fun, or (literally) cerebral."
Le Fooding (2015) says that "Sota Atsumi (ex-Vivant Table) does double duty as a contortionist in the marionette-sized kitchen to the delight of curious diners. The evening of our visit: a striking meager ceviche with cilantro and bottarga; shredded tourteau crab with feta in a tomato gazpacho bath; foie gras with smoked eel and button mushrooms. And for game lovers, an incredible pigeon from Mesquer with smoked herbs and sautéed potatoes, or a juicy and rare duck and foie gras pithiviers sweetened by a date jam."
TimeOut (2014) says "The short, seasonal menu doesn't do descriptions, just lists ingredients in that contemporary style, so if you're unsure or queasy about some of the more adventurous parts of French cuisine, get the staff to help you out. Another thing to note before ordering is that the portions – including the opening 'snacks' – are extremely generous." They add that "Clown Bar isn't a cheap and cheerful bistro, but it is something rather special – original cooking in a historic location from a powerhouse team – and it's open on Sundays."
The Financial Times (2014) says "this listed 1902 clown-themed wonder, with its ornate glass ceiling, painted wall tiles and original zinc bar, transports you to a different era… The staff are warm, welcoming and knowledgeable and the list is perfectly curated, including bottles specially created for the group such as a delicious pétillant naturel from Le Petit Domaine de Gimios."
John Talbott (2014) calls this "A great resuscitation of a grand old lady."
Alexander Lobrano (2014) says that the "turbot with razor-shell clams, white asparagus and rhubarb in salted butter was one of the most satisfying dishes I've had for a long time, since the product was impeccable and the constellation of tastes made sense on the palate but was pushed just off-center enough by the rhubarb to be unexpected."