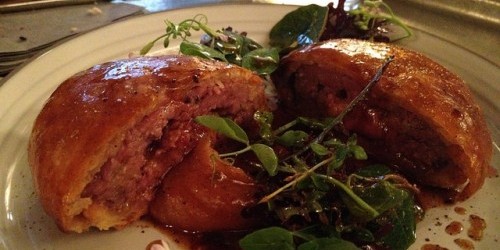 No clowning around here. A serious team from Saturne has taken over the historic bar near Cirque d'Hiver. The beautiful Belle Epoque space remains (tastefully) decorated with clowns, but the menu has been revived by Sota Atsumi's intriguing product focused small plates. Wines are natural, with good options by the glass as well as the bottle.
Practical information
Address: 114 rue Amelot, 75011
Nearest transport: Filles du Calvaire (8), Oberkampf (5, 9)
Hours: Closed Monday & Tuesday; Open Wednesday-Sunday for lunch & dinner
Reservations: Book a few days in advance
Telephone: 01 43 55 87 35
Average price for lunch: 40-59€
Average price for dinner: 40-59€
Style of cuisine: Modern French, small plates & tapas
Website   Facebook
Reviews of Interest

Sugared  & Spiced (2015) "The pithivier on the day of my visit was stuffed with foie gras and poularde, which is a type of hen famous for its layer of fat and its tender, moist, milky flesh. The pithivier was then drizzled with beetroot sauce, making it look as if blood oozed out as the pithivier was sliced… a whimsical touch. And yes, it was delicious, I'd come back again for this."
The Financial Times (2014) "This listed 1902 clown-themed wonder, with its ornate glass ceiling, painted wall tiles and original zinc bar, transports you to a different era… The staff are warm, welcoming and knowledgeable and the list is perfectly curated, including bottles specially created for the group such as a delicious pétillant naturel from Le Petit Domaine de Gimios.
Le Figaro (2014) "Une jeunesse autour de tapas de haute percussion et de vins bien dans la veine nature."
John Talbott (2014) "A great resuscitation of a grand old lady."
Alexander Lobrano (2014) "Turbot with razor-shell clams, white asparagus and rhubarb in salted butter was one of the most satisfying dishes I've had for a long time, since the product was impeccable and the constellation of tastes made sense on the palate but was pushed just off-center enough by the rhubarb to be unexpected."