David Toutain, who brought acclaim to Agapé Substance before jumping ship back in December 2012, returned to the Paris scene with this signature restaurant in 2013. His meticulous and conceptual cooking highlights seasonal produce, with vegetables often playing the starring role. This is by no means a vegetarian restaurant, but Toutain's ability to bring out the beauty in oft-ignored roots reminds us of his former boss Alain Passard.
Be sure to specify when booking that you'd like to be seated downstairs in the main dining room. They've recently added a number of small tables in a cramped and airless room upstairs near the bathroom. Surely these bring in more money, but dining there is another (far less interesting) experience altogether.
Address: 29 rue Surcouf, 75007
Hours: Open Monday-Friday for lunch and dinner. Closed Saturday & Sunday.
Telephone: +33 1 45 50 11 10
Online Booking / Website / Facebook / Instagram
---
David Toutain in Pictures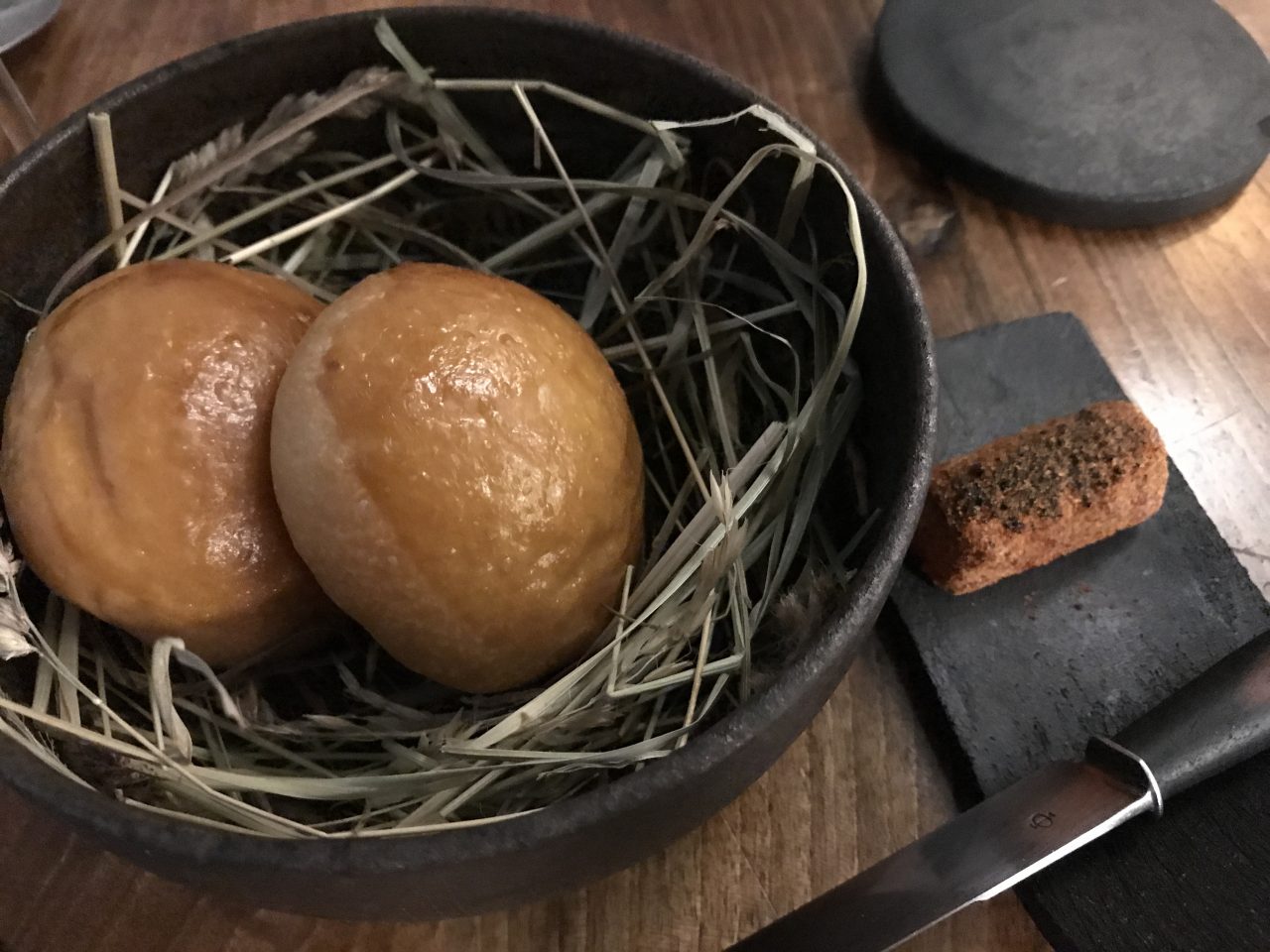 ---
In Other Words
Have you been? Leave your own opinion about David Toutain in the comments!
Condé Nast Traveler (2015) "At his Left Bank outpost, Toutain, who grew up on a farm in Normandy, honors the produce-based tradition of the region with dishes like seared foie gras in baked potato bouillon with black truffles."
Atabula (2015) "Bref, une cuisine sur la retenue alors même que le talent était là, omniprésent, incontesté et incontestable."
Le Monde (2015) "Ce chef n'a peur de rien. De la branche de salsifis craquant, crème de panais et chocolat blanc en amuse-bouche à la crème de chou-fleur, coco, chocolat blanc en prédessert, on va de surprise en surprise durant ce menu obligé."
L'Express (2014) "Retenez le nom de ce chef surdoué: il va faire le tour du monde."
Eater (2014) " His surprise menus are inventive, eclectic, and hyper-seasonal."
Patricia Wells (2014) "David Toutain is a cerebral chef. Nothing is accidental and when you enter his brand new 7th arrondissement restaurant you are subject to his rules and his way of thinking. Yet you never feel as though your arm is being twisted. This is not a restaurant for a casual meal, but rather one that is meticulously planned and thought out, and begs for, yes deserves, your attention. And it's well worth your time."
The New York Times (2014) "The rhythm of the prix-fixe menu, which changes daily, is intentionally varied. Toutain composes meals so that a quiet dish, like seared foie gras in baked potato bouillon with black truffles, sets up the drama of another dish meant to dazzle, like a monochromatic white composition of cuttlefish with yuba (bean-curd sheet) and nearly translucent Parmesan gnocchi, seasoned with the juice extracted from cooking the cheese at a very low temperature for many hours."
Le Fooding (2014) "Chez lui, Toutain joue en sourdine. Décor aéré presque sévère (bois, béton, aplats gris), service cravaté et… carte muette ! Tout commence par une page blanche – une table en bois massif qui s'habille pièce à pièce : serviette, verres, cailloux, coupelles, terres cuites."
John Talbott (2013) "Any striking plusses? The wonderful warmth of the newly gathered staff (quite astonishing). The innovative, consistent, explosive food."