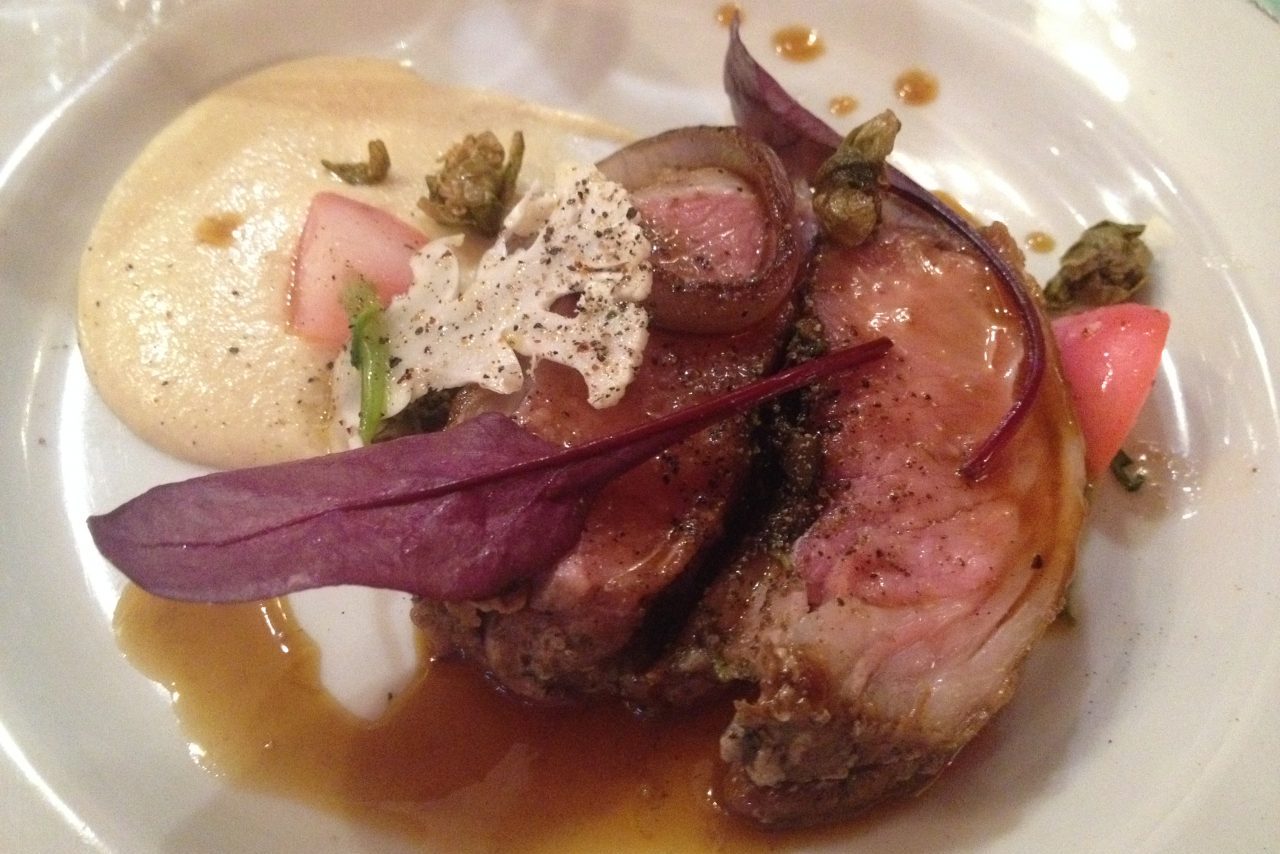 What used to be a friendly wine bar run by the inimitable Tim Johnston is now a friendly wine bistro run by Tim's daughter Margaux and her boyfriend Romain. The fresh market cooking from Romain (formerly at Le Comptoir and La Régalade Saint-Honore) goes well beyond the satisfying sausage & mash of the old carte and Margaux's service and wine selections make this the sort of place where you'll want to become a regular. Desserts are delicious, but their selection of British cheeses with recommended wine pairings is my favorite way to finish. On your way out, buy a bottle from the shelves to bring home.
Address: 47, rue de Richelieu, 75001
Hours: Open Tuesday-Saturday for lunch & dinner. Closed Sunday & Monday. Open all summer!
Telephone: +33 1 42 97 46 49
Website / Facebook / Instagram
---
Juveniles in Pictures
---
In Other Words
Juveniles (2017) Dorie Greenspan paints a lovely portrait of the people behind this restaurant and shares a Johnston family recipe.
Patricia Wells (2016) loves the wine list and says the food menu "reads like a welcome admonition to eat your vegetables and Romain does them proud with his ability to sear, char and turn sometimes mundane ingredients into real treasures. This is also a cheese-lover's paradise, with everything from well-aged French Brie to the UK's Neal's Yard Dairy unpasteurized cheddar."
The Wall Street Journal (2015) includes Juveniles in their Top Five list of Paris wine bars.
Timeout says that chef Romain Roudeau "shines bright" at lunchtime, preparing "thick and juicy lamb lasagna under a sprinkling of fresh herbs and lemony carrots," a risotto "with a poule au pot feel – creamy fregola with chicken oysters, mushrooms and Parmesan," and a "sunny dessert of roasted apricots with honey and whipped vanilla mascarpone."
Simon Says (2015) praises the liquids, including exceptional manzanillas, sherries and bottles from the Rhône. There's always a neighborhood clientele, he says, in addition to the anglophone tourists who come here. In addition to the food, he comes for Margaux, who he calls kind to the core.
David Lebovitz (2014) says "they serve the kind of food that I'm looking for when I want unfussy, but well-prepared, French cooking. There are no silly garnishes or gimmicks. You'll find slow-braised meats, house-made terrines, and attention paid to vegetables and herbs."
New York Magazine (2014) Laura Adrian of neighboring restaurant Verjus is a fan of Juveniles. "Every time I eat here, it gets better and better. Try the gnocchi with poached chicken and fava beans, and beautiful cod with piquillo peppers and potatoes."
The Financial Times (2014) says that "too many French chefs see vegetables as second-class – but not 26-year-old Romain Roudeau" who "kept certain dishes from the previous menu, notably the Macsween haggis and a couple of English cheeses" but also "composed an intriguing, great-value menu."
The Guardian (2012) includes this in their Top 10 list of Paris wine bars and says "this friendly and reliably convivial wine bar in the heart of Paris is a terrific place to have a gab with a band of vinophile expats."
Not Drinking Poison in Paris (2011) "Anyplace with Manzanilla on offer is newsworthy in Paris. But the choice of sherries by the glass at Juveniles was perversely, unbelievably long – evidence of a real love for an unhip, eminently dislikable wine genre. I applaud that so much I can even forgive the first glass I had, which unsurprisingly came from a bottle that had been open rather a long time."
Wine Terroirs (2010) says "you don't need to be a wine geek to feel at home at Juveniles. Here is one of the earliest wine bars in Paris, a place where you go and will come back not only for the diverse wine list but also for the joyful company of its Scottish owner."
The New York Times (1994) teases out some of the history between Tim Johnston and Mark Williamson (Willi's Wine Bar) and explains that Juveniles is named for Colette's second husband, Henri de Jouvenal.