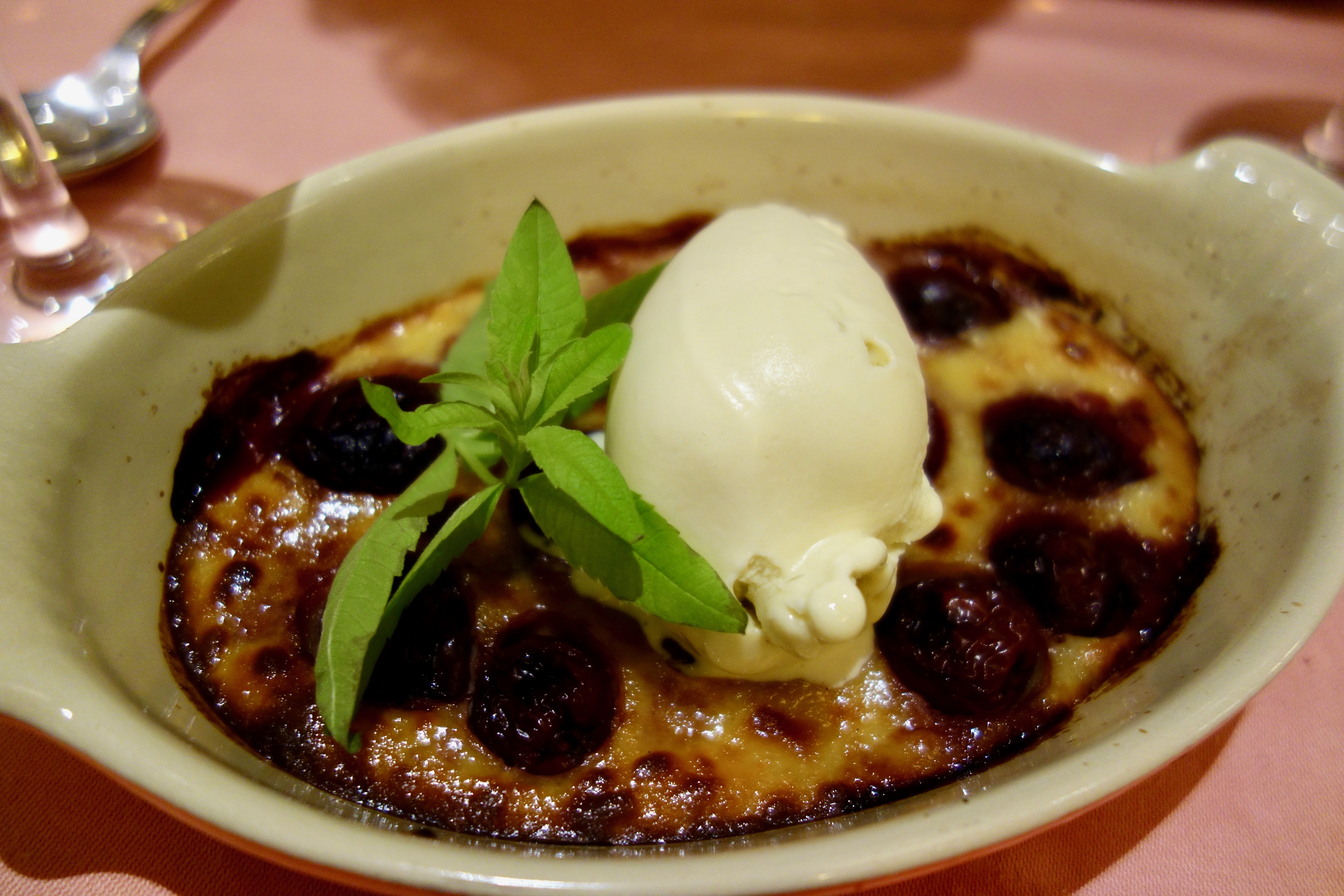 Address: 9 Rue Vauvilliers, 75001
Hours: Open every day for lunch & dinner
Telephone: +33 1 42 36 32 96
Website    Online Booking    Facebook   Instagram
La Poule au Pot is a looker. It's wonderful to walk in and witness the vintage wallpaper, the globe lighting, and the silver-plated serving chariot wheeling between Pepto-Bismol colored tables. It is at once a little elegant and also a touch cheesy. One can almost picture the 80s pop stars who used to slouch into these red banquettes, the mirrored pillars reflecting their manliner and sprayed hair.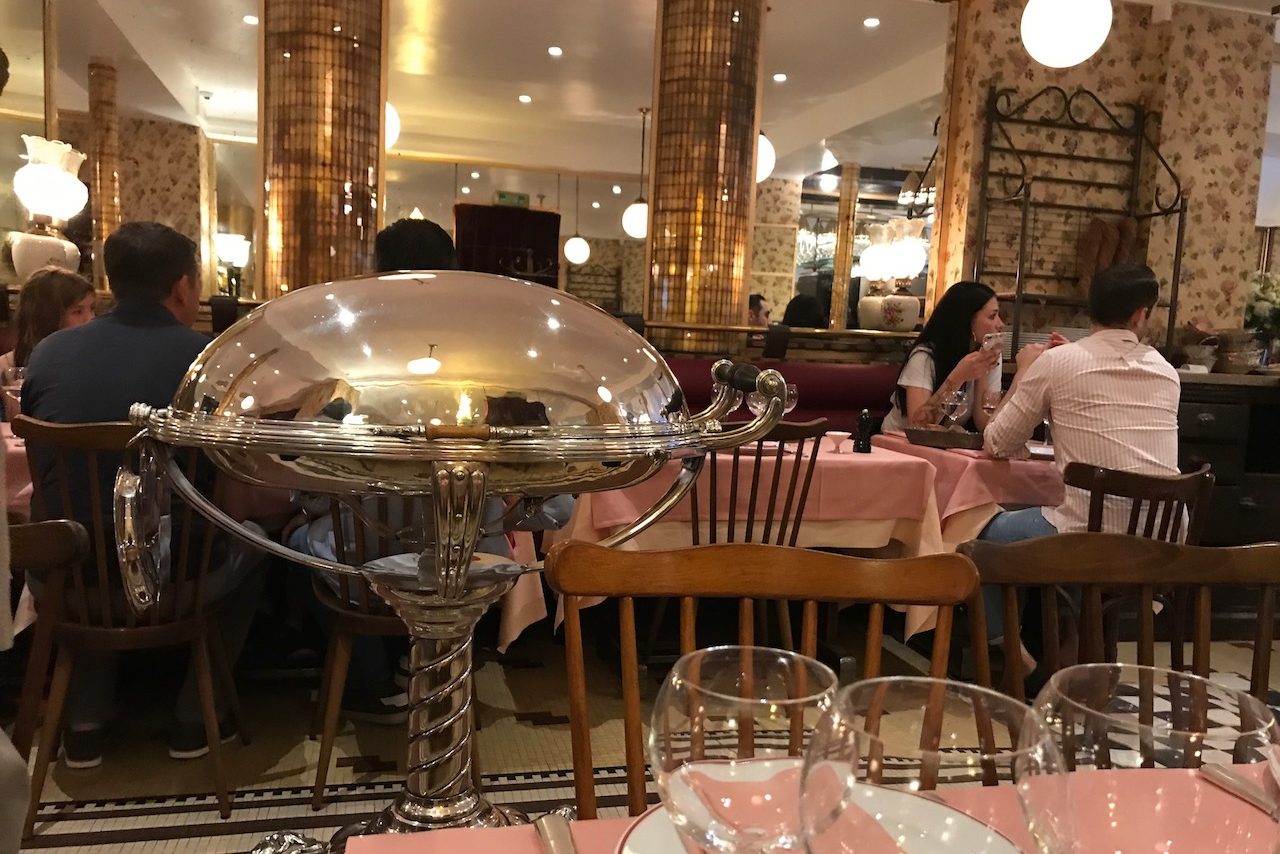 Today's Poule au Pot, having been recently rebooted by star chef Jean-François Piège, reflects something different – a desire for traditional cuisine bourgeouise and also the willingness (by some) to pay for it. The last decade has seen a proliferation of modern & creative cooking in Paris – food that requires explanation and could come from anywhere. Perhaps in reaction to this trend, we've witnessed a recent resurgence of places serving classic French cuisine. Some, like L'Assiette, are moderately priced. La Poule au Pot joins La Bourse et la Vie (Daniel Rose) and Benoît (Alain Ducasse) at the other end of the price spectrum. These haute bistros are designed for clients who are willing to drop a fat wad for food and wine – those who don't bat an eye over spending 100€ per person. There are plenty of people (some local, many foreign) willing to spend this kind of money at restaurants. In the past, it wasn't for food that (some)one's grandmother might have made. Now it is.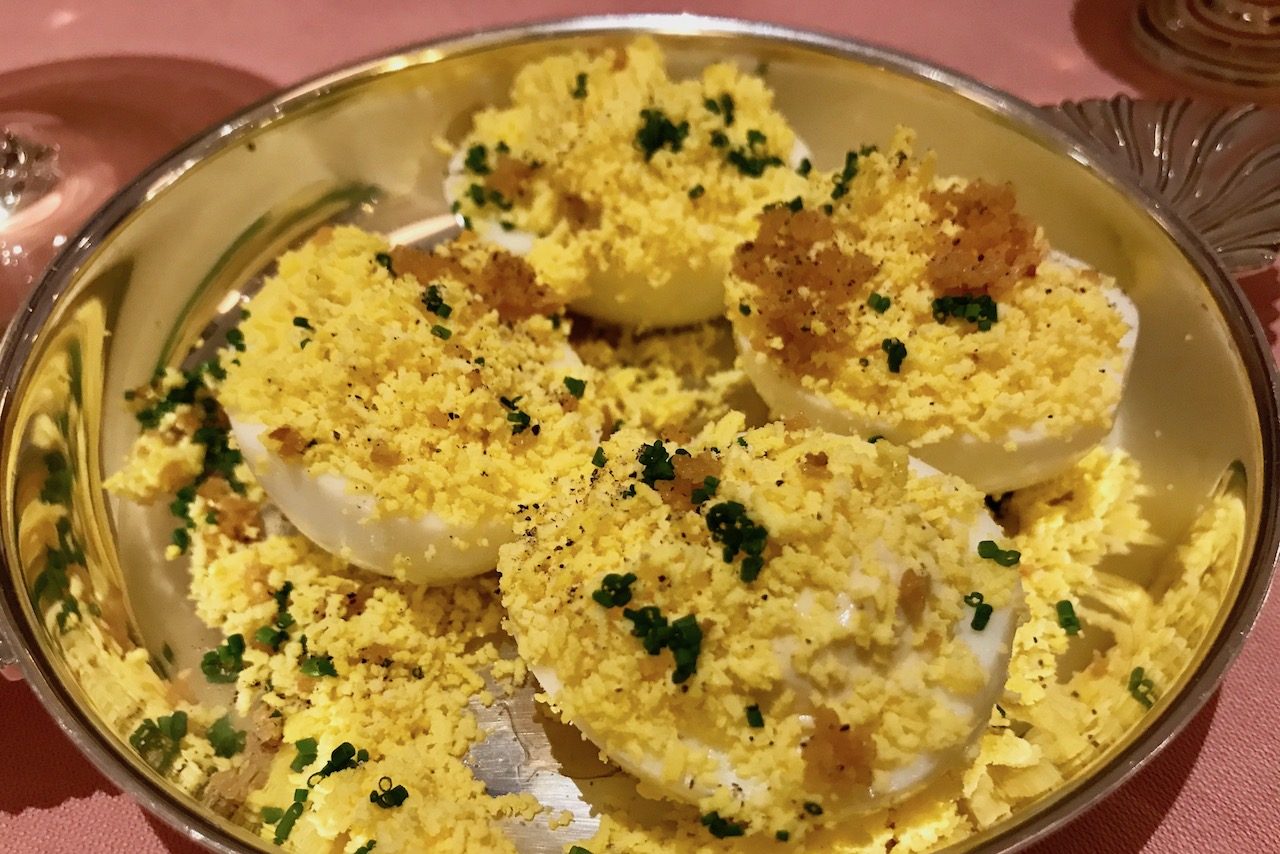 Is it good? Absolutely – in the same way that L'Ami Louis is very good: when prices do not matter. If you have the means, or if someone else is picking up the check, or if you've accepted a free press meal, then you can relax and simply enjoy. Since we paid our own way, we couldn't help but notice a few cracks in the veneer. Early on, the œufs mimosa (fancy deviled eggs) topped with crispy cracking were delightful, but the gratinée à l'oignon prompted a shrug. The frogs' legs arrived still frying in a pool of oil, and that fat provided their only flavor.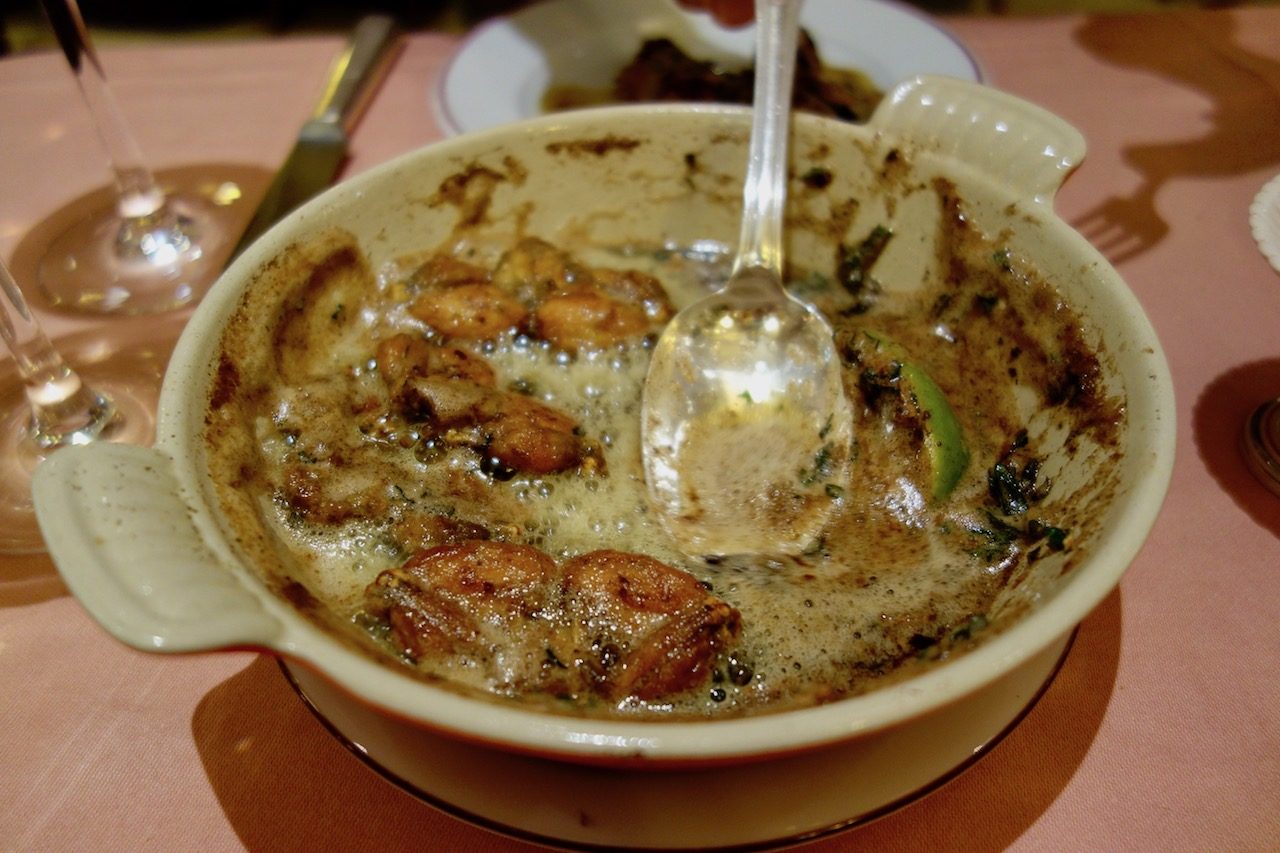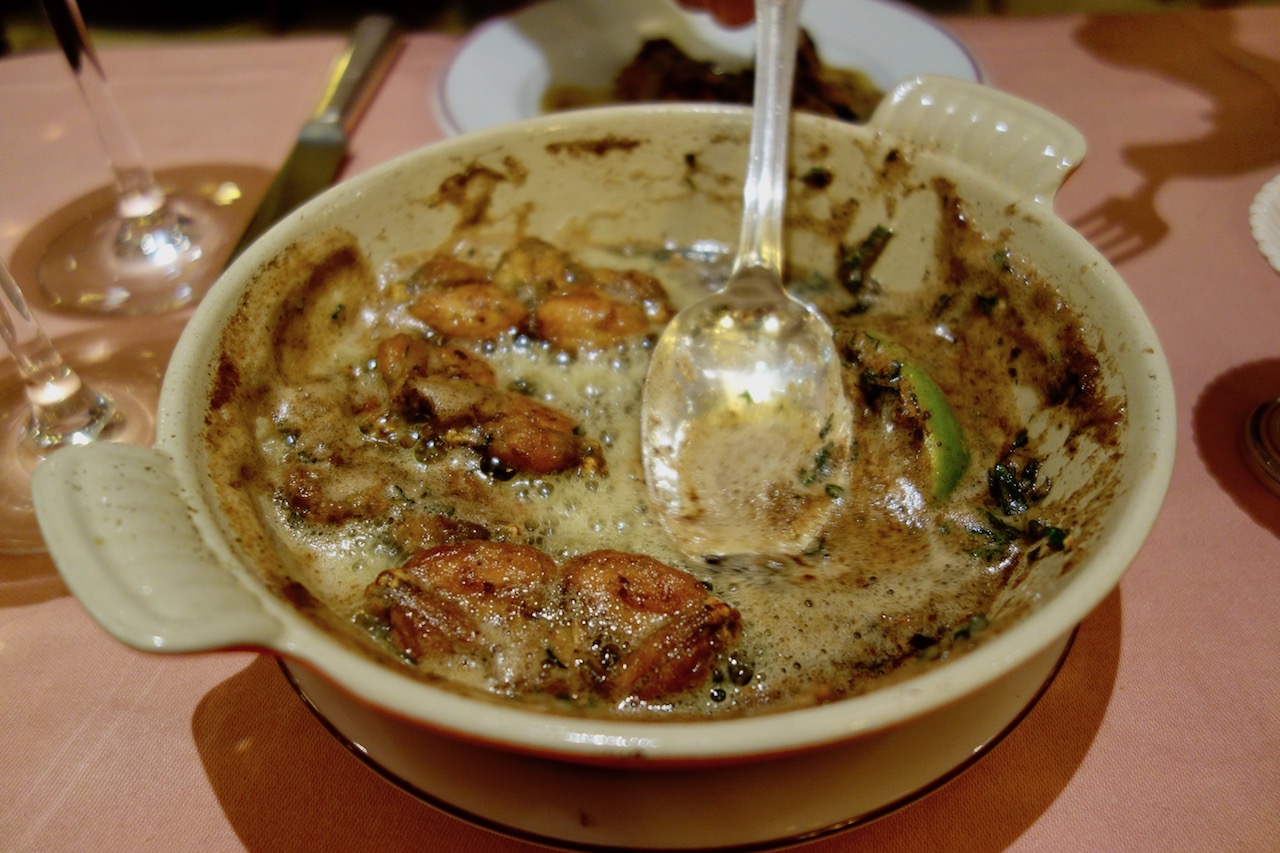 Much better were the turbot with spinach, hollandaise & pureed potatoes (52€), and the merlan frit Colbert (fried whiting). The latter was only 28€, but the accompanying fries were limp and soggy. These minor issues might not even register if the meal were more affordable. However, when restaurants have the audacity to charge high prices for comfort food, they set themselves up to be more carefully judged.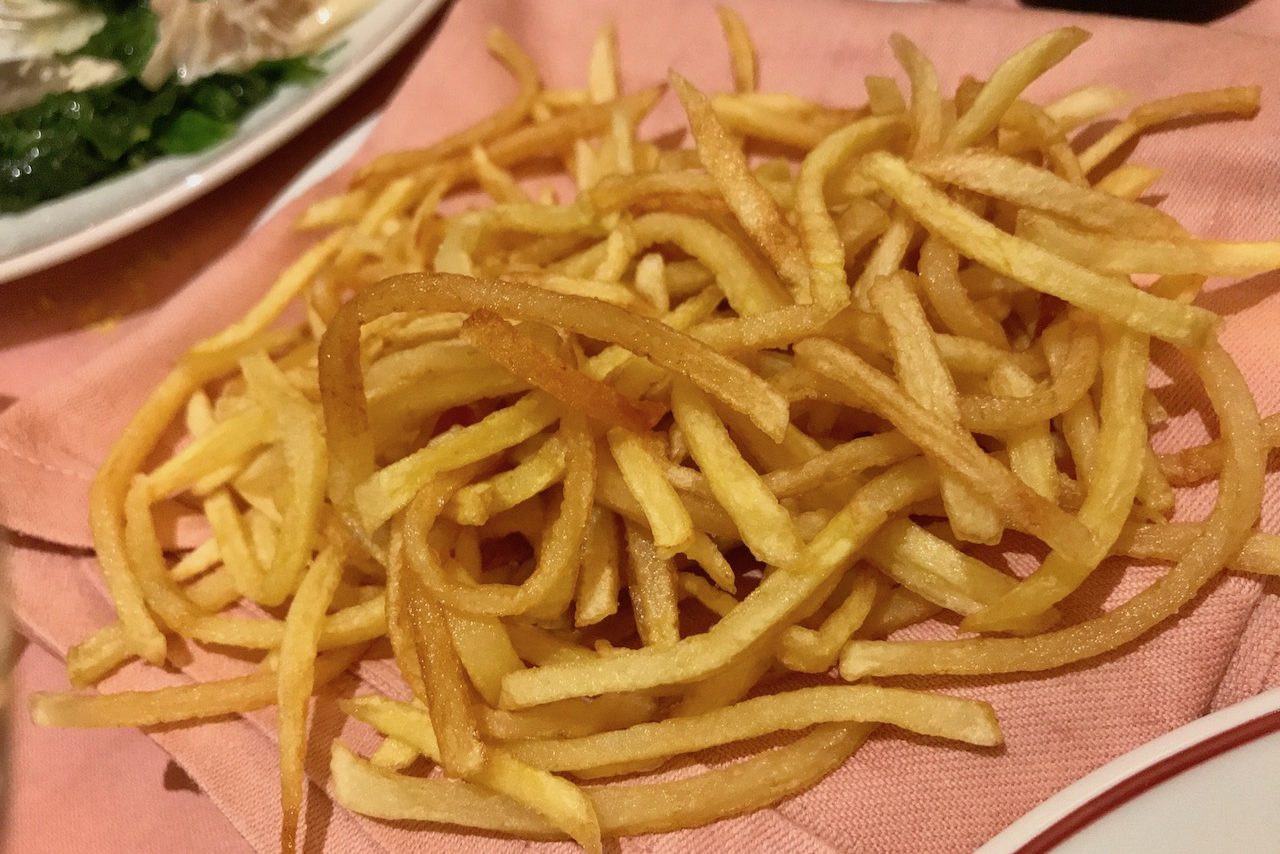 If I return, I'll probably be looking for ways to soften the blow – for example, by taking the set menu for 48€ or by focusing on snacks and starters and then sharing one of the copious mains. I'm willing to spend a lot more on food, I'm just not sure that I'm willing to spend a lot more here. The chances of a return visit are high, because La Poule au Pot is open every day, is bookable online, and is centrally located. I just wish I were more excited about it.
---
La Poule au Pot in Pictures
In Other Words

L'Express (2018) François-Régis Gaudry points out that this is hardly a modest bistro, what with the 52€ turbot, the 1290€ Dom Perignon and the silver service cart from Lapérouse. Still, "this flashback orchestrated by Elodie and Jean-François Piège is exquisitely effective." He praises the exemplary cooking of that expensive fish, as well as a rolled omelette topped with fleshy cèpes (porcini mushrooms).

Atabula (2018) presents two different opinions about La Poule's prospects. Ezekiel Zerah admits that it's really expensive — "at the limit of decency" — but suggests (in French) that "Americans who know how to handle a fork will want to slide their butts to this address for a real traditional bistro experience. On the other hand, Franck Pinay-Rabaroust points out that the restaurant remains half full despite carefully orchestrated PR, probably due to "the insanity of the prices." Americans and other wealthy travelers are less reliable (one economic crisis and they're gone) and less gullible than before. For the minority of French clients who can afford "to bang this luxury hen," there's too much fierce competition.

Le Monde (2018) Marie Aline says that visiting is like traveling back in time to the 19th century, except for the soundtrack of classic French 80s tunes from France Gall, Balavoine, Rita Mitsouko. The green beans are sweet and a little spicy, the fried whiting is addictive, the steak is perfect. On the downside, the bill is a little "too salty."

Alexander Lobrano (2018) says this the food that made him move to France thirty years ago. He describes the blanquette de veau "as happy and consoling as a grandmother's hug" and calls the apple tart "one of the best I've ever eaten."

John Talbott (2018) is not amused, calling La Poule au Pot the "biggest food fraud of 2018," and "another zombie restaurant." His complaints range from the "illegal" denial of free tap water (un carafe d'eau) to wilted salad greens to the trio of tarts that were "cut hours ago, straight out of the fridge… even Carrefour does better." In closing, he calls it "the worst meal of 2018 or the 21st Century."

Le Figaro (2018) Maurice Beaudoin says that all the best traditional dishes — elegant and of superb quality — can be found on this menu, and predicts that Piege's cooking here will attract all of Paris.

Also recommended in this style

La Bourse et la Vie

Also recommended in this neighborhood

Photos by Meg Zimbeck © Paris by Mouth