Address: 3, Carrefour de l'Odéon, 75006
Hours: Open every day for lunch & dinner
Telephone: +33 1 42 38 47 55 (no reservations)
Facebook / Instagram
Opened in January 2016, Avant Comptoir de la Mer is bistronomy chef Yves Camdeborde's seafood variation on his successful adjacent pork-themed pintxo bar, the original Avant Comptoir. Like its big brother, Avant Comptoir de la Mer is a standing-room-only bar. It offers all-day service of a vast array of exotic seafood preparations, oysters from noted ostréiculteurs throughout France, and a moderate selection of natural and organic wines at restaurant prices. For those leery of dining standing-up, seafood platters are also available to take away. In short, Avant Comptoir de la Mer offers the potential of a very pleasant evening, or part of one, if one visits off-the-cuff, with zero expectations.
But approached as a destination rather than a waypoint, the quality of Avant Comptoir de la Mer tends to evaporate, mirage-like. Among the establishment's baroque profusion of signage ought to have been placed one warning: "Do not cross town for this."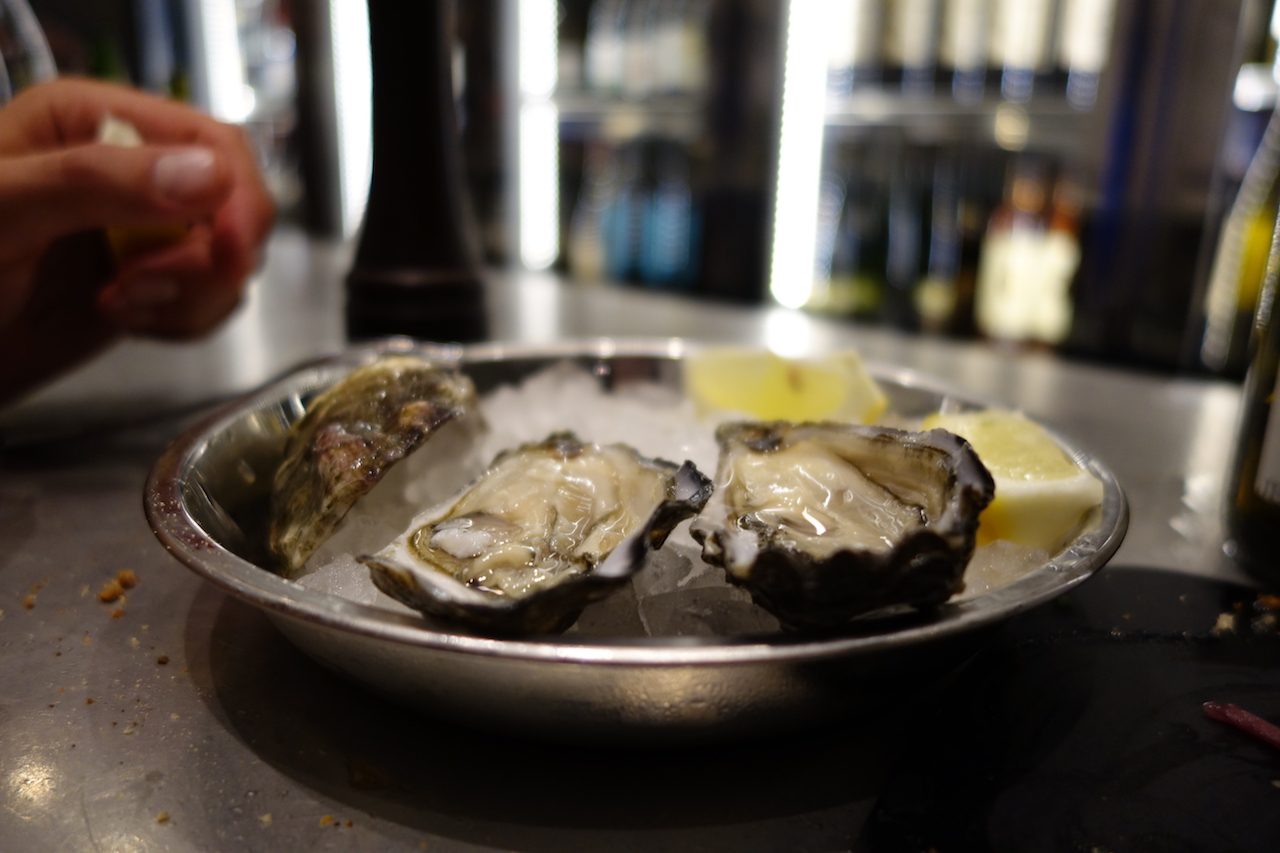 In the same way that it would be disappointing to consume a platter of seafood in an elevator, or a medical waiting room, it can be disappointing to consume rich, flavorsome Brittany oysters in the overlit, under-ventilated space of Avant Comptoir de la Mer. The bar reeks in a way I usually associate with the rear parking lots of seafood restaurants. The odor has a physical density, a presence; it stands beside you at the zinc bar.
Diehard gastronomes would tolerate discomfort for great seaside cuisine, a rarity in Paris. But Avant Comptoir de la Mer's pictorial, ceiling-suspended menu instead offers lots of diddly "innovative" dishes, like a lone chunk of lobster in a seaweed broth or a cod-of-the-day gussied-up with a half-hearted caponata and some piment d'Espelette. Simpler dishes fare no better: fried sea anemones are lost entirely in their sad, dark batter.
The wacky, polycultural pork dishes at the original Avant Comptoir are winning because the alternative – a simple plate of ham – is a bit ho-hum. The wacky, polycultural seafood dishes at Avant Comptoir de la Mer disappoint because the alternative – a simple plate of fresh fish, garnished with little more than salt, pepper, and lemon – would always be far superior.
---
L'Avant-Comptoir de la Mer in Pictures
Avant-comptoir de la mer

Cod

Avant-comptoir de la mer counter

Anemones
---
In Other Words
Le Fooding (2017) lauds Avant Comptoir de la Mer's dazzling oysters and its lively Muscadet.
Le Figaro (2016) calls Avant Comptoir's overhead menu "the most mouth-watering ceiling of the capital."
Time Out (2016) "Like its older sibling, here you eat standing up, and everything happens at the bar – from ordering to getting stuck in to the quality wines and tapas-style dishes. It all happens in a relaxed, old school atmosphere where it's easy to make friends with the other diners."
Sophie Brissaud (2016) laments the crowds at Avant Comptoir de la Mer, complaining that she left full of bruises from peoples' elbows. She suggests visiting at the off-hours.