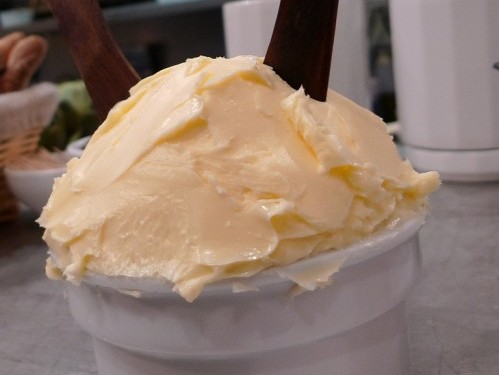 Address: 3, carrefour de l'Odéon, 75006
Hours: Open every day for lunch & dinner
Telephone: No phone
Facebook / Instagram
Since Yves Camdeborde's audacious, standing-room-only French pintxo bar L'Avant Comptoir opened its doors in 2009, the superlatives to describe it have all been used up. Mouth-wateringly scrumptious! Flooding with natural wine! Pork-tastic!
The subsequent opening of two nearby sibling wine-bars (L'Avant Comptoir de la Mer and L'Avant Comptoir du Marché) has done little to alleviate the mealtime crush at the original. The jostling, the jolly shouts from the bartenders, the thumping Latin pop on the stereo are all integral parts of a dining experience that is more experience than dining. It is a funhouse of charcuterie and offal.
It has matured over the years, notably becoming more hygienic. The tins of free communal rillettes have disappeared – no tragedy, since they were just odd, whipped concoctions of pork fat anyway. When one reaches for the communal mountain of Bordier butter, one is now handed a plate.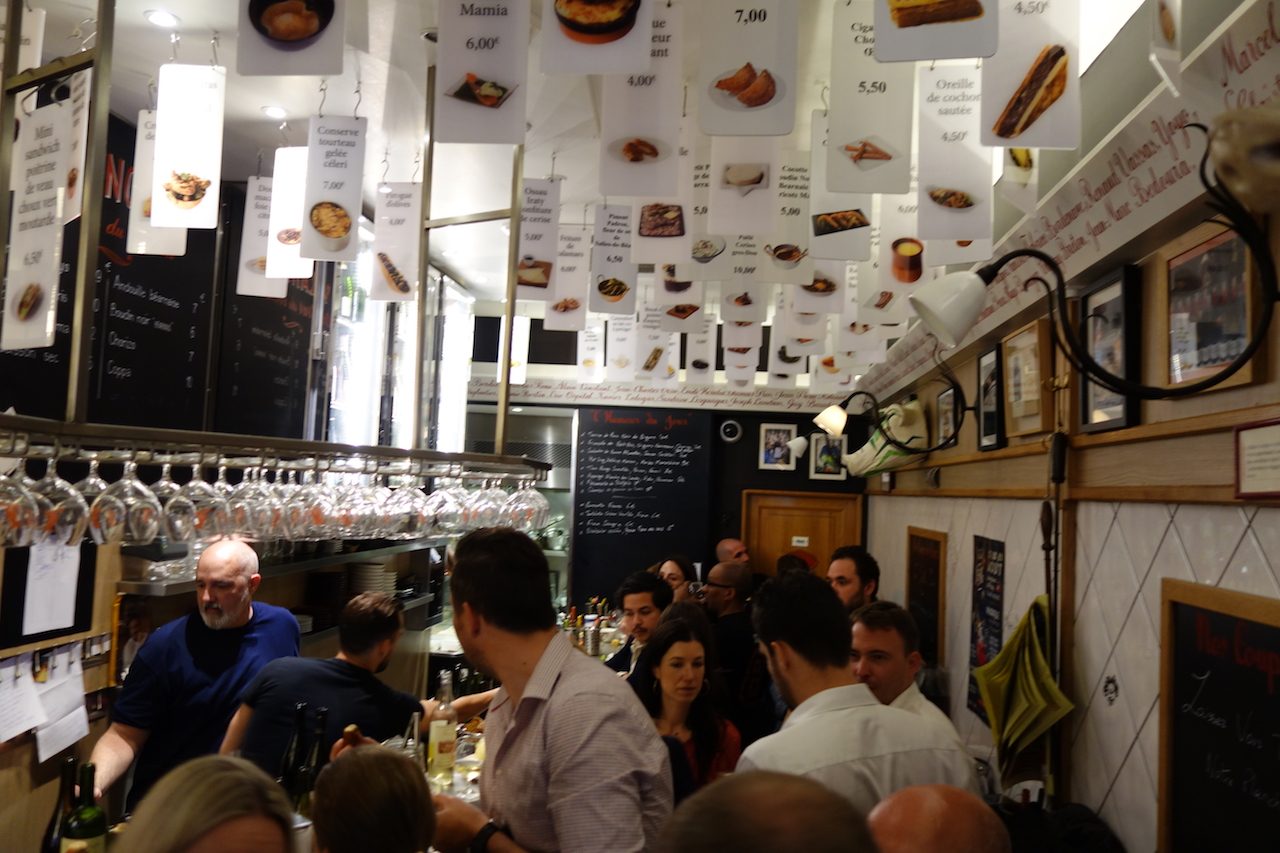 As at the other L'Avant Comptoir locations, the pictorial menu suspended from the ceiling serves dual purposes. It clarifies what the whimsically-titled dishes are for the overwhelmingly tourist clientele. But it also disorients, confronting a visitor with a blizzard of choices. A close read reveals they haven't changed much over the years: charcuterie poppers that are mostly béchamel; sweetish, faintly Asian pork belly; a lugubrious, quivering pork-skin sausage. Many, many dishes arrive sporting magenta curls of pickled onion.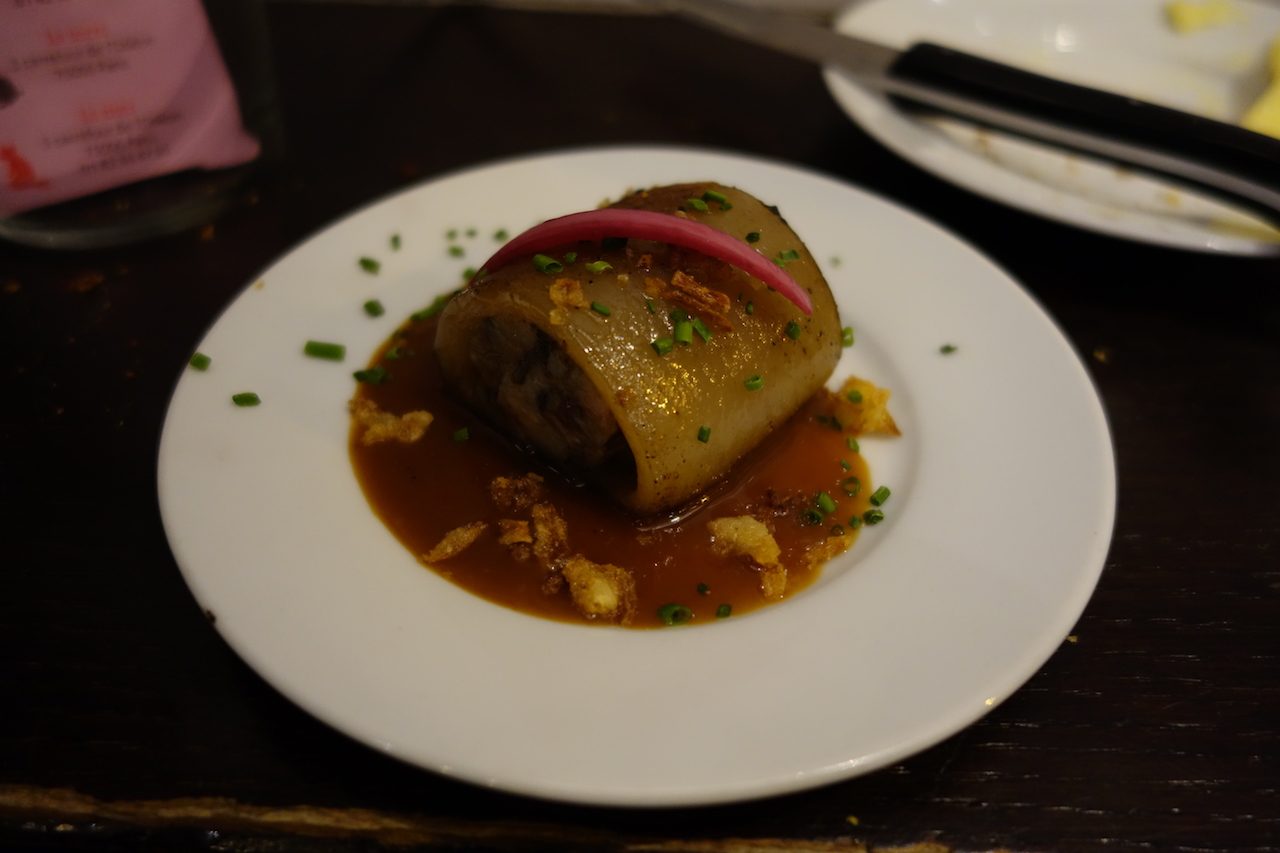 The execution of these simple warm tapas has grown uneven, to the extent that even their low prices can feel unjustified, especially in light of wine mark-ups that are high for an establishment offering such minimal service.
The original L'Avant Comptoir remains revolutionary for its steadfast devotion to quality product and a celebratory atmosphere. Today the best way to join the party – and to buy into the hyperbole – is at off-hours, when there's more elbow room. When ordering, focus on the broad and refined charcuterie selection, which remains among the city's best.

---
L'Avant Comptoir in Pictures
---
In Other Words
Time Out (2017) recounts an instance in which its reviewer helped finish the andouille of some American neighbors at L'Avant Comptoir. It applauds the restaurant for upholding the spirit of a "comptoir populaire."
Le Fooding (2015) "Even for those disoriented diners who come for an afternoon snack, the ritual is still the same at Camdeborde's pintxos bar: walk through the door past the plastic curtain, wait at the bar surrounded by artists, tourists or wandering souls (often all three at once…) and find a spot at this tapas bar, with a basket of Thierry Breton bread and a jar of salt from Salies-de-Béarn. You'll be rewarded with the following: an extremely comforting croque monsieur with marinated oxtail, flash-seared piquillo peppers and a horseradish cream in buttery triangular-shaped bread."
Epicurious (2014) cites L'Avant Comptoir as one of "10 Restaurants Parisians Won't Tell You About." This is true, but only to the extent that actual Paris residents almost never go to L'Avant Comptoir.
Not Drinking Poison in Paris (2011) "I should say that I actually liked the place well enough. The deal is it's a quality-conscious, natural-wine, Bordier butter establishment that nevertheless is standing-room only, with self-service bread and condiments, and no plates."
Dorie Greenspan (2009) "Not to be missed: Iberian ham croquettes (once fried, the ham dissolves inside its crispy shell — too bad I just used the word voluptuous, it would be perfect here, too)…"
Le Figaro (2009) "Quelques mètres carrés de néogouaille orchestrés par un Camdeborde toujours aussi fameux à faire trinquer mémoire et moderne…"
The New York Times (2009) "…This short, narrow, standing-room-only space with white tile walls, a broad pewter counter and an open kitchen is what Camdeborde calls an "hors d'oeuvres bar," and it serves up an array of delicious small-plate Basque- and Béarnais-inspired nibbles…"
John Talbott (2009) "The entire Bayonne rugby team was celebrating; they were very drunk, very into jumping in unison on the fragile floor-boards, chanting/singing Basque fight songs, smoking and drinking much more…"
The Paris Notebook (2009) "Claustrophobics might want to abstain as it's standing room only at the zinc bar laden with a communal bread basket, a tub of Bordier butter, white jars of pickles and peppers meant to be shared amongst your neighbors…"
---
L'Avant Comptoir in Video
Anthony Bourdain's Paris episode for "The Layover." The segment on L'Avant Comptoir begins around the 12:20 mark.