Food and wine pilgrims, particularly those who read the New York Times or watch Anthony Bourdain, are willing to climb the hill for this Belleville institution. Raquel Carena tends the fire, offering her own personal brand of bistro cooking – sometimes delicate, sometimes hearty, always heartfelt.
In stark contrast to the loving kitchen, the dining room is cold as ice, thanks to the joyless leadership of Carena's husband Philippe. After more than a decade of hopeful visits, I haven't yet received a smile or any helpful wine guidance from the patron. His cellar is reputed to be one of the best in the city, with an emphasis on independent producers and natural wines. He is, however, an unwilling ambassador for these wines and a significant drag on the overall experience.
I love Carena's cooking, but I won't hurry back because I fear that, once again, I'll be treated with glaring disinterest by Philippe and the dining room staff who mirror his attitude. For those who really want to try their luck, go at lunch. The dining room, which is harshly over-lit at night, reveals itself beautifully in the sunlight, and the lunch menu for 19 euros remains an incredible deal.
3 rue Jouye-Rouve, 75020
Open Wednesday-Friday for lunch and dinner
Open Saturday for lunch only; Open Tuesday for dinner only
Closed Sunday & Monday
Reservations at +33 1 43 49 39 70
OUR PHOTOS OF LE BARATIN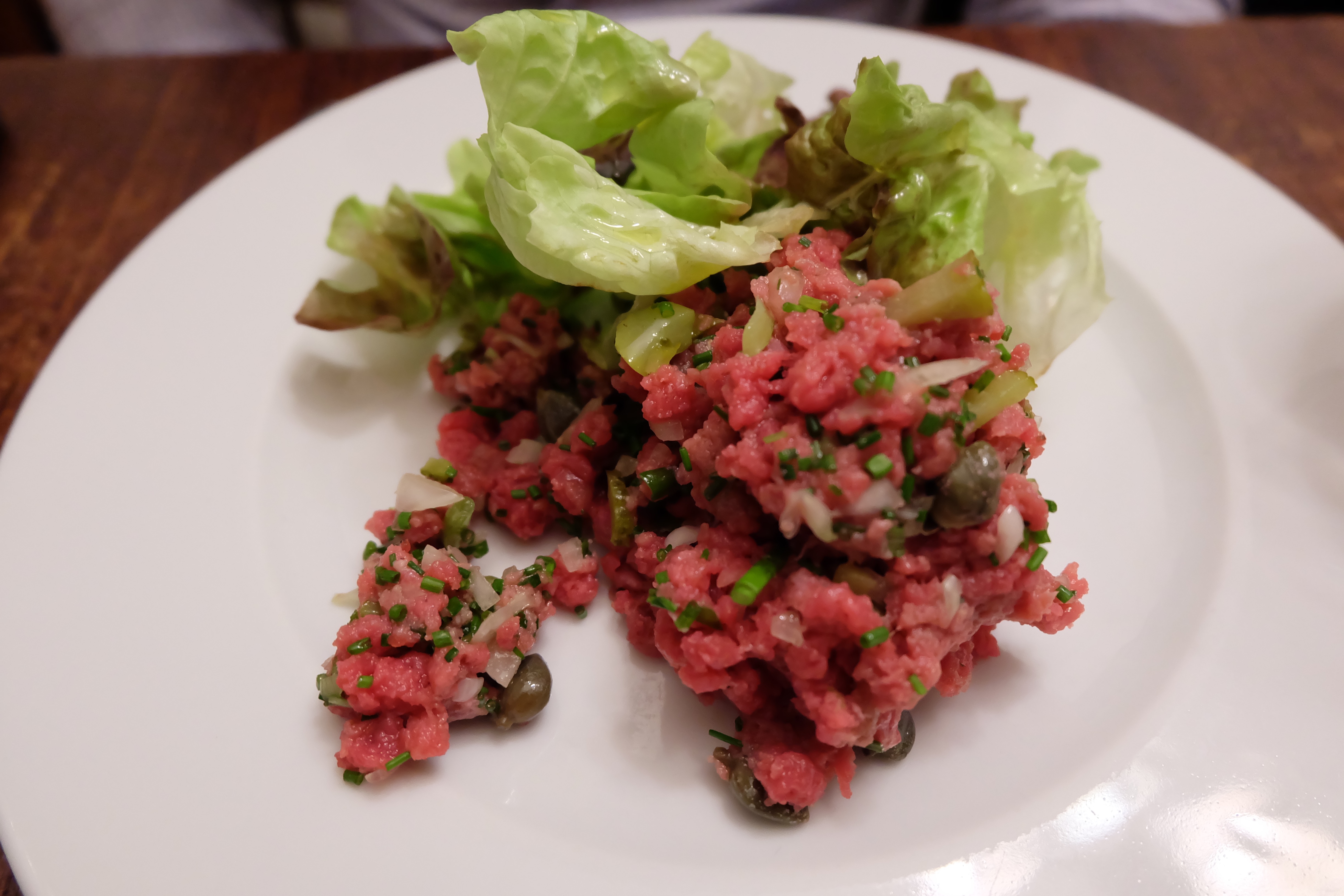 IN OTHER WORDS
The Infatuation (2016) admits that "we're not big on the whole "go to this place just because Anthony Bourdain did" thing, but it is true that Anthony Bourdain visited Le Baratin during one of his episodes of The Layover. But the more important point to be made is that Le Baratin is a place where Parisian chefs eat. Owner Raquel Corina [sic] is a bit of a legend in the local restaurant community, and her food is simple and homey and exactly what you want to eat when you're in Paris."
Le Fooding observes that "for almost thirty years, Raquel Carena has been welcoming star chefs, neighborhood intellectuals and well-informed tourists into her gem of a bistro (a wood and copper bar, opus incertum tiling, an eclectic library) in the North of Paris, with no excess chitchat but with metronomic consistency.
The New York Times (2011) "This two-room place looks as if it put itself together with a design fee of zero. Yet it's attractive and hip, at least in the style of an older generation… There are elegant touches, however, like the lovely water carafes sitting on the bar, and the easy, affordable and instantly likable wine list. Pintade — guinea hen — was cooked perfectly, the dark meat braised and the white roasted, along with mushrooms and cabbage cooked in butter."
Timeout (2012) "Star pastry chef Pierre Hermé visits this cheerful little bistro and wine bar high up in Belleville at least every two weeks to fill up on Raquel Carena's homely cooking with the occasional exotic twist… If the food weren't so fantastic, it would still be worth coming for the mostly organic wines. Le Baratin attracts gourmands from all over Paris – so be sure to book."
John Talbott (2011) disagrees with François Simon's declaration that this is the best restaurant in Paris, finding his dish of chicken livers "topped with tasteless chopped peanuts and salad" to be the best of three entrées tasted. He calls the bread "miserable" and uses the word "OK" to describe both the veal and the cheese.
Figaroscope (2011) includes this among their 15 favorite bistrots in Paris, praising the competitively priced lunch menu and saying that you won't find anything epic or sophisticated here, just precision and taste. "So much so that a simple raw salmon with lemongrass… can be a great moment."
Simon Says (2011) wonders "is this the best restaurant in Paris?" and praises Raquel Carena for spending more time in the kitchen than self-promoting in the media. He is "delighted and contented" by the cavalcade dishes including sea bass with smoked vinegar, veal brain, and sweetbreads.
Alexander Lobrano (2008) says that "every time I go to this restaurant, I fall in love with her food all over again… [Carena] cooks from her heart and also cooks from a winsome artistic sensibility that she's probably still unaware of. Think a sort of gastronomic Grandma Moses, or a cook who paints with broad strokes of sincerity, innovative, and wit." However, he warns that "Belleville, where Le Baratin is located, is a pain-in-the-neck cab ride from anywhere most tourist are likely to be staying in Paris, the room is tiny and noisy and has little decor aside from a few paintings by local artists, and if you're not sincerely interested in tasting a rare dose of la vie boheme in Paris today, this restaurant is not for you."
Le Baratin in video
Anthony Bourdain's Paris episode for "The Layover." The segment on Le Baratin begins around the 37:40 mark.