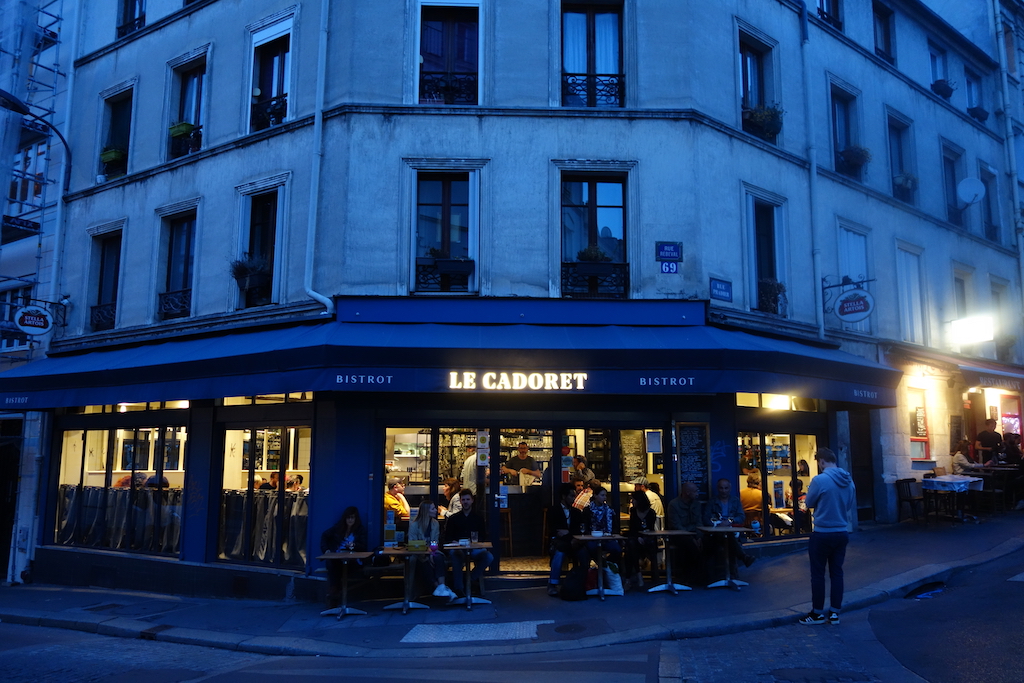 Le Cadoret is a French restaurant in Belleville offering traditional French fare, inexpensive natural wines, and craft beers. With sincere and efficient service and serious value for quality, it's an excellent example of what a modern bistro can be.
Address: 1 Rue Pradier, 75019 
Hours: Open Tuesday-Saturday breakfast, lunch & dinner. Closed Sunday & Monday.
Telephone: +33 1 53 21 92 13
Facebook / Instagram
COVID-19 UPDATE:
Le Cadoret has reopened for service inside and out.
---
Our Most Recent Visit
Nestled on a drab Belleville backstreet beneath the Parc des Buttes Chaumont, Le Cadoret's blue awning shines out like a beacon. So does chef Léa Fleuriot's delicate, thoughtful approach to country-bistrot classics. A sleeper hit since Fleuriot and her brother Louis opened it in 2017, Le Cadoret is a bistrot and café where an ostensibly straightforward offering – traditional recipes, inexpensive natural wines, craft beers – achieves the sublime thanks to rare combination of sincere and efficient service, serious value, and an ironclad commitment to ingredient quality.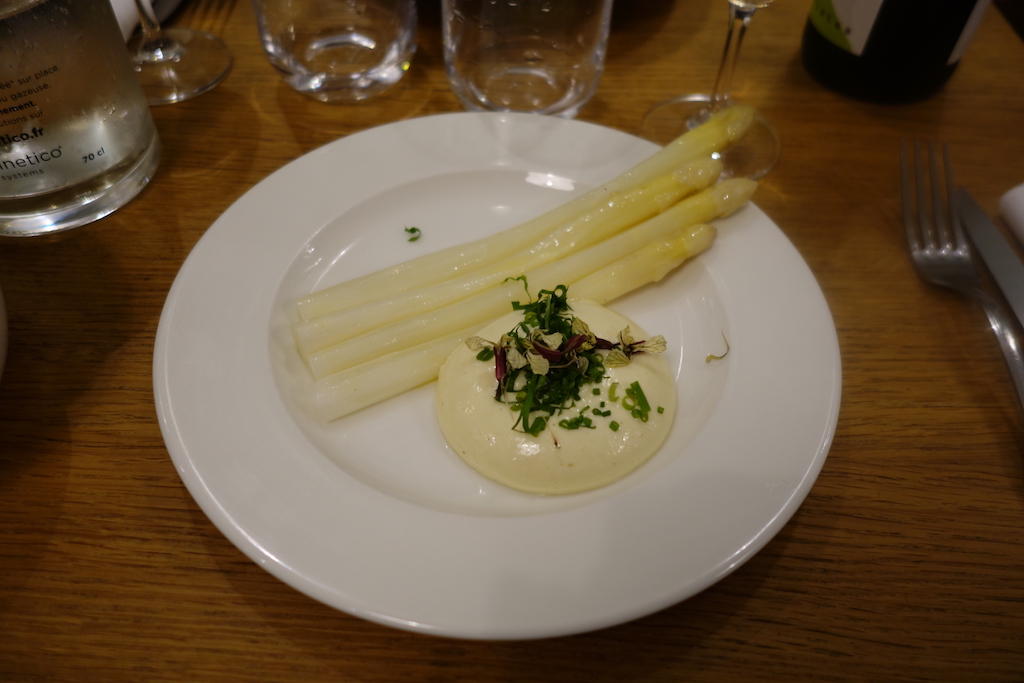 Many of Paris' go-to traditional bistrots emphasize hearty portion sizes and a gruff, elbow-throwing service-style, to the detriment of one's wallet and one's good mood.
The Fleuriot siblings' genius has been to invert the equation. At dinner, main courses are often just 20€ or 21€ euros, making Le Cadoret easily one of the greatest values in the city. Léa Fleuriot has a lyrical restraint in her plate presentation: four slender whites asparagus stalks lie naked beside a bulb of mousseline; a perfectly-seared pork loin arrives adorned with only a wedge of lettuce and an antique serving plate of crispy, silken pommes dauphines, noble ancestors of the tater tot. Yet there is so much to savor on these modest plates that one never leaves finishes early or leaves hungry.
Louis Fleuriot, meanwhile, mans the bar giving out over Le Cadoret's roomy dining area with welcome and aplomb. In this regard, it is as though the staff at Le Cadoret were entirely unconcerned with making their forebears at nearby Le Baratin look deficient in comparison. His wine list gives pride of place to many younger natural winemakers, including Auvergne artiste Aurelien Lefort and Julien Besson of Domaine de la Cavalière in the Luberon.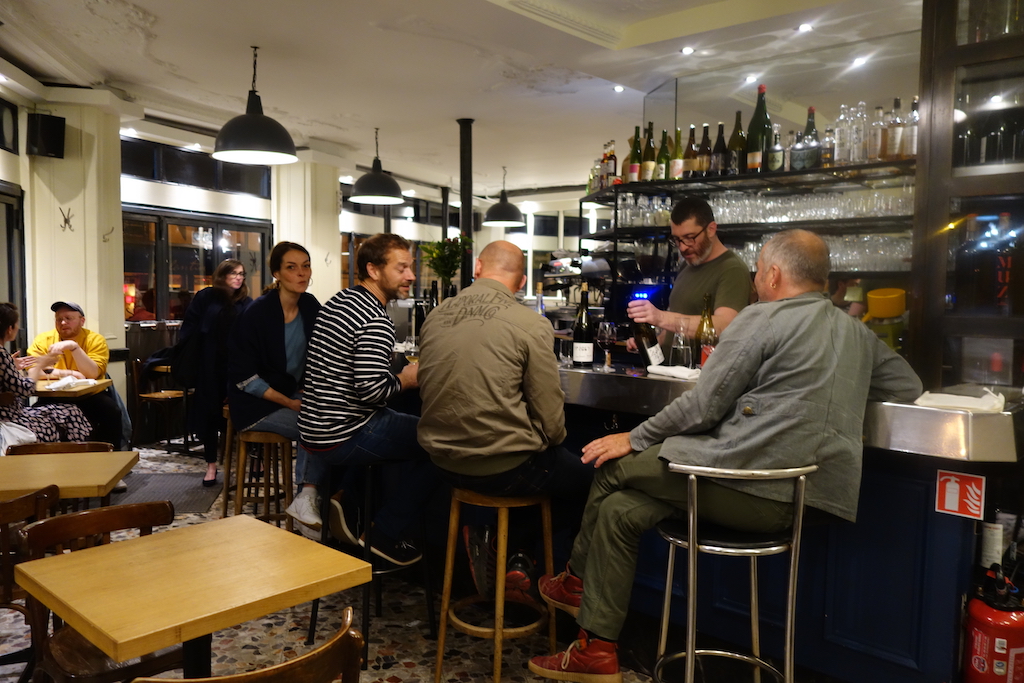 Beyond wine, there is artisanal gin, eaux de vie from famed winemakers, French craft beer, and more on offer, and Le Cadoret's long opening hours and long bar allow the festive ambience to continue between services and after.

---
Le Cadoret in Pictures
Skate with turnips and asparagus

Peas with egg

Echine de cochon

Ile flottante

Brioche pain perdu
Photos by Aaron Ayscough © Paris by Mouth

---
In Other Words
Le Monde (2018) François Simon makes the delicate observation that to achieve the "biblical simplicity" of the cuisine at Le Cadoret, one must possess a humble ego, and that "it is maybe not an accident that in the kitchen there are practically only women."
Le Fooding (2018) praises the "cheeky Parisian feel" of Le Cadoret and calls the crème caramel "brilliantly domestic."
Not Drinking Poison In Paris (2018) calls Le Cadoret "the rare, timeless sort of restaurant that holds sentimental appeal for all and sundry."
Time Out (2018) summarizes Le Cadoret as 'ultra simple and well-appointed,' declaring Fleuriot's terrine to be the "cult plate."
L'Express Styles (2018) François Régis-Gaudry says that at Le Cadoret, the extraordinary hides behind the ordinary aspect of a corner café.
John Talbott (2017) loved the eggs mimosa but chose instead to foreground his French friend's estimation that Le Cadoret was "not a place for culinary discovery."
---