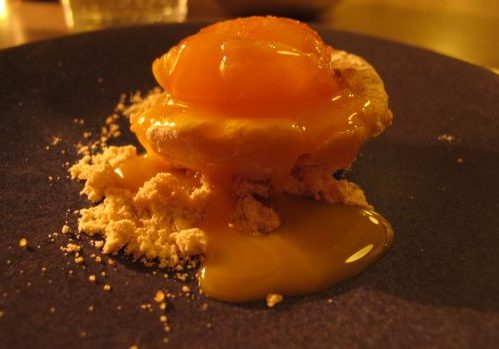 Le Chateaubriand currently holds the #4 ranking in our list of our favorite Tasting Menus under 100€. You can only reserve for the first seating at Le Chateaubriand. After that, you'll have to wait in line from 9pm for a stab at Iñaki Aizpitarte's no-choice tasting menu, a parade of provocative flavor pairings that has landed the restaurant on San Pellegrino's 50 Best list for several years running. Whether you love or hate this restaurant may depend on your affinity for natural wine and improvisational cooking. We have had brilliant meals here, where every delicious dish taught us something new. We have been outraged, and we have been indifferent. You never quite know what to expect here, and that's part of the fun. Just be sure to go with omnivorous friends who share that outlook.
Practical information
Address: 129 Avenue Parmentier, 75011
Nearest transport: Goncourt (11)
Hours: Closed Sunday and Monday; Open Tuesday-Saturday for dinner only
Reservations: Book many weeks in advance
Website   Facebook   Instagram
Le Chateaubriand in photos
What people are saying
Have you been? Leave your own opinion about Le Chateaubriand in the comments!
Bon Appétit (2017) says you should go here "to plug into the city's most exciting, experimental food. Chef Inaki Aizpitarte's menu changes daily, but raw seafood, aged meat, and a crazy dessert course of candied egg yolks are reliable favorites."
The Wall Street Journal (2016) discusses Aizpitarte's impact on the food scene, saying "now, 10 years later, it's impossible not to notice the effect Le Chateaubriand and its maker have had on Parisian dining, where beloved restaurants such as Septime and Saturne (both of which have garnered Michelin recognition)—as well as Au Passage, Spring, Le Servan and Frenchie—grew up in the path Le Chateaubriand carved out."
Le Fooding (2016) says that "ten years running and the Iñaki Aizpitarte-fronted rock band at Le Chateaubriand is just as hip as ever." They rave about bonito from Saint-Jean-de-Luz "cooked in a fragrant garden of crisp nectarines and purslane" and "a pearly-white filet of line-caught yellow pollack surrounded unpretentiously by juicy coco beans with hints of dill."
TimeOut (2012) calls this "cooking at its most adventurous," featuring dishes that "have been deconstructed down to their very essence and put back together again. You'll understand if you try starters like chunky steak tartare with a quail's egg, or asparagus with tahini foam and little splinters of sesame-seed brittle."
Not Drinking Poison in Paris (2011) "The list at Le Chateaubriand is nowhere near as baroque as I was expecting – just a few printed pages… there's something a little chaotic and inattentive about it, like someone has picked a lot of distinctive all-star wines, but presented them without quite enough context. On the one hand I admire the list's concision; on the other hand, concision without consideration looks an awful lot like impatience or ADHD on the part of the wine director."
Food Snob (2009) "This modern, cosmopolitan theme is in stark contrast to the very restaurant wherein it resides: contemporary cooking in a classic bistro; colourful food within sombre walls…"
Food & Wine (2009) "…radical reconstructions of classic French dishes (foie gras served in miso soup)—all marvelously incongruous…"
Gourmet (2008) calls this "one of the city's best contemporary bistros and certainly its most popular," and says that chef Inaki Aizpitarte's dish of grilled pork belly with a sauce of licorice root and a small salad of grated celery root "offers a brilliant contrast of textures and flavors."
Le Chateaubriand in video
The 27 Club in Paris: Chef's Night Out with Inaki Aizpitarte (2014)
Interview by RedVisitor & Andrea Petrini (2011)