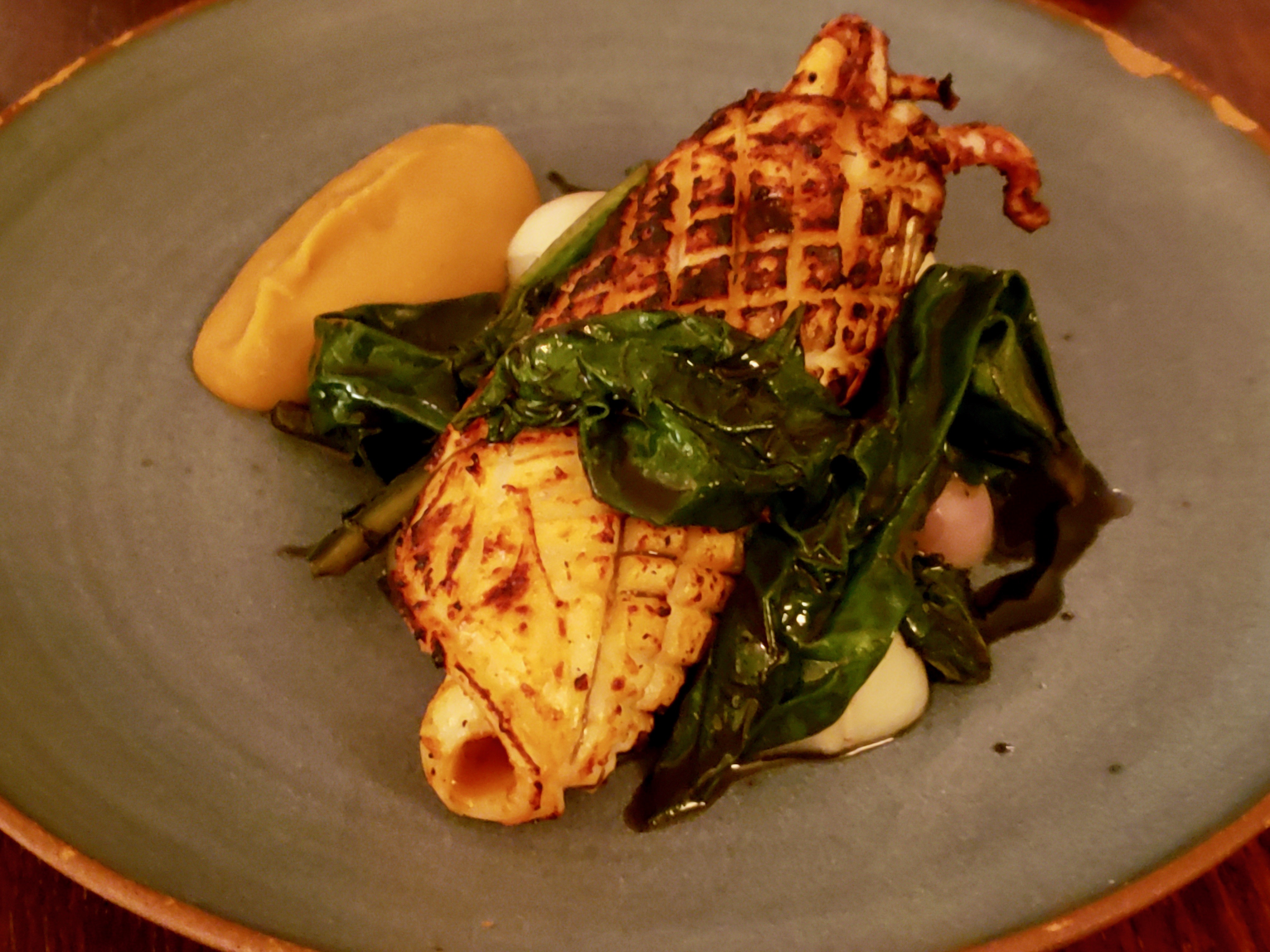 This contemporary French restaurant in the 11th arrondissement is known for its handmade charcuterie, vegetable-driven (but not vegetarian) cooking, and desserts with a savory spin. The 400-reference-strong wine list and impeccable (Anglophone) service make this neighborhood restaurant one worth crossing the city for. Now helmed by chef Christopher Edwards, the menu in summer 2021 is featuring plenty of peak-season produce from the Mont Gardés farm just east of Paris, line-caught fish with the ikejime designation (killed according to a more humane Japanese method), and an incredible selection of white wine and craft beer for sipping on the sidewalk terrace.
Address: 42, rue Saint-Sébastien, 75011
Hours: Open Wednesday-Saturday for dinner. Closed Sunday, Monday & Tuesday.
Telephone: +33 6 49 75 27 90
Website / Online Booking / Facebook / Instagram
COVID-19 UPDATE:
Le Saint-Sébastien has reopened with a new sidewalk terrace.
Our Most Recent Visit
This sweet little restaurant, which opened on a quiet street of the same name in late 2018, is a sparkling addition to the already glutted east Paris gastronomic scene. It has everything I want in a neighborhood joint – a warm welcome, reasonable prices and, for the moment, relative ease of snagging a reservation. The latter is likely to change, as more and more people catch on to the fact that beneath the casual appearance, this is actually a very serious restaurant.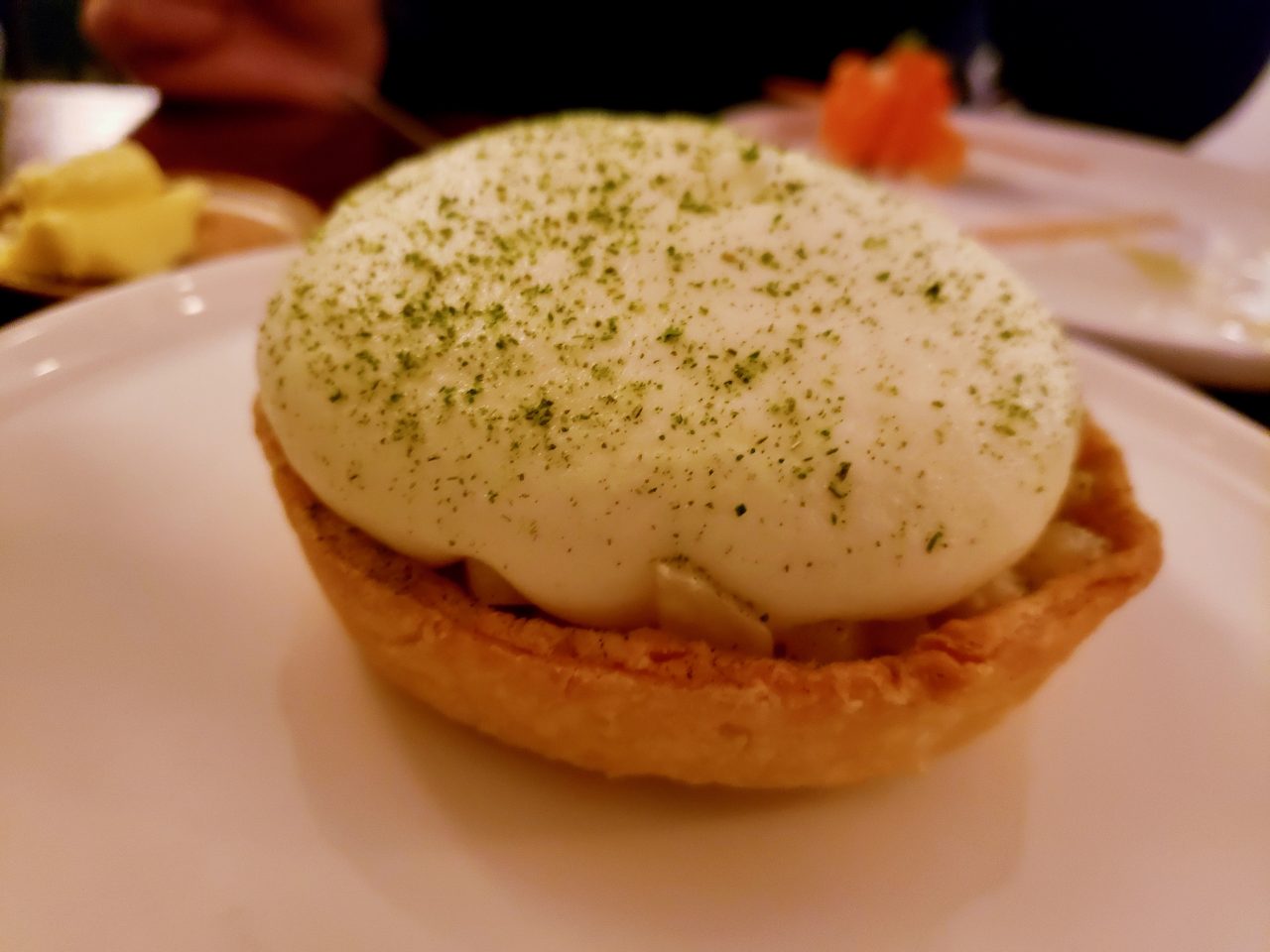 The visionary behind Le Saint-Sébastien is Daniela Lavadenz. A former business consultant with Bolivian roots, Lavadenz has been working toward this goal for several years. To prepare for running her own restaurant, she left a well-paying consulting gig to work in lowly positions at places she admired. Among other educational postings, she was a server at Le Six Paul Bert, in the kitchen at Au Passage, and a bar back at Chez la Vieille.
Throughout this time, she has been mentally composing the wine list, which leans toward natural and biodynamic wines, with plenty of oxidative treasures from Alsace, the Jura and Jerez. With sommelier Bastien Fidelin (ex-Itinéraires) they have created one of my favorite wine lists and service experiences in Paris. Beer lovers are not neglected at Le Saint-Sébastien, which is co-owned by craft brewing wunderkind Thomas Deck of Deck & Donohue brewery.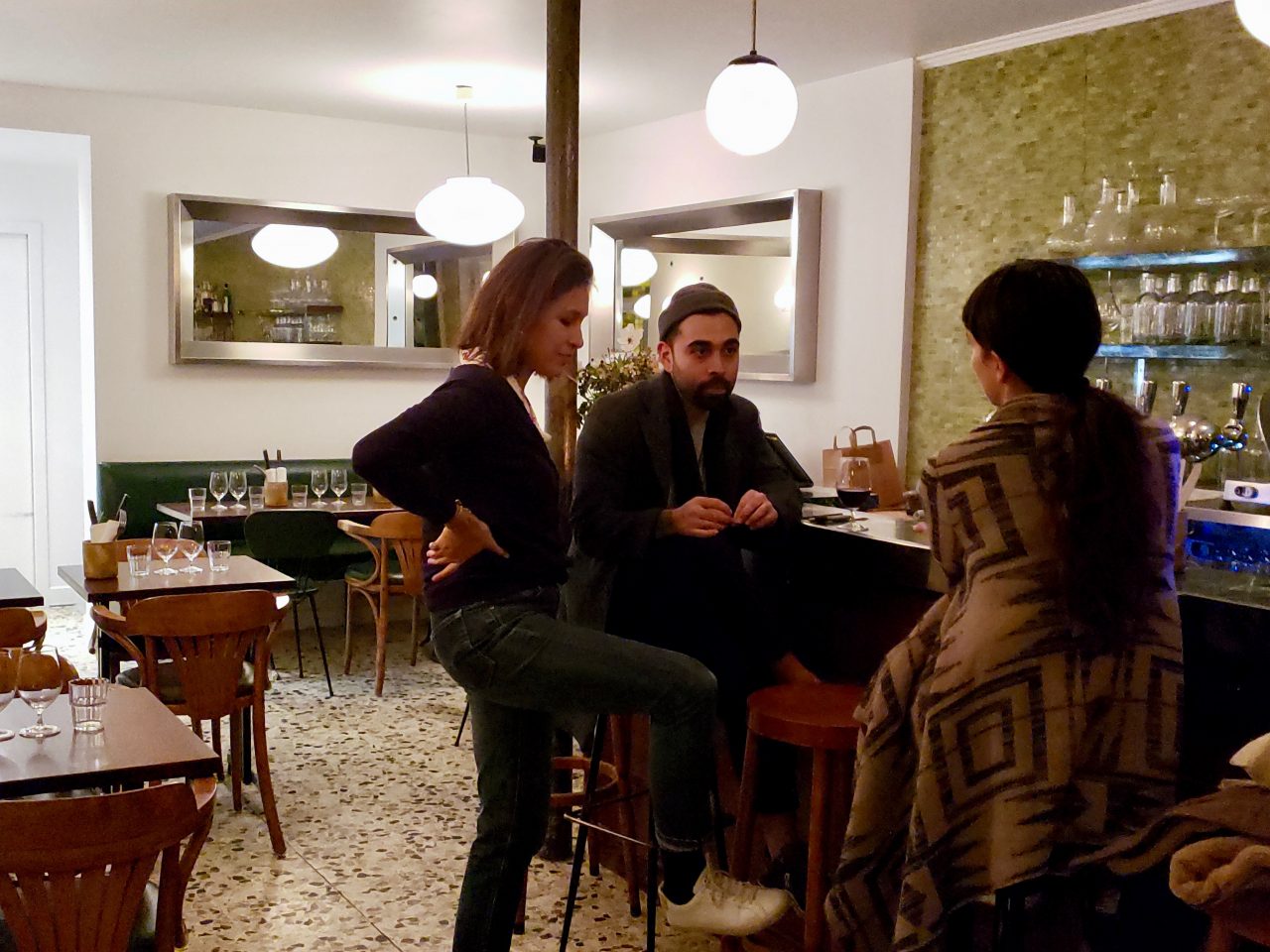 Lavadenz has also been mentally decorating this restaurant for years, but had some help from her pal Remo Hallauer (Comme des Garçons). Some elements of the former establishment were thoughtfully retained, including 50s-era mirrors and a Florentine formica bar whose striking green color also graces their business cards. It feels like it was designed with our comfort in mind, thanks to soft lighting, a bouncy but unobtrusive music playlist, and more space between tables than seems legally permissible in Paris.
In the kitchen, chef Rob Mendoza is killing it. This is his first time leading a team, after years spent in the ranks at Verjus and at Willow's Inn on Lummi Island. The vegetable-forward (but not vegetarian) approach of those restaurants is evident in his cooking at Le Saint-Sébastien, but Mendoza is an outrageously creative chef in his own right.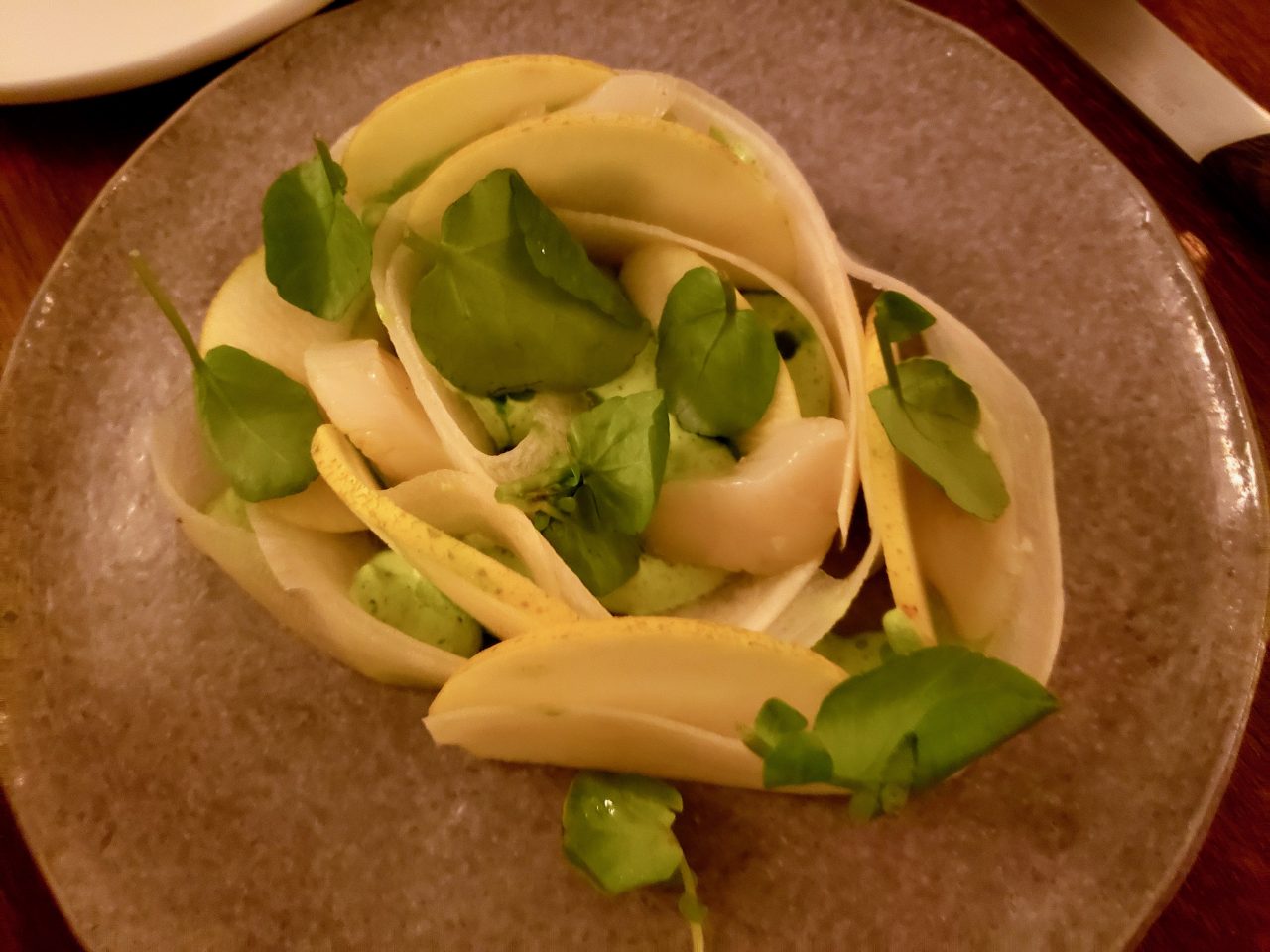 A dish of sea scallops layered with shaved turnip and apple was highly memorable, and not only because it resembled a Georgia O'Keefe painting. Perhaps most surprising was a small potato tart studded with hidden fish eggs. The contrast between the silky potato puree, the buttery crust, and the briny burst of the eggs was a textural thrill. Mendoza often puts a mole on the menu and, to the delight of deprived vegetarians across Paris, it usually adorns a seasonal vegetable.
Carnivores should absolutely order the mojo-marinated brochette of beef heart as a starter, as well as the Bellota morcilla sausage. Desserts are intricately beautiful, not overly sweet, and not to be missed.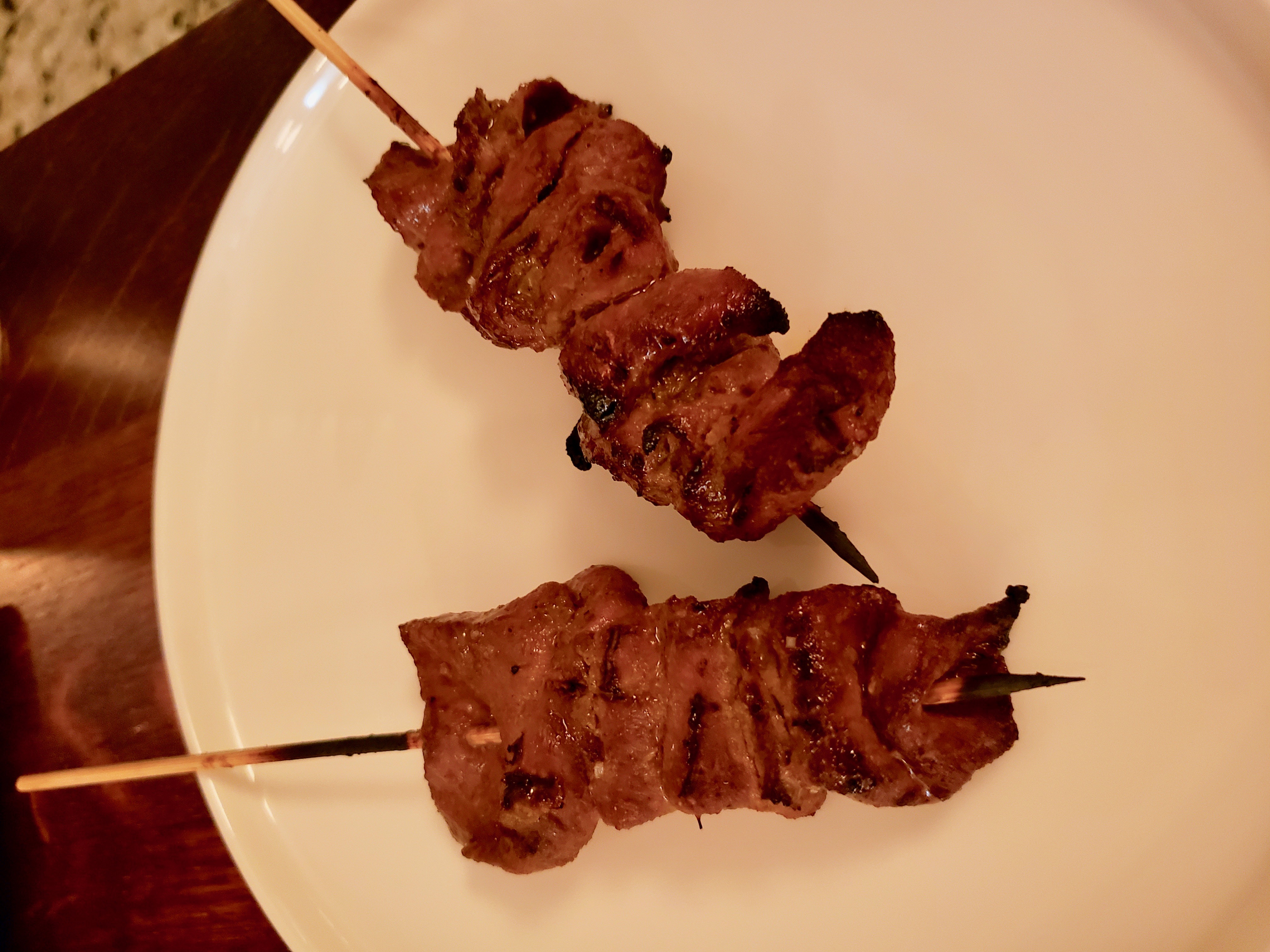 ---
Le Saint-Sébastien in Pictures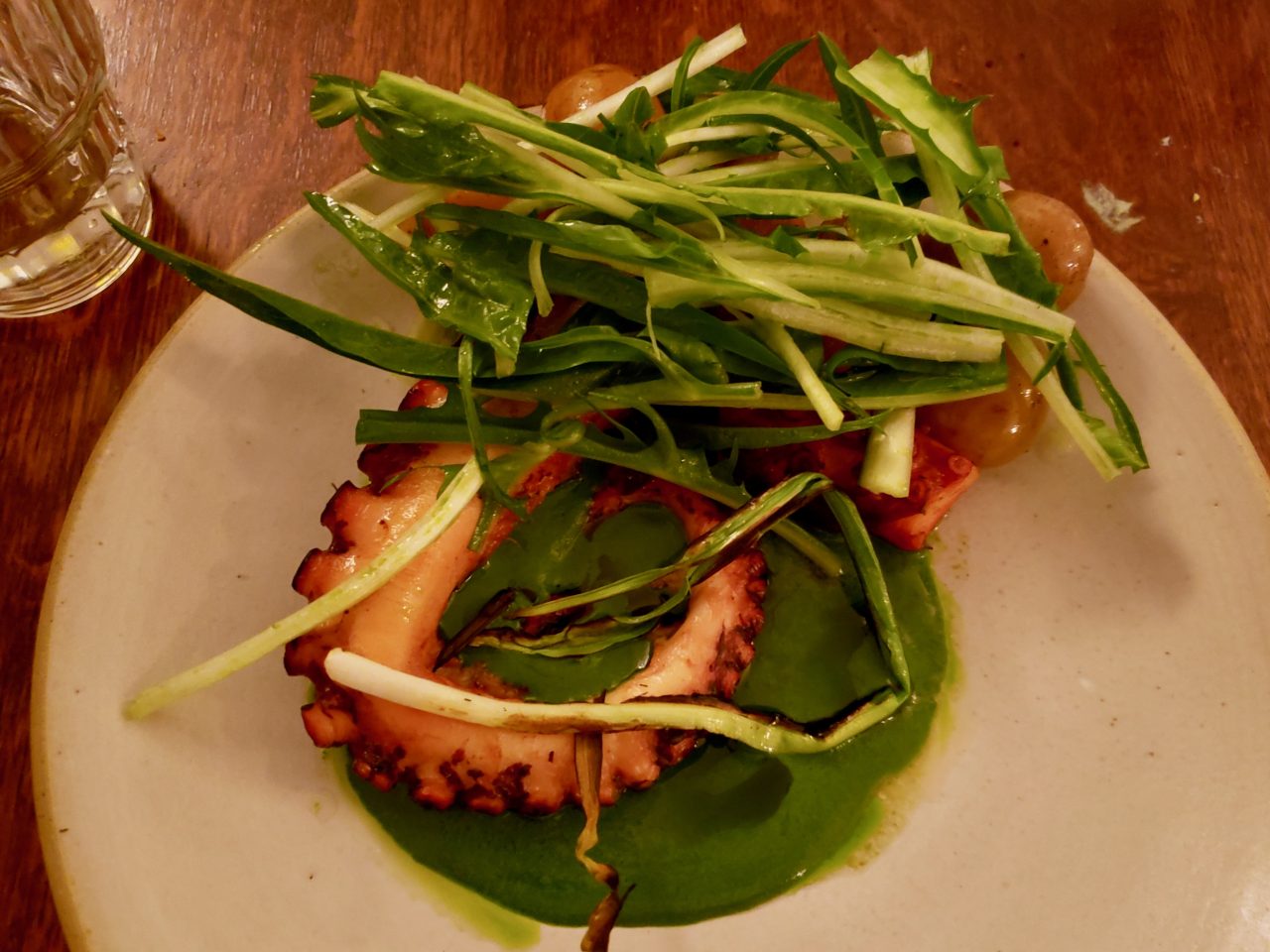 ---
In Other Words
François Simon (2019) says that Le-Saint-Sébastien encapsulates all that's great about gastronomy in eastern Paris.
L'Express (2019) say that Lavadenz has thought of everything, from the vintage formica counter to the excellent bread from Ten Belles to the "impeccable" wine list. But it's the (not exclusively) vegetable-based cooking by Mendoza that really "amazes."
VinePair (2019) includes Le Saint-Sébastien in their Insider's Guide to Paris' Best Natural Wine Bars.
Emily Monaco (2018) says "Have you ever discovered a restaurant so perfect you don't really want to share it with anyone else?" We hear that.
Le Fooding (2018) notes the "recklessness" of opening another restaurant in the gastronomically glutted 11th, but say the gamble has paid off for Lavadenz. They praise the wine list and the cooking from Mendoza, particularly a dish of monkfish with (ahem) an "erogenous eggplant and miso purée."
Photos by Meg Zimbeck © Paris by Mouth
---