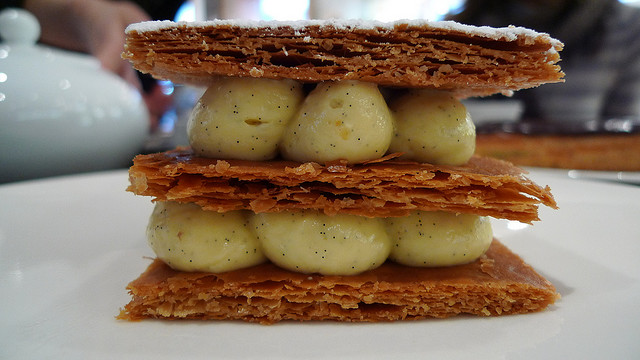 Madman Jacques Genin crafts some of the city's most exquisite chocolate, but he's almost equally known for his caramels and pâtes de fruits. Visit his salon in the northern Marais to gain access to a made-to-order millefeuille or a pot of decadent chocolat chaud. Update: as of January 2013, Genin is no longer making individual-sized pastries to go (many of which are reviewed below), but you can still order a pastry of the day or a millefeuille in the salon.

 An absolute favorite
Practical information
Address: 133 rue de Turenne, 75003
Nearest transport: Filles du Calvaire (8)
Hours: Closed Monday; Open Tuesday-Sunday 11am-7pm;
Telephone: 01 45 77 29 01
Reviews of interest
Vogue (2015) "The Left Bank rejoiced when the avant-garde chocolatier branched out from the Marais to open this bright boutique. Here, the chocolates are displayed like jewels, and Genin experiments with bold flavors (Sichuan peppercorn, bergamot, and rosemary). No less noteworthy are his pâte de fruits—sugared cubes of pure, concentrated fruit—while the caramels are buttery kisses of sunshine."
2nd place in our Five Great Paris-Brest competition
Table à Découvert (2015) "J'adore les truffes… Celles de Jacques Genin faisaient belle figure hier dans la vitrine. Elles aussi, comme souvent chez toutes les truffes d'artisan que je goûte, ont une très fine pellicule de chocolat craquant autour. L'intérieur est assez ferme et très, très chocolaté, tendant même vers une très légère note de café."
David Lebovitz (2012) "Of all the desserts and pastries in Paris, there isn't one better than Jacques' Paris-Brest… The traditional pastry is pâte à choux (cream puff dough) split horizontally, then filled with rich hazelnut praline cream…This one has chunks of toasty hazelnuts embedded in the pastry and the filling is absolutely perfect."
Le Figaro (2011) Ranked #2 in their test of the city's best strawberry tarts.
Croque Camille (2010) "… come for the chocolates, but consider staying for the tea and pastries, and don't leave without a bag of caramels."
Barbra Austin (2010) "Order the millefeuille for which he is known and maybe an éclair as well…Try not to wince at the price of a pot of tea and sit back and relax, knowing that someone in the kitchen upstairs is assembling that famous napoleon to order (this is not one of those bricks that sits all day in a refrigerated case) and that soon it will be served to you, maybe by M. Genin himself."
Table à Découvert (2009) "Un café crème particulièrement réussi et ce millefeuille préparé à la commande, je vous assure que cela fait toute la différence… Le croustillant du feuilleté est à pleurer de croustillant et de légèreté, un nuage de feuilleté qui fait qu'on sent chaque feuille du "millefeuille" sous la dent, un parfum légèrement beurré, mais tout en subtilité et cette crème onctueuse et fraîche à la saveur de caramel bien équilibrée. Le meilleur millefeuille goûté à ce jour, d'ailleurs."
David Lebovitz (2008) "I was completely wowed by his shop…I sampled plenty of chocolates, including ones flavored with fresh mint, pu er tea, and grapefruit zest…And those caramels. Oh yes…those heavenly caramels…"
Additional Images