Verjus is a restaurant near the Louvre that offers one of our favorite tasting menus in Paris. It's the creation of an American couple, Braden Perkins and Laura Adrian, who opened this light and airy restaurant back in 2011.
After being closed for several years (the pandemic + a renovation of their exhaust system), Verjus reopened on May 9. The lengthy closure gave them time to test new dishes at Twenty-Two Club, a supper club in a spectacular private residence overlooking the gardens of the Palais Royal (it's included among our 50 Favorite Restaurants in Paris). It also gave them time to cultivate a massive garden outside of Paris that's now supplying produce for Verjus and its sister restaurant Ellsworth.
When I revisited in late May, there was a tasting menu based around the bounty of this garden with six courses (well, really it's five courses plus an explosion of six canapés to start) for 98€. There's an extensive and well-priced carte des vins if you want to get a bottle, but I always like to get the wine pairings at Verjus. Their pairings, along with Le Chateaubriand, are among the best in the city.
There's a private dining room upstairs that can be reserved for groups of 8-12 (Beyoncé and Jay-Z have dined here), and the kitchen is known to accommodate vegetarians + a wide range of dietary issues with advance notice.
VERJUS
52 rue de Richelieu, 75001
Open Tuesday-Friday for dinner only
Closed Saturday–Monday
Reservations online or at +33 1 42 97 54 40
Their Instagram / Our Instagram

oUR PHOTOS OF VERJUS
Most recent visit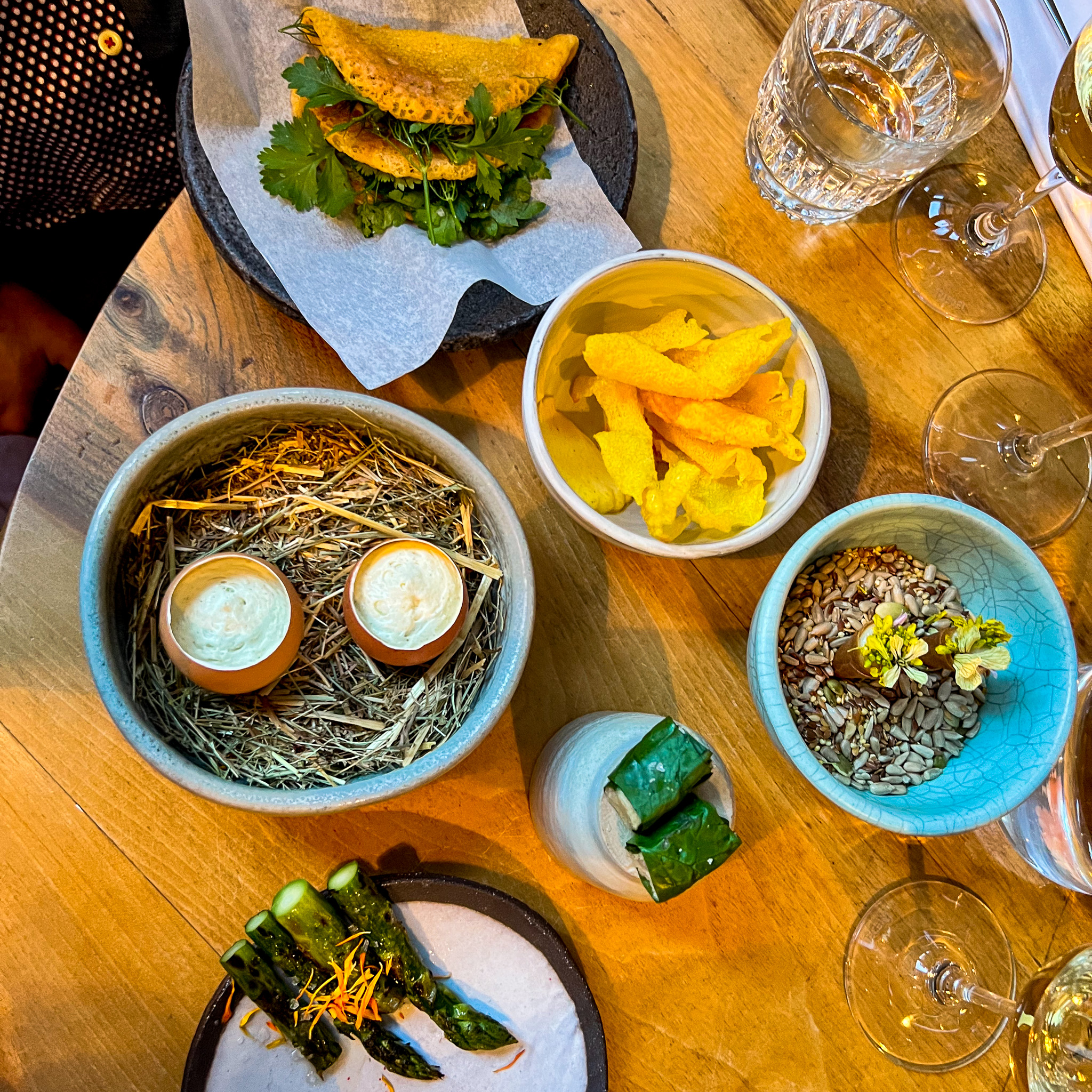 Earlier visits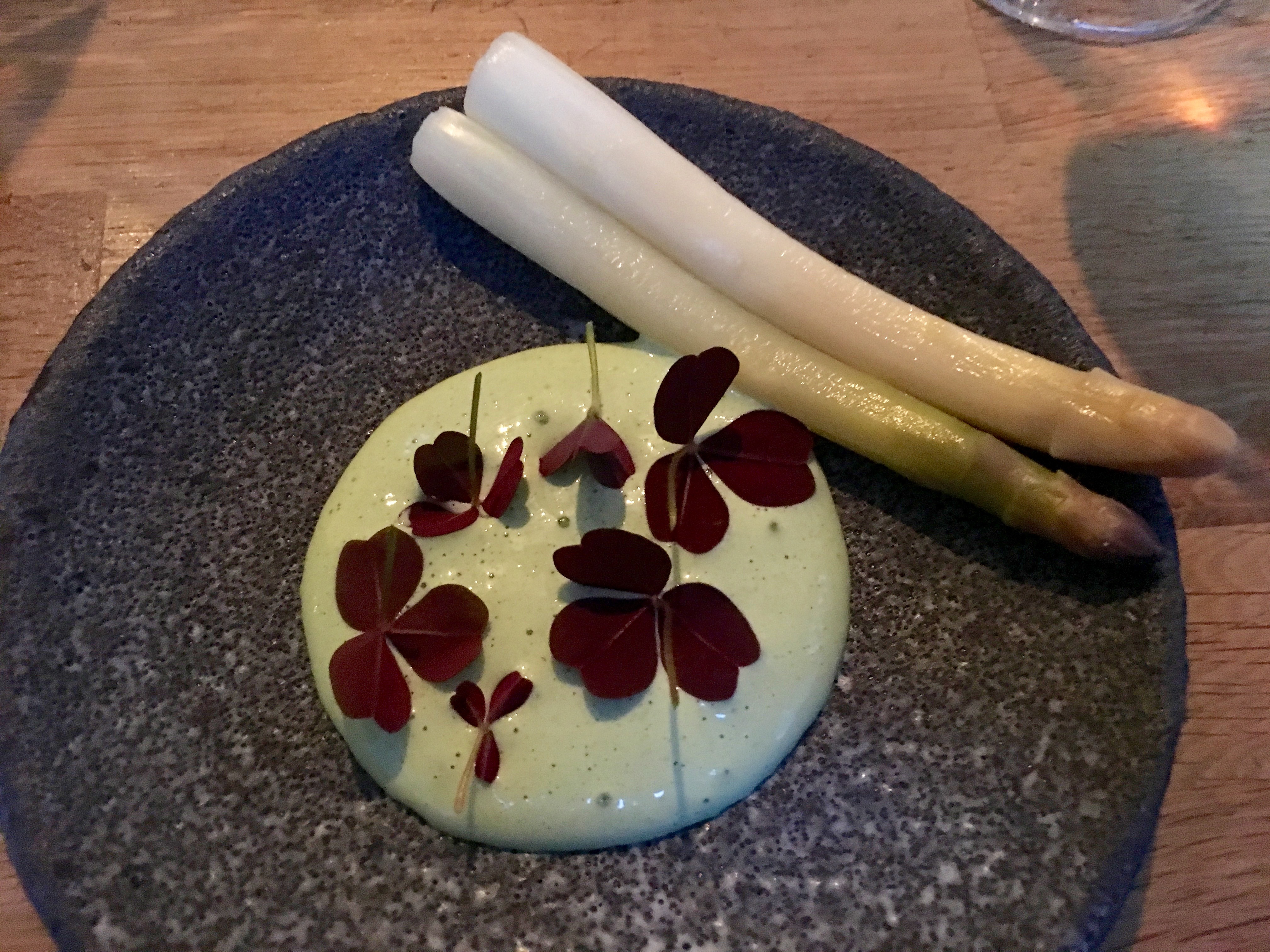 iN OTHER WORDS
David Lebovitz (2017) includes this among his Favorite Paris Restaurants, praising the "inventive and outstanding cuisine by Braden Perkins that changes daily, and seasonally. Fixed menus feature a range of ingredients, techniques and cultures, which all come together in multi-course menus that will surprise and delight. There is a casual wine bar downstairs (no reservations) that serves light fare, great frites, and an intriguing selection of wines by the glass."
Ruth Reichl (2014) says "the food looked lovely, but it was so intelligently put together that I couldn't help concentrating more on the way it tasted than how it had been put upon the plate. Chef Braden Perkins combines flavors in fascinating ways."
Timeout (2013) praises a Scandinavian-inspired plate of trout and potatoes, calling it "the best of the seaside in a couple of memorable mouthfuls," along with a dish of duck breast with sharp winter sauerkraut. "These were the highlights – not everything sung out clearly, but that's the licence of a tasting menu. Taken as a whole, with the well-priced wines by the bottle and glass, the easy-going, friendly bilingual staff and the general atmosphere of quiet contentment, Verjus is a genuine thrill."
Saveur (2012) says that "since Perkins revises his two dinner-only tasting menus almost daily (one is four courses, the other, six), his imagination is always sparking. As evidenced by a winter starter of a poached egg with three types of grilled mushrooms (shiitake, button, and a tiny wild Japanese one) on a bed of wild rice with microscopic dandelion leaves and a sprig of dill, his food can be so fragile, intimate, and self-effacing that it induces perfect, fleeting, ego-free moments of Zen pleasure."
The New York Times T Magazine (2012) explores Perkins' approach as an American chef in Paris: "Americans grow up with tons of different flavor profiles in their heads — you know, in the states, one night you eat Italian, the next Chinese, so we cook from a huge palate, and I think we're freer in the kitchen than the French… So the best American food often surprises with unexpected meetings of tastes and textures." They cite examples of his cooking style including a dish of Mimolette cheese-filled ravioli with cauliflower, capers, chili and cocoa, followed by roasted pork belly and carrots cooked in carrot juice, with frisée and crumbled salted ricotta.
Bon Appétit (2012) says "Perkins sends out a produce-centric tasting menu, filled with dishes like grilled Basque pork belly with semolina gnocchi, Korean-style green onion salad, and apple labneh. This is (cosmopolitan American) food worth crossing the Atlantic for."
Figaroscope (2012) "On sort d'ici le portefeuille délesté avec charme et l'appétit lesté d'une cuisine mignarde, d'un chic transparent, battant des ailes de libellule sans jamais vraiment décoller."
Entrepreneur (2012) explains that "thanks to glowing articles in food magazines, Verjus has become a must-visit for Americans traveling to Paris, who typically make their dinner reservations soon after buying plane tickets. That leaves little room for locals–those discriminating diners Perkins was excited to cook for in the first place. But if that's the price of success, he'll take it. 'Parisians don't book in advance,' he says with a shrug. 'Everyone else does.'"
Alexander Lobrano (2011) praises the "really brilliant little miniature as our first course–roasted baby leeks with a quail's egg, Israeli couscous, oven-dried radicchio leaves and a scattering of ash I'd guess was made from the trimmed green of the leeks. This was a fascinating composition, at once feral and very comforting." He concludes that "this was a deeply imagined and magnificently executed meal."
SUBSCRIBE TO OUR NEWSLETTER