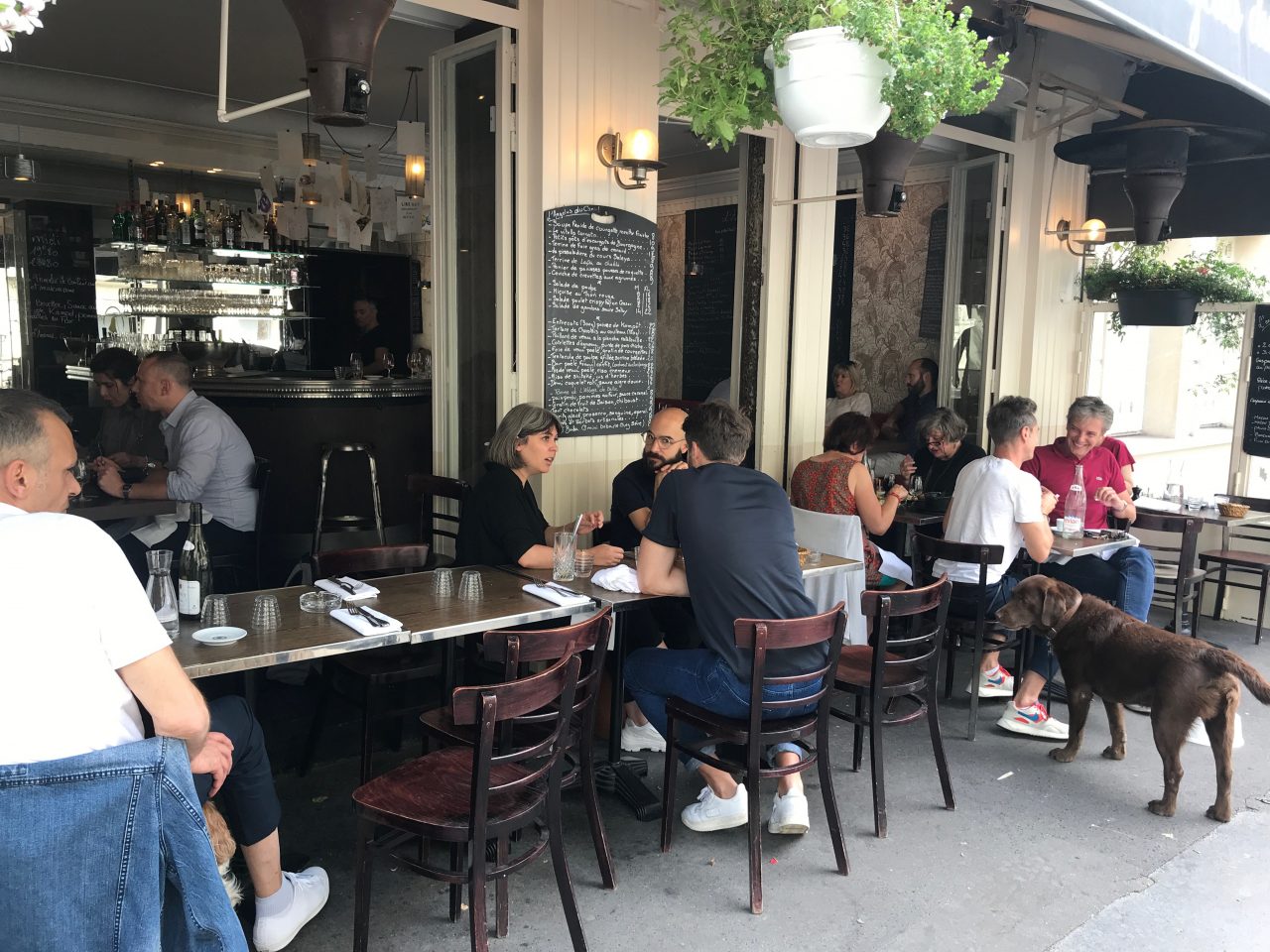 The previous incarnation from chef Philippe Damas was a perennial favorite near the Canal, known for seasonal cooking and wild game in season. A new team has taken over this neighborhood bistro and a recent lunch on the terrasse – summer gazpacho and steak with roasted rosemary potatoes – didn't disappoint. Further "research," particularly to see if the wine list remains as strong, is needed.
Practical information
Address: 12 avenue Richerand, 75010
Nearest transport: Jacques Bonsergent (5), Goncourt (11)
Hours: Open Tuesday-Saturday for lunch & dinner. Closed Sunday & Monday.
Telephone: +33 1 42 38 00 13
Website   Instagram
L'Angelus du Canal in pictures
---
Philou in pictures
What people were saying about Philou
Paris by Mouth (2016) our review by Meg Zimbeck "Chef Philippe Damas is showcasing the season's best ingredients at this bistro near the Canal Saint-Martin. During the season, wild game (grouse, partridge, quail) is suburb here. In warmer months, the sidewalk terrasse is an appealing place to drink from the very affordable wine list. The chalkboard menu changes all the time and dishes are scratched off throughout the evening. Philou has the feel of an excellent and not overly ambitious neighborhood bistro, and it's one where I'm happy to return again and again."
Timeout (2014) calls Philou "refreshingly down to earth" and says "the menu, scribbled up on a blackboard, does a good line in seasonal specialities – game and seafood."
David Lebovitz (2012) wants to love Philou, but they ran out of just about everything he tried to order. He does appreciate that "they have an ample list of wines by the glass (€4), 1/2 liter, or full liter (€26), all democratically priced."
Figaroscope (2011) calls this one of the 15 Best bistros in Paris, praising the pheasant with caramelized endives and the efficient service.
The New York Times (2011) called the food "wonderful, sometimes perfect. Like the marinated sardines with parsley gelée, apples and horseradish. Also wonderful were a dead-on pâté with a jug of cornichons, pork cheeks in a gorgeous dark sauce with celery root cooked in stock." Bittman also implied the Canal neighborhood was far-flung and dangerous, prompting the Great Eye Roll of 2011.
Not Drinking Poison in Paris (2011) calls this "a winningly sharp, modern bistro" with all of the criteria for success in place: well-priced natural wines, a solid market menu and the nearby canal, plus "engaged, reactive service" that was the runaway highlight of his meal.
Patricia Wells (2011) says that "bright and lively" Philou is "super loud,  super fun, and a super bargain." She praises the excellent wine list and admires the fact that Damas is taking old-fashioned ingredients like pig's cheeks and calf's liver and serving them "with a simplicity and freshness that is thoroughly appealing."
Alexander Lobrano (2010) says that "if this bistro was in my neighborhood in the 9th, I'd eat here all the time. One way or another, it finds a solid place on my to-go list, especially since it's also a very good buy."
John Talbott (2010) tasted one of the best legs of lamb that he'd had in years and loved the partridge with cabbage. "For such a tiny bird it delivered a lot of pleasure."