It comes as a shock to encounter, amid the side-streets of Paris' sleepy, gastronomically-underserved 20ème arrondissement, the old-time bombast of the painted façade of restaurant La Vierge, a.k.a. À La Vierge de la Réunion. A hotel in a bygone era, the ground floor now houses an egalitarian and immaculately tasteful wine bistrot, by restaurateur Greg Back (Café du Coin) and the well-traveled young chef couple Elsa Marie and Julian May, whose lengthy résumés include stints at Paris' Septime and Clermont-Ferrand's Le Saint Eutrope, respectively.
Lunchtimes in La Vierge's expansive, well-lit dining room see Elsa Marie plating countryside classics like pork belly with roast carrots or hake brandade, executed with international panache at small-town prices. The three-course menu is just 20€.
La Vierge is an even better value at dinnertime, when Marie and May's thoughtful menu of small plates summons a packed house nightly. The influence of Le Saint-Eutrope chef Harry Lester is palpable in the pair's mastery of house-cured charcuterie, as well as in the omnivorous synthesis of French country rusticity and new-world playfulness in La Vierge's menu.
An insanely addictive duck salad unites the joyous fat of fried duck skin with the piercing sweet salinity of candied salted almonds; a pristine and tender plate of thin-sliced roast beef supports a splat of unctuous sauce gribiche. Spanish and Italian detours like gazpacho and tagliatelli are handled with the technical mastery one encounters routinely in London or Sydney and very rarely in France.
A fascinating (and vegetarian) dish of long-stewed fava beans and ricotta included the actual fava bean shells, their fibrousness rendered palatable by the cook time and the indelibly savory broth. These quiet wonders are served as in portions one could describe as genuinely shareable: one receives more than a spoonful, probably thanks to the chefs' wise decision to avoid the rote luxury crutches of many small plates menus: lobster, salmon eggs, edible flowers, etc.
The wine selection (at retail prices, plus 9€ corkage) is perfectly suited to its humble quartier, which is to say it's an eclectic mélange of natural wines ranging from budget-minded southern French selections to more récherché bottles like those of Alsace's La Grange d'Oncle Charles. The overarching honesty and generosity of La Vierge's concept places the restaurant alongside overachieving peers like Belleville's Le Cadoret at the vanguard of a new generation of Paris bistrot that recognizes the value of virtue.
À LA VIERGE DE LA RÉUNION
58, rue de la Réunion, 75020
Open Monday–Saturday for lunch & dinner
Open Sunday for lunch only
Reservations online or at +33 1 43 67 51 15
OUR PHOTOS OF À LA VIERGE DE LA RÉUNION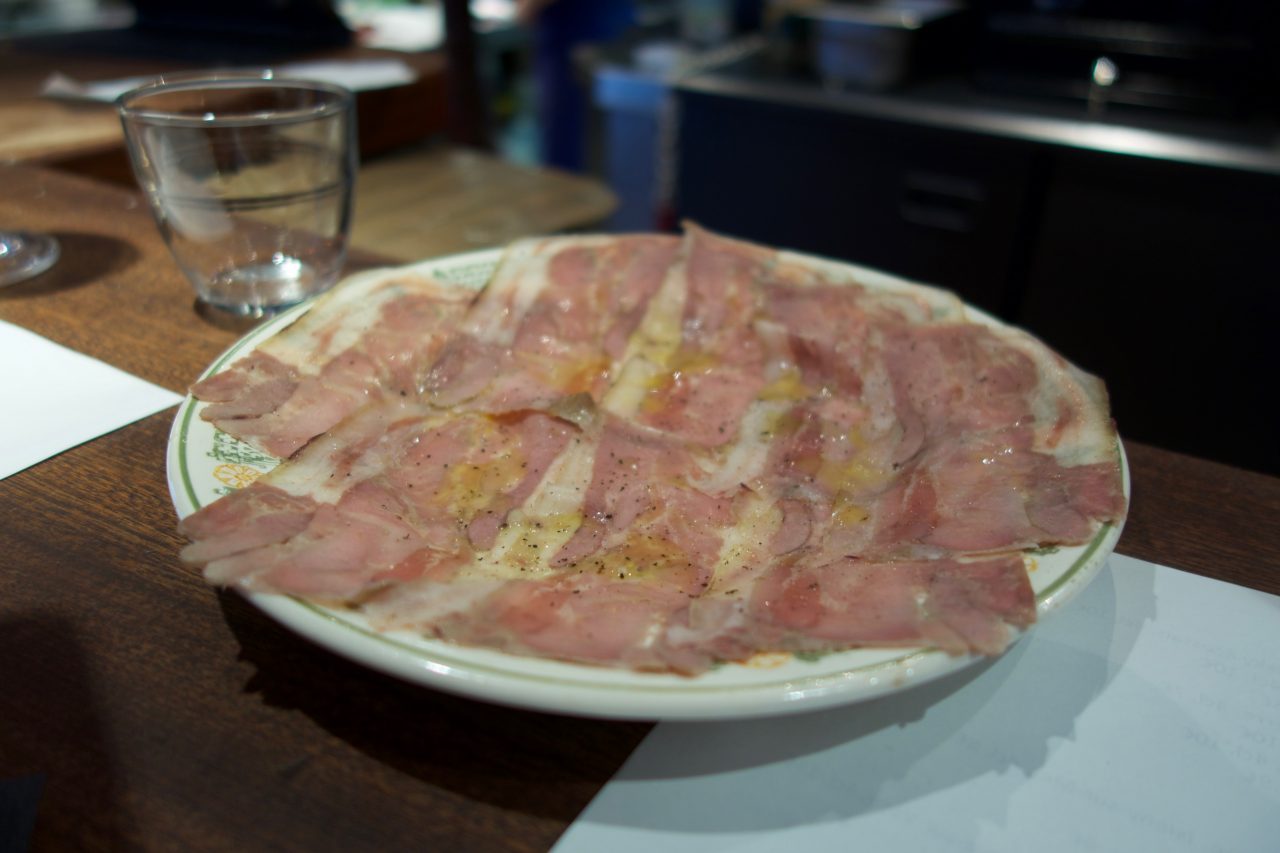 IN OTHER WORDS
L'Express (2019) François Régis-Gaudry delivers a rhapsodic review of La Vierge, including a fairly comprehensive summary of the chef-couple's careers and fascinating details of the process of aging mackerel. He says the lunch menu at this "crazy charming" bistrot "could make us cross Paris again sooner than expected."
Time Out (2019) dubs La Vierge "the sweet value bistrot of Charonne," "for those who believe in a preserved Paris."
Le Fooding (2018) says La Vierge can transform "your twenty-euro bill into a true feast!"
Le Monde (2018) offers a thoroughly demented take on La Vierge, written by Marie Aline in the second person (vous), apparently addressing owner Greg Back, recounting a lunch at the restaurant at which Back himself was present. It is almost impossible to discern the actual praise for the cuisine through one's astonishment that a major newspaper would publish such twittish, vaguely flirtatious scribbling as a review.
SUBSCRIBE TO OUR NEWSLETTER