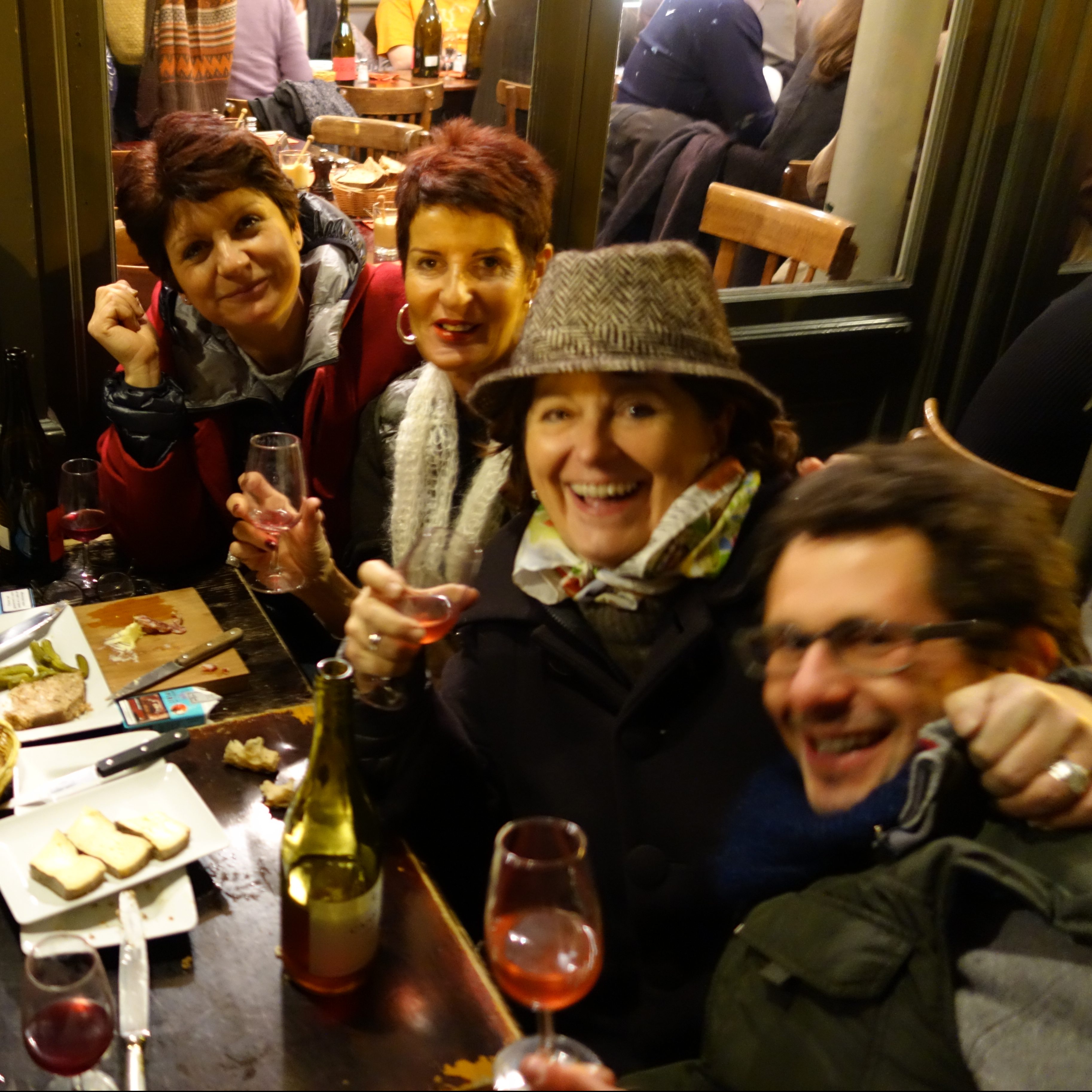 Celebrating Beaujolais Nouveau 2016
In a depressing, semi-apocalyptic year defined by reactionary responses to globalism, it's fair to ask ourselves what, exactly, we are celebrating, when we celebrate the annual release of Beaujolais Nouveau on Thursday.
Is Beaujolais Nouveau a symbol of international marketing run amok, an artificial wine-like confection of sugared-up, overproduced grapes, aimed straight at the lower rungs of the world's supermarket shelves? Or does Beaujolais Nouveau represent rather the opposite: an homage to local tradition, a village fête for newborn wines, fragile and pure?
It depends where one celebrates. In liquor stores, chain wine shops, and supermarkets around the world, believe the worst about Beaujolais Nouveau. But Beaujolais Nouveau in Paris is something else. The city's traditional bars and bistrots enjoy unparalleled access to France's natural wine scene, where many winemakers manage to produce unadulterated primeur wines that retain the fleeting, keen flavors of their village origins. So in Paris in 2016 we can raise a glass to the ironic destiny of well-made Beaujolais Nouveau – a simple village wine that, merely by maintaining its simplicity, can become a curious luxury.
What follows is a list and map of the Paris establishments hosting Beaujolais Nouveau parties in 2016, along with whose wines they'll be serving, and which winemakers, if any, are expected to be present for the occasion. (Nothing is guaranteed. Winemakers are like that.)
Wednesday November 16, 2016 (the night before)
La Robe et le Palais (13 rue des Lavandières Sainte-Opportune, 75001) Owner Olivier Schvirtz and sommelier Loic Mougene throw Paris' last remaining quality-conscious midnight-release party for Beaujolais Nouveau.  Normal dinner service will be followed by an all-night party, with – transport permitting – appearances by most of the winemakers whose wines will be on offer: Xavier Benier, Jean Foillard, Karim Vionnet, Jean-Claude Lapalu, Michel Guignier, Romain Paire, and Stephen Durieu. 11:00PM-5:00AM.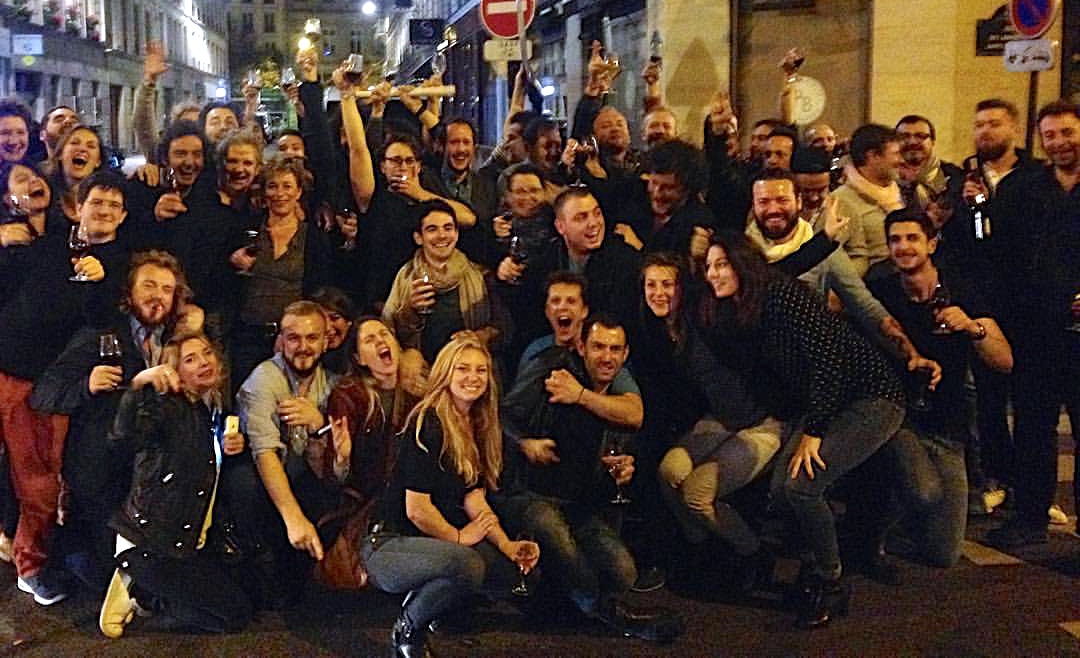 Thursday November 17, 2016
Aaron's Picks 
Café de la Nouvelle Mairie (19 rue des Fossés Saint-Jacques, 75005) Benjamin Fourty and Corentin Cucillat are the latest owners of this historic natural wine bar in the 5ème, which has changed hands over the course of its 20 years in business, but has always remained a destination for magnificent wine and simple bistrot cuisine. Saucisson au gène and a joue de boeuf will accompany the gypsy jazz of Paname Swing. Beaujo Nouveau by Guy Breton & Jean-Claude Lapalu. 7:30PM – 1:45AM. Reservations recommended for the dining room.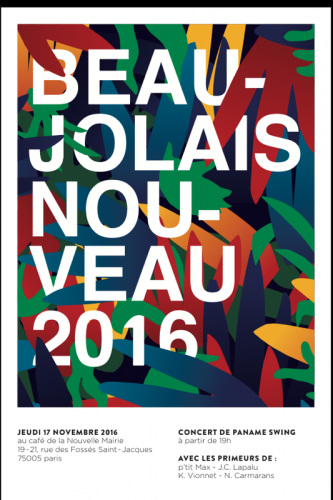 Ma Cave de Fleury (77 impasse Saint-Denis, 75002) Morgane Fleury, the fairy godmother of natural Champagne, hosts a rollocking Beaujolais Nouveau party with wines from France Gonzalvez & Remi Dufaitre, along with vin primeur from the Rhône's Marcel Richaud, and traditional fanfare music by the Charlots d'Eon. 7:00PM – around midnight.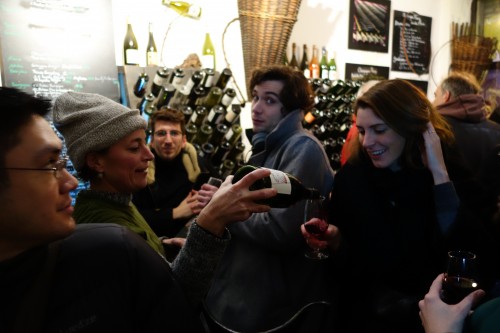 La Quincave (17 rue Bréa, 75006) Frédéric Belcamp's shelf-sized Montparnasse wine bar inaugurates three nights of "Bubbles & Beaujolais." Come early for a range of pétillant naturels and Beaujolais Nouveau from Guy Breton, Karim Vionnet, Jean Foillard, Rémi Dufaitre, Stephen Durieu, Jean-Claude Lapalu, and France Goncalves – but stay for the crowd, which reliably consists of a who's-who of the natural Beaujolais vanguard. From 7:00PM.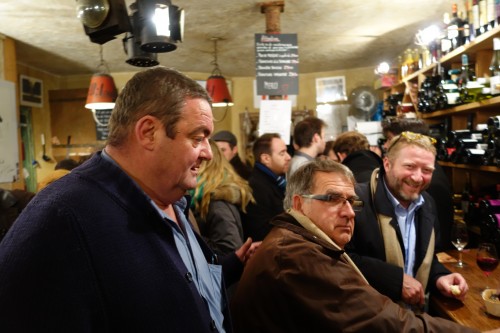 Le Repaire de Cartouche (8 boulevard des Filles du Calvaire, 75011) Legendary terrine maestro Rodolphe Paquin celebrates Beaujo Nouveau with gusto. (The 2014 soirée saw him gamely swap t-shirts with a buxom reveler behind the bar.) Beaujolais Nouveau from Guy Breton, Karim Vionnet & Xavier Benier, along with vin primeur from Thierry Puzelat. Music: A live accordian-guitar-chanteuse combo. To snack on: oysters, tripe, and hot sausage. 7:30PM – 1:45AM.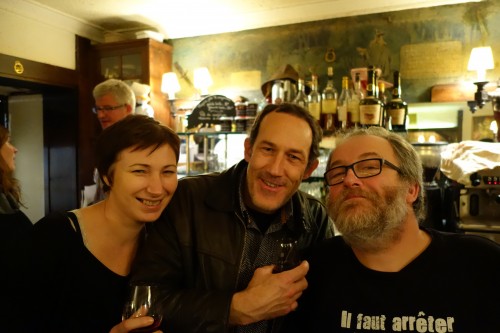 Other Notable Beaujolais Nouveau Events
Left Bank
In addition to top picks Café de la Nouvelle Mairie and La Quincave (see above)…
Au Sauvignon (80 rue des Saints-Pères, 75007) This well-preserved, 3rd-generation Auvergnat café boasts an accordion and keyboard duo and a special hot meal for the occasion: blanquette de veau, available by reservation only. Primeurs by Karim Vionnet & Jean-Claude Lapalu. From 7:00PM.
La Cave des Papilles (35 rue Daguerre, 75014) Gerard Katz's venerable natural wine shop offers a tasting of vin primeurs that run the gamut of the viticultural regions of France. Beaujolais Nouveaux from Jean-Claude Lapalu, Romaine des Grottes, and Georges Descombes, plus other vins primeurs from Patrick Bouju (Auvergne), Thierry Puzelat (Loire), Jean-Christophe Comor (Provence), Marchel Richaud (Rhône), & Jean-François Nicq (Rousillon). 5:00PM – 9:00PM.
La Crèmerie (9 rue des Quatres Vents, 75006) will be playing Nick Cave and PJ Harvey and pouring primeurs from Beaujolais producers Rémi Dufaitre, France Goncalvez & Jean-Pascal Sarnin & Jean-Marie Berrux, plus Henri Milan's pure Mourvèdre from les Baux de Provence, Nicolas Carmarans' 'Fer Servadou' from Averon, and 'Octobre Rouge' from JF Nicq. Reservations are usually required at this tiny wine bar, but not tonight. However, make this an early stop because they're only open from 6:30-10:30pm.
Central Right Bank (Les Halles-Palais Royal)
In addition to top picks Ma Cave de Fleury & Le Rubis (see above)…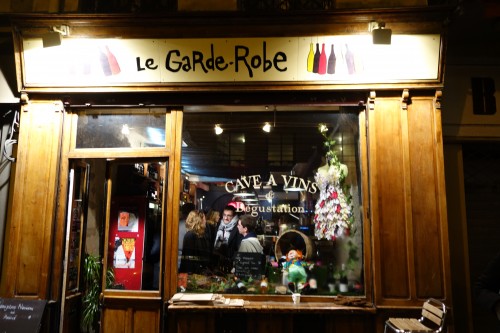 Le Garde Robe (41 rue de l'Arbre Sec, 75001) They'll be pouring Beaujolais Nouveau by France Goncalvez, Rémi Dufaitre, Sylvère Trichard and Stephan Durieu, along with copious bowls of onion soup, at this popular natural wine bar by the Louvre. Jambon and truffled purée will be available. Music, according to management, will depend on how rammed it gets inside the bar. 5:00PM – 2:00AM.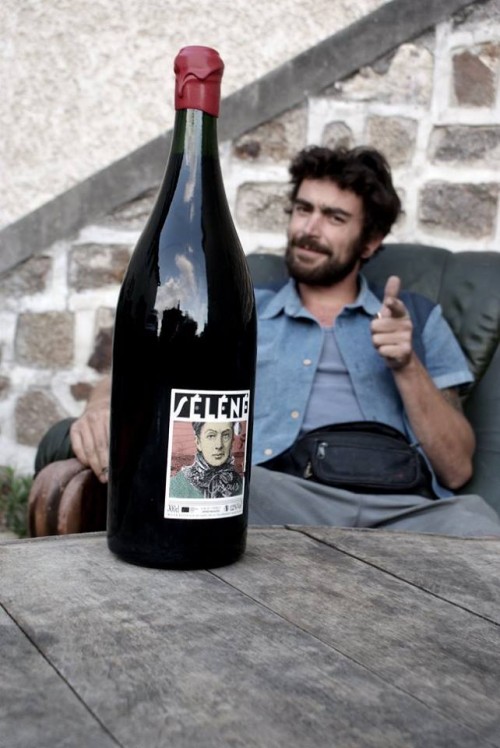 Coinstot Vino (26 passage des Panoramas, 75002) Guillaume Dupré's evocative terraced bar in the Passage des Panoramas will roll out magnums of Beaujolais Nouveau from eight winemakers: Olivier Fallecker, France Gonzalvez, Romuald Vallot, Raphaël et Christelle Champier, Stephen Durieu, Karim Vionnet, Rémi Dufaitre, and Guy Breton. Music by Christophe Rohr, "the punk accordionist." From 6pm onward.
Juveniles (47 rue de Richelieu, 75001) Tim Johnston's homey wine bistrot – now run by his daughter and son-in-law – will offer a Beaujolais-themed menu service for the evening. Reservations are a must. But the restaurant invites all and sundry for apéros until 8PM, featuring Johnston's own cuvée of Beaujolais Nouveau by Pierre-Marie Chermette.
North Paris (Montmartre-Pigalle-Gare du Nord)
La Pointe du Grouin (8 rue de Belzunce, 75010) Thierry Breton's expansive, anarchic, service-free wine bar will host a concert, a buffet of his frank country cuisine, and full barrel of Château Cambon's Beaujolais Nouveau. All-day.
Le Grand 8 (8 rue Lamarck, 75018) This belovedly simple bistrot near Sacre-Coeur recently came under new ownership by restaurateur Emilie Pelletier, who formerly ran a popular restaurant in the Beaujolais town of Cercié. For the soirée of Beaujolais Nouveau she's called on an accordeonist and the wines of Julien Merle, Jean-Claude Lapalu, and Rémi Dufaitre. Normal dinner service will be offered, but with the addition of oeufs meurettes and sabodet, a rich Lyonnais sausage.
Le Vin Au Vert (70 rue de Dunkerque, 75009) Etienne Lucan and Sebastian Obert's homey cave-à-manger east of Pigalle will host a Beaujolais Nouveau fête, with wines from Jean Foillard, François Subin, and Jean-François Nicq (Roussillon). From 7:00PM – midnight.
Coureurs de Terroirs (14, rue de la Jonquière, 75017) caviste Sébastien Bercot seems to spend almost as much time in the Beaujolais as he does in his 17ème wine shop, which pays off in a spiffing selection from the greats of the region. For the release of Beaujolais Nouveau he'll be offering tastes of a wide selection of wines, including primeurs from Rémi Dufaitre, Jean-Claude Lapalu, and Sylvère Trichard. From 10:30AM – 8:00PM. 
East Paris (Marais-Oberkampf-Belleville-Bastille)
In addition to top pick Le Repaire de Cartouche (see above)…
La Buvette (67 rue Saint Maur, 75011) winemakers Marcel and Carine Joubert will be present at Camille Fourmont's bright, thimble-sized rue Saint Maur wine bar. Beaujolais Nouveau from Joubert, Sylvère Trichard, Jean-Claude Lapalu and Rémi Dufaitre. 6:00PM – 1:00AM.
La Cave de l'Insolite (30 rue de la Folie Mericourt, 75011) an accordion group will provide the music for a soirée featuring fried fish, ham, and two versions of sauerkraut, meat-based or fish-based. With Beaujolais Nouveau from Christophe Pacalet and Château Cambon. From 7:00PM.
Le Mary-Celeste (1 rue Commines, 75003) will be celebrating with winemakers Jean-Pascal Sarnin & Jean-Marie Berrux pouring their wines for 4€ per glass. Oysters priced at 1€ apiece between 6-8pm and live music. From 6pm to 1:30am.
Le Lapin Blanc (84 rue de Ménilmontant, 75020) cavernous wine rabbit-hole Le Lapin Blanc will offer Beaujolais Nouveau by Isabelle & Bruno Perraud, Raphael & Christelle Champier, Jean-François Cuzin, and Karim Vionnet, along with a primeur by Burgundy négoçiants Sarnin & Berrux. Plenty of snacks will be available, ranging from hummous to burrata and oeufs mayonnaise. 7:00PM – 12:00AM.
Au Nouveau Nez (104 rue Saint-Maur) Nadine Decailly's spare wine shop turned pop-up restaurant will host chef William Ransone for a vin nouveau dinner on the night of Beaujolais Nouveau, with Beaujolais Nouveau from Sylvère Trichard and primeurs from Pierre Olivier Bonhomme (Loire), Henri Milan (Provence), and Sarnin & Berrux (Burdundy).
Squatt (112 rue de la Roquette, 75011) this Italian-focused wine shop will be celebrating in its own way by pouring primeurs from Italy and holding a raffle to win a magnum of natural wine with proceeds to benefit victims of the earthquake in Umbria. From 6pm-12:30am.
Dune (20 rue Keller, 75011) for the soirée of Beaujolais Nouveau, this shape-shifting, freeform restaurant by the owners of Le Motel Bar will host chef Gareth Eoin Storey (ex Le Bal Café), who will serve small plates of terrines and offal to accompany the Beaujolais Nouveau of Rémi Dufaitre.
Southeast Paris (Aligre-Bercy)
Les Caves de Reuilly (11 boulevard de Reuilly, 75012) Owner Pierre Riouallon will be pouring Beaujolais Nouveau by Cyril Alonso, Jean-Claude Lapalu, Remi Dufaitre, and France Gonzalves. The cave-à-manger's distant location should be more than made up for by its vast, never-ending terrace. 5€ entry. 5:00PM – 12:00AM.
Le Siffleur de Ballons (34 rue de Citeaux, 75012) Sommelier-restaurateur Thierry Brumeau's bright and casual natural wine bar will propose a special sandwich, plus Beaujolais Nouveau from Xavier Benier and Olivier Fallecker, alongside their usual generous cheese and charcuterie plates.  7:00PM – 1:45AM.
Les Pères Populaires (46 rue de Buzenval, 75020) The Pères Populaires group's eponymous eastside wine bar is proposing a 230L barrel of Georges Descombes' Beaujolais Nouveau, a pick-up-and-play policy with the bar's guitar, and saucisse seche. From 10:00AM-2:00AM.
Le Banlieue (Montreuil – Ermont – Groslay) 
L'Amitié Rit (120 Avenue du Président Wilson, Montreuil 93100) Thierry Dubourg's natural wine bar in Montreuil will be serving potato purée and black pork sausage from Gascony alongside Beaujolais Nouveau from Jean Foillard, Isabelle et Bruno Perraud, France Gonzalvez, Raphael & Christelle Champoer, and primeurs from Thierry Puzelat (Loire), Jean-Christophe Comor (Provence), Henri Milan (Provence), Jean-François Nicq (Roussillon), and others. The event will also serve as the opening of a new photography show at the bar, by photographer Freddy Cats. From 6pm onwards.
Aux Cepages d'Ermont (5 rue de la République, Ermont 95120) Bruno Besson's independent wine shop north of Paris will host Beaujolais rising-star Paul-Henri Thillardon for a free-tasting from 6:30pm – 10:00pm. Besson promises "numerous surprises, like every year." Also featuring Beaujolais Nouveau by Isabelle & Bruno Perraud and Quentin Harel.
La Cave Duclos (16 rue du Général Leclerc, Groslay 95410) Veteran wine agent René Duclos' wine shop and table d'hôte in the Paris suburb of Groslay hosts an enormous Beaujolais Nouveau soirée, featuring wines from Jean-Claude Lapalu and Château Cambon. The latter will be served from a barrel of 228L; Duclos expects between 400 and 500 guests. Blues music by HARDEARLY. From 8pm onwards, with car-hire transport available upon request.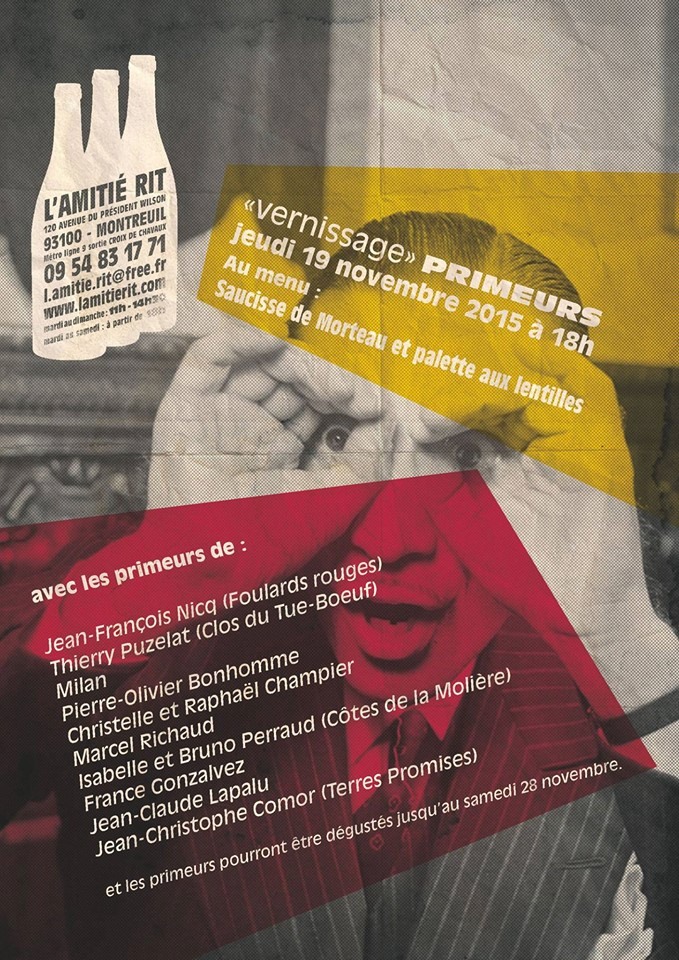 Related Posts