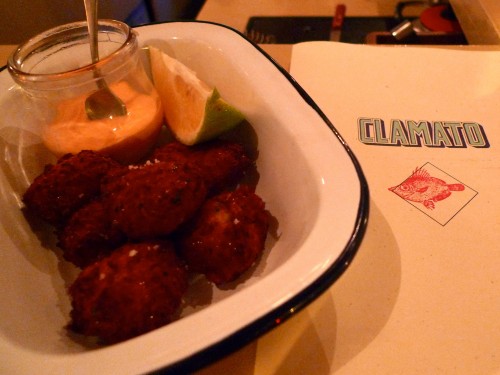 Clamato is a seafood-focused small plates restaurant from Bertrand Grébaut of Septime. Expect pristine marinated fish, platters of oysters, silky crab fritters (accrabes), and maple syrup pie for dessert. Wines are natural and well-selected, just like at Septime.
Address: 80, rue de Charonne, 75011
Hours: Open Saturday & Sunday for lunch & dinner. Open Wednesday-Friday for dinner only. Closed Monday-Tuesday.
Telephone: +33 1 43 72 74 53 (reservations not accepted)
Website
COVID-19 UPDATE:
Clamato has reopened for dinner daily with a temporary sidewalk terrace.
---
Clamato in Pictures
Petoncles with herb butter

Dining at the bar

Interior

Lieu jaune de ligne
---
In Other Words
Le Fooding (2019) isn't shy about ocean metaphors in describing the seafood plates at this "brutally sleek" restaurant, noting they "provoke a tsunami of the senses."

Ruth Reichl (2014) "It's a terrific little place, very simple… and the best looking waiters you've ever seen… The food itself has an admirable precision; everything feels beautifully sourced and extremely well thought out."
Simon Says (2014) "Abécédaires, plaisantes, ailées… ambiance de foodies embastillés, service allègre."
John Talbott (2014) "Every one of our 10 dishes was different, flavorful, inventive and intelligent."
Paris Bouge (2013) "Comme les concepts de bars à poissons qui cartonnent à New-York, l'adresse en a repris tous les codes : un bar où l'on peut dîner sur un tabouret, des petites tables en alcôve pour un tête-à-tête entre amis et puis surtout la préparation des ceviches (plats à base de poissons crus marinés) sous vos yeux."
John Talbott (2013) "Wonderful product, wonderful staff, wonderful experience. But? No buts."
Le Fooding (2013) "Et avec, surtout, par petites touches tueuses, du cru brut de mer et d'estuaire (huîtres d'Utah Beach ou de Maldon accompagnées de tabasco maison, de vinaigre de rancio-échalotes et de beurre sur tranches de miche signée Landemaine, 16-18 €), du pas cuit finement paré au bar par la Québécoise Erika (tartare veau-huître avec feuilles d'estragon et chips maison; dorade royale au leche de tigre et framboises fraîches; saint-jacques, potimaron et zestes de cédrat…) et du cambusé de première classe (couteaux au beurre d'herbes et amandes; anguille fumée, cocos et graines; «acrabes» et sauce huankaina…)."
Not Drinking Poison in Paris (2013) "Cements their reputation as the standard-bearers for fine contemporary French restaurateurism, unself-conscious and ungimmicky. Clamato's stellar cuisine is accompanied by the same well-selected natural wines and polished service…"