Looking for the flakiest croissants in Paris? The Concours du Meilleur Croissant au Beurre AOC Charentes-Poitou, which requires that competitors not only use butter (not margarine) in their dough, but a specific AOC protected butter, named the 2014 winners for Best Croissant yesterday at the Fête du Pain.
Congratulations to this year's winner Michel Lyczak whose buttery baked goods can be found in the southern suburb of Malakoff (just off the line 13 metro).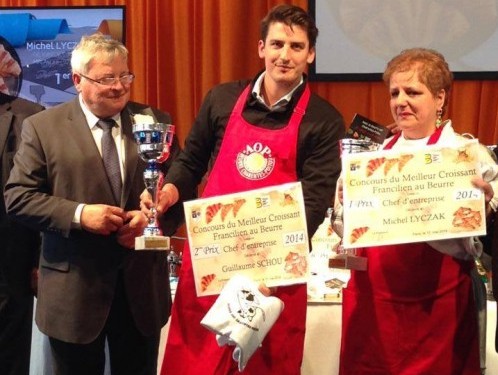 Second and First Prize Winners, Photo courtesy of Boulangerie Schou's Facebook
In past years, the suburbs notably took top spots and the urban winners were left bank heavy. This year, we're seeing a fairly even split between left bank, right bank and the suburbs.
The top 4 winners are all new to the list, but certain bakers continue to succeed year after year. Frédéric Pichard of Boulangerie Pichard has placed in the Top 10 for the 4th consecutive year, while Anis Bouabsa of Au Duc de la Chapelle, Djibril Bodian of Le Grenier à Pain des Abbesses, Dominique Guignier of La Fournée Gourmande, and Yohann Gressent of Boulangerie-Pâtisserie Colbert are all repeat contenders. Benjamin Turquier of 134 RdT, who garnered second prize last year and won acclaim in the 2014 Best Baguette competition, proved that he is doubly gifted once again. Benoît Castel from Liberté has come out of the gate strong in the first year at his new bakery by placing in both the Best Croissant and Best Baguette competition for 2014.
In case you want to do a croissant safari of your own with the best in town (or just outside, in the suburbs), we've mapped this year's winners plus the Top 10 winners since 2008.
2014 Best Butter Croissants
1. Michel Lyczak, 68 rue Paul Vaillant Couturier, 92240 (Malakoff)
2. Guillaume Schou of Boulangerie Schou, 96 rue de la Faisanderie, 75016
3. Tie between Benoit Cocardon of L'Artisan des Gourmands, 60 rue de la Convention, 75015 and Nelly Julien of Douceurs et Traditions, 85 rue St Dominique, 75007
5. Anis Bouabsa of Au Duc de la Chapelle, 32 rue Tristan Tzara, 75018
6. Tie between Djibril Bodian of Le Grenier à Pain des Abbesses, 38 rue des Abbesses, 75018 and Benoît Castel of Liberté, 39 rue des Vinaigriers, 75010
8. Dominique Guignier of La Fournée Gourmande, 9 rue de la Mairie, 92320 (Chatillon)
9. Frédéric Pichard of Boulangerie Pichard, 88 rue Cambronne, 75015
10. Tie between Benjamin Turquier of 134 RdT, 134 rue de Turenne, 75003 and Yohann Gressent of Boulangerie-Pâtisserie Colbert, 49 rue de Houdan, 92330 (Sceaux)
2013 Best Butter Croissants



1. Romain Thomann of Boulangerie Thomann, 8 boulevard de la Liberté, 93260 (Les Lilas)
2. Benjamin Turquier of 134 RdT, 134 rue de Turenne, 75003
3. Djibril Bodian of Le Grenier à Pain des Abbesses, 38 rue des Abbesses, 75018
4. Anthony Bosson of Boulangerie L'Essentiel Mouffetard, 2 rue Mouffetard, 75005
5. Frédéric Lalos of Boulangerie des Belles Feuilles, 22 rue des Belles Feuilles, 75016
6. Christophe Marie of La Fournée Normande, 16 avenue Consul Général Nording, 93190 (Livry-Gargan)
7. Yohann Gressent of Boulangerie-Pâtisserie Colbert, 49 rue de Houdan, 92330 (Sceaux)
8. Stéphane Guerard, 78 avenue de la République, 92120 (Montrouge)
9. Frédéric Pichard of Boulangerie Pichard, 88 rue Cambronne, 75015
10. Philippe Marache, 92 avenue de la République, 75011
2012 Best Butter Croissants



1. Laurent Duchêne of Boulangerie Laurent Duchêne, 2 rue Wurtz, 75013
2. Sylvain Joubert of Boulangerie Joubert, 2 avenue de Verdun, 95150 (Taverny)
3. Dominique Saibron of Dominique Saibron, 77 avenue du Général Leclerc, 75014
4. Alain Yhuel of Boulangerie Yhuel, 11 rue Jean Lantier, 75001
5. François Vacavant of Pains et Passion, 117 avenue Italy, 75013
6. Frédéric Pichard of Boulangerie Pichard, 88 rue Cambronne, 75015
7. Anis Bouabsa of Au Duc de la Chapelle, 32 rue Tristan Tzara, 75018
8. Christophe Dazy of Au Blé d'Or, 7 rue du Marché, 93160 (Noisy-le-Grand)
9. Hakem Bakour of Maison Bakour, 75 rue de Bezons, 92400 (Courbevoie)
10. Reynald Gilbert of Le Grenier à Pain Poissy, 101 rue du Général de Gaulle, 78301 (Poissy)
2011 Best Butter Croissants



1. Amandine Thomann of Aux Délices de Marion, 139 rue de Paris,  93260 (Les Lilas)
2. Frédéric Pichard of Boulangerie Pichard, 88 rue Cambronne, 75015
3. Franck Desfriches of Maison Desfriches, 32 rue de la République, 92190 (Meudon)
4. Mikael Le Lepvrier, 30 bis rue Charles de Gaulle, 77700 (Chessy)
5. Alain Yhuel of Boulangerie Yhuel, 11 rue Jean Lantier, 75001
6. Dominique Anract of La Pompadour, 110 rue de la Tour, 75016
7. Didier Lavry, 234 rue du Faubourg Saint Antoine, 75012
8. Fabrice Pottier of Maison Pottier, 2 boulevard Louis Lemelle, 78300 (Poissy)
9. Audrey Trabach of Aux Trois Petits Mitrons, 2 boulevard Louis Boon, 94370 (Sucy en Brie)
10. Dominique Laird, 5 place de l'Europe, 77700 (Bailly Romainvilliers)
2010 Best Butter Croissants



1. Patrick Dumont of Aux Délices de la Fourche, 201 avenue Jean Jaurès, 92140 (Clamart)
2. Jean Thomann of Aux Délices de Marion, 139 rue de Paris, 93260 (Les Lilas)
3. Romain Thomann of Boulangerie Thomann, 8 boulevard de la Liberté, 93260 (Les Lilas)
4. Dominique Saibron of Dominique Saibron, 77 avenue du Général Leclerc, 75014
5. Guillaume Delcourt of Maison Delcourt, 100 rue Boileau, 75016
6. Thierry Renard, 113 bis boulevard de l'Hôpital, 75013
7. Bertrand Yhuel of Boulangerie Yhuel, 11 rue Jean Lantier, 75001
8. Guillaume Julien of La Tradition Julien, 106 grande rue Charles de Gaulle, 94130 (Nogent-sur-Marne)
9. Pascal Flandrin of Boulangerie Flandrin, 1 rue du Général Leclerc, 94220 (Charenton-le-Pont)
10. David Baillon of Baillon Boulangerie, 29 rue de Chézy, 92200 (Neuilly-sur-Seine)
2009 Best Butter Croissants



1. Thierry Cornet of Boulangerie Cornet, 10 place de la Fontaine, 77400 (Lagny sur Marne)
2. Jean Thomann of Aux Délices de Marion, 139 rue de Paris, 93260 (Les Lilas)
3. Mikael Le Lepvrier, 30 bis rue Charles de Gaulle, 77700 (Chessy)
4. Ludovic Grimont of La Boulangerie La Nogentaise, 13 rue Paul Bert, 94130 (Nogent-sur-Marne)
5. Sylvain Joubert of Boulangerie Joubert, 2 avenue de Verdun, 95150 (Taverny)
6. Benoit Marie of Aux Trois Petits Mitrons, 2 boulevard Louis Boon, 94370 (Sucy en Brie)
7. Sylvain Gabillaud of Boulangerie Gabillaud, 34 rue de Montmorency, 75003
8. Marcel Prodhomme, 39 rue Lisbonne, 75008
9. Jérôme Lebehot of Boulangerie Lebehot, 36 rue Edith Cavell, 92400 (Courbevoie)
10. Dominique Guignier of La Fournée Gourmande, 9 rue de la Mairie, 92320 (Chatillon)
2008 Best Butter Croissants



1. Rémi Potey of Boulangerie Potey, 77 rue Victor Hugo, 92300 (Levallois-Perret)
2. Dominique Guignier of La Fournée Gourmande, 9 rue de la Mairie, 92320 (Chatillon)
3. Sylvain Joubert of Boulangerie Joubert, 2 avenue de Verdun, 95150 (Taverny)
4. Thierry Renard, 113 bis boulevard de l'Hôpital, 75013
5. Jérémy Gouley of La Gerbe d'Or, 8 rue de Poissy, 78100 (Saint-Germain-en-Laye)
6. Patrick Dumont of Aux Délices de la Fourche, 201 avenue Jean Jaurès, 92140 (Clamart)
7. Hervé Gillot of Boulangerie le Pain de Marie, 85 rue Saint-Dominique, 75007
8. Frédéric Comyn of Frédéric Comyn, 19 rue Poirier de Narçay, 75014
9. Mikael Le Lepvrier, 30 bis rue Charles de Gaulle, 77700 (Chessy)
10. Romain Thomann of Boulangerie Thomann, 8 boulevard de la Liberté, 93260 (Les Lilas)
Additional Reading