Last week, we reported that Antonio Teixeira had been named the winner (for the second time) of the Best Baguette in Paris competition. We now present the rest of the prizewinning bakers from this annual contest. Because of several ties, the top ten is actually a top 15 list in 2014. The 14th arrondissement, home to the grand prize winner and two other best baguettes, has once again displaced Montmartre as the best 'hood for bread.
Below, we've listed and mapped all the top baguette bakers going back to 2011, so you can always find a good baguette when you need one.

View The Best Baguettes in Paris in a larger map
Paris' Top Baguettes in 2014
1. Antonio Teixeira from Aux Delices du Palais, 60 boulevard Brune, 75014.
2. A tie between Christian Vabret from Au Petit Versailles du Marais at 27 rue François Miron, 75004 and Ali Ben Kadher from La Montmartoise at 43 rue de Clignancourt, 75018.
3. Benjamin Turquier from 134 RdT at, you guessed it, 134 rue de Turenne, 75003. This is the third time Turquier, who also wins awards for his buttery croissants, has placed in the top ten ranking for baguette.
4. A tie between Naceur Ben Habhab from Au Pain d'Autrefois at 83 rue Damrémont, 75018 and Guillaume Delcourt from Maison Delcourt at 100 rue Boileau, 75016.
5. A tie between Philippe Gosselin from Gosselin Saint Honoré at 125 rue Saint Honoré, 75001 and Mohamed Ellini from Les Artisans du Pain at 81 rue Didot, 75014.
6. Grégory Zore from Boulangerie Mulot at 75 rue de Seine, 75006.
7. Dominique Saibron from Macaron's Café at 77 avenue du Général Leclerc, 75014.
8. A three-way tie between Benoît Castel from Liberté at 39 rue des Vinaigriers, 75010 and Narcisse Pasquier from La Petite Marquise at 3 place Victor Hugo, 75116 and Patrick Hardel from Acacias Etoile at 31 rue des Acacias, 75017.
9. Hamid Meksem from Meksem at 27 rue Campo Formio, 75013.
10. Sébasien Beasse and Vanessa Lecor from Le Petrin Normand at 152 rue de la Convention, 75015.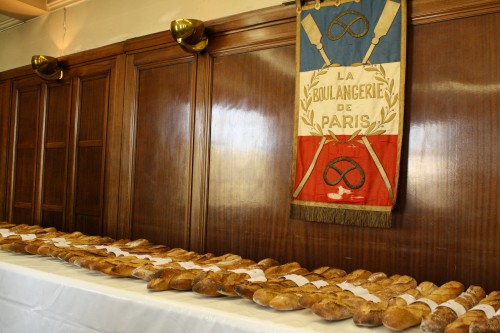 Paris' Top Baguettes in 2013
1. Au Paradis du Gourmand, 156 Rue Raymond Losserand, 75014
2. Boulangerie Raphaëlle, 1 rue Feutrier, 75018
3. Boulangerie Damiani, 125 avenue du Clichy, 75017
4. Christian Vabret, 27 rue Francois Miron, 75004
5. Maison Cailleaud, 104 Cours de Vincennes, 75012
6. Yosuké Fijié from Maison Landemeine, 56 rue du Clichy, 75009
7. Dominique Saibron, 77 avenue du Géneral Leclerc, 75014
8. Le Grenier à Pain Lafayette, 91 rue Faubourg Poissonière, 75009
9. La Parisienne, 12 rue Coustou, 75018
10. Claude Besnier, 40 rue du Bourgogne, 75007
Paris' Top Baguettes in 2012
1.  Boulangerie Mauvieux 159 rue Ordener, 75018
2. Raoul Maeder 111 boulevard Haussmann, 75008
3. Alexandre Chauvin, Boulangerie Audou, 10 rue de Chanzy, 75011
4. Dominique Anract, La Pompadour, 110 rue de la Tour, 75016
5. Arnaud Delmontel, 39 rue des Martyrs, 75009
6. Narcisse Pasquier and David Pasquereau, La Petite Marquise, 3 place Victor Hugo, 75016
7. Guillaume Delcourt, 100 rue Boileau, 75016
8. Eran Mayer, 100 rue du Théatre, 75015
9. Benjamin Turquier, 134 RdT, 134 rue de Turenne, 75003
10. Ludovic Jeanette, Les Saveurs de Wagram, 169 avenue de Wagram, 75017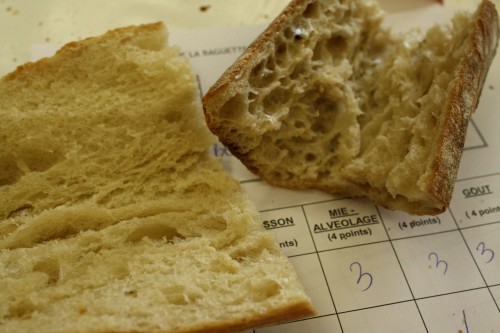 Paris' Top Baguettes in 2011
1. Pascal Barillon, Au Levain d'Antan, 6 rue des Abbesses, 75018
2. Gaétan Romp, 14 rue de la Michodière, 75002
3. Pascal Jamin, Les Saveurs du 20ème, 120 rue de Bagnolet, 75020
4. Gontran Cherrier, 22 rue Caulaincourt, 75018
5. M. Risser, Le Fournil du Village, 12 place J.B. Clément, 75018
6. Gilles Levaslot, Les Gourmandises d'Eiffel, 187 rue de Grenelle, 75007
7. Jean-Noël Julien from Julien, 75 rue Saint-Honoré, 75001
8. Philippe Marache, 92 av de la République Paris, 75011
9. Philippe Bogner, 204 rue des Pyrénées, 75020
10. Le Grenier à Pain Saint-Amand, 33 bis rue Saint-Amand, 75015
View The Best Baguettes in Paris in a larger map
Additional Reading