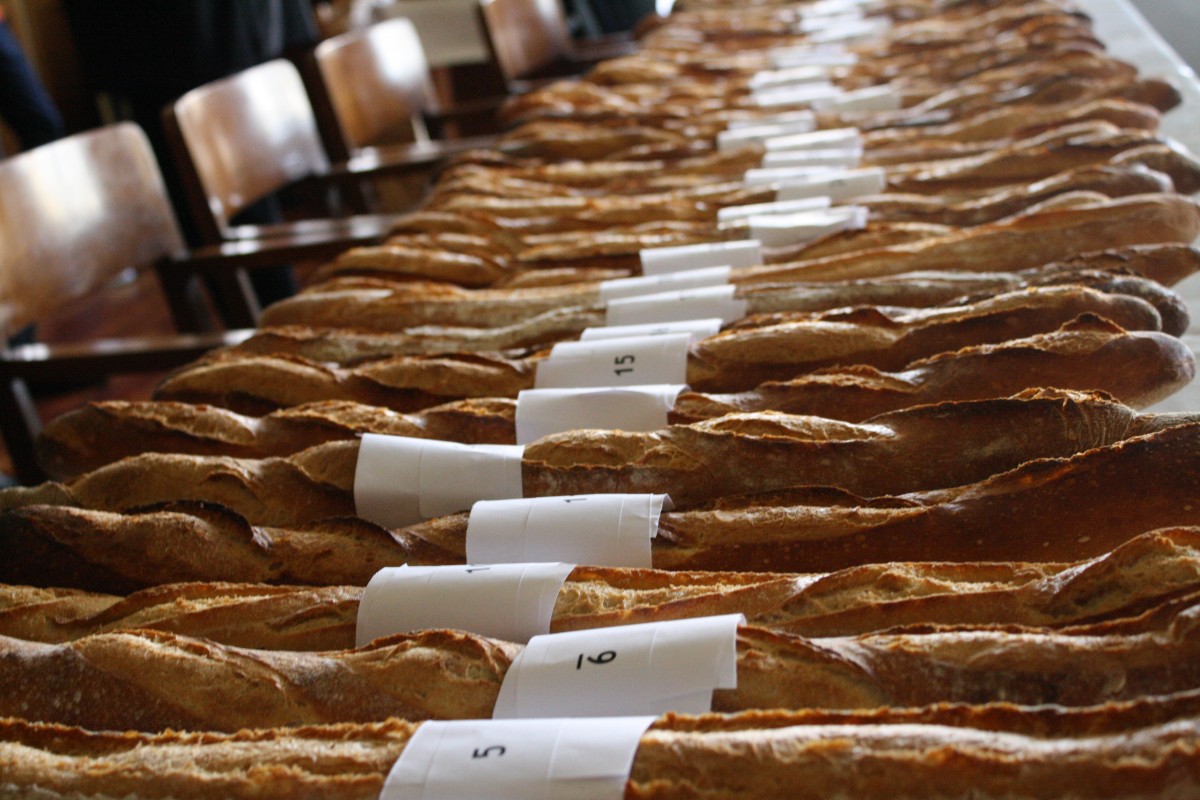 Behind the Scenes at Paris' Best Baguette Competition
I'm what you might call a bread enthusiast. Not as bonkers as Steven Kaplan, the bread professor who showed Conan O'Brien how bread-making could be a "sexual act," but a serious enthusiast nonetheless. I have Kaplan's book, along with Nancy Silverton's tome, on my nightstand. I teach tourists how to tell good baguette from bad. And I've been following the annual competition to name Paris' Best Baguette with great interest for many years.
Imagine, then, how excited I was to receive an email from the Mayor's office, inviting me to be a jury member for the 2013 competition. I confirmed my presence faster than you can say Grand prix de la baguette de tradition française de la Ville de Paris. I took the mission seriously and prepared myself (by eating a lot of bread) to help select France's next champion baker. Here's how it went down.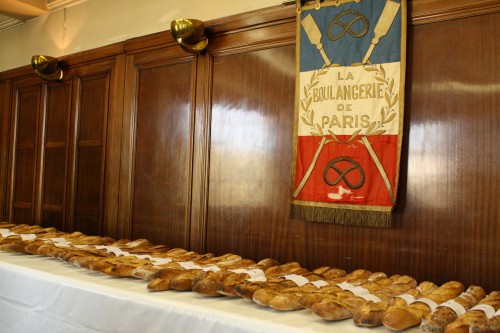 On the morning of April 25, 204 participating bakers dropped off two baguettes each at 7 quai d'Anjou on the Ile-Saint-Louis. Only 152 bakers were accepted into competition. The rest were thrown out because they didn't meet the strict size guidelines for a traditional French baguette (between 55-65cm and 250-300g).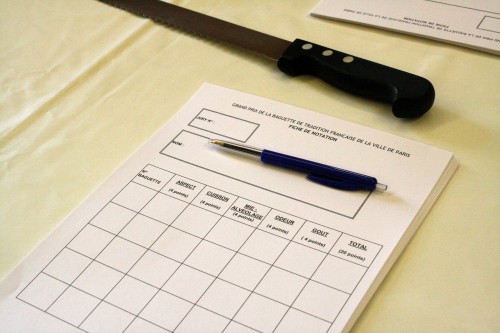 There were three jury panels composed of professional bakers, prize-winning apprentices, bakers' union bureaucrats, a few journalists, and previous winners. I had the pleasure of sitting next to Pascal Barillon who won the 2011 competition and whose bakery we visit on one of our Paris food tours. I felt confident in evaluating the baguettes according to aspect (appearance), cuisson (cooking), mie-alveolage (texture), odeur (smell) and gout (taste), but Barillon was able to explain the technical failures that might have been responsible when the crumb was "comme le chewing-gum."
So what were we looking for? A good crumb should be elastic, with plenty of irregular sized and unevenly spaced holes, like the example on the right. The crust should be crunchy, not a wimpy millimeter like the example on the left.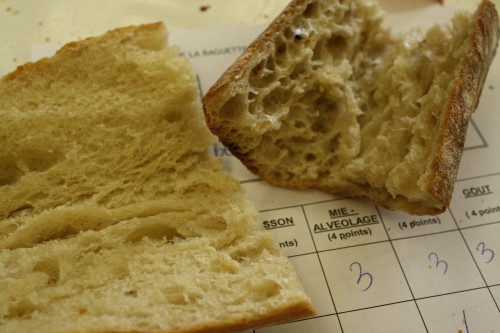 The degree of cooking is more subject to personal taste. Parisians often indicate their preferred cuisson when ordering – pas trop cuit for a blonde and doughy baguette, or bien cuit for something well-cooked. I know bakers who privately seethe when their customers order under-cooked baguettes because the cereal notes haven't yet had a chance to develop. But as you can see form the range of colors below, there's no gold standard for coloration.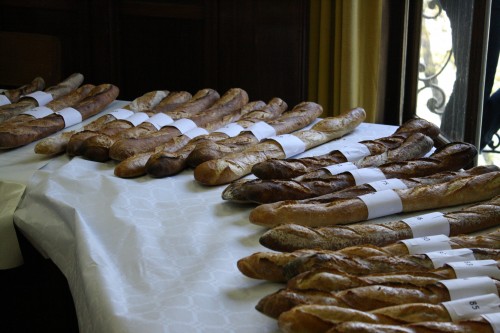 Each jury tasted more than fifty baguettes – swallowing, not spitting – before the scores were tallied. The top ten baguettes from each panel advanced to a final tasting round and the extra loaves (each baker delivered two) were tasted and ranked by the other panels. In the final round, I tasted a loaf that I really loved, number 187, and had the foresight to snap its picture. It turned out to be the winning baguette. This is what delicious looks like: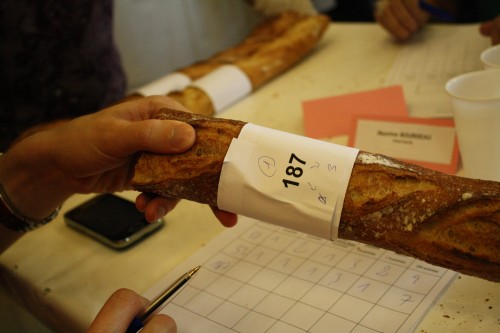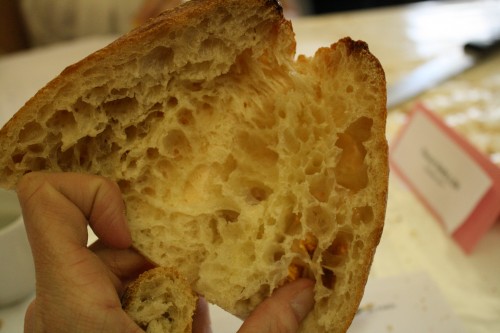 As soon as the final results were tallied, the President of the jury tore open an envelope marked with the winning number 187. Inside, a small hand-written paper contained the following information: Ridha Khadher, Au Paradis du Gourmand – 156 Rue Raymond Losserand, 75014. She immediately placed a phone call to Mr. Khadher to share the good news. He responded by repeating "vraiment? vraiment!?" while the jury members applauded in the background. Our Assistant Editor Catherine Down raced over there as soon as I shared the address and found him fighting back tears, watching the line of customers grow down the sidewalk, telling her that he'd  been baking since the age of fourteen but never imagined that something like this could happen to him.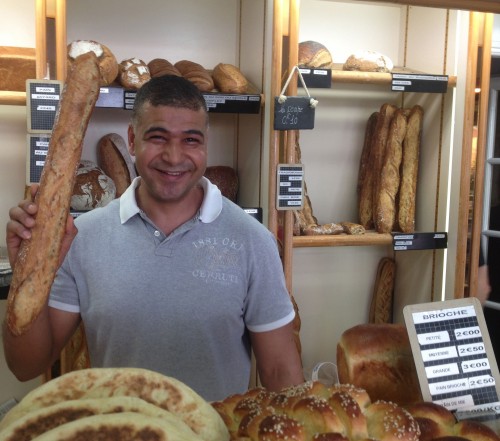 Khadher will receive a cash prize and trophy, along with the contract to supply the Élysée Presidential Palace with their bread for the coming year. The resulting media coverage will guarantee a line of customers down the block for the foreseeable future.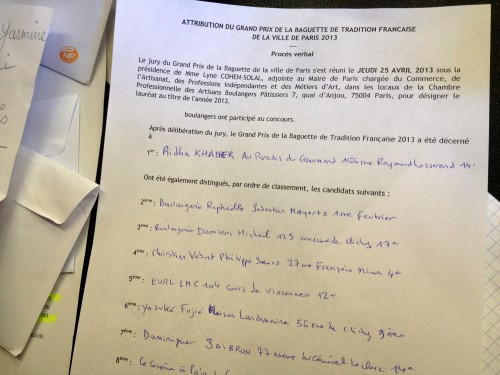 As I write this, the other winners after Khadher haven't yet been formerly announced. But I was able to snag a photo of the results, decipher the handwriting, and create this top ten list of the best baguettes for 2013. The #1 spot, which has been occupied by bakers from Montmartre for the past six years, no longer belongs to the 75018. However, a bakery near Chateau Rouge came in second this year, and there are two more top ten bakeries clustered between Place du Clichy and Blanche. A pretty strong showing for the Butte, even if the winning bakery is on the opposite side of town.
All in all, I'm thrilled to have dedicated three hours and three thousand calories to today's tasting. The chance to talk about technique with Pascal Barillon was more than I could have hoped for, and the peek behind the scenes at this venerable competition was a dream come true. Thanks to the City of Paris for inviting me, and for continuing to support and celebrate artisanal bread-making with this annual event.
In closing, a few more pictures…