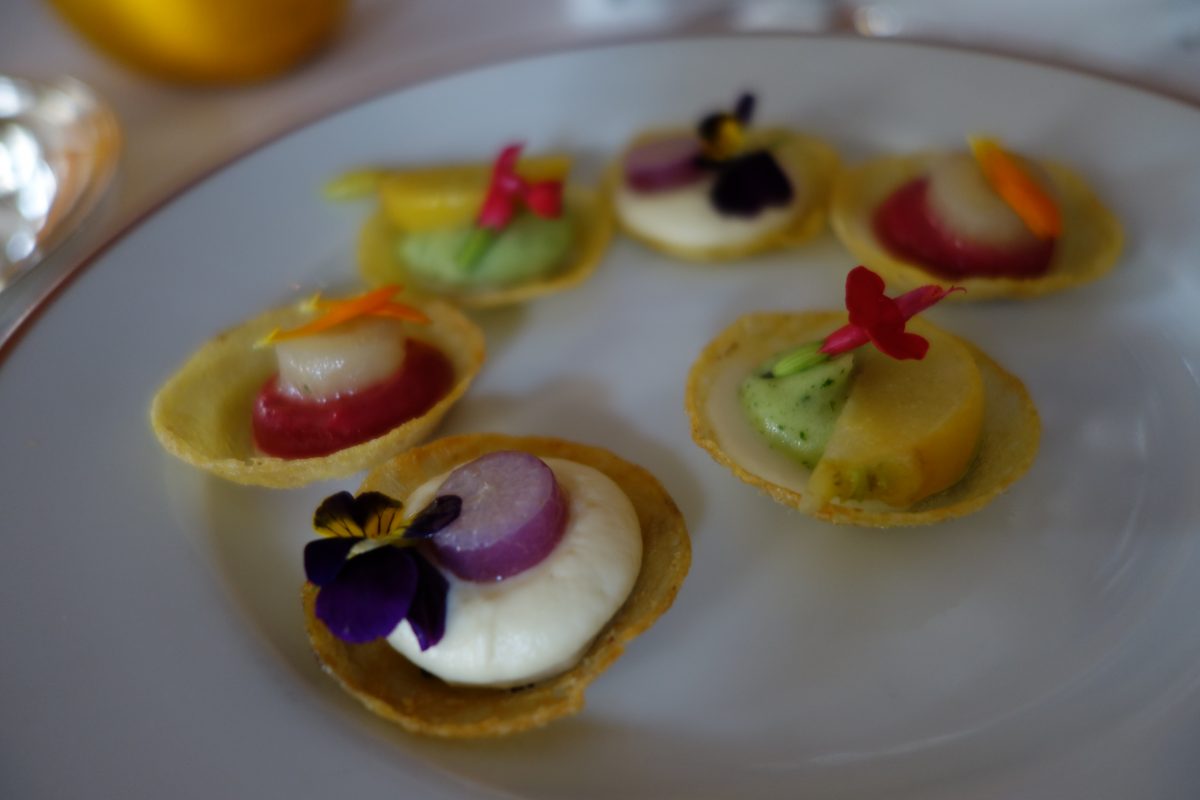 Address: 84 rue de Varenne, 75007
Hours: Open Monday-Friday for lunch & dinner. Closed Saturday & Sunday.
Telephone: +33 1 45 51 47 33
Online Booking /Website / Facebook / Instagram
COVID-19 UPDATE
Arpège remains temporarily closed.
Our Most Recent Visit
The most divisive of the three-star restaurants, Arpège is a place you'll either love or hate. I'm in the former camp, through I acknowledge a worrying amount of repetition in Alain Passard's tasting menu and the fact that his acolytes (David Toutain, Bertrand Grébaut) are working similar magic for a fraction of the price. Before booking Arpège, ask yourself this: are you more likely to focus on the amount of pleasure that Passard can tease from an onion, or on the stratospheric markup of that ingredient? If you answered the latter, better to seek out caviar somewhere else.
There seems to be more improvisation happening in Passard's kitchen than anywhere else. While certain vegetable dishes (the sushi, raviolis, couscous) have been a feature of the menu for years, plenty of other dishes (the sole with cabbage, the baby boar with turnips) seem to have been made up on the spot. I tend to enjoy a spontaneous riff, but others might prefer to have more composed and perfected dishes. Passard's flavors are easy to love, but his forms – purée after mousse after velouté, can get a little lazy.
Read more about Our Favorite Three Star Restaurants in Paris
---
L'Arpège in Pictures
Photos by Meg Zimbeck © Paris by Mouth
---
In Other Words
Patricia Wells (2011) "A big disappointment, once again. We sampled the 120 euro garden luncheon, and Passard turns out to be a real Johnny one note in the potager… course after monotonous, unimaginative course turned out a little more than I could bear of carrots, beets, turnips, onions. Dish after dish I kept waiting for Passard to finish the sentence. But he never did."
Simon Says (2010) "… Passard… cultive lui-même ses légumes non loin de Paris, travaille le thème dans tous les sens, son restaurant est sans doute l'un des meilleurs observatoires sur le thème."
Chez Ptipois (2009) "… le poème végétal d'Alain Passard s'élève désormais avec une délicatesse infinie, une maîtrise arrivée au stade du jeu permanent."
Ulterior Epicure (2009) "… Rarely does a chef cook vegetables well. Even scarcer is a chef who can cook vegetables well AND do something interesting with them… Passard does both, and more."
Food Snob (2009) "… there is Passard's panache and flair, his creative and culinary genius to contend with. This is most keenly felt via his valuable vegetables."