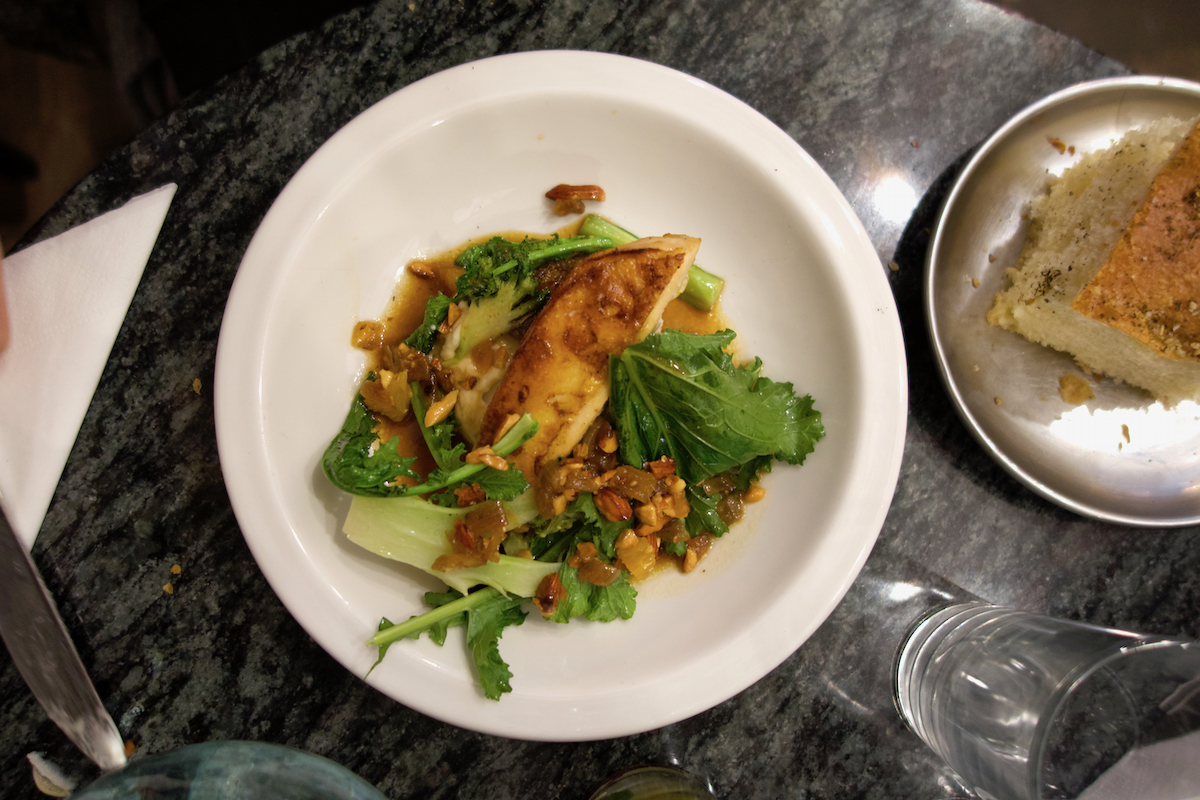 Address: 49, passage des Panoramas, 75002
Hours: Open Monday-Friday for lunch & dinner. Closed weekends.
Telephone: +33 6 64 49 18 68
Website / Instagram / Facebook
Bedecked with pepper garlands and lined with fine spices and preserves, Adar is an overachiever Mediterranean lunch canteen slotted into the evocative woodwork of the Passage des Panoramas. Here, bespectacled Israeli chef Tamir Nahmias, formerly of Fulgurances, Frenchie, and Yam'Tcha, along with collaborators Tiphaine Bailly and former Clamato chef Aaron Rosenthal, applies the sophistication and ingenuity of his years in fine dining to the simplicity of a twenty-seat deli lunch in central Paris. Through sheer sincerity and culinary talent, this restaurant aims to transcend the tired genre, which, in places like London or New York, is about as original as Club Med.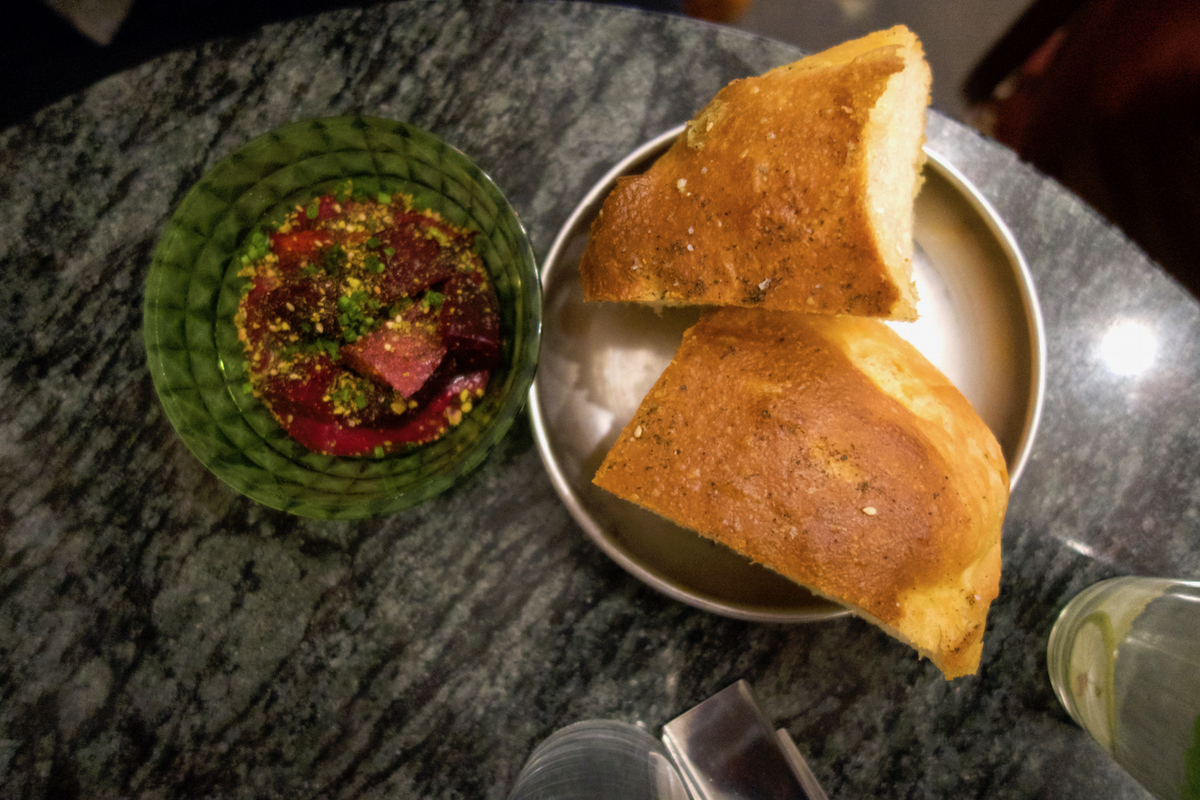 Drawing inspiration from the flavors of Israel, Greece, Italy, and beyond, Adar's cuisine is airy and machismo-free, emphasizing vegetables, fish, and poultry. The restaurant is a boon to diners who have lamented the prevalence of andouillettes and lamb neck on the city's fine bistrot scene. A meal begins with a few snacks unannounced on the menu: chive-flecked spiced beets and a small bowl of intense, smoky tarama beneath radish slices served alongside marvelous hunks of homemade bread resembling Turkish pide.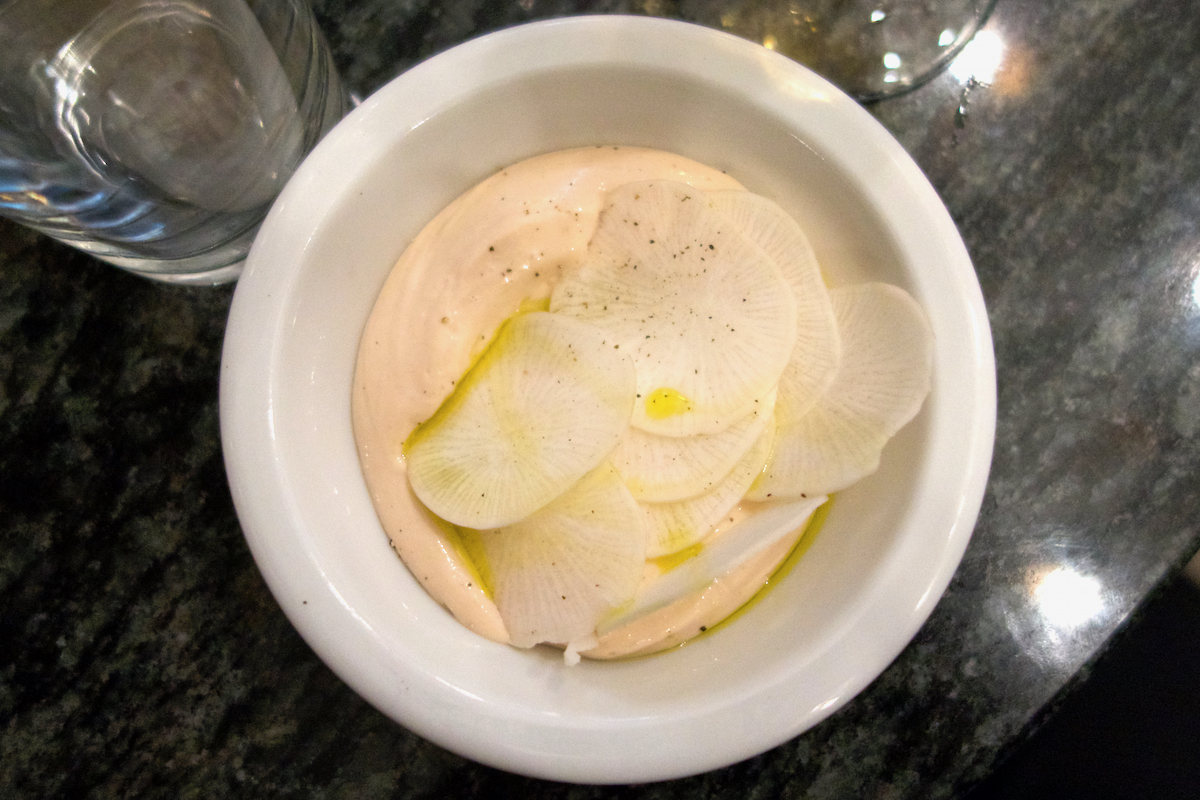 The downside to this gesture is that appetizers, when they arrive, can feel slightly paltry. A 'winter salad' of radicchio and hazelnuts seems like a good way to shave costs – particularly alongside the menu's better option, a pale pile-up of exquisite smoked haddock, shiitake mushrooms, champignons de Paris, cauliflower purée, and endive. Main courses are more consistent. Shiitake mushrooms make a welcome reappearance alongside tender whiting and black rice with broccoli rabe. Roast chicken, tasty despite a slight dryness, arrive atop celery root purée and more broccoli rabe with a scattering of almonds and hazelnuts.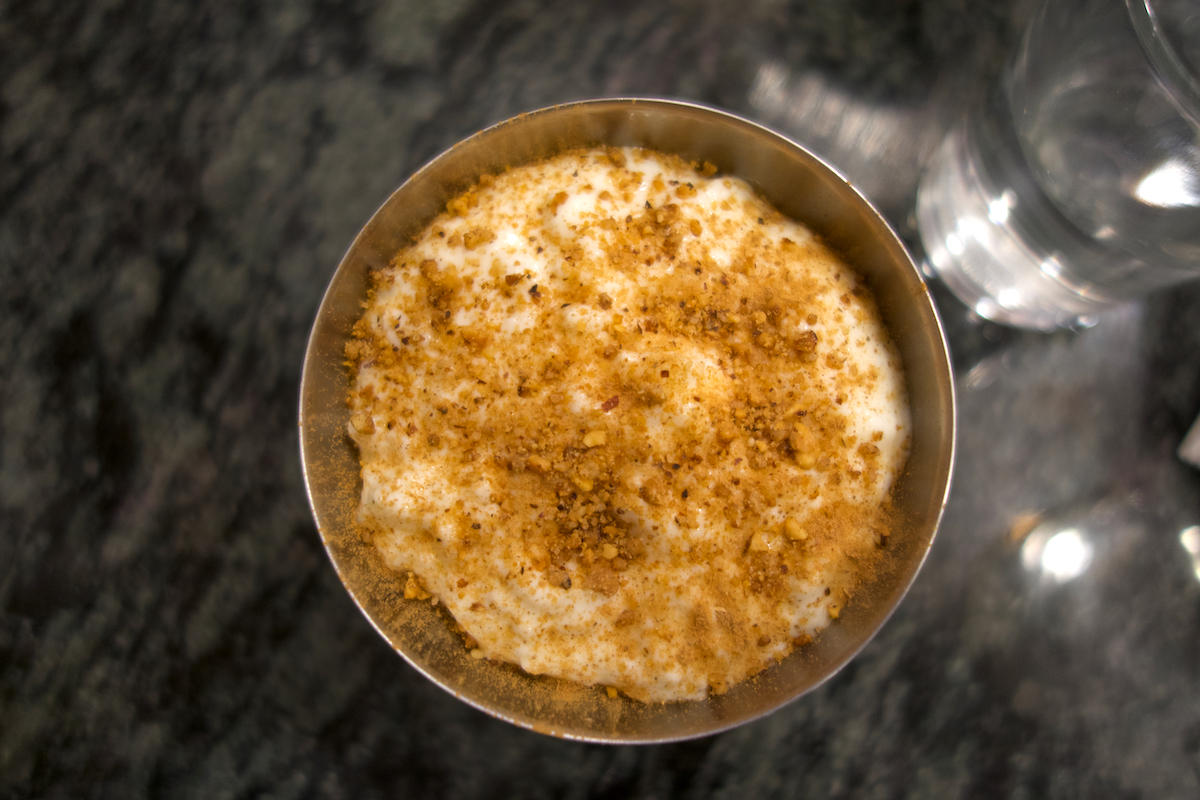 Surprisingly, for a predominantly daytime spot that resembles a tearoom, dessert is a hiccup. Billed as rice pudding, it possesses a sort of fermentary bitterness, the only sweetness deriving from some slightly acrid stewed fruit below. One could imagine consuming it at daybreak, if one were a nomadic tribesman. It is dusted with yet more hazelnuts, which here, as with the chicken and the winter salad, are not cited on the menu, to the consternation of a lunch companion with a mild hazelnut allergy. This kind of beginner error speaks to a wider issue at Adar: an apparent lack of front-of-house savvy, perceptible also in the pokey wine selection. A mousy skin-macerated roditis by Tetramythos is ruthlessly overpriced at 10€ a glass.
At dinner, such issues can feel rather grave; at lunch, in the sky-lit bustle of the passage, they are quibbles. Like Omar Koreitem and Moko Hirayama at beloved 11th arrondissement lunch destination Mokonuts (which Adar strongly resembles) Nahmias, Bailly, and Rosenthal have created a refined, health-conscious, and fundamentally mature lunch-takeout-catering venue. That makes two in Paris: still not enough to meet demand.
---
Adar in Pictures
Haddock with cauliflower and shiitake mushrooms

Winter salad with radicchio

Merlan with black rice

In Other Words

Le Fooding (2019) observes the restaurant's kinship with Mokonuts, praising its "cheeky dishes with the flavors of the Fertile Crescent."

Le Nouvel Observateur (2019) Zazie Tavitian's lengthy, thoughtful profile of Tamir Nahmias says he calls his cuisine alternately "Israeli," "Levantine," and "Middle-Eastern."

Le Monde (2019) Food critic Marie Aline, who has the deranged habit of writing in the second person formal ("vous"), here employs the technique to characterize her reader as a female visitor to Adar: "You are this woman with a wide-eyed gaze, always a little moist." In the unlikely event one persists through the morass of Aline's equally moist prose, one can discern praise for Adar, which she concludes is 'simple, good, and luminous.'

Time Out (2019) leads with the urgent assertion that its reviewer knew about Adar even before it opened. She observes that the "main courses that travel between land and sea" are "a touch above" the "joyous bazar" of small share plates.

Patricia Wells (2019) was left "indifferent" by the octopus. But she considered the roast chicken "a triumph," and calls Adar "another good reason to seek out" the passage des Panoramas.