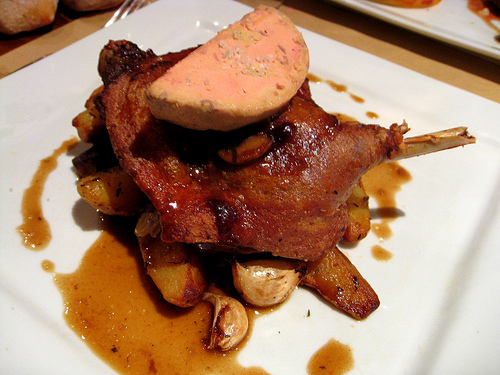 Foie gras melting into duck confit at Au Fil des Saisons (photo Meg Zimbeck)
Foie gras may be banned in California and 14 other European nations, but in France the tradition is still going strong. In fact, the fattened livers of ducks and geese are protected by law as part of the country's cultural and gastronomic heritage, and the French ate more than 8,000 tons of foie gras last year.
Duck, Duck, Goose
The vast majority of foie gras is made from duck (canard), and it's considerably more affordable than the small amount (less than 10%) made from goose (oie). That's because geese take longer to mature and require more feed to fatten their livers. Duck foie gras is considered to be more robustly flavored and less refined than goose, but it's better suited to high temperature preparations like searing because it contains less fat.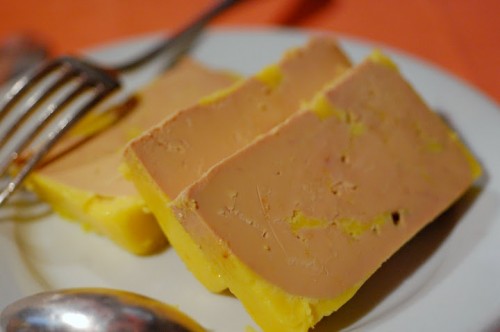 Terrine of foie gras from L'Ami Louis (photo Julien Tort)
Various Foie Gras Forms
Foie gras is most commonly cooked at a very low temperature to make a spreadable terrine or pâté, but it can take many other forms. The organ, for that is what it most basically is, can be flash seared and served alone with a condiment or as an enhancement to other ingredients.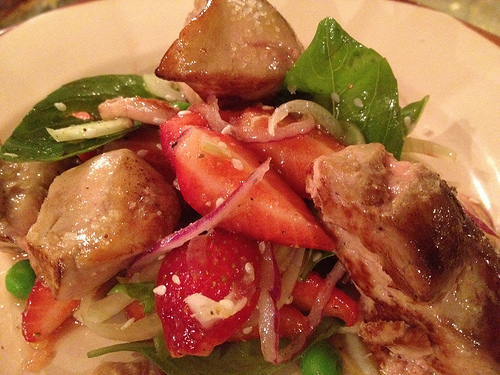 Seared foie gras with strawberries at Vivant Table (photo Meg Zimbeck)
The raw and the cooked: Foie gras that is raw (cru) can be seared and served warm. Semi-cooked (mi-cuit) foie gras has been poached at a low temperature and is prized for its silky texture. It has a short shelf-life of three months compared to fully cooked (cuit) and pasteurized foie gras, which can be kept in tins or jars for years.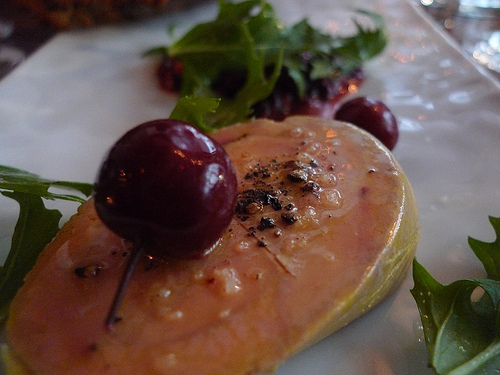 Foie gras torchon with boozy cherries from Frenchie (photo Barbra Austin)
Composition: Foie gras entier contains one or two whole lobes of liver, whether cooked in a jar or in a towel (au torchon). A bloc of foie gras contains many smaller livers molded together. Both are cooked (if not cru) with only salt, pepper and a "noble" alcohol like Cognac or Armagnac. A bloc of foie gras with morceaux (bits) contains many pieces of liver pureed together and emulsified with water. It must contain only 50% actual foie gras if goose and only 30% if duck.
Accompaniments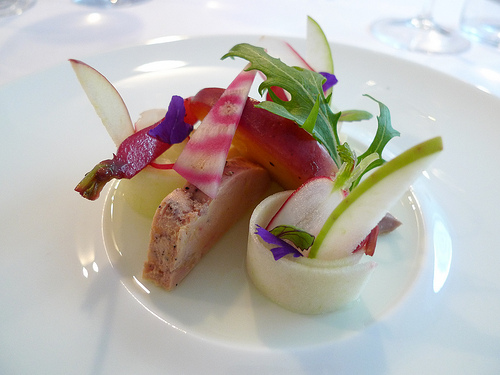 Foie gras with shaved beets, radish & green apple at Kei (photo Meg Zimbeck)
Foie gras is intensely fatty and perked up by any accompaniment that offers sweetness or acidity. Green apple, which brings both of these, is a pairing that we've seen in a lot of restaurants lately. Red fruits like cherry and fig are common. Also delicious are savory accompaniments that add both saltiness and sweetness. Along these lines, restaurants are pairing eel (smoked or not) with foie gras, but onion jam (confit d'oignons) is a little easier to pull off for those indulging at home.
If you're serving a jam or fruit with some sweetness, plain toasted brioche is the best bread option. If you're forgoing any accompaniments, serve your foie gras with bread that has some sweetness like pain d'epices (honeyed spice bread) or a bread stuffed with raisins or figs. Serving both a sweet bread and jam could be considered overkill.
That sweet accompaniment can also take a liquid form: the classic pairing is of course Sauternes, but the sweet fortified wines of Banyuls and Coteaux du Layon are also nice, and considerably cheaper. I also like a Jurançon or late harvest Gewurtztraminer.
Foie gras and eel at Septime (photo Meg Zimbeck)
Where to Buy in Paris
La Grande Èpicerie has an entire case dedicated to foie gras during the holidays. So does Franprix (a cheap supermarket), for that matter.
If you prefer to patronize the little(r) guys, a few options for homemade include:
Arnaud Nicolas – an MOF charcutier selling his creations for carry-out and also in a restaurant setting
Le Garde Manger – a shop near the marché d'Aligre selling foie gras from a small-production farm in Alsace
Gilles Verot – near Saint-Placide in Saint-Germain, selling slices of foie gras terrine layered with truffles or figs
Maison Guyard – a traiteur at 42 rue Verneuil in the posh 7th selling homemade terrines alongside jars and tins