Beaujolais Nouveau is rather like gin – people who won't touch the stuff usually have a legendarily bad story to tell involving a harrowing experience with the worst product imaginable. At its worst, Beaujolais Nouveau is indeed something less than a wine, a creepy under-aged creation of greenish grapes rouged up with sugar and sulfur. But just as the last two decades' international cocktail renaissance has redeemed gin for many drinkers, so too does Paris' booming natural wine scene contain the redemption of Beaujolais Nouveau – a quaff that, at its best, is a dashing, sun-dappled débutante of a wine, a pristine and lively beverage whose unseriousness is a big part of its charm.
This latter wine, the good Beaujolais Nouveau, is readily accessible in Paris, if you know the right spots. There are a few stories to tell first, though, and several myths to dispel.
Beaujolais Nouveau the wine does indeed form part of the Beaujolais  region's cultural history. But Beaujolais Nouveau the wine belongs to a category of wines called vins primeurs, meaning any wine sold in the same year it was harvested, shortly after completing fermentation. There are no fewer than 55 appellations in France that permit the production of vin primeur. Beaujolais Nouveau's fame – and later notoriety – came thanks to the marketing ingenuity of one winemaker, the ubiquitous Georges Duboeuf. He's responsible for Beaujolais Nouveau the event – an idea that was born only in the late sixties, after Duboeuf formed his négociant company, Les Vins Georges Duboeuf. So get rid of the image of the medieval town crier fleet-footedly hoofing from town to town crowing about the Beaujolais Nouveau being ready: it never happened. This fiction was so successful, however, that it became an intoxicating international liquor-store phenomenon, with all the subsequent cultural hangover that implies.
"People are resistant, because they were unfortunately abused by bad wine," says Guillaume Dupré, proprietor of Coinstot Vino, a lively wine bar in the Passage des Panoramas in the 2ème arrondissement. Dupré throws an annual Beaujolais Nouveau party with five or six winemakers, plus a banjo and accordion group. "For a while we've been trying to show the wines of winemakers who work without cheating, without dishonesty."
Loic Mougene, sommelier of 1èr arrondissement bistrot La Robe et le Palais, concurs: "There are a lot of clichés. They come from the experience of people who don't have the habit of tasting natural wines." Late in the evening on the third Wednesday of November, La Robe et le Palais becomes the ground zero of quality Beaujolais in Paris, for it's perhaps the most wine-savvy of the dwindling number of restaurants that continue the tradition of serving the Nouveau at the toll of midnight. Natural Beaujolais winemakers attend en masse.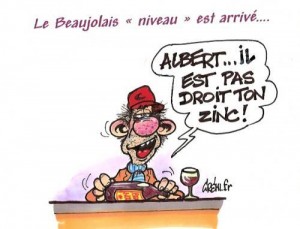 "The clichés come from what we call the 'vins sur mesure,'" says Mougene. "Wines made to order – it's those that broke Beaujolais about fifteen years ago."
—–
Les Vins Georges Duboeuf has for the past 30 years maintained a wine shop in the 8ème arrondissement, a short walk from métro Alma Marceau. Even by the standards of this witheringly conservative quartier, La Cave de Georges Duboeuf is frouffy and dated. Its storefront is cotton-candy pink. Gaps pock the harshly lit shelves, which stock the many ranges of Georges Duboeuf wines – principally Beaujolais, in every conceivable variation, not just red in all denominations but also white, rosé, and sparkling versions, plus Côte du Rhône, Mâcon blanc – pretty much whatever might sell.
Co-proprietor Bruno Vertut is frank about the state of Beaujolais Nouveau, sales of which have been in decline in France for over a decade. "In Paris, Beaujolais Nouveau falls further into disuse every year," he admits. He cites changing cultural attitudes, noting that French CEOs are less willing to host staff events involving alcohol, whereas formerly Beaujolais Nouveau was popular in corporate venues.
Vertut is sanguine about the future of the genre, despite its damaged reputation in France. "It's big in Asia, and on the west coast of America. We don't even have enough wine to serve all the emerging markets."
—–
Patrick Fabre, proprietor of Aux Tonneaux des Halles, an unassuming Halles-side bistrot hunkered between the chocolate shops and take-out pizza places on rue Montorgeuil in Paris' 1èr arrondissement, has witnessed the highs and lows of Beaujolais Nouveau during his twenty-three years at the address. He tells of how, in 2001, the annual Beaujolais Nouveau fête he throws at Aux Tonneaux des Halles drew enormous crowds and no less than three television crews. His son Boris, 31, who also works at the bar and who worked his first Beaujolais Nouveau party at age sixteen, remembers a time when Beaujolais Nouveau was a nearly week-long affair. "You had the party at midnight on the Wednesday, then all day Thursday, then Friday night, then Saturday at noon…"
Fabre et fils still throw a rocking party on the evening of Beaujolais Nouveau, always the third Thursday of November, but now it's only on Thursdays. And even on the night-of, Fabre père has some convincing to do with his uninitiated clients. "It's been years since I've been explaining natural Beaujolais to people," he says. "There are some who get it, who understand. There are others who spit, who say it smells of bananas, who go right back to drinking crap the next day." At Aux Tonneaux des Halles Fabre has long served exclusively natural wines: wines made more-than-organically, with an emphasis on non-corrective vinification and low-to-zero sulfur use. When one year – Fabre doesn't remember which – the restaurant guide Gault Miliau wished to award Aux Tonneaux des Halles a "Bistrot of the Month" award, he was aghast when a friend informed him the guide would be sending him several double-magnums of Georges Duboeuf Beaujolais to be pictured alongside him. The huge bottles of Duboeuf were duly delivered to the restaurant. So Fabre gave them to his kitchen staff as presents. The guide subsequently declined to print his picture without their corporate partner's product.
Now that natural wines have become, along with Bordier butter and Desnoyer meats, an almost predictable component of the luxury arsenal in many new Paris restaurants, media coverage of buzzy restaurant openings now genuflects to these restaurants' natural wine lists as a matter of course. If that trend has largely passed Aux Tonneaux des Halles by, it's because Aux Tonneaux des Halles is a crowingly untrendy restaurant. It serves nothing but dead-simple country bistrot cooking and its back-bar is festooned with empty old magnums, some refilled with luminescent red crême de cassis for making kirs. It is the sort of place that still unself-consciously celebrates Beaujolais Nouveau.
I contacted many Paris chefs and restaurateurs for this article [originally published in 2013] to determine who is planning what and where for the release of Beaujolais Nouveau. Those who will host parties or tastings were enthusiastic. "It's the New Year's day of wine," explains Fabre. "We celebrate the vintage – not just of Beaujolais, but all wines."
Others restaurateurs, when asked if they plan to celebrate Beaujolais Nouveau, replied, "Absolutely not."
And I was only phoning people who I knew liked Beaujolais.
The marked difference of opinion among connoisseurs is related to Beaujolais' two faces. On the one side, there's the primeur wine popularized by the likes of Duboeuf, whose annual production reportedly tops 30 million bottles, a full 20% of the Beaujolais region's total wine production. On the other side are the so-called "New Wave" of natural Beaujolais producers, led by the late Marcel Lapierre in Villié-Morgon. Since the late 1970's, alongside neighboring winemakers like Jean Foillard, Guy Breton, and Jean-Paul Thévenet, Lapierre pioneered a quality-conscious, biodynamic, unchaptalized, low-to-zero-sulfur, vividly pure style of non-Nouveau Beaujolais that continues to inspire acclaim among wine afficionados, myself included. We prize its electric tension, its singing red fruit, its underrated aging potential. We also prize its value. The prices of the most celebrated bottles of cru Beaujolais hover in the early twenties at wine shops like Le Verre Volé, Cru et Découverts, and La Cave des Papilles. The same bottles are reliable bargains on wine lists at most of Paris' buzzy dining destinations, from Septime to Le Chateaubriand to Le Comptoir du Relais and Vivant Table. If some of those establishments avoid celebrating or even mentioning Beaujolais Nouveau, it's often because they prefer to avoid the taint associated with the irretrievably down-market image of the worst stuff.
Beaujolais Nouveau, at its base, is a bright, feather-light, sugar-ripe wine, made from grapes that see only a four or five-day carbonic maceration, as opposed to ten-plus days for grapes destined for later-released cru Beaujolais bottlings. Because the grapes see very short fermentation, and almost no élevage in tank or barrel, the resultant wines are pungently fruity, often bearing a touch of residual sugar. They're populist wines, easy to drink and undemanding. But in the same way that in popular western culture the poetry form of haiku has become, through constant comedic overexposure, something of a knock-knock joke, so too did the outward simplicity of conventional Beaujolais Nouveau make it a ripe target for exploitation. It's light, it's drunk at parties, and, critically, it requires no costly storage or aging on the part of the winemaker.
"When Beaujolais had the wind at its back, winemakers tried to sell as much as possible, to the detriment of quality," explains Vauxrenard-based natural Beaujolais winemaker Isabelle Perraud. "Since then the media has communicated a lot of bad things about selected yeasts and chaptalisation." She refers to the select yeast 71B, which became the source of some controversy as the alleged culprit for the banana smell one regularly encounters in Beaujolais Nouveau, and to the practice of adding foreign sugar to under-ripe grapes to increase a wine's alcoholic content. "But even these methods aren't unique to bad Beaujolais…" she adds.
Like the other aforementioned Beaujolais natural winemakers, Perraud and her husband Bruno make a small amount of Nouveau. They call theirs "Brut de Cuve." It's made with indigenous yeasts, zero sulfur, zero added sugar, and zero filtration. These methods represent the antithesis of the Georges Duboeuf model, for, rather than tailor the cuvée to the tastes of its intended audience, they aim to create a wine as an expression of place, time, and circumstance.
"It's not an easy wine to make," Perraud adds. "We have very little time to make it in, and you have to be a skilful winemaker to succeed."
Karim Vionnet, a natural Beaujolais winemaker based in Villié-Morgon, made just 6000 bottles this year. None will be exported to the USA. "Because I didn't make any Beaujolais-Villages in 2012, I had to make some in 2013," he explains, illustrating a vexing dynamic for many Beaujolais winemakers: the more Nouveau they produce, the less juice they have left for non-Nouveau, a wine that commands a better price.
So for the new wave of natural Beaujolais producers, whose non-Nouveau wines are selling steadily as their good reputations set them apart from the old guard, why produce Beaujolais Nouveau at all?
The reasons are partly sentimental. "It's a wine to drink among friends," says Isabelle Perraud. "It's a reason to get together in November when the weather is grey and the days are short."
For Benjamin Fourty, who as co-proprietor of 5ème arrondissement natural wine bar Café de la Nouvelle Mairie throws one of Paris' most memorable Beaujolais Nouveau events every year, the answer is simple. "It's tradition. And even if Beaujolais Nouveau is bad for the image of the good Beaujolais, the good winemakers making it usually don't give a hoot about their reputations."
—–
In 2007 the culinary journalist Rudolph Chelminksi published a book about Georges Duboeuf with the somewhat wishful title "I'll Drink To That: Beaujolais and The French Peasant Who Made It The World's Most Popular Wine." In an interview with Terrance Galenter, Chelminksi calls Duboeuf's empire "a model of modern capitalism." Ironically, the new wave of natural Beaujolais winemakers have embraced the tradition Duboeuf began in the sixties, and in doing so provide Paris drinkers with an alternative to the excesses of modern capitalism: genuinely great wines that, by definition, can be neither expensive nor elitist.
Vionnet, the Perrauds, Lapierre, Breton, Descombes, Lapierre, etc. – their Beaujolaises Nouveaux are reliably voluble, refreshing wines that make supremely versatile pairing partners, as lovely with turkey and roast chicken as they are with rolled cigarettes and shouted conversation. The events at which quality Beaujolais Nouveau is celebrated – a by-no-means-complete list follows – are the opposite of refinement. It's the unself-conscious, slightly hokey establishments that get into the spirit the most. There will be accordian players, gypsy jazz bands, pork rillettes, barrels used as tables, wine splashed everywhere. Beardy toad-faced old men will burst into song. Rounds will be bought – by the carafe, the litre, the bottle freshly pulled from the barrel. Glasses will be broken. And certain corners of Paris – a city conquered by luxury – will be transformed into village fêtes, awash in a wine whose very purity and simplicity comprise a form of resistance.
Additional Links
Celebrating Beaujolais Nouveau in 2013 – Aaron's picks for the best parties, with a map to guide you (2014 update coming soon)
Beaujolais Nouveau Death March: Our 2013 Report – Aaron's account of going to those parties