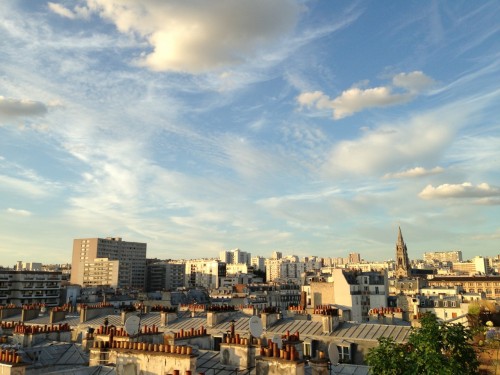 Each month we collect the reviews that interest us most, add excerpts to the pages collected in Our Guide to Paris Restaurants (and shops) and present you with a summary. We update it continuously throughout the month, with the newer reviews appearing at the top. For serious restaurant geeks only.
Restaurant Reviews
New & Newish Openings
Matière À (75010) – The smoky chocolate tobacco truffles were a slightly traumatic experience for former smoker Caroline Mignot, but she otherwise enjoyed the new canal adjacent eatery for its housemade bread & butter and "une cuisine de saison et de création, un binôme cuisine et salle qui fonctionne à l'unisson, dans un lieu à l'esprit chineur et singulier, à vous d'essayer…" Emmanuel Rubin found the concept of a single 14 person table intriguing, but ultimately didn't love the execution. "Une table unique, centrale (pas un couvert de plus mais le coude du voisin en prime), où un jeune chef se creuse sincèrement le ciboulot, au risque parfois du laborieux et du too much."
Okomusu (75003) – "Si le Japon cuisinait les pattes de mouche, nul doute que Paris, dans sa passion nippone, en ferait un restau dédié" Emmanuel Rubin wrote.  But in the case of Okomusu and their okonomimyaki pancakes, it's a good thing. "Par chance, l'Archipel se régale d'okonomiyaki bien révélé par ce comptoir Tokyo-bobo."
Coretta (75017) – The restaurant that took over the reins from Bigarrade continues to impress. Alexander Lobrano liked "the signatures of Pantaleon's cooking… which run to an avowed love of vegetables and fruit, a percussion of different acidities, and a love of smoke and charring".  Now that the restaurant is a few weeks old, he "can whole-heartedly recommend this place, and since they're planning to serve on the broad terrace out front when the weather gets better, I suspect that it's going to become even more popular." Read more on our page for Coretta.
L'Atelier Ramey (75018) – Emmanuel Rubin expressed more interest in the industrial-chic design than in the (fine) food at "un bistrot joliment taillé dans le style «factory» et plutôt industrieux à soigner la désormais classique fibre néo-ménagère."
Maguey (75012) – It's a restaurant where what you are served is based on what emotion you desire to feel. And according to Philippe Toinard for A Nous Paris, it's as terrible as it sounds. "Pour résumer, vous choisissez les sensations (percutant, moelleux, malicieux ou honnête) que vous voulez éprouver, et Maguey vous propose le menu adapté sans vous le dévoiler… Outre un service totalement amateur, les plats n'ont rien de transcendant; tourte aux champignons qui n'en a pas le goût, paleron de bœuf beaucoup trop sec. Seule la tarte Tatin sort du lot… Tout ça pour ça!"
Hai Kai (75010) – Jerôme Berger for A Nous Paris called Hai Kai a bobo trap, albeit a beautiful and tasty bobo trap. Find more reviews on our page for Hai Kai.
La Table d'Eugènie (75016) – Not to be confused with the long established and well-liked La Table d'Eugène, Emmanuel Rubin said "Monté par un quarteron de pros… dans l'idée de renouer avec les brasseries fougueuses, l'affaire déçoit à lâcher des plats sans grande niaque et une carte de vins aussi indigente qu'hors de prix."
Les Vinaigriers (75010) – Rue des Vinaigriers, already home to Jules et Shim, Café Craft and The Sunken Chip, continues to expand its eatery options. Emmanuel Rubin enjoyed the "bistrot taillé dans l'ultra-parigot et mijoté dans le néo-popu par un binôme, de frais réenchanté, s'appliquant à bien faire."
Blue Valentine (75011) – Emmanuel Rubin had very little to say about the adorable bistro except that "les compositions impressionnistes d'un de ces jeunes chefs nippons raffinant la bistrote." Read more reviews on our page for Blue Valentine.
MandooBar (75008) – François-Règis Gaudry had a moment with some orgasmic Korean raviolis at this new 12 seat space.  "Ces raviolis aux légumes font trempette dans une coupelle de sauce soja et d'huile de sésame avant de vous dispenser en bouche le plus sensuel des baisers: l'élasticité délicate du voile qui se déchire, puis l'émotion glissante d'une farce où s'entrelacent le tofu, le poireau, le ciboule, les graines de sésame, les algues et cette irrépressible envie d'y retourner aussi sec… Les mandoo à la viande, dont la farce mi-bœuf, mi-porc à la ciboulette a mariné un minimum de 5 heures, sont tout aussi… érotiques." Read additional reviews on our page for MandooBar.
Filakia (75002) – Gourmet street food options continue to expand in Paris with fancy pita pockets from ex-Cyril Lignac employees. Emmanuel Rubin tried two different versions and said "Filakia de porc rôti à la sauge: bonne variation de moelleux. Filakia boulettes de courgette et feta: svelte."
Peco Peco (75009) – For François-Règis Gaudry, "Le succès de cette cantine de fortune arrimée à deux longueurs de baguette du Moulin rouge tient en 3 mots-clés" which are pork tonkatsu, donburi rice bowls, and kushiagé kebabs.
Le Bon Georges (75009) – Caroline Mignot found the food at Le Bon Georges frustratingly delicious because of the small portions. "L'œuf poché et sa blanquette de légumes. Pas très généreuse la blanquette me dis-je en voyant arriver l'assiette. C'était avant de goûter… Au premier coup de cuillère, j'étais encore plus frustrée. L'œuf délicat et sa note maîtrisée de vinaigre, le crémeux de la liaison, son goût presque sucré par les légumes, les divers légumes en coupés en brunoise et la verdeur du persil plat ciselé créaient une synergie extra." John Talbott enjoyed both the looks of the "really cool, really old, really friendly joint" and the food as "right now this stands Number 3 on my Great Hits List for 2014." Emmanuel Rubin said "un bistrot bien campé dans le parigot entre sérieux répertoire comptoir et fameux bagout viandard (notamment un fameux bœuf de chez Polmard)." Jerôme Berger had a slightly disappointing but ultimately still promising meal. "À l'arrivée, même si l'addition à la carte plombe et si les vins déçoivent quelque peu, le lieu et ses promesses poussent à revenir. Tradition, quand tu nous tiens…" Read additional reviews on our page for Le Bon Georges.
Liberté (75010) – John Talbott found the canal-side bakery "beautiful and teeming with good stuff." Read additional reviews on our page for Liberté.
La Recoleta (75017) – Argentinean beef, beef and more beef are on offer at La Recoleta. Emmanuel Rubin wrote that "Longtemps délaissée au rayon des exotismes parisiens, la veine argentine rejoint, mine de rien, les nouvelles tocades des appétits contemporains… Ce n'est pas encore le grand fauteuil au bouquet mais ce n'est déjà plus le strapontin."
Not New, but Noteworthy
Les Enfants Rouges (75003) – Not Drinking Poison in Paris had a more or less adequate experience at this neo-bistro near the covered market. "Les Enfants Rouges under Shinozuka points no new directions in Paris dining, and at first glance manages to underwhelm despite terrific cuisine and serviceable hospitality. But Shinozuka, evidently no fool, has made all criticism moot by opening on Sundays and Mondays, which instantly renders Les Enfants Rouges one of the most useful addresses in Paris, let alone the quality-starved Marais." Read additional reviews on our page for Les Enfants Rouges.
Clamato (75011) – John Talbott's found a Sunday mainstay "where the price is right and the food correct." Read additional reviews on our page for Clamato.
Pizza Chic (75006) – François Simon finally made it to Pizza Chic and falls for its fashionable allure. "Ce qui me plaît chez Pizza chic, c'est cette envie de ne pas transformer la pizza en bric à vrac, trop chargée, trop fourre-tout, trop vide-tupperware. La carte aide à cibler son goût et  l'entraine plus loin. Cela doit être ça le nec de Pizza chic: choisir son goût et ne point trop mélanger, ni le sacrifier." Find additional reviews on our page for Pizza Chic.
Pirouette (75001) – John Talbott couldn't say enough good things about his meal which was "special, inventive, mind and palate expanding and fun" and had "the most wonderfully welcoming owners, staff and chef on the planet." Read more reviews on our page for Pirouette.
L'Assiette (75014) – Caroline Mignot visited the restaurant of the newly named co-host of the t.v. show "Mon bistrot préféré" and walked away feeling "Du goûteux, du genre bistrotier bourgeois et généreux, des produits nobles, le client amateur est heureux." Find more reviews on our page for L'Assiette.
L'Ecailler du Bistrot (75011)

–

John Talbott

has had some mixed luck at the seafood oriented restaurant from the

Paul Bert

team as "their Utah Beach oysters are exceptional but their fish dishes are not always on target" but would return despite slow service because "at 19€ [for lunch] it's quite a bargain." Read additional reviews on our page for

L'Ecailler du Bistrot

.
Café Trama (75006) – The café's ability to ace the basic minimum standards of quality restaurateurism with style make it a notable achievement in the Parisian dining scene for Not Drinking Poison in Paris. He raved  "With a mild, unshowy menu by chef Bruno Schaeffer, a brilliant wine list by Le Rouge et Le Blanc editor Paul Hayat, and a welcoming, well-appointed dining room run by owner Marion Trama, Café Trama is like a beacon showing the way home to wayward novelty concepts citywide." Read additional reviews on our page for Café Trama.
Miznon (75004) – François Simon is back from his world travels and enjoying Israeli falafel from the "mythique" Miznon where "tout est préparé sous vos yeux derrière le comptoir par une armée de cuistots venus pour la plupart d'Israël. Sono remontée comme un coucou, affluence des grands jours, attendez vous à un petit choc frontal qui devrait faire se pâmer quelques foodies en mal de sensations fortes. Tout était bon, quasiment donné (en dessous et au-dessus de 10 euros)." Read additional reviews on our page for Miznon.
CheZaline (75011) – Not Drinking Poison in Paris is still haunted by an octopus salad he had over the summer at this "jewel box diorama of the low-key chef's ideal restaurant" where "beyond the impeccable quality of her ingredients, Zampetti deserves praise for also assiduously avoiding daintiness in preparation and portion size. What she offers is chef food…" Find more reviews on our page for CheZaline.
La Roca (75015) – Not Drinking Poison in Paris wished for a sommelier to shape a better wine list, but enjoyed the service and the fare that is "precisely what Parisians wish to eat these days: sweetly accessible variations on menu staples, finessed to a sheen and enlivened with the odd exotic ingredient (seaweed tapenade, kumquat). Prices are extremely reasonable. But Giesbert's cuisine is hobbled by the restaurant's far-flung location, and an almost punitively boring wine list." Read additional reviews on our page for Roca.
La Gazzetta (75012) – Jerôme Berger for A Nous Paris paid a post-Petter Nilsson visit and found the new chef Luigi Nastri staged "un joli coup de Botte! Attention, pas le sempiternel trio mozza-pizza-tira', non! Mais une façon de cuisine ritale: inspirée par la mamma, dressée pour la fashionista." Find more reviews on our page for La Gazzetta.
Le Rafaël (75017) – Emmanuel Rubin was impressed by the new chef Simone Zanoni's ability to creatively work within the confines of kosher regulations. Zanoni "s'y emploie avec ce mérite premier de l'audace et de l'intention… Voyons déjà là comme l'élégance d'une proposition qui gagnera peut-être bientôt à s'inspirer aussi de l'imaginaire culinaire juif."
Udon Jubey (75001) – Emmanuel Rubin has thrown down the gauntlet and declared that beloved Kunitoraya's successor in their former space is, in fact, better. "Kunitoraya déménagé à quelques baguettes de là, son successeur reprend, avec son exotisme d'étuve, le battage de ses pâtes udon en bouillon."
Frenchie To Go (75002) – Aaron Ayscough believes that "In the not-too-distant future, when Paris drops the pretense of being French, Le Fooding will organise several multinational corporations to erect a statue in honor of Frenchie founder Gregory Marchand." For the record, our Editor doesn't very much agree. But you can't deny that it takes balls to bite the hand that feeds such delicious pulled pork. Read additional reviews on our page for Frenchie To Go.
Caillebotte (75009) – David Lebovitz had the "the menu du jour (€19 at lunch), which included a choice of any of the first courses from the menu, and the main course of the day, which was leg of lamb with a hazelnut crust" and is interested in "coming back and having a full-on meal here. It's €35 for three courses and I can't forget to mention that the staff could not have been nicer. It's great to see the younger generation of French sincerely interested in providing good, helpful, professional service without a hint of pretension or exasperation." Read more reviews on our page for Caillebotte.
Goust (75002) – Not Drinking Poison in Paris will also not be returning for dinner after a disastrous lunch that he left "convinced that the restaurant was sourcing an entirely different, cheaper register of ingredients for its lunch service." He doesn't know "what kind of easily-tickled grandmothers are currently handing out Michelin stars, but Goust's elevation to the firmament possesses dispiriting implications" as he finds it "a Michelin-starred nursing home." Find additional reviews on our page for Goust.
La Coupole (75014) – What once may have passed for stylish at La Coupole now comes off as sad for Alexander Lobrano whose "heart went out to the friendly dignified man who showed up in a children's birthday party Maharajah's costume to serve the curry" and who "found it embarrassingly deflated, or devoid of any glamour whatsoever."
Artisan (75009) – Killer cocktails and a legitimately good croque monsieur? David Lebovitz discovered the Parisian equivalent of a unicorn at Artisan. "A big feature of the place is the zinc cocktail bar, where you can get excellent drinks… Bijou came in a slender cocktail glass, and was a delirious blend of gin and Chartreuse… The thinly sliced Iberian ham was a nice treat alongside as was the fried mini croque monsieur, that was perhaps the best I've had in Paris." See more reviews on our page for Artisan.
Pan (75010) – Lindsey Tramuta enjoyed the modern bistro where "the cocktails also got our collective thumbs up but the location – a somewhat remote and quiet pocket of the 10th arrondissement- will be an even greater factor influencing my return visit."
Little Breizh (75006) – The ownership of Little Breizh changed hands back in October, but David Lebovitz has found that the quality remains the same. "This friendly Breton café offers crêpes and buckwheat galettes that are delicious, and generous. I had an excellent buckwheat galette, flecked with little nubbins of dark, toothy buckwheat embedded in the batter. I chose from the reasonable lunch menu that included a glass of cider and another crêpe for dessert, for less than €10." Find additional reviews on our page for Little Breizh.
Procopio Angelo (75010) – Good Italian food in Paris? Apparently it does exist! For €17, David Lebovitz had a "two-course meal, including coffee. I started with a marvelous block of stracchino, a soft, young cow's milk cheese with roasted radicchio and potatoes, and she had a crostini of zucchini, scamorza (smoked mozzarella), and bacon that was pretty terrific… The staff and owner are very engaging and it's a nice place for lunch, if you're in the neighborhood."
Le Tagine (75011) – David Lebovitz was unimpressed with the main courses but will return to Le Tagine for the natural wines and interesting desserts. "The wine list is impressive. Not in length or breadth, but because the wines are natural wines… Mains were, well, fine – but I wouldn't cancel a trip to Morocco for them… The hit for me were the desserts, all made in house. There were gazelle horns, crescent-shaped cookies filled with almond paste, makroud, semolina cookies filled with dates…I would go back just for that."
L'Insolite (75018) – John Talbott wouldn't cross town for the bistro per se, but recommends it as a great neighborhood choice as "The welcome, service and au revoir from waiter and owner was great, the food as advertised was fresh, made in-house and reasonable, and the passing scene a great distraction. A destination, no, but for the 'nabe, good choice."
In the Shops
Du Pain et Des Idées (75010) – Caroline Mignot raved about the apple tarts with "Un feuilletage fin et bien beurré, très croustillant aussi, des lamelles de pommes fines, des accents d'amandes… Terrible! Surtout que le dessous est ultra caramélisée, ce qui la rend collante, démoniaque… Un plaisir rare donc, mais très efficace." Read additional reviews on our page for Du Pain et Des Idées.
La Grande Èpicerie (75007) – The giant department store was recently renovated and John Talbott found it much improved and "even more fabulous." Find more reviews on our page for La Grande Èpicerie.
Down the Hatch
Red House (75011) – Hipsters in Paris said "Ain't no better place to get cracking cocktails for €6 on Happy Hour. Red House is the perfect mix of high-brow drinks in a low-brow setting. The music is always awesome and the salsa always spicy." Read additional reviews on our page for Red House.
Le Perchoir (75011) – Lindsey Tramuta has some reservations about Le Perchoir but is ultimately won over by its Instagrammability. "My impressions of the restaurant at this ultra-hyped 11th arrondissement rooftop hangout are anything but glowing but the ability to linger over a cocktail or bottle of wine with friends during the winter with an Instagram-ready view of the city makes it worth a visit." Find more reviews on our page for Le Perchoir.
Want More?
To read about past months' food and wine buzz, check our Word of Mouth archives.