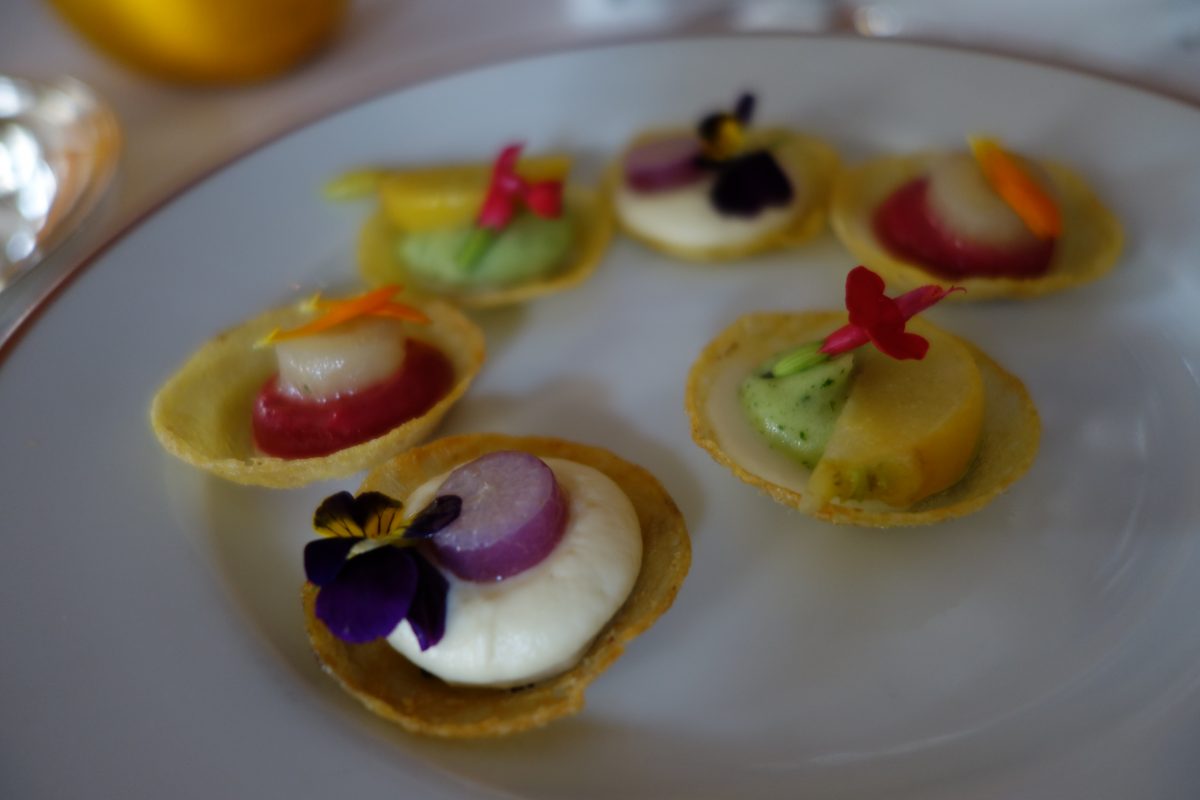 Michelin Spotlights Sustainable Gastronomy
When Michelin unveiled its 2020 Red Guide last week, it also launched a new, green initiative: an award for Gastronomie Durable or sustainable gastronomy. Fifty restaurants in France have earned this new distinction, including several Paris addresses. These include the three-star restaurants Arpège and Alain Ducasse au Plaza Athenée, the two-star restaurant David Toutain, plus one-star restaurants Septime and Table.
The precise selection criteria for the list remain slightly vague. Gwendal Poullennec, international director of the Michelin guide, tells le Parisien merely that restaurants were chosen based on their positive impact on the planet and society at large. It's worth noting that only restaurants that already had a star were awarded with Michelin's new "green" distinction.
This newfound attention on sustainability from one of the biggest names in French gastronomy nevertheless reflects some larger trends taking hold in the French capital, like local sourcing, reduction of single-use plastic, and even abandoning avocados.
Loïc Martin, owner of Paris' Martin and Robert (neither of which is on Michelin's list) is one of several restaurateurs with a keen focus on sourcing. He and his team developed the two-hectare, pesticide-free Jardin sur Loire four years ago. Today, it supplies much of the restaurants' produce. This year, the team planted 70 fruit trees on the land and plans to build hives to produce its own honey.
At Le Saint-Sébastien (also not on Michelin's list), the team has created a loop connecting the restaurant, co-owner Thomas Deck's craft brewery Deck & Donohue, and Agnès Sourisseau's Mont Gardés farm 25 kilometers from Paris. Deck & Donohue delivers its spent grain to Monts Gardés, where it is used to revitalize the soil and to feed animals like capons. The resulting produce and meat is used in the Saint-Sébastien kitchen by chef Robert Mendoza and his team.
For Mendoza, acknowledging the work of sustainably-minded restaurateurs is a key to encouraging the continuation of this trend. This is perhaps doubly true for better-known restaurants on Michelin's list like Alain Passard's Arpège, which sources the produce for its vegetable-focused menu from several acres of organic gardens outside of Paris, or Alain Ducasse au Plaza Athenée, which transformed its menu in 2014 to focus on vegetables and fish. The positive environmental effects of focusing on plant-based cooking cannot be denied, and Passard, in particular, was a pioneer of more veggie-heavy philosophy in a city where this mindset has long been foreign.

"Alain Passard… he's a legend," says Mendoza. "He's one of my heroes. I think that by giving this award to these restaurants, many people in my shoes who look up to these people that will think… 'That's great. I want to do that.'"
And for many, it's coming not a moment too soon. Despite France's commitment to reducing the effects of climate change, awareness of sustainability on the Parisian restaurant scene has been slow-going compared to other major metropolises where farm-to-table and vegan restaurants are now a dime a dozen.
"Most restaurateurs have other priorities," says Martin. "But I think that clients should choose ethical establishments to encourage the entire profession to be more sustainable."
Bertrand Grébaut's restaurant Septime works in cooperation with an urban farm located on a former air base, relies on renewable energy, and sorts its biowaste. While he is "thrilled to be selected," he also notes that his restaurant's priorities are "the result of personal and professional convictions independent of distinctions."
Grébaut also thinks that sustainability should play a role in the awarding of Michelin stars.

"The mission of the Red Guide is to recommend tables, so to me, it seems coherent to associate these recommendations with information about sustainable practices," he says. "I hope that it's a first step and that, in the future, it will be a criterion when it comes to rankings."
But Grébaut may be disappointed. Poullennec tells Le Parisien that despite this new green initiative, sustainability will likely never factor into Michelin's star ratings, noting that it "is not really part of the dining experience."
"But in creating this 'sustainable gastronomy' honor, we're spotlighting engaged chefs, to encourage a professional revolution," he continues. "That's really what Michelin does best: positive emulation."