Coronavirus is changing the lives of people and businesses all around the globe. The hospitality industry, with its razor-thin margins, will be particularly impacted. Nowhere is that more true than in Paris, which has already suffered through a year of "yellow vest" and pension reform strikes and has been relying on the hope of a robust spring and summer in order to survive. After an already challenging year, few have any remaining buffer or savings to help them survive the period of mandatory (and necessary) closure.
The motto of Paris – Fluctuat nec mergitur "tossed by the waves but not sunk" – will be mightily tested in the coming months. We will be sharing the ways in which restaurants and their clients are innovating and trying to stay afloat, showing generosity in the face of uncertainty, and otherwise keeping hope alive. We may also be documenting and mourning some restaurant closures.
Visit this page for daily updates or sign up for our newsletter, which will synthesize the news every two weeks. We'll also be reposting from the restaurants we follow on our Instagram and Facebook accounts.
---
April 3 Update
While restaurants around France are still closed until further notice, some specialty shops have announced they will be reopening for Easter. These include chocolatier Patrick Roger, who will open his Saint-Germain shop temporarily for several days in early April. Carl Marletti also announced via Instagram that after closing during the early days of confinement, he would be reopening his Latin Quarter pastry shop next week.
Beginning on Monday, French residents will be able to access a lockdown permission form on their smartphones, Interior Minster Christophe Castaner has said. At present, those who wish to leave their homes to buy groceries, go to the doctor, or do one hour of exercise per day must print or hand-write a signed, dated attestation for each outing.
April 2 Update
Sunday will mark the sixth distribution of meals prepared by chefs and delivered to hospital personnel thanks to Les Chefs avec les Soignants. To date, the group has prepared and delivered 1,020 meals in Paris and the surrounding suburbs and 650 elsewhere in France. More than 400 chefs are currently participating in the project, including Thibault Sombardier (Mensae) and Bruno Verjus (Table). The group was jointly founded by culinary journalist Stéphane Méjanès, chef Guillaume Gomez, and meal delivery service TipToque.

April 1 Update
A Calais man has been jailed for violating strict lockdown rules eight distinct times. So far, 359,000 fines have been issued nationwide for violation of these regulations.
March 31 Update
About a quarter of France's 10,000 open-air food markets will re-open this week, mainly in small towns. The government had banned markets nationwide on Friday. Markets in the Paris region and in eastern France, where the virus has hit the hardest, will remain closed until further notice.
March 30 Update
French finance minister Bruno Lemaire announced that financial rescue packages for smaller companies facing bankruptcy will be maintained for the duration of confinement.
A cargo plane notably carrying 5.5 million face masks from China landed in Paris yesterday. The government has ordered a billion masks, but shortages have made this essential equipment rare in France.
After two weeks of confinement, French authorities have announced that the spread of COVID-19 has stabilized in Hauts-de-France. Nationwide, however, the rate of spread remains dire, with cases doubling every three or four days.
March 28 Update
Lockdown in France has been officially extended to April 15. "At the end of these first 10 days of confinement it is clear that we are only at the beginning of the epidemic wave," Prime Minister Edouard Philippe said.

March 27 Update
Nearly 250,000 French citizens have been fined for not following confinement protocols since they were instated on March 17. Fines range from 135 to 3,700€ and a six-month prison sentence for repeat offenders. Lockdown was originally expected to last two weeks, and while experts have counseled it should be prolonged to six, President Emmanuel Macron has yet to announce a firm end date.

President Macron warned fellow EU leaders on a call last night that the no-border Schengen zone risked "death" if nations failed to show solidarity. "What's at stake is the survival of the European project," he said.
President Macron announced today that he and President Donald Trump had had a "very good discussion" and were planning a "strong initiative" to combat the crisis. He continued to say they would be announcing their new plan "in the coming days." This follows Macron's announcement Wednesday that the French army would be repatriating citizens as well as troops stationed abroad, notably in Iraq.
March 26 Update
COVID-19 has had serious repercussions on France's agricultural community, especially following Prime Minister Philippe Edouard's announcement Monday that all open air markets would be closed until further notice. Economy Minister Bruno Le Maire has issued a call to French supermarkets to buy only French products in the name of "economic patriotism." Several supermarket chains, including Carrefour and Leclerc, have already responded favorably.
French farmers have found themselves without seasonal labor for the upcoming harvest due to border closures. They are calling for a "shadow army" of people willing to carry out these essential tasks. The farmers have negotiated a deal with the government allowing those whose work has been brought to a halt by COVID-19 confinement measures to work these jobs while still collecting unemployment benefits. An estimated 730,000 French residents are already on partial unemployment due to the COVID-19 crisis, according to Le Maire.
March 25 Update
Thanks to efforts from chef Guillaume Gomez, journalist Stéphane Méjanes, and meal delivery company TipToque, hundreds of meals will be prepared by Parisian chefs and delivered to local hospital workers every Sunday. The project, entitled Les Chefs Avec les Soignants (chefs with caregivers), is just one of several ways in which the restaurant industry is contributing to the tireless hospital workers battling COVID-19 in the French capital. Other similar projects include an initiative from Ecotable and La Resistance des Chefs. Nearly 500 public hospital workers have tested positive for COVID-19, according to Paris' public hospital system.
KonbiniFood asked confined chefs to share the contents of their fridges and kitchen cupboards while on lockdown and published the results, which include leftover pizza, sriracha, and wine.
March 24 Update
The greater Paris area has been deemed the epicenter of the COVID-19 virus in France, with about one-third of France's nearly 20,000 cases of the virus. Paris Mayor Anne Hidalgo is calling for even stricter confinement rules in the capital. Paris does not yet have an imposed curfew, though other French cities, including Nice, have banned all public movement from 11pm to 5am.
March 23 Update
Prime Minister Edouard Philippe addressed the nation during the 8pm news on March 23rd. He noted that confinement would be intensified in France, with two new rules beginning Tuesday March 24. Open markets are now forbidden, as they have been deemed too dangerous for the spread of COVID-19. Exercise outside of the home is also now restricted to one hour per day at less than a kilometer away, and cycling is forbidden.
Chez L'Ami Jean chef Stéphane Jégo has tirelessly been fighting for insurance companies to offer aid to business owners following forced closures due to COVID-19. Yesterday, he and a group of other artisans, producers, and business owners published an open letter to President Emmanuel Macron asking for support in declaring the outbreak a "natural sanitary catastrophe." This, he hopes, would force insurance companies to come to their aid. The letter was signed by several high-profile chefs including Alain Ducasse, Stéphanie Le Quellec, Cyril Lignac, and Grégory Marchand.
Tavline has decided to stop delivery and takeout for reasons of safety and hygiene. The restaurant put out a call on Instagram to find hospitals and associations to whom it can donate the rest of its ingredients.
March 21 Update
While French bakeries are allowed to remain open as "essential" businesses during confinement, French Bastards has shuttered until further notice. Before closing its doors, the bakery donated its remaining wares to Pitié Salpetrie hospital in Paris' 13th arrondissement.
March 20 Update
Pierre Marcolini is the latest chocolatier to donate the stock of his three Parisian shops to Paris' hospital workers. The Belgian chocolatier's donation was made thanks to support from En première ligne, an association connecting donors and those whose work puts them on the front lines (en première ligne) of the battle with COVID-19. "Giving chocolate might not seem essential, but it's an undeniably comforting pleasure," reads a press release from Marcolini.
Guillaume Gomez, chef to the French President, also encouraged people to mobilize in aid of medical workers. "Chefs, to your stoves!" he wrote on Instagram beneath a photo of pâtés en croûte he was preparing for hospital professionals. In the post, he implores his colleagues to do the same.
March 19 Update
Some 4,000 French people were fined on March 18 for thwarting the terms of the confinement outlined by President Emmanuel Macron to reduce the spread of COVID-19. The fine amounted to 35 euros on Wednesday and rose to 135 euros on Thursday. It could eventually reach 375 euros, according to Interior Minister Christophe Castaner. Parisians are currently allowed to leave their homes only to see the doctor, buy food, exercise, walk pets, or go to work. They must be carrying a dated letter outlining which of these motives has brought them outside.
A new tradition has formed among confined French people. Every evening at 8pm, they gather in their windows or on balconies to applaud the medical staff tirelessly working to help affected people.
In addition to the shops we have outlined in previous updates, le Verre Volé and Paroles de Fromagers remain open to Parisians. Shops and restaurants that have closed since the beginning of confinement now include Hero and Boulangerie Bacillus.
March 18 Update
Chocolatier Jacques Genin has delivered 500 kilos of chocolate to Paris' hospitals by way of the Health Ministry, including his famous Easter egg collection. "We can't lose hope," he told TimeOut. "We have to support one another."
Food shops in Paris that remain open during confinement include the French Bastards, Chambelland, Le Petit Grain, Sur Mer, BOULOM, Septime la Cave, Eataly, Comptoir des producteurs, Mamiche, and Maison Plisson. These shops are operating with extreme vigilance. Plisson, for example, is limiting the people allowed in the shop at any given time to ten, and it has placed marks on the floor to keep people a safe distance away from one another, Le Monde reports. Mamiche is requiring customers to remain outside and pay by credit card.
While Paris is still under confinement, Restos du Coeur is looking for (healthy!) volunteers to help pack and distribute meals as well as operate call centers.
March 17 Update
Our own food tours have ground to a halt. We've posted information in A Pause for Paris by Mouth Food Tours about our decision last Thursday to temporarily suspend all activities. That article includes information about our policy for 100% refunds, and a platform where clients can leave a small pooled tip to be shared exclusively among our guides, or tip a specific guide who they loved from a previous tour. Guides will receive 100% of these tips and we will be matching all donations. Our restaurant reviews and reporting have always been funded by revenue from these food tours. Even without this revenue, we will continue to report on the impact of this crisis and try to share strategies to help our friends in Paris food & wine community.
In his speech last night, in addition to outlining the 15-day confinement period, President Emmanuel Macron said that he would ensure that all businesses come through the epidemic. "No business, no matter its size, will risk bankruptcy." This is particularly important for the restaurant industry, already suffering following over a year of "yellow vest" protests and a several-month transport strike in late 2019 and early 2020. But despite President Macron announcing €300 billion in aid to guarantee bank loans and Economy Minister Bruno Le Maire pledging €45 billion for companies, Chez l'Ami Jean chef Stéphane Jégo is demanding that insurance companies rise to the occasion via a petition.
As of noon on Tuesday, Parisians are required to remain in their homes for 15 days, except to do food shopping, exercise, and go to the pharmacy or doctor. Shops that remain open in Paris at this time include Terroirs d'Avenir, Belleville Brulerie, Divvino, Sain, and Benoit Castel, albeit with modified offerings and opening hours. Some restaurants, including Hero, The Hood, and Circus Bakery, are still offering delivery and to go orders, notably through Deliveroo.
Several businesses that were previously offering to go orders have since closed until further notice. Brutos notably shared via Instagram that given its location in the 11th arrondissement, "unfortunately one of the areas where people were having a hard time respecting the confinement orders," it would be closing entirely. "People don't understand that it's not a party." FTG has also stopped offering to go orders, and Les Enfants du Marché, previously selling wine and canned goods, has also closed until further notice.
Supermarkets are taking precautions to avoid the spread of the virus. One supermarket in Côtes d'Armor has begun opening at 7:45 instead of 8:30. During these extra 45 minutes, the store is opened exclusively to clients over the age of 70. Some supermarkets are also offering free grocery delivery. Others are staggering entries to keep from becoming overcrowded.
---
March 16 Update
President Macron declared tonight that the country will be placed on lockdown from midday on Tuesday for at least 15 days. Only trips to supermarkets, pharmacies and places of work will be allowed, and all workers have been told to work from home where possible. Walks outside are also forbidden.
This follows a Sunday when parks, bakeries and outdoor markets were still packed, despite the closure of restaurants, bars, and cafés.
Stéphane Jégo, chef and owner of Chez l'Ami Jean and treasurer of the Collège Culinaire de France, has spoken out, pleading with the French government to help small businesses in this time of crisis. Insurance companies do not cover what he dubs a "natural sanitary catastrophe," and many restaurants forced to close Saturday risk shuttering for good. "There are so many businesses big and small that are going to be wiped off the map," says Jégo. Channa Galhenage, owner of coffee shop Loustic, echoed these worries. His Instagram story highlights an email his insurance company sent him noting that losses due to the virus would not be covered.
As a small measure, Macron announced that restaurants will not be obliged to pay their rent or utility bills during this period of forced closure.
Emmanuel Macron annonce la suspension des factures d'eau, de gaz, d'électricité ainsi que des loyers pour les entreprises pic.twitter.com/4vbmhfgqUl

— BFMTV (@BFMTV) March 16, 2020
Sarah Mouchot and Nicolas Alary of Holybelly took to Instagram Saturday in hopes of avoiding wasting approximately 600 covers (and 10,000€) worth of perishable food intended for service over the weekend. In two hours, they managed to distribute everything from scrambled eggs to pancake batter for free. The pair then shared recipe ideas via social media. Mouchot nevertheless tearfully evoked her worries over what would come next for the restaurant and its staff.
---
March 15 Update
Amid the many voices lamenting the forced closure, two Italian chefs, Simone Tondo (Racines) and Giovanni Passerini (restaurant Passerini) have been using their social media to encourage people to take this seriously and stay home.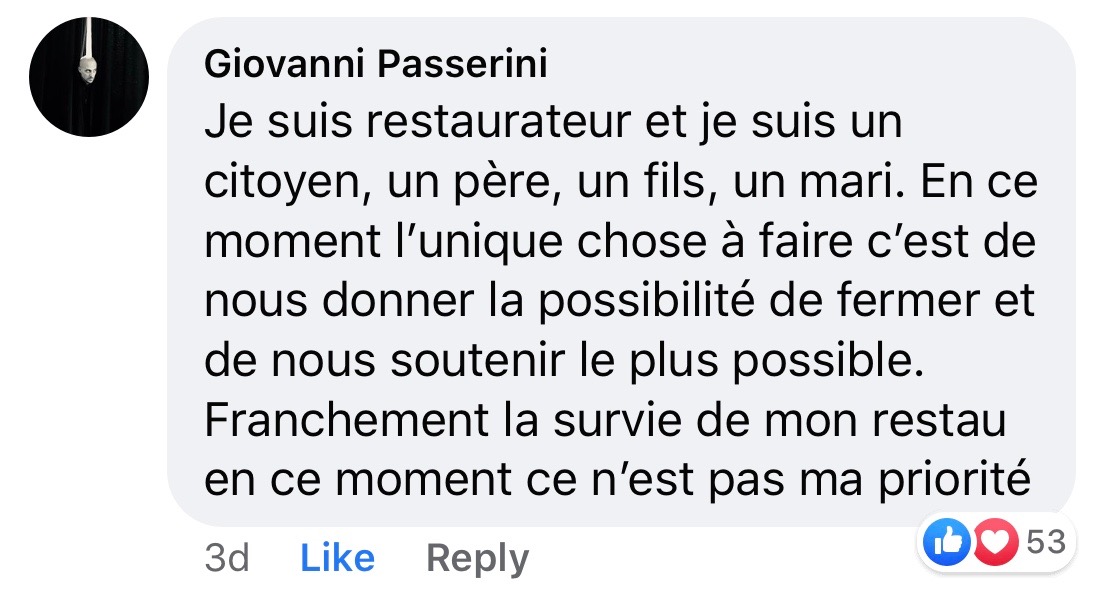 Boot Café, which sells baked goods and could potentially except itself from forced closure by rebranding as a bakery, is calling out its competitors for doing so and thus endangering public health.
Circus Bakery is shifting gears and implementing a fresh bread delivery service called Flyin' Circus. Follow their Instagram for updates, or bake your own version of their apple pie from Dorie Greenspan's recent profile and recipe in the New York Times.