Coronavirus is changing the lives of people and businesses all around the globe. The hospitality industry, with its razor-thin margins, will be particularly impacted. Nowhere is that more true than in Paris, which has already suffered through a year of "yellow vest" and pension reform strikes and has been relying on the hope of a robust spring and summer in order to survive. After an already challenging year, few have any remaining buffer or savings to help them survive the period of mandatory (and necessary) closure.
The motto of Paris – Fluctuat nec mergitur "tossed by the waves but not sunk" – will be mightily tested in the coming months. We will be sharing the ways in which restaurants and their clients are innovating and trying to stay afloat, showing generosity in the face of uncertainty, and otherwise keeping hope alive. We may also be documenting and mourning some restaurant closures.
Visit this page for regular updates (and while you're at it, sign up for our newsletter). We'll also be reposting from the restaurants we follow on our Instagram and Facebook accounts.
---
June 1
Some Paris cafés, restaurants, and bars opened their terracess prematurely this weekend after Prime Minister Philippe Edouard announced they would be allowed to do so beginning tomorrow June 2. "We were already serving to go," one waiter told Le Parisien. "People were drinking standing up, on the sidewalk. Isn't it better that they be able to sit?" Not necessarily – four Parisian bistros were told to close over the course of the weekend due to premature opening.
May 29
Yesterday, Prime Minister Edouard Philippe announced that restaurants, bars, and cafés would be allowed to reopen throughout France. In Paris, however, only outdoor service is allowed, at least until the announcement of the next phase of deconfinement June 22. For more information, see our report on the reopening.
Wednesday, restaurants and bars across France set empty tables draped with chef's aprons to demand more aid from the government. Specifically, they asked for the forgiveness of 2020 social charges, typically paid to the government by businesses on behalf of employees to the tune of 25 percent of their salaries. Guy Martin, chef of Le Grand Véfour, echoed these pleas in a conversation with Fine Dining Lovers in which he suggested that VAT be reduced to help give restaurants a "boost."
Martin also expressed his concern over the lack of visibility regarding the future. As compared to in Italy, the chef lamented, French restaurateurs do not have enough information to have the "opportunity to organize" for eventual reopenings. He also noted that the takeaway options that many chefs have resorted to during lockdown are not open to everyone, as they are difficult to adapt in fine dining establishments. Indeed, takeaway currently represents about 5 percent of the revenue of a typical restaurant service, according to the owner of 11th arrondissement Café des Anges.
Department store Printemps was granted an authorization to reopen yesterday. This includes specialty food hall Printemps du Goût, which is selling takeaway products from artisans including MOF cheesemonger Laurent Dubois and baker Gontran Cherrier. Department store Beaugrenelle had already been allowed to reopen earlier this month. Other department stores, including the Galeries Lafayette, remain closed.
May 25
A court has decided in favor of restaurateur Stéphane Manigold, who sued his insurance company, Axa, for failure to pay indemnities for losses linked to COVID-19. The insurance company will have to pay two and a half months of losses for one of Manigold's four restaurants, a total of 70,000 euro. While Manigold is optimistic about what this means for other restaurateurs, the insurance company plans to appeal the decision, reports AFP.
While Paris' public transportation system is now running at about 75 percent, 60 stations remain closed. Holders of a Navigo pass are now eligible for a fabric mask from the RATP.
May 19
While Paris restaurateurs do not yet know when they will be allowed to reopen to the public, Paris Mayor Anne Hidalgo is already exploring measures to make this process easier. She has announced that "entire streets" will be made available to restaurants, in order to facilitate social distancing. Taxes on sidewalk seating will be waived. These measures will be extended through September, the mayor said.
The reopening of covered and street markets in Paris has brought some activity back to the Rungis wholesale market outside of the city. Rungis generally gleans 45 percent of business from restaurants. "The restaurant and hotel sectors are going to be helped but those further up the chain shouldn't be forgotten," Stephane Layani, CEO of Semmaris, the company that manages Rungis, told Reuters.

Small Paris museums including the Musée Marmottan Monet, Jacquemart-André, and Atelier des Lumières have announced they plan to reopen June 2. Other small museums, including the Catacombs, will reopen later in the month of June. Larger museums like the Louvre will remain closed until further notice.
May 14
France unveiled today a $19 billion plan to support its tourism sector. Prime Minister Edouard Philippe expressed his hope that restaurants in green zones would be allowed to reopen June 2, but there has been no further clarification on when restaurants in red zones – including Paris – may reopen. Chef Jean-François Piège and Hélène Darroze told Paris Match that the situation is dire, with many restaurant owners facing massive debts. "France without restaurants is not France," they said.
The situation is particularly difficult for small business owners. A petition has been launched by Parabere, a worldwide organization with a goal of helping and promoting female-owned small businesses, to incite President Emmanuel Macron to provide aid. The petition specifically asks him to reduce business taxes for restaurateurs sourcing at least 90 percent of their ingredients from local or sustainable producers.
At least 2,000 tons of AOP and IGP cheese were wasted, as sales fell by 60 percent in the last two months. A campaign has been launched imploring the few workplace cafeterias that remain open to buy cheese from small producers.
The government's priority, the prime minister said, is to avoid bankruptcies and job cuts within the tourism sector. State banks will inject 1.3 billion euros into businesses to help them stay afloat. This desire to help tourism stay afloat has been echoed throughout the European Union. "Our message is we will have a tourist season this summer," said economic affairs commissioner Paolo Gentiloni, "even if it's with security measures and limitations."

May 12
Just one day after lockdown measures were lifted, the Paris police issued a strict ban on alcoholic beverages along the banks of the Seine and the Canal Saint-Martin. In years past, the waterways have been popular spots for picnics. They quickly became the go-to spot for crowds last night. Parks and gardens in the capital remain closed. Paris Mayor Anne Hidalgo has requested they be allowed to reopen, despite Paris being categorized a "red" zone.
Mayor Hidalgo has proposed that masks be made obligatory throughout the capital. Currently, masks are only required onboard public transport; failure to wear one can result in ticketing and a fine. Last week, President Emmanuel Macron became one of a handful of statesmen to publicly wear masks in the course of his official duties. President Macron wore a French-made and -tested mask on a visit to a primary school.
French cheesemongers are imploring residents to eat more cheese as an act of solidarity. Cheese purveyors have seen sales decline 60 percent since the beginning of the crisis. We have listed several open cheesemongers (and other specialty food shops) on our list of food professionals serving Paris.
May 11
Strict lockdown protocols will be lessened as of today in France. Restaurants, cafés, and bars will remain closed to in-house diners, though many are offering takeaway and delivery options. Some markets, including the Marché des Enfants Rouges, are offering pickup and delivery options as well.
Though French restaurants are remaining closed, Switzerland has opened its restaurants as of today. Swiss employees are not required to wear masks, but social distancing rules have been put into place, including increased distance between tables. Clients are required to disinfect their hands upon arrival and to leave their name and contact information in case of contamination. France has not yet announced when it plans to allow restaurants to reopen, nor has the government communicated the rules that will be put into place at this time.
May 8
Prime Minister Edouard Philippe announced much-awaited procedures for the lifting of lockdown May 11 yesterday. Four regions, including Paris' Ile de France, still have the red classification, denoting higher ongoing concerns for contamination. As a result, and as opposed to in green zones, Paris' middle schools, parks, and gardens will remain closed.
The easing of lockdown also allows people to congregate in groups of 10 or fewer, though the government cautions Parisians to remain cautious. "We will begin to ease the lockdown, but seeing as this region is very densely populated, we need to practice a very strict discipline," the Prime Minister said of the Paris region. "I don't exclude that we will introduce additional measures if the current rules are not respected." While restaurateurs are still not allowed to reopen for dine-in service, Atabula reports that picnicking is likely to "skyrocket," and more and more restaurateurs are rolling out pickup and delivery options. (Check out our regularly updated list of those feeding Parisians.)
The new protocol notably sets strict rules for the use of public transportation networks. Anyone traveling during rush hour will need to have a certificate from their employer stating the reason for their travels. Those over the age of 11 years old must wear a mask on public transport or face a fine of €135. Trains, buses, and trams will be disinfected a minimum of once per day. While residents cannot travel more than 100km from home without a valid certificate, regional and high-speed train frequency will increase from seven percent of normal services to between 20 and 30 percent as of next week. Borders will remain closed for non-essential travel until further notice.

May 6
Paris Mayor Anne Hidalgo announced yesterday that more roads would be limited to cyclists from May 11, with a goal of reducing both contamination and pollution. A total of 30 miles of car lanes will be reserved for bicycles, including the boulevard Saint-Michel. A further 30 streets will be made pedestrian-only.
Despite plans to lift lockdown in France nationwide next week, Le Monde reports that many areas are far from ready. Parisian nursery and elementary schools were originally slated to reopen May 11. Following a letter from hundreds of local elected officials, the government pushed this date back to May 14. But local schools are still only prepared to welcome 15 percent of students. Public transport, meanwhile, is only able to accommodate between 15 and 30 percent of the typical influx of commuters.
President Emmanuel Macron announced yesterday that it was unlikely that French people would be able to undertake major international trips this summer. "We will stay among Europeans and, depending on how the epidemic evolves, we might have to reduce that a little more," he said.
May 4
While France is currently poised to begin lifting lockdown May 11, government officials have stressed that this date is "not a certainty but an objective." Health Minister Olivier Véran told le Parisien yesterday that the date "could still be called into question" and advised French people not to plan their vacations just yet. The government is expected to confirm the proposed date of May 11 on Thursday.
Paris-area mayors have written an open letter to President Macron requesting that he delay the reopening of local schools. They argue that the current plan is "untenable and unrealistic."
May 3
The French government Tweeted a breakdown of spaces that will remain closed following the end of lockdown May 11. Libraries, small museums, forests, and cemeteries will reopen across the country. Parks and gardens will only reopen in departments categorized as "green" based on their management of the virus.
Paris Mayor Anne Hidalgo has announced that following the end of lockdown, major avenues and boulevards will remain closed to car traffic, including rue de Rivoli. This, Hidalgo explains, will allow two-way bike traffic on these roads and reduce car traffic in the city center. She plans to announce more details of her plan, including building new parking complexes just outside the city, on May 5.
May 2
The government announced today that it will be prolonging France's official sanitary state of emergency until July 24, two months longer than its original end date of May 24. This state of emergency allows the prime minister to impose further lockdown restrictions. Notably, the government is now imposing a two-week quarantine on anyone returning to France from abroad. It is also requiring that all those taking public transport wear a face mask. Failure to do so can result in a ticket and a fine.
A provisory map of France's color-coded departments has been released in advance of lockdown lifting May 11. As detailed by Prime Minister Philippe Edouard last week, all French departments will either be categorized as red or green, showing how restricted inhabitants will be following the end of lockdown. Only those in green zones will be allowed to visit parks, gardens, and small museums. Those in both red or green zones will be allowed to meet in groups of no more than ten people and travel no more than 100 kilometers from home. The definitive map categorizing all French departments by color is set to be released May 7.
April 30
Many French chefs are already planning more hygienic solutions for their eventual reopening, including reducing the number of tables or imposing half-hourly hand-washing for staff. But some industry professionals fear the impact such measures could cause for the conviviality of restaurants. David Sinapian, president of the Grandes Tables du Monde network and husband of Anne-Sophie Pic, the world's most Michelin-starred female chef, tells L'Écho: "We could offer a digital menu, serve in white gloves, but we can't medicalize gastronomy!" Bruno Verjus, chef of Table, agrees, telling the same outlet, "A restaurant isn't an operating room!"
April 29
To aid in rolling out more regionally-defined restrictions post lockdown May 11, all French departments will be labeled "red" or "green" as of May 7. These designations will help dictate whether parks, gardens, and small museums can reopen on May 11 in different part of France. It has not yet been announced what effect these designations will have on the eventual reopening of bars, restaurants, and cafés. Deconfinement plans are contingent on a reduction of new cases. Prime Minister Edouard Philippe said that lockdown would not be lifted as planned if tests were confirming more than 3,000 new cases per day and could actually become "even stricter." In Spain, meanwhile, restaurants and hotels will be allowed to reopen as of May 11. Terraces and hotels will be allowed 30 percent occupancy maximum at this time.
Masks will be obligatory in France as of May 11. To facilitate this, free masks are already being distributed in train stations. Masks should be available for purchase throughout France as of May 4.
April 28
In an hour-long address this afternoon, the French Prime Minister detailed his plan for the end of lockdown, currently slated for May 11. The plan relies heavily on local governments to make judgment calls but makes possible the reopening of all retail shops, public transport services, outdoor markets, small museums, schools, and nurseries. High schools, cafés, restaurants, bars, gyms, cinemas, and large museums will remain closed. Parks and gardens can reopen only in regions and cities that have eradicated the virus. A new address detailing information notably about the service industry and plans for summer holidays is expected at the end of May. "It is too soon to do so now," the Prime Minister said.
April 27
A report issued to the Economy Minister today shows that 110 French deputies are in favor of restaurants beginning to reopen May 15. The document proposes that restaurants with a low mortality rate be allowed to reopen first, with high-mortality departments waiting until the May 25 or June 15. Chef Bruno Verjus is one chef hoping that restaurants will be allowed to reopen even more quickly. He tells franceinfo that restaurateurs are more than capable of ensuring a safe experience for diners. "If we reopen June 15 or July 15, we won't have any business until September," he says.
In a press conference given late last week, a plan was outlined to give legal weight to regulations for restaurants once they do reopen. These regulations may include keeping tables at least one meter apart, restricting tables to a maximum of eight diners, and requiring servers to wash their hands every 30 minutes. The French Secretary of State announced that an inter-ministry committee plans to divulge the final plan May 14. At the press conference, government officials also announced that they are increasing aid for the tourism industry, notably opening access to funds to larger small businesses and doubling maximum aids from 5,000 euro to 10,000 euro.
The distribution of face masks to protect against the virus will begin May 4, Secretary of State for the Economy Agnès Pannier-Runacher has confirmed. The final terms of distribution have yet to be announced.
The pandemic is still cutting total economic activity by 35 percent. The hospitality industry is bearing the biggest brunt of this, with activity reduced by 91 percent, according to INSEE.
April 23
Finance Minister Bruno Le Maire refused to confirm rumors that restaurants might be able to reopen June 15. "No date has been decided," he told franceinfo. "We have spoken with many restaurateurs and bar owners. Nothing would be worse for this profession, one of the most affected, than to reopen too quickly." Chef Stéphane Jégo echoed these worries in an Instagram post, saying that reopening too quickly would be a "fatal blow" for most restaurants. His argument hinges on the fact that if restaurateurs reopen, they will need to pay staff to run dining rooms that may not bring in enough revenue due to social distancing measures. He calls for support from insurance companies and the government to help reopen only when it is safe to do so.
Experts have begun to contemplate the best way to reopen restaurants, bars, and cafés in Paris post-lockdown. Solutions have included distinguishing separate entrances and exits at restaurants, taking clients' temperatures at the door, and separating tables with plexiglass or curtains.
April 22
Europe 1 reported this morning that France's restaurants, bars, and cafés could reopen from June 15. A meeting will be held at the Elysée Palace Friday to work out details, but a government source confirmed to the outlet that this date is a "realistic" possibility. According to Atabula, however, this "hypothesis" remains uncertain. The outlet notably posits that restaurants will not be able to reopen all at once. Regardless of the exact date, 20Minutes reports that the l'Union des métiers de l'industrie et de l'hôtellerie (Hospitality Union) is doing everything it can to help these establishments reopen for the summer season. Otherwise, it warns, nearly half may never reopen.
With all festivals postponed until further notice, Taste of Paris has pushed its sixth edition from May 14 to December 10. Festival organizers are offering full refunds to those now unable to attend.
Delivery apps are seeing rapid growth in confined zones. Since restaurants closed last month, Deliveroo has seen 1,400 establishments join the platform.
Easter was tough on the chocolate industry this year, with 47 percent of Easter production remaining on the shelves in the days following the holiday. The chocolate industry made a total of 27 percent less than last year, according to Atabula.
About 30 of the 1,490 McDonald's establishments reopened in France Monday. Customers in drive-through lines in the Paris region encountered waits of up to three hours to get their hands on burgers and fries.

April 21
An open letter entitled « Monsieur le Président, les chefs vous demandent de rouvrir les restaurants! » (Mr. President, chefs ask you to reopen restaurants!) created some controversy when it was published Sunday in French newspaper Le Figaro. Signed by 18 chefs including Alain Ducasse, Yannick Alléno, and Guy Savoy, the letter begged the president to reopen restaurants in order to save the livelihoods of the 1 million French residents employed by them. Atabula reports, however, that many restaurateurs who "signed" the letter, written at the behest of Ducasse, were unaware of its contents before it appeared. "Alain Ducasse acted like a dictator," one chef and member of a 500-strong WhatsApp group wrote to Atabula.
Atabula imagined what the future of restaurants in Paris could look like, proposing options like reducing tables by 40 or 50 percent to facilitate social distancing and requiring personnel to take their temperature each day before getting to work. The government has not yet announced when restaurants will be allowed to reopen. Clearer visibility on plans for restaurants is expected in the first week of May.
April 19
In a press conference held this evening, Prime Minister Philippe Edouard said that while the health crisis is improving "slowly but surely" in France, the economic crisis "is only beginning, and it will be brutal." Edouard gave limited information on life following lockdown, promising a detailed plan within the next two weeks. He did say that life "will not be exactly the same" as before the pandemic for quite some time. Masks will probably be obligatory on public transport, and distance work must continue "as much as possible." Restaurants will notably remain closed past the May 11 deconfinement; Edouard did not give any information as to when they might reopen.
Bertrand Auboyneau, owner of several Paris restaurants including Bistrot Paul Bert, tells Le Parisien that "many bistros" won't survive the prolonged lockdown.
April 17
Twenty-five percent of restaurants in France risk never reopening following confinement measures according to Jacques Bally, President of the Gault & Millau dining guide. Fifty-five percent of owners of small and medium-sized businesses in France expect to declare bankruptcy as a direct result of the pandemic, according to a recent poll from the Confédération des petites et moyennes entreprises (Confederation of small and medium-sized businesses).
April 16
750 million euro in taxes and social charges will be waived for the restaurant industry, Gérald Darmanin Minister of Public Action and Accounts, announced yesterday. Until present, the payments had been merely postponed.
Stéphane Manigold (Substance, Contraste) has filed a suit against his insurance company, AXA. The suit claims that AXA has shown "irregular" and "immoral" refusal to fulfill its contractual obligations since his restaurants were forcibly closed by the government due to the pandemic. Manigold is not the only chef to take his insurance company to task. Stéphane Jégo (L'Ami Jean) has been at the forefront of this battle ever since the forced closures a month ago.
Amazon has temporarily suspended distribution in France after a court order ordered a ban on nonessential sales. The order alleged that the company was not adequately protecting workers at its distribution centers, and union representatives claimed the company "was not obeying the spirit of France's lockdown," reports the Post.
April 15
Following Monday's confinement extension, even more Paris food industry stalwarts have announced that they are reopening for takeout or delivery service. These include Ten Belles, Mary Celeste, and Hero. We are keeping tabs on those remaining open during lockdown here.
Eight food businesses in Paris were closed for not respecting the terms of lockdown, according to French police. "The vast majority" of businesses are nevertheless respecting the regulations, which include limiting all sales to to-go or delivery orders and implementing social distancing measures.
The President of France's Conseil scientifique (Scientific Council) estimates that 18 million French residents will need to remain under lockdown even after the May 11 deconfinement. These include those over 65 and those with underlying conditions. He also says that the May 11 deadline will need to be pushed back if adequate testing is not available before this time.
April 14
Following last night's announcement to extend confinement to May 11, a number of food industry professionals have announced via social media that they are returning to work. These professionals are doing so with the strictest of caution and are operating exclusively on a to-go or takeaway basis. (We regularly update this list of industry professionals serving Paris.) Reacting to President Emmanuel Macron's announcement that restaurants would not be allowed to reopen May 11, UMIH, France's main hospitality trade union, commented that "2020 will be a lost year" and an "economic catastrophe" for the industry.
Despite many professionals reopening in time for the Easter holidays, chocolatier Jacques Genin made a point of announcing on Instagram that he would be keeping his shops closed and that all of his Easter chocolate had been donated to medical professionals. Easter is usually one of the biggest times of year for France's chocolatiers. On average, they earn 13 percent of their revenue at Easter and Christmas alone.

By May 11, every French resident will have access to a state-issued mask, according to President Macron. He also said that by this date, the state will be able to test anyone presenting with symptoms for the virus.
April 13 Update
President Emmanuel Macron announced today that confinement will be extended until Monday May 11. Beginning in mid-May, schools will begin to reopen. Universities, however, will remain closed until the fall, according to the President.
Macron's address took place at precisely 8:02pm. This decision allowed citizens to first applaud the healthcare workers at the front lines of the battle with COVID-19 at 8pm, as they have since confinement began last month.
April 10 Update
Some chocolatiers and pâtissiers have announced temporary opening hours or special delivery options for Easter weekend. These include: Pierre Marcolini, Pierre Hermé, Patrick Roger, L'Eclair de Génie, Blé Sucré, and Carl Marletti. Authorities have announced they plan to increase checks over the holiday weekend to ensure that people are only leaving their homes for permitted reasons including essential food shopping and one hour of exercise per day (before 10am and after 7pm).
Mister of Agriculture Didier Guillaume and Economy Minister Bruno Lemaire have reassured the French population that there will be no food shortages, despite "difficulties" along the supply chain. Major supermarket chains including Carrefour, Intermarché, and Leclerc have announced a price freeze for the duration of lockdown.
Paris Mayor Anne Hidalgo announced on Franceinfo that 2 million reusable fabric masks would be made available to Parisians free of charge "within a few days." Paris is not among the French cities now requiring masks for all citizens. Masks are nevertheless recommended.
April 9 Update
The French Conseil Scientifique (Scientific Council) has listed three conditions that must be fulfilled before confinement measures can cease. These include reduced pressure on hospitals, reduced number of new cases, and the development of a full post-lockdown strategy. The government has stated that the easing of lockdown will be gradual. It will also certainly begin after the projected date of April 15, though no new target date has been announced. More information is expected following the President's national address Monday.
Thousands of French dressmakers have begun to make fabric masks according to an AFNOR-approved model on a volunteer basis. The masks are being distributed to those who frequently come into contact with the virus, including firefighters, retirement home workers, and cashiers.
April 8 Update
More than 200,000 people have responded to the French government's call for a "great agricultural army" to help farmers with the harvest, Agriculture Minister Didier Guillaume said Tuesday. Seasonal workers usually cross into France for the harvest, notably from Eastern Europe, North Africa, Spain, and Portugal. As of this past Monday, anyone crossing the border into France must have a valid permission form communicating the reason for their entry. Acceptable reasons for entry include permanent residency and work-related travel for medical personnel.
April 7 Update
The government announced today that it would ban lone daytime jogging between the hours of 10am and 7pm beginning tomorrow, Wednesday April 8. Outdoor exercise was one of only a handful of officially sanctioned reasons French residents can leave their homes during confinement, along with essential grocery shopping and doctor's appointments.
The current official stance of the French government is that confinement will last until April 16, but this is likely to change. Prime Minister Edouard Philippe alluded to this today without officially prolonging lockdown. He has, however, said that when confinement measures end in France, it is unlikely to happen all at once. He notably remarked that no country has ever confined or deconfined "so many people so widely."
April 3 Update
While restaurants around France are still closed until further notice, some specialty shops have announced they will be reopening for Easter. These include chocolatier Patrick Roger, who will open his Saint-Germain shop temporarily for several days in early April. Carl Marletti also announced via Instagram that after closing during the early days of confinement, he would be reopening his Latin Quarter pastry shop next week.
Beginning on Monday, French residents will be able to access a lockdown permission form on their smartphones, Interior Minster Christophe Castaner has said. At present, those who wish to leave their homes to buy groceries, go to the doctor, or do one hour of exercise per day must print or hand-write a signed, dated attestation for each outing.
April 2 Update
Sunday will mark the sixth distribution of meals prepared by chefs and delivered to hospital personnel thanks to Les Chefs avec les Soignants. To date, the group has prepared and delivered 1,020 meals in Paris and the surrounding suburbs and 650 elsewhere in France. More than 400 chefs are currently participating in the project, including Thibault Sombardier (Mensae) and Bruno Verjus (Table). The group was jointly founded by culinary journalist Stéphane Méjanès, chef Guillaume Gomez, and meal delivery service TipToque.

April 1 Update
A Calais man has been jailed for violating strict lockdown rules eight distinct times. So far, 359,000 fines have been issued nationwide for violation of these regulations.
March 31 Update
About a quarter of France's 10,000 open-air food markets will re-open this week, mainly in small towns. The government had banned markets nationwide on Friday. Markets in the Paris region and in eastern France, where the virus has hit the hardest, will remain closed until further notice.
March 30 Update
French finance minister Bruno Lemaire announced that financial rescue packages for smaller companies facing bankruptcy will be maintained for the duration of confinement.
A cargo plane notably carrying 5.5 million face masks from China landed in Paris yesterday. The government has ordered a billion masks, but shortages have made this essential equipment rare in France.
After two weeks of confinement, French authorities have announced that the spread of COVID-19 has stabilized in Hauts-de-France. Nationwide, however, the rate of spread remains dire, with cases doubling every three or four days.
March 28 Update
Lockdown in France has been officially extended to April 15. "At the end of these first 10 days of confinement it is clear that we are only at the beginning of the epidemic wave," Prime Minister Edouard Philippe said.

March 27 Update
Nearly 250,000 French citizens have been fined for not following confinement protocols since they were instated on March 17. Fines range from 135 to 3,700€ and a six-month prison sentence for repeat offenders. Lockdown was originally expected to last two weeks, and while experts have counseled it should be prolonged to six, President Emmanuel Macron has yet to announce a firm end date.

President Macron warned fellow EU leaders on a call last night that the no-border Schengen zone risked "death" if nations failed to show solidarity. "What's at stake is the survival of the European project," he said.
President Macron announced today that he and President Donald Trump had had a "very good discussion" and were planning a "strong initiative" to combat the crisis. He continued to say they would be announcing their new plan "in the coming days." This follows Macron's announcement Wednesday that the French army would be repatriating citizens as well as troops stationed abroad, notably in Iraq.
March 26 Update
COVID-19 has had serious repercussions on France's agricultural community, especially following Prime Minister Philippe Edouard's announcement Monday that all open air markets would be closed until further notice. Economy Minister Bruno Le Maire has issued a call to French supermarkets to buy only French products in the name of "economic patriotism." Several supermarket chains, including Carrefour and Leclerc, have already responded favorably.
French farmers have found themselves without seasonal labor for the upcoming harvest due to border closures. They are calling for a "shadow army" of people willing to carry out these essential tasks. The farmers have negotiated a deal with the government allowing those whose work has been brought to a halt by COVID-19 confinement measures to work these jobs while still collecting unemployment benefits. An estimated 730,000 French residents are already on partial unemployment due to the COVID-19 crisis, according to Le Maire.
March 25 Update
Thanks to efforts from chef Guillaume Gomez, journalist Stéphane Méjanes, and meal delivery company TipToque, hundreds of meals will be prepared by Parisian chefs and delivered to local hospital workers every Sunday. The project, entitled Les Chefs Avec les Soignants (chefs with caregivers), is just one of several ways in which the restaurant industry is contributing to the tireless hospital workers battling COVID-19 in the French capital. Other similar projects include an initiative from Ecotable and La Resistance des Chefs. Nearly 500 public hospital workers have tested positive for COVID-19, according to Paris' public hospital system.
KonbiniFood asked confined chefs to share the contents of their fridges and kitchen cupboards while on lockdown and published the results, which include leftover pizza, sriracha, and wine.
March 24 Update
The greater Paris area has been deemed the epicenter of the COVID-19 virus in France, with about one-third of France's nearly 20,000 cases of the virus. Paris Mayor Anne Hidalgo is calling for even stricter confinement rules in the capital. Paris does not yet have an imposed curfew, though other French cities, including Nice, have banned all public movement from 11pm to 5am.
March 23 Update
Prime Minister Edouard Philippe addressed the nation during the 8pm news on March 23rd. He noted that confinement would be intensified in France, with two new rules beginning Tuesday March 24. Open markets are now forbidden, as they have been deemed too dangerous for the spread of COVID-19. Exercise outside of the home is also now restricted to one hour per day at less than a kilometer away, and cycling is forbidden.
Chez L'Ami Jean chef Stéphane Jégo has tirelessly been fighting for insurance companies to offer aid to business owners following forced closures due to COVID-19. Yesterday, he and a group of other artisans, producers, and business owners published an open letter to President Emmanuel Macron asking for support in declaring the outbreak a "natural sanitary catastrophe." This, he hopes, would force insurance companies to come to their aid. The letter was signed by several high-profile chefs including Alain Ducasse, Stéphanie Le Quellec, Cyril Lignac, and Grégory Marchand.
Tavline has decided to stop delivery and takeout for reasons of safety and hygiene. The restaurant put out a call on Instagram to find hospitals and associations to whom it can donate the rest of its ingredients.
March 21 Update
While French bakeries are allowed to remain open as "essential" businesses during confinement, French Bastards has shuttered until further notice. Before closing its doors, the bakery donated its remaining wares to Pitié Salpetrie hospital in Paris' 13th arrondissement.
March 20 Update
Pierre Marcolini is the latest chocolatier to donate the stock of his three Parisian shops to Paris' hospital workers. The Belgian chocolatier's donation was made thanks to support from En première ligne, an association connecting donors and those whose work puts them on the front lines (en première ligne) of the battle with COVID-19. "Giving chocolate might not seem essential, but it's an undeniably comforting pleasure," reads a press release from Marcolini.
Guillaume Gomez, chef to the French President, also encouraged people to mobilize in aid of medical workers. "Chefs, to your stoves!" he wrote on Instagram beneath a photo of pâtés en croûte he was preparing for hospital professionals. In the post, he implores his colleagues to do the same.
March 19 Update
Some 4,000 French people were fined on March 18 for thwarting the terms of the confinement outlined by President Emmanuel Macron to reduce the spread of COVID-19. The fine amounted to 35 euros on Wednesday and rose to 135 euros on Thursday. It could eventually reach 375 euros, according to Interior Minister Christophe Castaner. Parisians are currently allowed to leave their homes only to see the doctor, buy food, exercise, walk pets, or go to work. They must be carrying a dated letter outlining which of these motives has brought them outside.
A new tradition has formed among confined French people. Every evening at 8pm, they gather in their windows or on balconies to applaud the medical staff tirelessly working to help affected people.
In addition to the shops we have outlined in previous updates, le Verre Volé and Paroles de Fromagers remain open to Parisians. Shops and restaurants that have closed since the beginning of confinement now include Hero and Boulangerie Bacillus.
March 18 Update
Chocolatier Jacques Genin has delivered 500 kilos of chocolate to Paris' hospitals by way of the Health Ministry, including his famous Easter egg collection. "We can't lose hope," he told TimeOut. "We have to support one another."
Food shops in Paris that remain open during confinement include the French Bastards, Chambelland, Le Petit Grain, Sur Mer, BOULOM, Septime la Cave, Eataly, Comptoir des producteurs, Mamiche, and Maison Plisson. These shops are operating with extreme vigilance. Plisson, for example, is limiting the people allowed in the shop at any given time to ten, and it has placed marks on the floor to keep people a safe distance away from one another, Le Monde reports. Mamiche is requiring customers to remain outside and pay by credit card.
While Paris is still under confinement, Restos du Coeur is looking for (healthy!) volunteers to help pack and distribute meals as well as operate call centers.
March 17 Update
Our own food tours have ground to a halt. We've posted information in A Pause for Paris by Mouth Food Tours about our decision last Thursday to temporarily suspend all activities. That article includes information about our policy for 100% refunds, and a platform where clients can leave a small pooled tip to be shared exclusively among our guides, or tip a specific guide who they loved from a previous tour. Guides will receive 100% of these tips and we will be matching all donations. Our restaurant reviews and reporting have always been funded by revenue from these food tours. Even without this revenue, we will continue to report on the impact of this crisis and try to share strategies to help our friends in Paris food & wine community.
In his speech last night, in addition to outlining the 15-day confinement period, President Emmanuel Macron said that he would ensure that all businesses come through the epidemic. "No business, no matter its size, will risk bankruptcy." This is particularly important for the restaurant industry, already suffering following over a year of "yellow vest" protests and a several-month transport strike in late 2019 and early 2020. But despite President Macron announcing €300 billion in aid to guarantee bank loans and Economy Minister Bruno Le Maire pledging €45 billion for companies, Chez l'Ami Jean chef Stéphane Jégo is demanding that insurance companies rise to the occasion via a petition.
As of noon on Tuesday, Parisians are required to remain in their homes for 15 days, except to do food shopping, exercise, and go to the pharmacy or doctor. Shops that remain open in Paris at this time include Terroirs d'Avenir, Belleville Brulerie, Divvino, Sain, and Benoit Castel, albeit with modified offerings and opening hours. Some restaurants, including Hero, The Hood, and Circus Bakery, are still offering delivery and to go orders, notably through Deliveroo.
Several businesses that were previously offering to go orders have since closed until further notice. Brutos notably shared via Instagram that given its location in the 11th arrondissement, "unfortunately one of the areas where people were having a hard time respecting the confinement orders," it would be closing entirely. "People don't understand that it's not a party." FTG has also stopped offering to go orders, and Les Enfants du Marché, previously selling wine and canned goods, has also closed until further notice.
Supermarkets are taking precautions to avoid the spread of the virus. One supermarket in Côtes d'Armor has begun opening at 7:45 instead of 8:30. During these extra 45 minutes, the store is opened exclusively to clients over the age of 70. Some supermarkets are also offering free grocery delivery. Others are staggering entries to keep from becoming overcrowded.
---
March 16 Update
President Macron declared tonight that the country will be placed on lockdown from midday on Tuesday for at least 15 days. Only trips to supermarkets, pharmacies and places of work will be allowed, and all workers have been told to work from home where possible. Walks outside are also forbidden.
This follows a Sunday when parks, bakeries and outdoor markets were still packed, despite the closure of restaurants, bars, and cafés.
Stéphane Jégo, chef and owner of Chez l'Ami Jean and treasurer of the Collège Culinaire de France, has spoken out, pleading with the French government to help small businesses in this time of crisis. Insurance companies do not cover what he dubs a "natural sanitary catastrophe," and many restaurants forced to close Saturday risk shuttering for good. "There are so many businesses big and small that are going to be wiped off the map," says Jégo. Channa Galhenage, owner of coffee shop Loustic, echoed these worries. His Instagram story highlights an email his insurance company sent him noting that losses due to the virus would not be covered.
As a small measure, Macron announced that restaurants will not be obliged to pay their rent or utility bills during this period of forced closure.
Emmanuel Macron annonce la suspension des factures d'eau, de gaz, d'électricité ainsi que des loyers pour les entreprises pic.twitter.com/4vbmhfgqUl

— BFMTV (@BFMTV) March 16, 2020
Sarah Mouchot and Nicolas Alary of Holybelly took to Instagram Saturday in hopes of avoiding wasting approximately 600 covers (and 10,000€) worth of perishable food intended for service over the weekend. In two hours, they managed to distribute everything from scrambled eggs to pancake batter for free. The pair then shared recipe ideas via social media. Mouchot nevertheless tearfully evoked her worries over what would come next for the restaurant and its staff.
---
March 15 Update
Amid the many voices lamenting the forced closure, two Italian chefs, Simone Tondo (Racines) and Giovanni Passerini (restaurant Passerini) have been using their social media to encourage people to take this seriously and stay home.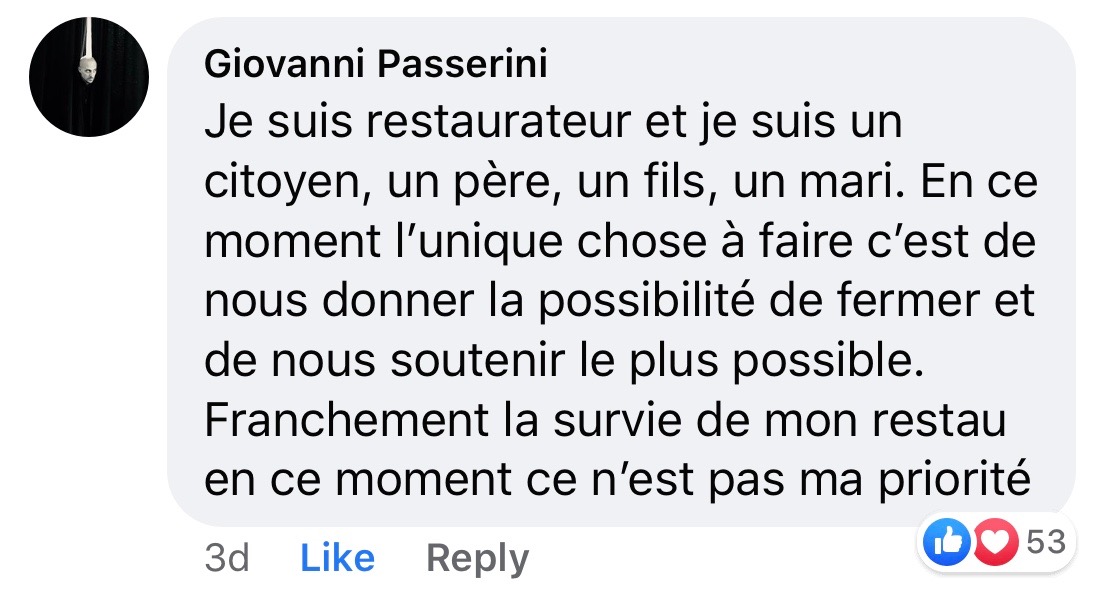 Boot Café, which sells baked goods and could potentially except itself from forced closure by rebranding as a bakery, is calling out its competitors for doing so and thus endangering public health.
Circus Bakery is shifting gears and implementing a fresh bread delivery service called Flyin' Circus. Follow their Instagram for updates, or bake your own version of their apple pie from Dorie Greenspan's recent profile and recipe in the New York Times.