France is not unique in seeing its service industry shut down in the midst of the COVID-19 pandemic. But compared to other countries, France has a robust safety net of social security, unemployment, and healthcare. France has also implemented emergency measures that may prevent many of these businesses from going under.
As French restaurants begin to slowly reopen for outdoor service, the culinary landscape in France looks very different when compared to the United States.
Government Aid: Two Countries, Two Philosophies
In March, President Emmanuel Macron said he would do "whatever it takes" to ensure that no company, big or small, collapsed under the financial weight of the pandemic. He announced 300 billion euros in loan guarantees and tax exemptions. The government also played a role in negotiating rent forgiveness for restaurants.
Perhaps even more helpful, at least in the short-term, were easy-to-access "solidarity funds:" 1500 euros per month given tax-free to small businesses, compounded with an additional allowance of up to 2500 euros from URSSAF, a social security union for small businesses. On April 15, Gérald Darmainn, Minister of Public Action and Accounts, also announced that the restaurant industry's taxes and social charges – about 750 million euros – would be forgiven instead of merely suspended for the duration of administrative closure.
In the U.S., by contrast, most small restaurants didn't qualify for loans, while huge corporations like McDonald's and Shake Shack did. According to the New York Times, big chains were able to access "tens of millions of dollars while many smaller restaurants walked away with nothing when the $349 billion fund was exhausted [April 16]." The Los Angeles Times reported that those small businesses that did qualify were reluctant to apply for the Small Business Administration's Paycheck Protection Program because of the "strings" attached to loans.
Restaurant Workers Feed Us, But Can They Eat?
As far as restaurant employees are concerned, in France, most are secure within the net of the country's robust social structure. When forced closures were announced mid-March, restaurant workers were encouraged to first use up their paid vacation (an average of about five weeks per year) before becoming eligible for partial unemployment (the equivalent of 84 percent of their salary.)
By contrast, American restaurant workers were not eligible for much if any paid vacation. Some financial aid was proposed by non-government sources, including $500 grants for eligible restaurant workers via the National Restaurant Association. Government unemployment benefits and payouts were complicated to access, with millions struggling to even apply through website crashes and delays. CNN called the process of accessing unemployment benefits in the U.S. "a new full-time job."

"American friends, both hospitality business owners as well as employees, are really seeing firsthand how the lack of government support of private business can decimate entire industries and many thousands of individual lives," says Josh Fontaine, co-founder of the Quixotic Group, which owns Paris' Le Mary Celeste and Candelaria.
Issues were further complicated by American tipping system. Since tipping culture doesn't exist in France in the same way as it does in the U.S., unemployment is a livable wage, calculated based on an employee's true take-home pay. While in the U.S., tips are "considered wages" according to the Wall Street Journal, many workers and establishments don't report them, which can lead some front-of-house workers to bring home less than a quarter of their pre-pandemic salary on unemployment.
"I hope this pandemic also serves to put a few more nails in the coffin of the U.S. tipping system as the primary mode of remuneration for [front of house] employees," Fontaine says, "as we are seeing laughable levels of unemployment aid for tipped employees as their official hourly take-home pay is so low."
Daniel Rose, who has restaurants in both New York (Le Coucou) and Paris (La Bourse et la Vie, Chez la Vieille), has dealt with these differences first-hand. "The social system in France is geared up for this kind of disruption," he says.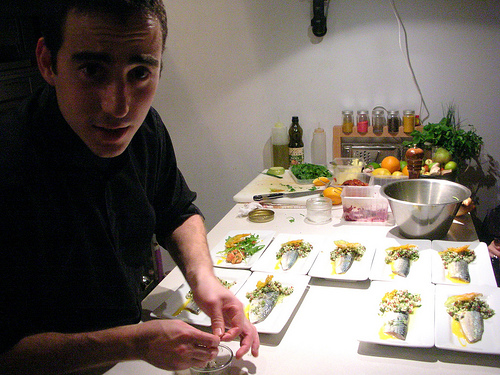 Healthcare, paid leave, and other benefits are made possible, in France, thanks to state-mandated social charges. These contributions made by the employer amount to between 22 and 33 percent of each employee's salary. On top of social security and unemployment contributions made by the employees themselves, these hefty social charges paid out by businesses over the years has helped to form the safety net that is now supporting them.
"The system is not perfect," says Rose, "but it is very different to go into confinement knowing that your salary (and of course health care) will be maintained."
Managing the well-being of his employees in both countries has proven very different for Rose. In France, he says, he is taking care of the unemployment process on behalf of his employees. In the U.S., however, all he can do is appeal to fans of his restaurant on social media in hopes that they will support his staff with donations.
"While some have done it with more elegance than others, the basic mechanism remains the same across the board for every U.S. restaurateur," he says. "Lay everyone off and have them all fend for themselves."
In France, then, not only do business owners have options open to them to help try to stay afloat, but they can also rest easy knowing that their employees are taken care of, receiving more than 80 percent of their pre-pandemic pay and retaining access to health insurance while they wait for lockdown to end.
But that's not to say that restaurant owners aren't facing serious challenges.
Cyrille Rossetto of Le Bel Ordinaire notes that loans guaranteed by the French government gave "a nice breath of air" into the industry, helping to tide people over during these long months of closure. But theses loans do eventually have to be paid back. Many small business owners in France fear for the future of their establishments – and their own income.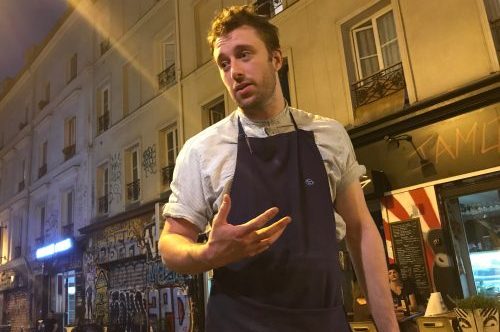 Unlike their employees, the individuals who own restaurants, Le Point explains, are often unable to receive unemployment funds. The 1500 euro aid proposed by the government often amounts to less than the business owner's full-time salary and, says Edward Delling-Williams of Le Grand Bain, "it isn't even for us." While the aid could theoretically be used for personal expenses, it is intended to help keep the business afloat – not the business owner.
"It's theoretically to pay rent," says Delling-Williams. "The business owner is left with nothing at all."
The Future of France's Restaurants: Challenges and Hurdles
In late May, the Prime Minister announced that after nearly three months of forced closures, restaurants across France would be allowed to reopen… with a few caveats. Outside Paris, in addition to new, even more robust sanitary guidelines, restaurants have been obliged to encourage social distancing by ensuring tables are at least one meter apart and refusing to allow clients to stand at the bar. Within Paris, meanwhile, only outdoor dining has been permitted, with the understanding that as active cases continue to dwindle, this constrained indoor reopening will be permitted as of June 22.
For some, this is an enticing prospect.
"We didn't put clients on top of one another even before," explains Rossetto of the dining room at Le Bel Ordinaire. "We'll lose some covers inside, for sure. But whatever we lose inside, we'll be able to make up for outside."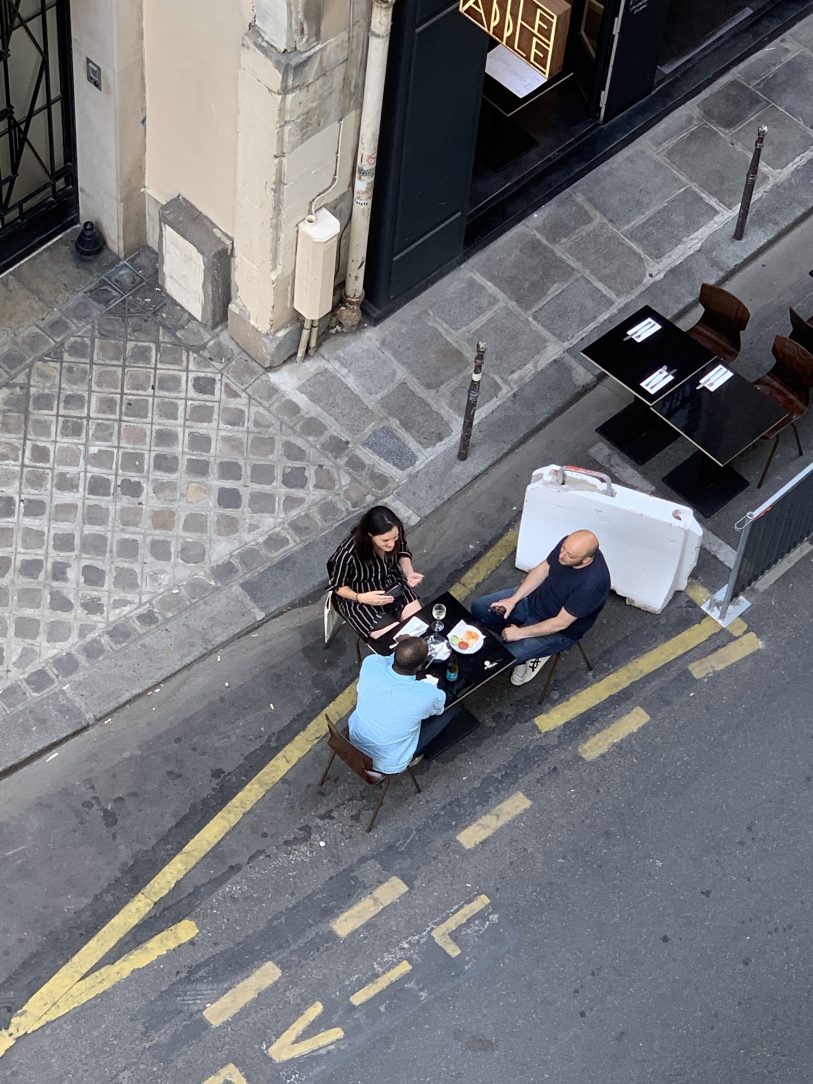 This is thanks to provisions made by Paris Mayor Anne Hidalgo, who lobbied to allow restaurants to occupy larger portions of the sidewalk – and even some streets, which have been temporarily pedestrianized – through the end of September.
But for others, even these measures are not enough to make reopening a viable possibility. Christophe Philippe is chef-owner of Amarante, a classic bistro with the cozy sort of dining room one encounters frequently in Paris. In order to comply with social distancing rules, Philippe would have to slash his indoor seating in half – from 20 to just ten covers. And in bringing back his two full-time employees, he would quickly be spending far more than he was bringing in.
"If I had to reopen today, with just ten seats," says Philippe, "I'd be better off not opening at all."
For now, like many of his colleagues, Philippe is resorting to takeaway. But often, this offering represents just a small fraction of pre-pandemic revenue. Philippe says orders can fluctuate vastly from day to day: ten one day, zero the next. As the chef-owner, however, he can decide to work without taking any employees off partial unemployment. "I'm at home here. It occupies me," says Philippe. "And it keeps me from thinking too much."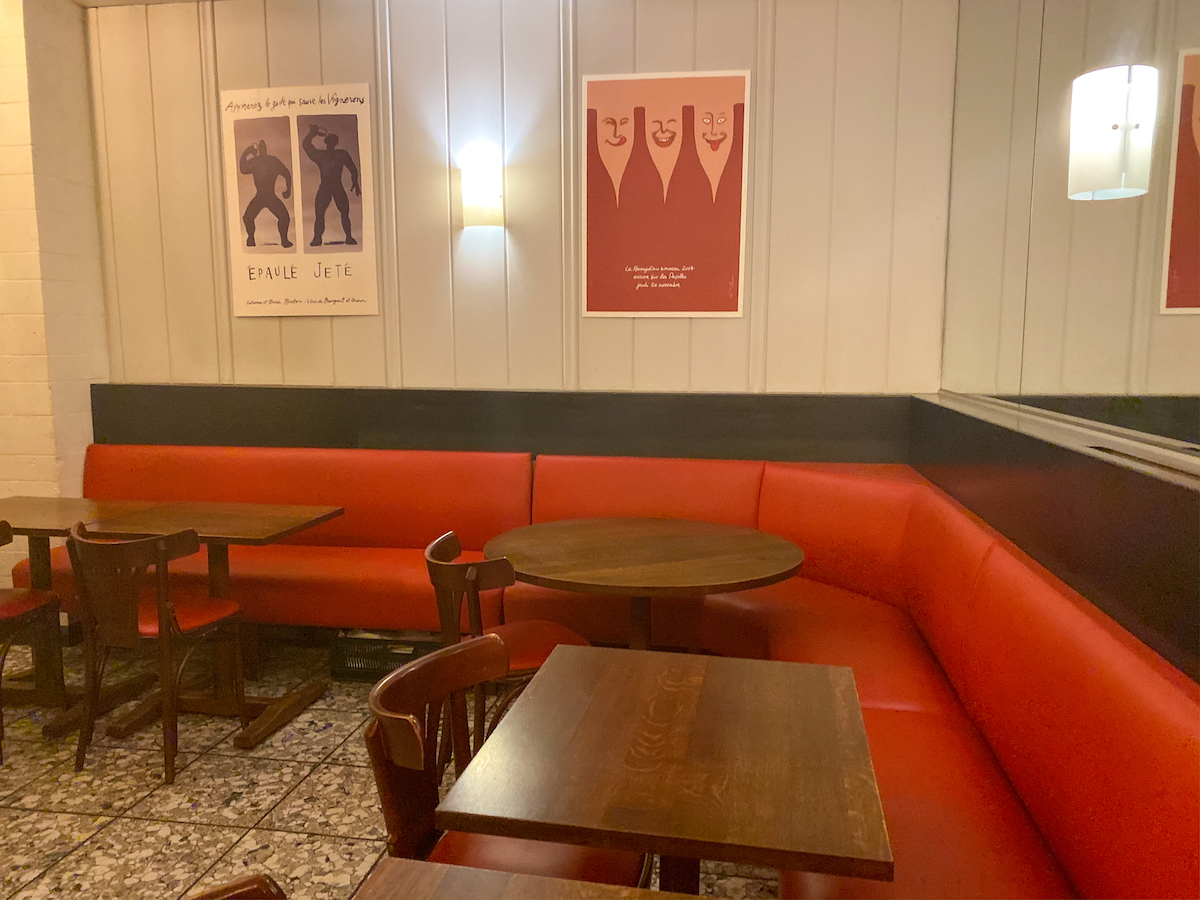 Since French diners are not as accustomed to takeout and delivery as their American counterparts, some restaurateurs have deemed it not worth the cost. This includes Laura Adrian, co-owner of Verjus and Ellsworth.
"We are looking into options for takeout but the 1st arrondissement has the fewest inhabitants in all of Paris," she says. "Most of our regulars work in the neighborhood and about 50 percent of our clients are tourists. We do have core clients that live nearby, but not enough to sustain opening both places."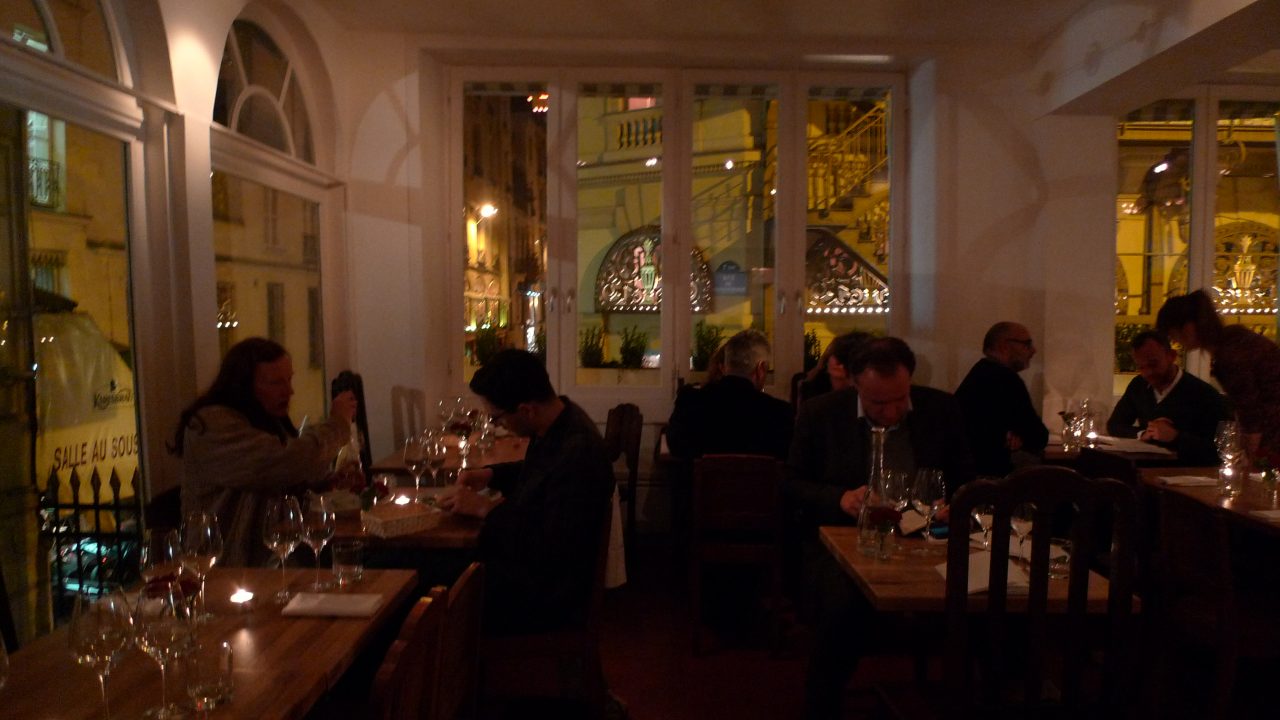 Williams, too, has decided to keep his Le Grand Bain closed, for now, and not offer takeaway.
"Yes, lots of restaurants are doing it, but from what we've heard, no one is really making it work," he says. "Takeaway is everywhere now, and I'm not sure there's a big enough market for it. So we're going to stay closed. Wait and see."
For many French restaurateurs, the solution is simple – or should be: insurance payouts. French insurance companies made 220 billion euros in 2018. But despite many business owners having a clause covering lost revenue due to "administrative closures," insurers have by and large refused to pay business owners forcibly closed due to COVID-19, claiming policies do not cover epidemics and pandemics of this nature.
Chef Stéphane Jégo (Chez l'Ami Jean), has been at the forefront of the effort to incite insurance companies to come to the industry's aid, launching a petition to this end on March 17. The petition called for the government to declare a state of "natural sanitary catastrophe," which would force insurance companies' hands. More than 20,000 people signed the petition in its first 48 hours online, including chefs like Christian Etchebest, Pierre Gagnaire, Bertrand Grébaut, Grégory Marchand, Jean-François Piège, and Guillaume Gomez (chef at the Presidential Elysée Palace). On Sunday March 22, a group of business owners, including many of these chefs, published an open letter to the President echoing these demands, noting that the catastrophe would be "fatal" to many restaurateurs.
"We are asking this of you to make insurance companies participate in the war effort, too," they wrote. "Because, as you highlighted, France is at war."
Several weeks after this letter was published, restaurateur Stéphane Manigold (Maison Rostang, Contraste) took things a step further. He sued his insurer, Axa, demanding the company not only that it assume its responsibility to his business, but also to the 6,000 other businesses with an identical policy. In the suit, Manigold dubbed Axa's refusal to pay "as irregular as it is immoral." Manigold won his suit in early June. Axa originally vowed to appeal the decision but has since announced it will pay out the claims of those in a similar situation to Manigold, about 10 percent of those insured by the company.
Many questions still remain about the future of restaurants – and government support – in France. While partial unemployment will remain in place until August 31, it remains unclear whether financial aid will continue. Delling-Williams hopes that the government will choose to continue suspending social charges to give businesses a little boost. "The loans are a good start," he says, "but with all these bills, all these charges… we're going to crumble."
Fluctuat Nec Mergitur: Paris Restaurants Will Survive
Despite enormous challenges – and estimates from Jacques Bally, president of Gault & Millau, that 25 percent of French restaurants will never reopen – the French restaurant industry has for the most part proven resilient. Before outdoor dining was even on the table, some professionals opted to transform their restaurants into makeshift markets, to give their small, local producers a platform to continue to sell their wares. Chef-instigated Restoensemble quickly assembled and supplied a survival kit of documents and useful information to restaurateurs. Le Pot commun and La Fourchette, meanwhile, created platforms allowing restaurants to pre-sell meals to consumers who can come enjoy them when this is all over.
"Many of my colleagues in the U.S. are in panic mode and everyone is sort of on their own," says Rose. "In France we are much more serene and in a relatively good position to reopen."
Life in France, as Prime Minister Philippe Edouard said, will not look "normal" for a long time, but it will return. Paris has proven resilient over the past few years, proving again and again that its motto, fluctuat nec mergitur (she is rocked by the waves, but does not sink) is well-won.
We have every hope that Paris' restaurants will soon reopen – not just for Paris' diners, but for the 1 million people who rely on them for their livelihoods. When Parisian restaurant life does return, it must be with the utmost safety in mind – and thanks to its robust social structures, as opposed to many other countries, France has that option.