The Best Bistros in Paris 
Way back in 2013, Alexander Lobrano noted on our website that classic French food was becoming increasingly hard to find. "The traditional Paris bistro, those cosy places with lace curtains, red-checked tablecloths and the rich soothing smell of long simmered cooking that greets your nostrils when you step in the door…has morphed into a rare species which often charges stiff prices for a sincerely sepia experience of traditional French food. Today, rather than being the ballast of the Paris restaurant landscape, 'real' bistros are now marketed as nostalgic curiosities where you often pay a steep price for the privilege of eating 'real' French food.
Today there are even more purveyors of poké and avocado toast than he might have imagined a decade ago. But Paris has also seen a resurgence of classic French cooking, at many different price points. We present our absolute favorites below, followed by a longer list of options at various price points, so that you can satisfy your cravings for traditional escargots, steak frites, oeufs mayo, and profiteroles. 
Our Absolute Favorite Bistros in Paris
What used to be a friendly wine bar run by the inimitable Tim Johnston is now a friendly wine bistro run by Tim's daughter Margaux and her boyfriend Romain. The fresh market cooking from Romain (formerly at Le Comptoir and La Régalade Saint-Honore) goes well beyond the satisfying sausage & mash of the old carte and Margaux's service and wine selections make this the sort of place where you'll want to become a regular. Desserts are delicious, but their selection of British cheeses with recommended wine pairings is my favorite way to finish. On your way out, buy a bottle from the shelves to bring home. 
The Bistrot Paul Bert boasts one of the most charming dining rooms and patrons in town, appearing to first-time visitors like the Paris bistro of their dreams. Their menu is torn straight out of the classic bistro playbook, with options like steak frites, andouillette, soufflé and tarte Tatin. Compared to many other bistros, Paul Bert shines bright because of superb ingredient souring and careful cooking. Owner Bertrand Auboyneau is a real wine lover and supporter of vignerons, and his list is a joy to drink from.
For the wine-indifferent, Café de la Nouvelle Mairie is merely a timeless, picturesque terraced café on a shady lane beside the Panthéon. Wines are inexpensive and available by the carafe, like in the old days. The café's simply-executed bistrot cuisine is well-sourced and agreeable: oeufs mayonnaise, chicken liver terrines studded with grapes, and hearty Angus steaks for pressure-free meals on long summer evenings. But for alert wine geeks, Café de la Nouvelle Mairie might as well be the Panthéon itself, as pertains to natural wine.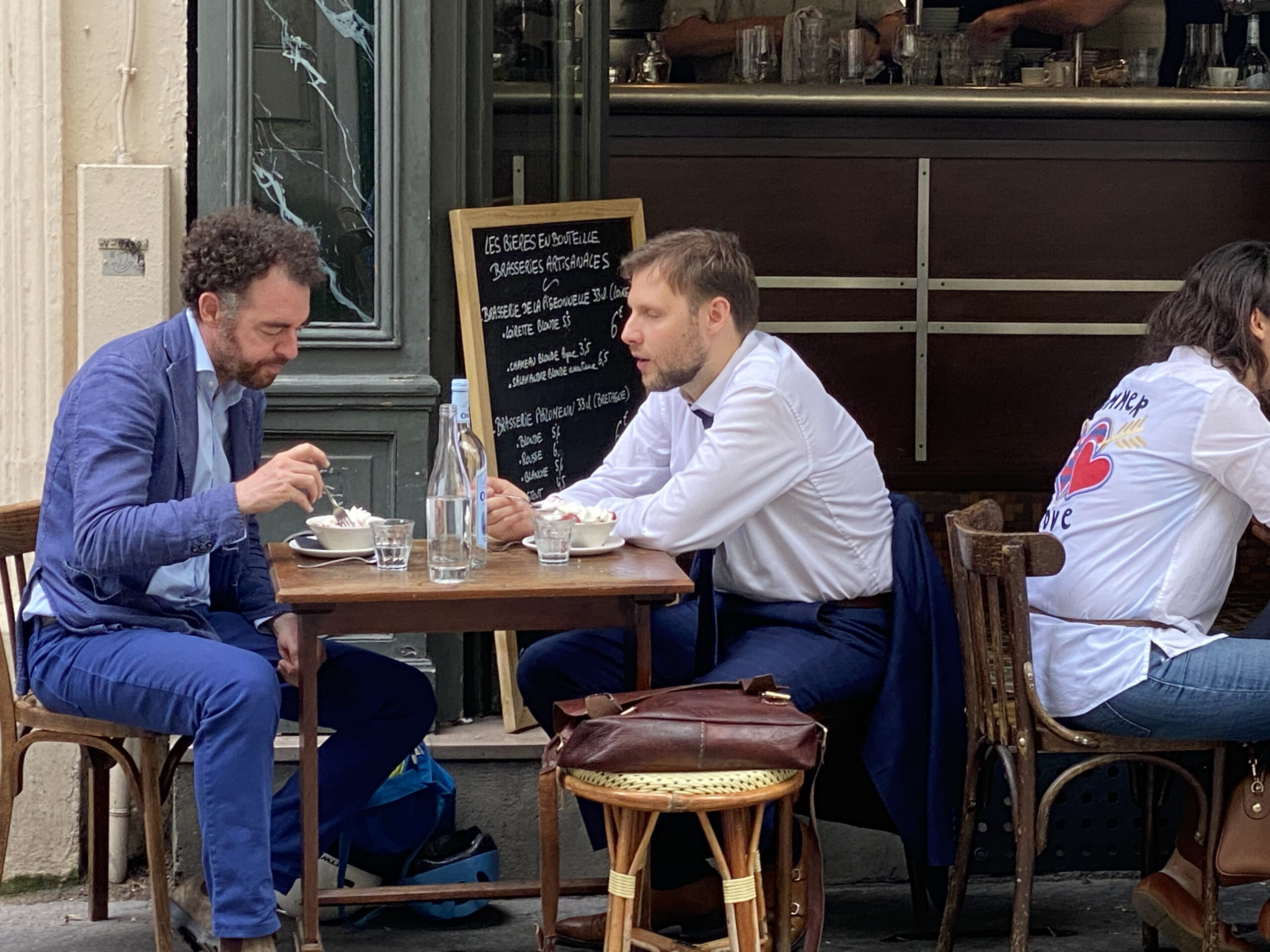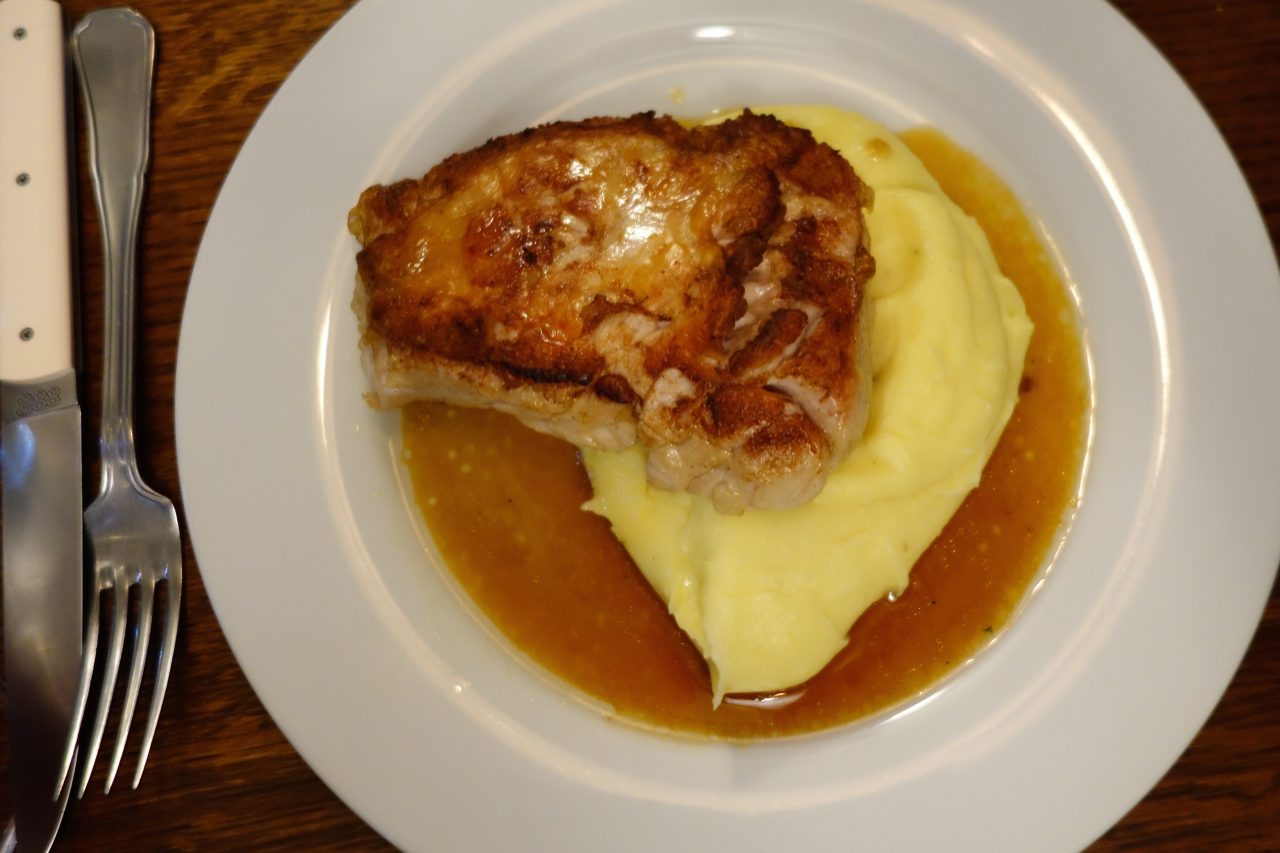 With his passion for simplicity, traditional recipes, and fine ingredients, soft-spoken Amarante proprietor Christophe Philippe is a chef's chef, adored by restaurant industry peers and a passionate cult of Paris foodies. The menu rarely changes. Philippe has been plating the city's most palate-drenching, savory sweetbread for over a decade, since the eponymous Left Bank bistro he maintained until 2015. His knock-out chocolate ganache (10€), of which a spoonful weighs a ton, has been bowling over diners for just as long.
L'Ami Louis doesn't often answer the phone. When they do, it's to say they're fully booked. The people who tend to get in are either regulars, famous people, or there by the grace of a palace hotel concierge. The one time I have gone, it was with a regular, the kind of person who visits every week. The dining room was filled with other regulars who also visit every week. A good number of them were older men feasting alone, like this modern day A.J. Liebling (at right) who was ready to roll up his sleeves, tuck a napkin into his collar, and take down an entire roast chicken.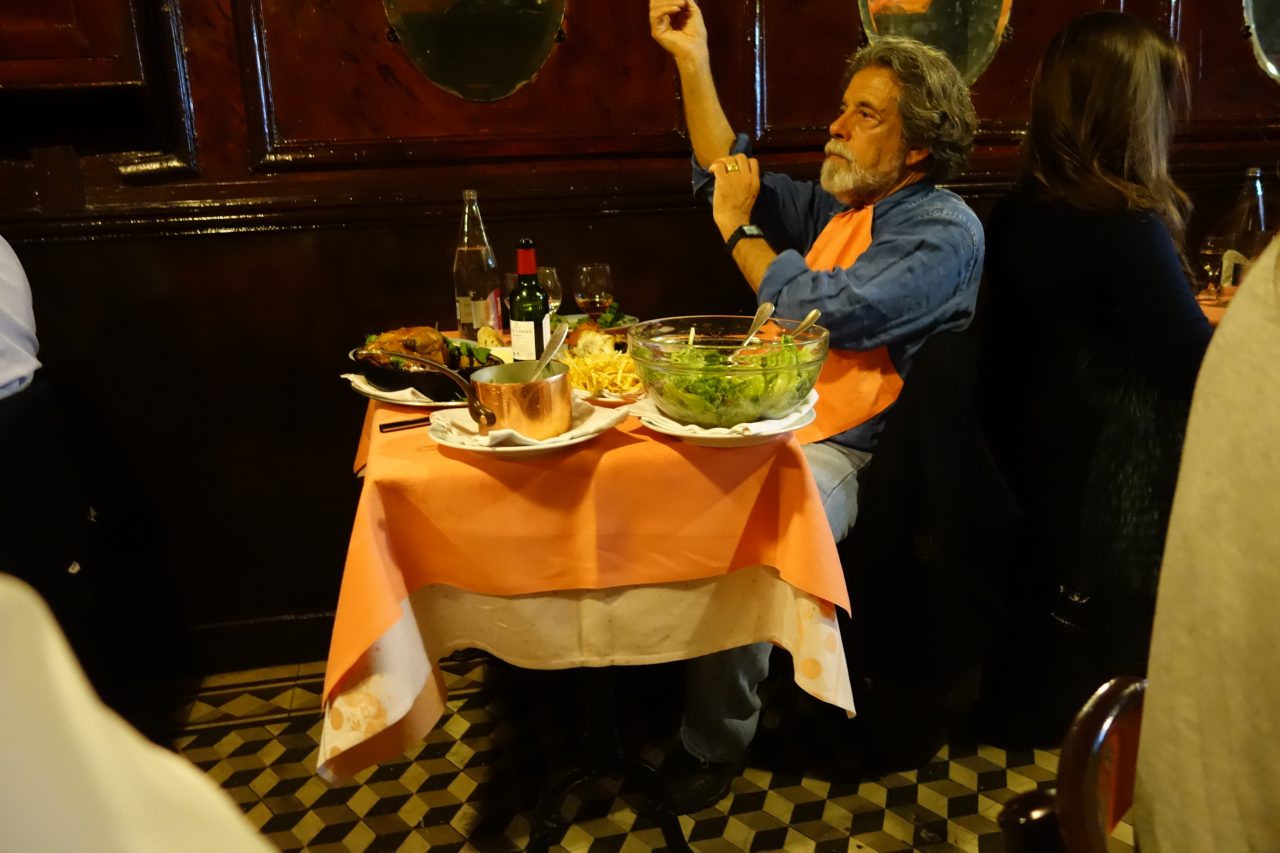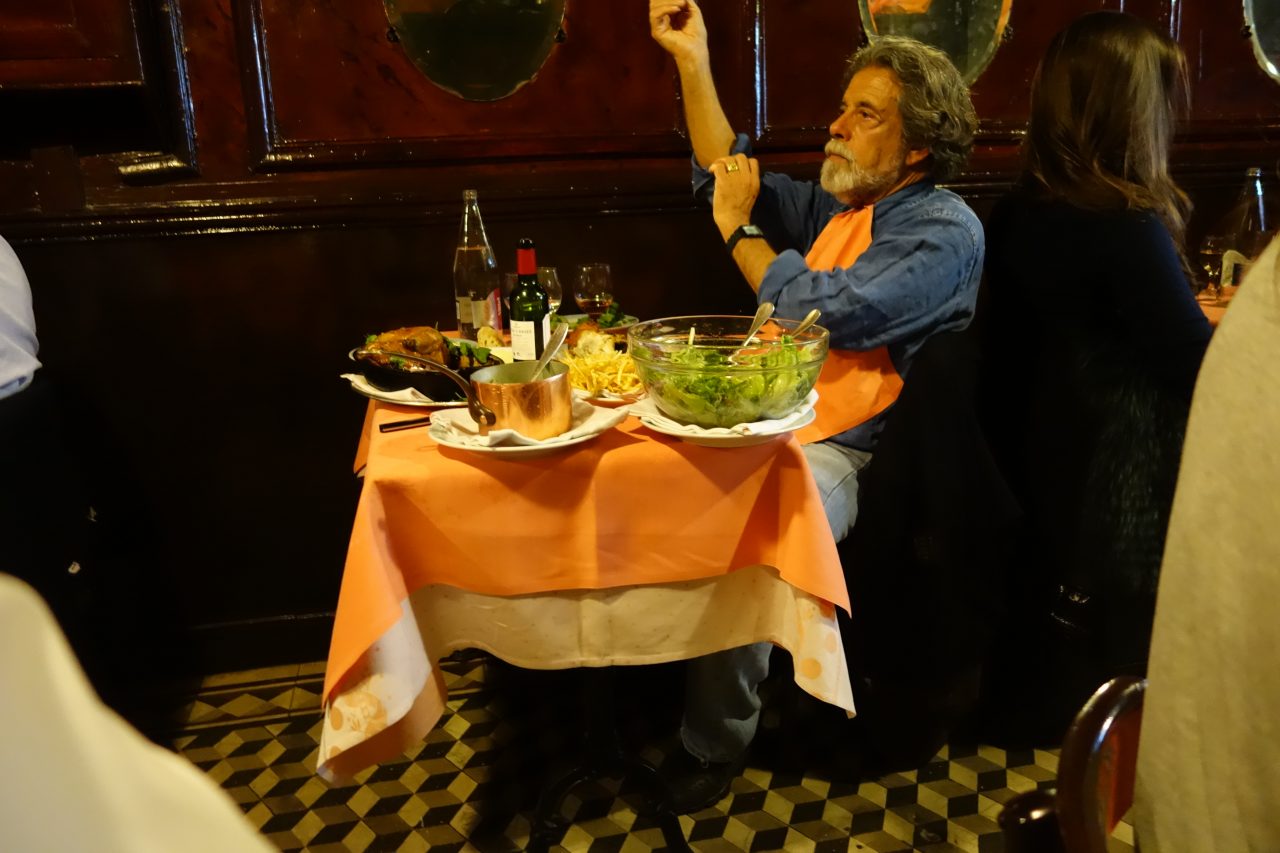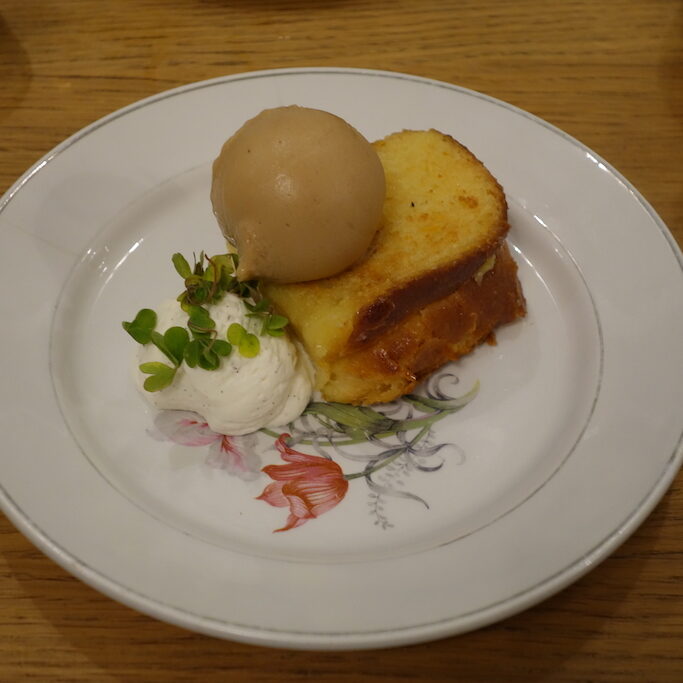 Nestled on a drab Belleville backstreet beneath the Parc des Buttes Chaumont, Le Cadoret's blue awning shines out like a beacon. So does chef Léa Fleuriot's delicate, thoughtful approach to country-bistrot classics. A sleeper hit since Fleuriot and her brother Louis opened it in 2017, Le Cadoret is a bistrot and café where an ostensibly straightforward offering – traditional recipes, inexpensive natural wines, craft beers – achieves the sublime thanks to rare combination of sincere and efficient service, serious value, and an ironclad commitment to ingredient quality. 
On any given evening, Boudier and Touton turn out dishes that are positively princely, pitched at levels of refinement far beyond the side-streets of Montmartre. A blanquette de joue de veau – the creamy, easygoing veal stew familiar in most French households – is blasphemously and successfully ennobled by subtracting the customary rice and adding some hauntingly perfumed porcini mushrooms beneath bracing slivers of pickled potato. A half-pigeon in red wine sauce bedecked in tart black trumpet mushrooms and slivers of papada (Iberican guanciale) is an elegant study in managed bitterness, almost intellectual without being at all bloodless.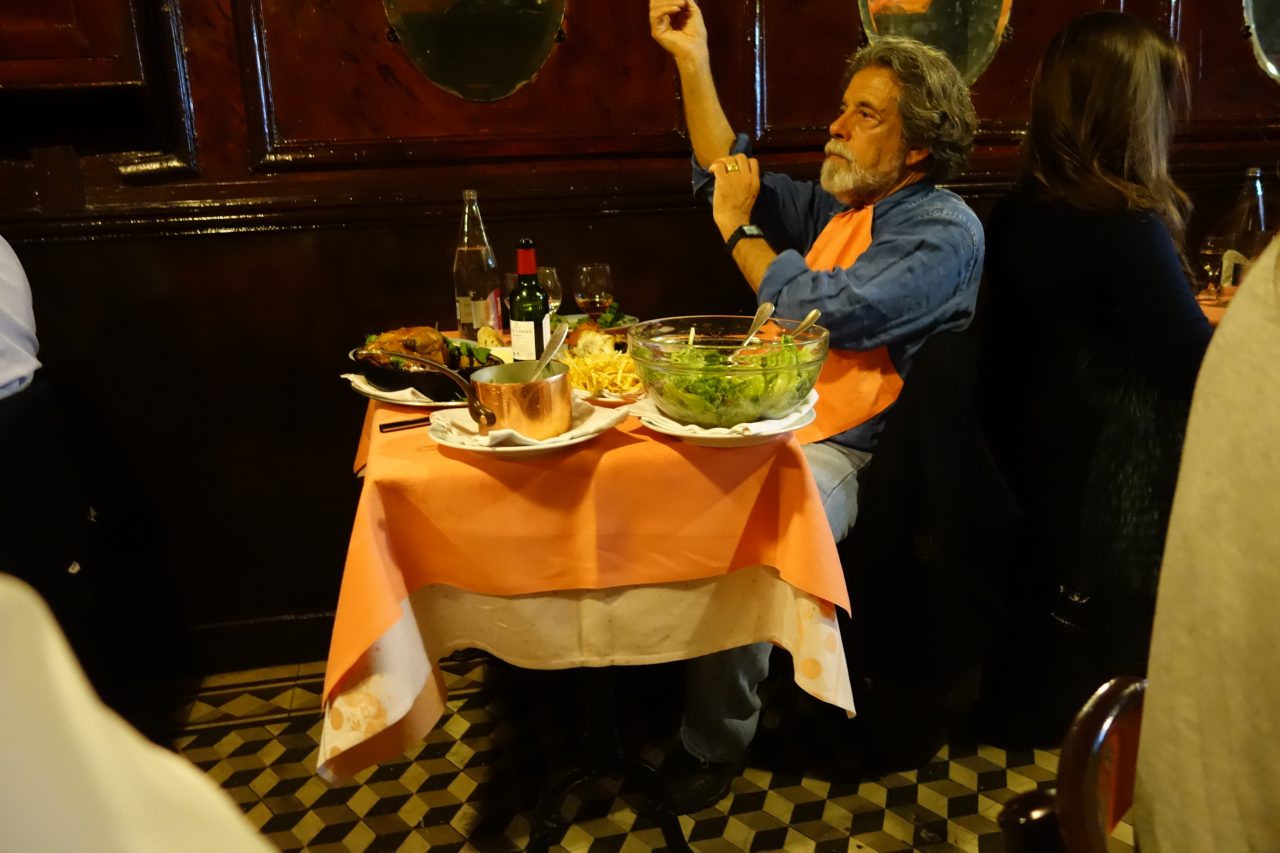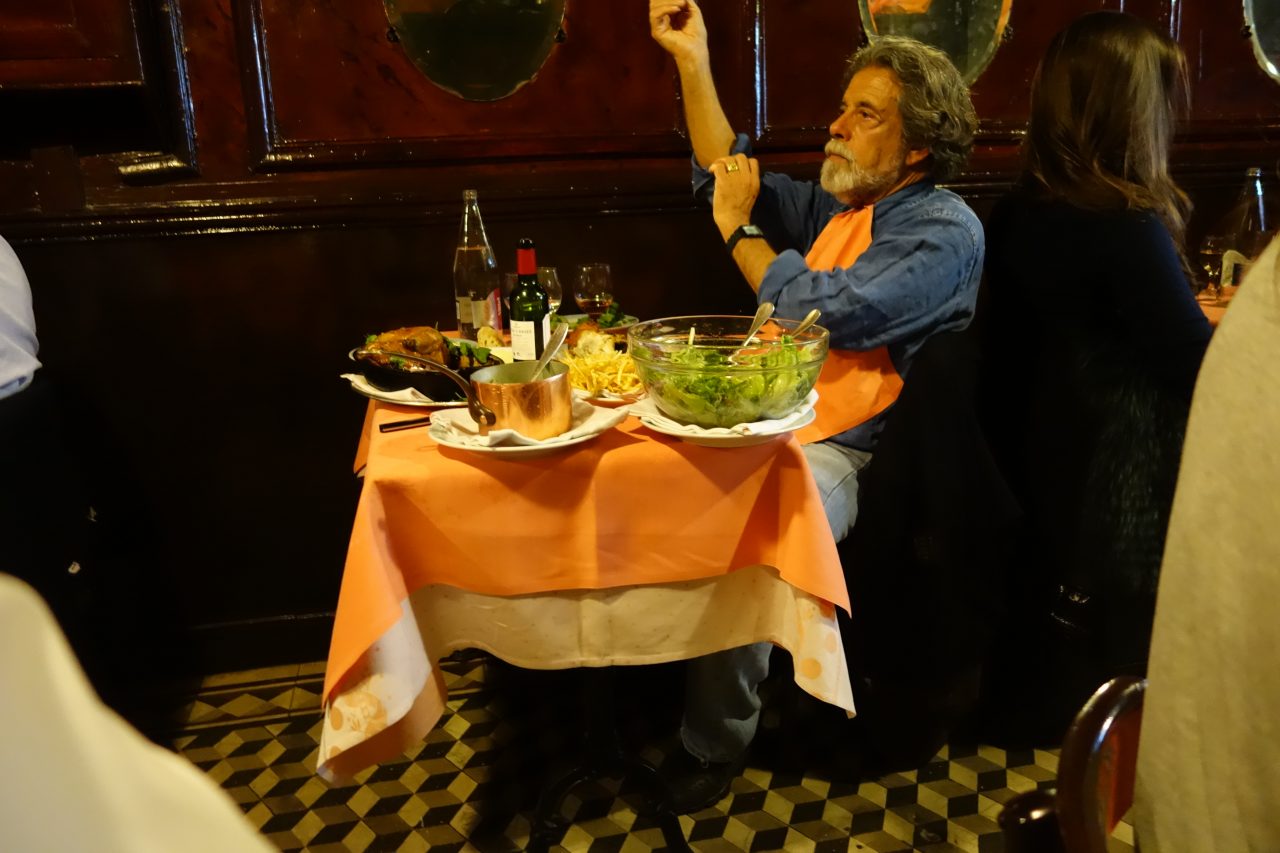 Our Selection By Neighborhood
Louvre & Opéra (75001)
Sentier (75002)
Marais (75003, 75004)
Latin Quarter (75005)
St-Germain (75006)
Invalides & Eiffel Tower (75007)
Champs-Élysées & Madeleine (75008)
Pigalle & Grands Boulevards (75009)
Canal St-Martin (75010)
Bastille, République & Voltaire (75011)
Aligre & Nation (75012)
Montparnasse (75014)
Grenelle & Parc André Citroën (75015)
Arc de Triomphe & Batignolles (75017)
Montmartre (75018)
Buttes-Chaumont, Belleville & Ménilmontant (75019, 75020)